I am so excited to share with you this project we recently completed. I've been doing a lot of exterior curb appeal projects the last couple months, and FINALLY my big dreams are coming to fruition. I'm so excited to start sharing with you all the projects we've done along with the details of them! I feel like I've been keeping secrets. Today I'm sharing our DIY front porch reveal that we just completed. AKA our new outdoor living room. I'm going to share a lot of my thought process in adding this space, and general costs in this post. I'll break down the specifics in future posts like how I did it, and things like that.
Goal: Add a front porch without having a real porch area
My favorite feature of homes is probably front porches. I feel like there is so much charm in them. It's a little nostalgic don't you think? I think back to old fashioned neighborhoods where people were always outside working in their yard and visiting with neighbors, that's the kind of lifestyle I would love to set myself up to live. Plus when you have small children who always want to be outside riding their various toys I feel like you spend a lot of time in the front of your home. I even considered investing in some sort of outdoor living structure; maybe a pavilion or a gazebo or some sort but I thought my front porch might be a little too small! Maybe the back garden instead!
The problem with this whole scenario is, we live in your average suburban HOA neighborhood in a ranch style home. It's always been my struggle to figure out how to make my house charming while not standing out too much since our HOA would frown on that.
The Starting Point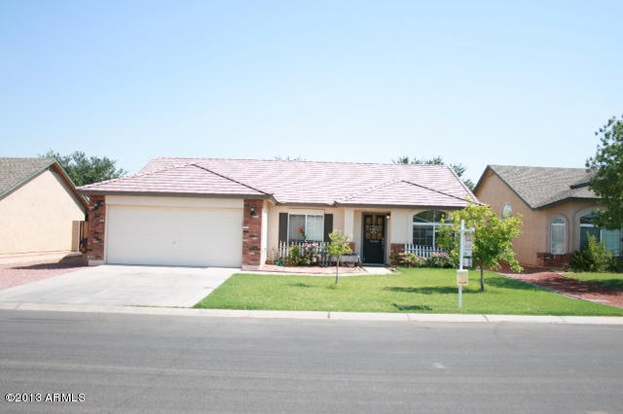 When we bought our house there was an empty gravel area by the front door already, I basically just took that general idea up a notch. The gravel was nearly impossible to weed + it was ugly and red... so it had to go.
We built up a little planter bed, painted the exterior (more on that later) and planted a tree that while hopefully provide a natural shade structure for this area. Because of the way our house sits this corner is shaded in the afternoon but man that morning/mid day sun is HOT in Arizona. Our neighbours were smart, and called in a deck repair service for the decking in their back garden, so that when the sun is unbearable on their front porch, they can sit in the shade and vice versa! We might have to take some notes there!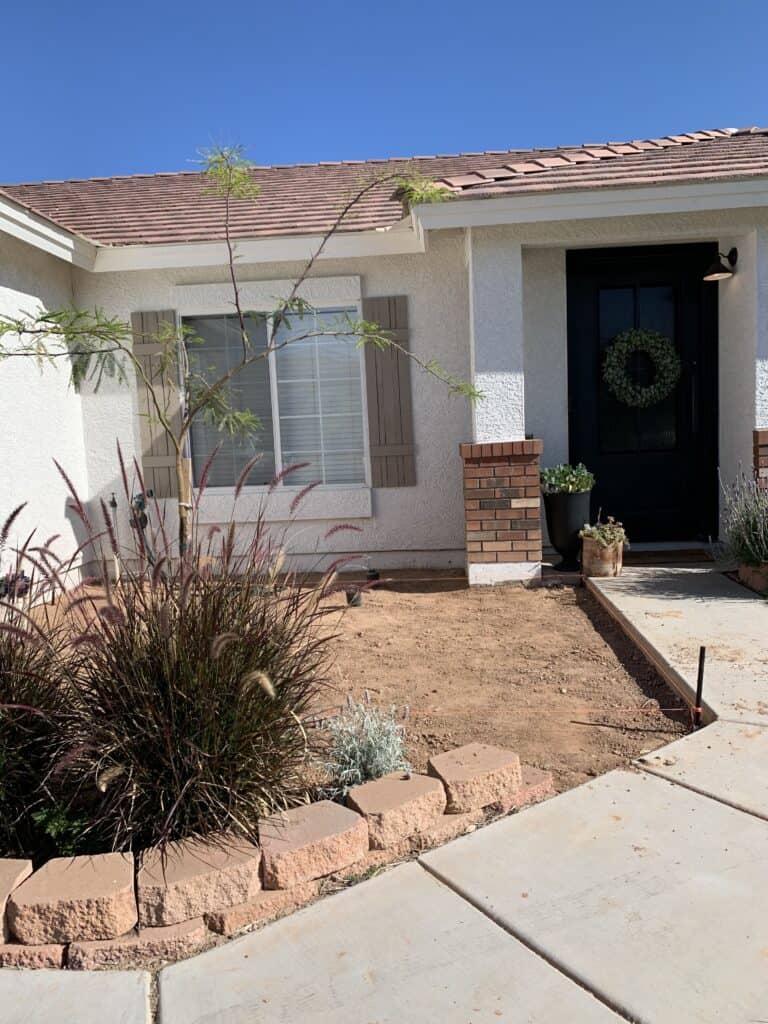 Porch project hurdles
This space has bothered me for years, and honestly has been dirt for over a year while I tried to wrap my head around it. There were some big hurdles to conquer when deciding what material to use in this space. Our sprinkler and water pipes are under the dirt in this corner, so whatever we put here we needed to be able to get under in a bad situation. This made concrete or even traditional pavers less than ideal for this particular application. While there are different types of concrete we could have used and that may be suitable for your own projects, we decided to go in a different direction. I saw someone do a walkway using 12x12 concrete pavers and was instantly inspired. I did some research and decided to use pea gravel between the pavers, to make a patio look. I should've just got a company like Westminster Stone to come and do it for me, but I quite enjoyed the challenge! I'm really pleased with the outcome too.
Affordable patio ideas are hard to find
I scoured the internet looking for affordable, easy to create patio inspiration. And let me tell you friends-- it just isn't out there. Anything more than just a pea gravel or crushed granite (basically just rock or dirt) patio idea basically feels like it's going to cost you big time. I am happy to report that in looking at my receipts, I spent just under $400 for this area, that was including the delivery fees to have Lowe's deliver the majority of the product to my house. This corner is small, about a 12 x 12 space if that helps you figure out how much it may cost you to recreate.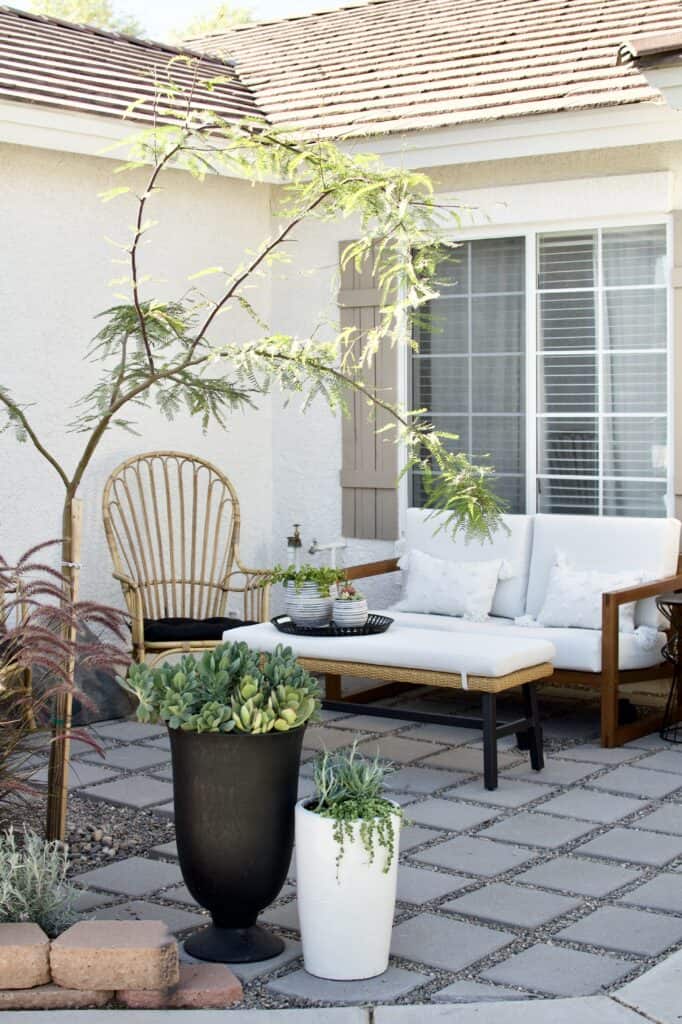 Materials Used
The materials for this project other than the wheelbarrow, and shovels I used are really simple.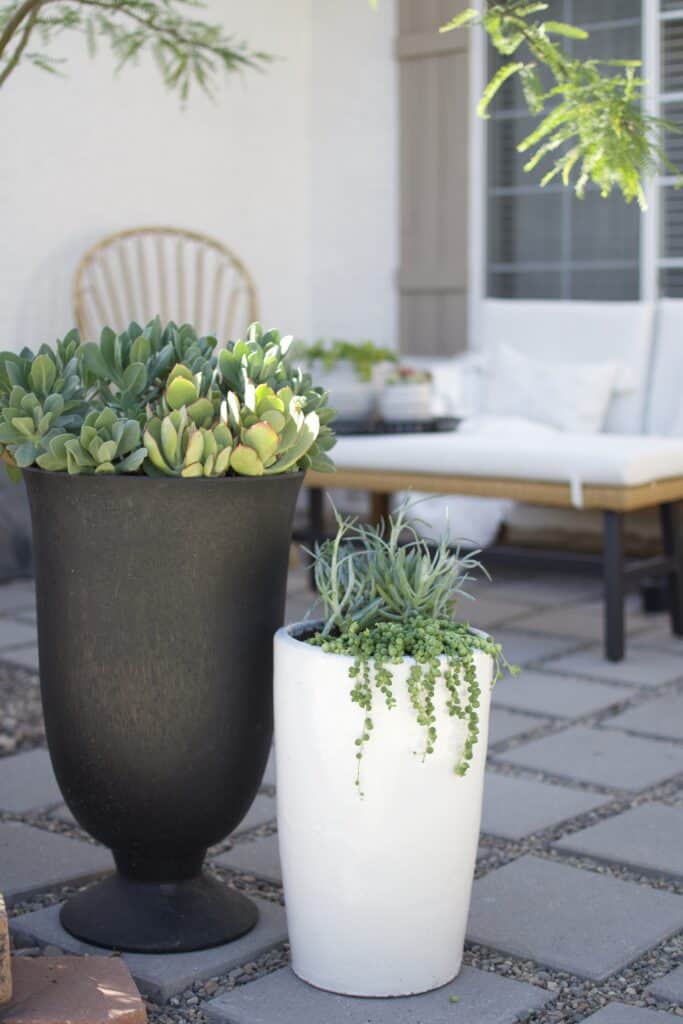 I've been really surprised how much we have already used this space in the front of our house. We have eaten dinner while the kids play, enjoyed popsicles, looked at the stars, watched the sunset, basically just lived our best outdoor life in this little corner of our front yard. I look forward to many more hours sitting out here in this cozy little spot while the kids play. I feel like spending time outside, even if it's just simply out on a front porch is so good for your soul to hear the sounds of kids playing, birds chirping, and trees swaying in the breeze.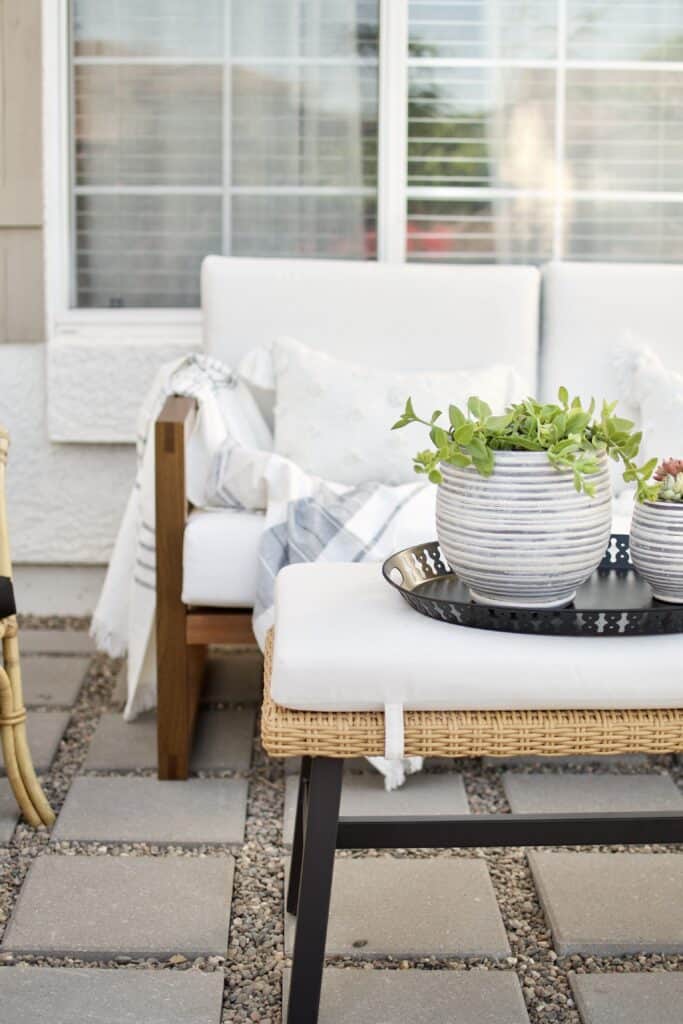 Shop the Post