This post has been sponsored by Rubbermaid ® FastTrack ® Closet™. All thoughts and opinions are my own.
I am so excited to share this project with you all today! It is maybe not the MOST beautiful eye candy you've ever seen, but it has totally changed the way we live in our home. And for that reason, I am pumped! We have long been frustrated with the lack of storage in our home, to the extent where I have been looking up laying concrete foundation for shed for our garden - anything for that extra storage I don't care if I have to do it myself! In fact we might even need to invest in some self storage similar to the storage units in Pueblo CO - I know, it's that bad! We have tiny builder grade closets in all our bedrooms that honestly don't work great, but we didn't know exactly where to begin to make them more functional for us. A huge trouble area in particular is our boys' shared room (5 + 2 years old) because we all know the most challenging part about having kids is all the STUFF they come with. Today, I'm sharing the way we easily upgraded their closet and maximized the functionality of the space for us!
I can not believe that I'm posting this before photo of this closet on the internet; it is rather pathetic to admit, we tried to make it functional... but there was SO much wasted space and no real space we could use to easily store toys, sports gear, and other necessities. I had long since written off their closet as being sub par and hopeless.
I was so excited when I came across the Rubbermaid ® FastTrack ® Closet™ Organization System at Lowe's. It seemed like a very easy way to add a lot of functionality to a standard builder closet with minimal cost and headache. This system is SO great because it's totally modular and you can completely customize it to your needs. To help design your closet, you can also visit the Rubermaid Design Tool! The other great part about it is that you can pick it up at your local Lowe's Home Improvement store! I feel like this is such a great solution for busy families who desperately need their home to work for them but don't have a lot of extra time and effort to spend. This is totally a weekend project and BOY, it has made such a huge difference in our home.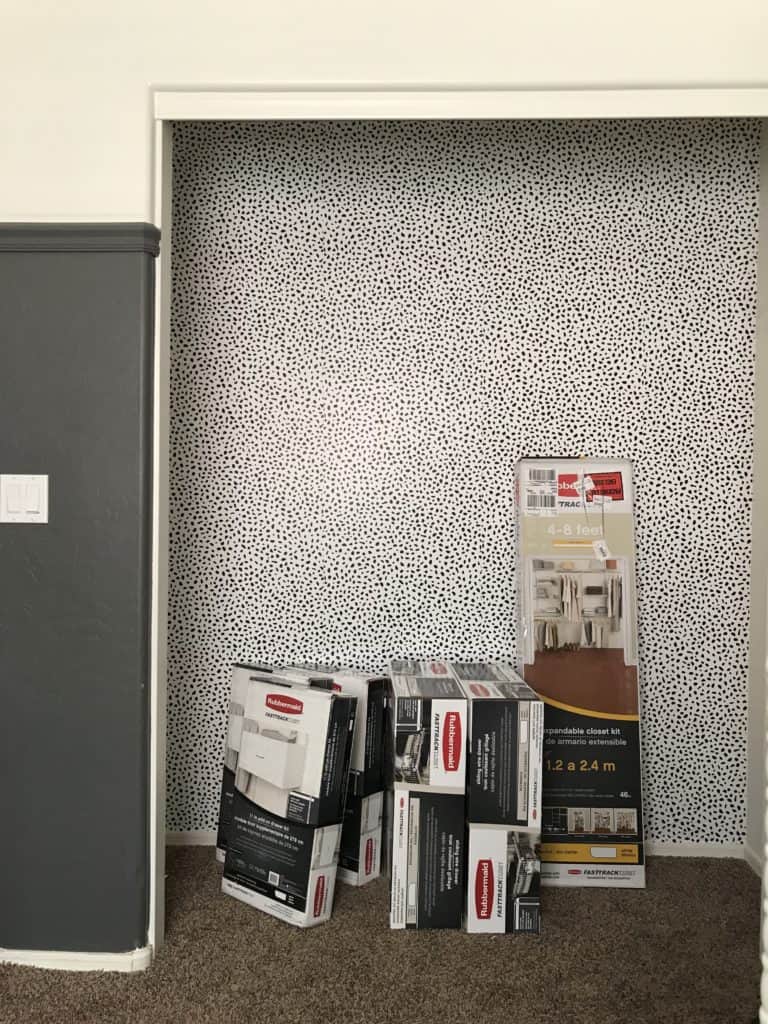 I feel like kid's closets are so often overlooked and pushed to the side, I know, for me, I thought, what can I really even do to help that space work better? I was totally lost. When a family of 5 live in a 1600 sq foot home, you really need every foot to work for you! I think investing a little money into the spaces your kids use the most is one of the best investments for your home and for your sanity.
We used the 4-8 foot Closet Kit, which came with more shelves and clothing rods than we could even fit in our space. Our little boys don't have many clothes to hang up at this age, however, we desperately needed to utilize the space in their closet for toys of all sizes and diapers. So all the shelves were the best for our specific needs. I love how affordable the kit is, especially considering all the attachments it comes with.
The only add on's we used in this space are the drawers-we used a mix of wood sliding drawers and a couple sliding basket drawers. I was impressed with how much storage these have; the basket drawers are huge and very generous. We used ours for diapers, which we previously had stashed all over the house. I really love how this system consolidated the storage for all the things our kids need and use regularly in addition to the regular clothing storage. Obviously most of the toys and other things like outdoor playing equipment get stored in the prefabricated sheds we invested in a few summers ago. But we need the items we use regularly to be stored somewhere we can have access to it easily.
I really love that, with this system, you have the flexibility to place the shelving along the wall mounts wherever you would like. We were able to add shelves low enough that we can store things the boys can get out on their own but with this system, we always have the ability to store things out of their reach because you know they want those blankets down every single day if they had it their way to make forts and other messes. Storing things out of reach of the kids is always an issue we struggle with, especially when we're trying to store dangerous things like cleaning products. If you have a similar issue, click here for solutions on how to store your more dangerous home items.
I can honestly not say enough good things about this closet system. It was refreshingly simple to do and has been a total game changer in our home for us. As great as having a beautiful home is, it's even better when it functions well for the way you live.