Before we jump in and share our Holiday home's with you all, I wanted to drop in and share my home office that is finally finished and has been a long time in the making!
I came up with the vision for this room months and months ago, but I was newly pregnant, and turns out being pregnant, having a couple kids, and being self employed takes a LOT out of you. I had so many ideas for what I wanted my home office to have, that I felt really overwhelmed at the beginning. But I just couldn't stop thinking about it. At one point, I even wanted to have a backyard office as my friend has one and said that they're perfect for being able to concentrate and to get your work done. It sounded amazing. But then I thought that this probably isn't in the stars for me at the moment, especially as I have young children and one on the way, so it's probably best that I have one in the actual house. This could be an option for the future though. But now that baby Allen is coming in January, I'm in major crunch time to wrap all these projects nesting made me do up. Making sure my new home and office keep clean for our new baby is important as well so we are keeping our eyes out for a carpet cleaning specialist to regularly keep our carpets fit for little ones to explore without eating tons of carpet dirt.
A friend has actually been quite helpful recently, by recommending that I use someone like Simply Switch to help us save money on our energy bills. Apparently, switching business energy providers is a fantastic way to save money. That is not all though! I have been unhappy with our home internet for some time now so I have been thinking about switching to a different internet service provider. My friend told me that she has used an at&t internet package for a few years and has never encountered any issues so I might have to try switching to AT&T as well. When working from home it is vital that your internet connection is up to speed after all!
Anyway, we tried something in this room we hadn't yet, and that is WALLPAPER. I am just so thrilled with how it turned out, we chose this beautiful Peonies & Anemones black and white wallpaper from Milton & King for the feature wall. I was a little intimidated at first, but my sweet husband did such a good job installing it. I think this design happens to be forgiving (thank goodness) for us wall paper newbies. I love the subtle pop of pattern and the texture it brings to this room. Obviously a home office isn't really an office without the correct work equipment, I was recommended Office Monster to buy my swivel chair from and this was a good reccomendation as the chair is incredibly comfy as well as good for my back!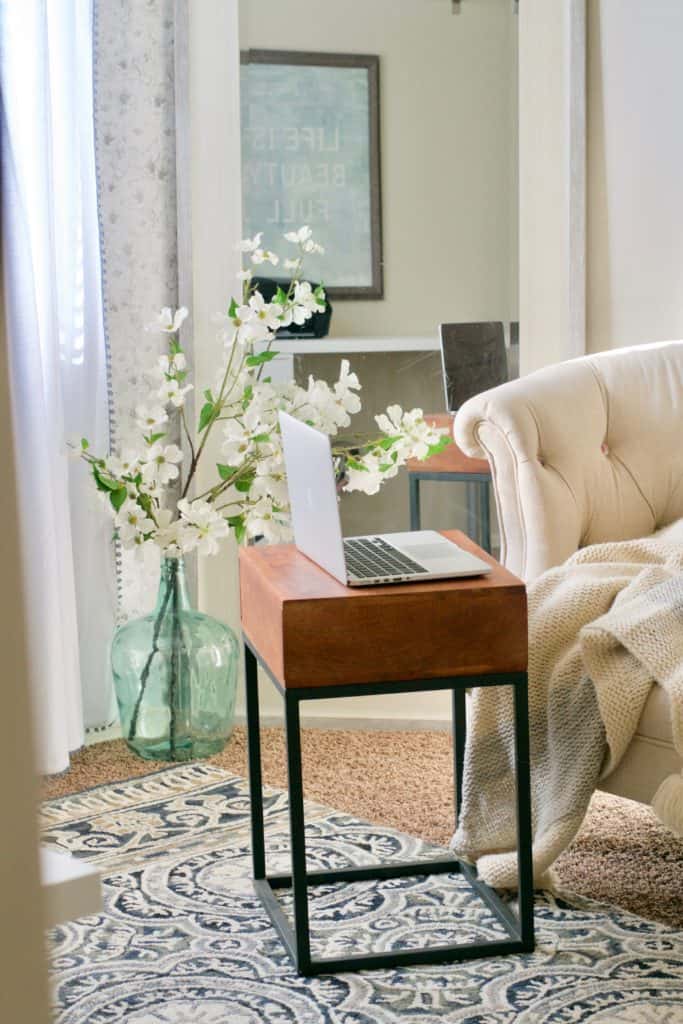 The rug in this room has been one of my favorites for the past year, but couldn't find a good spot for it in my home. I finally decided that my office was the perfect excuse to purchase it! It is the Indigo Belfast rug from Target . I just love this pattern so much. Many businesses have started employing people to work at home as this eliminates the need for them to invest money in buying an office unit for their employees. The will save the business lots of money and may save them from having to organise a merchant advance. If you are wondering, what is a merchant cash advance? You should check out Delanceystreet for advice as well as merchant cash advance rates even with bad credit!
The curtains are from the Nate Berkus line at Target. I love the little Tassle detail.
The art I grabbed one day at Hobby Lobby. Their wall art section is impressive these days! I haven't looked at it in a while and there was SO much good stuff!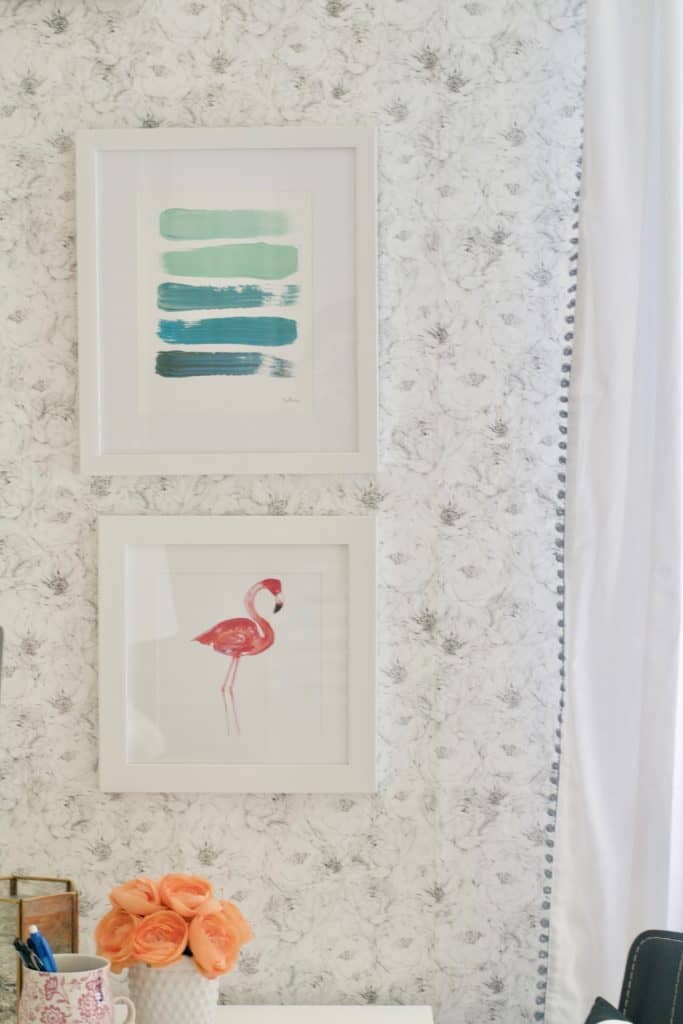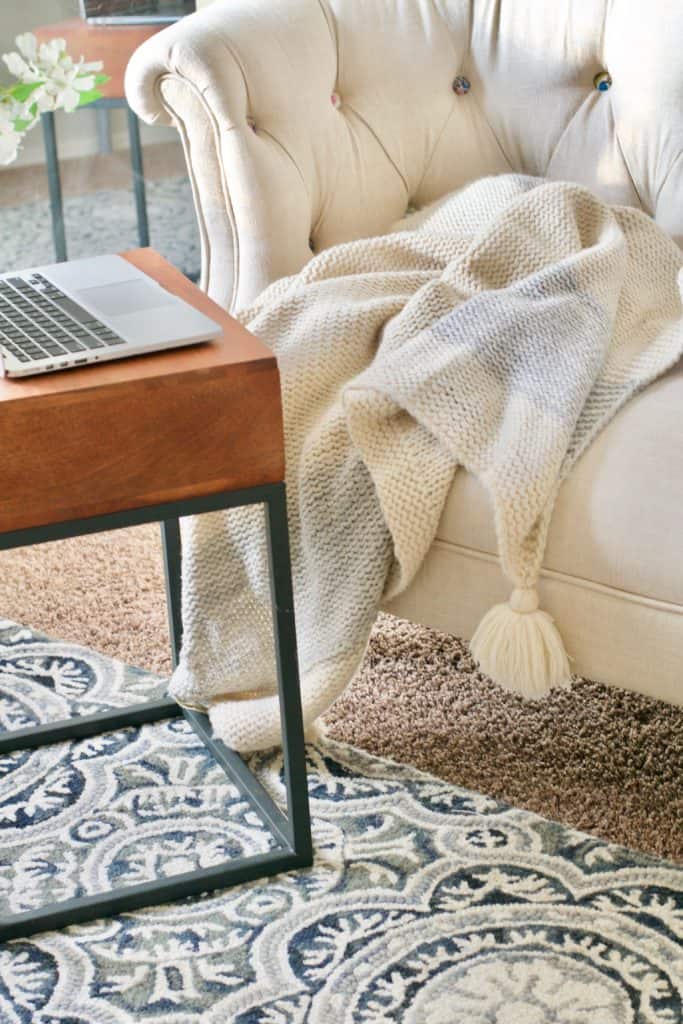 There is a full sized computer in here, but more often than not I find myself working on my laptop. This little settee from World market is the perfect place to do just that! I found it for a killer deal from a friend who was selling it. It's so darling! I love it.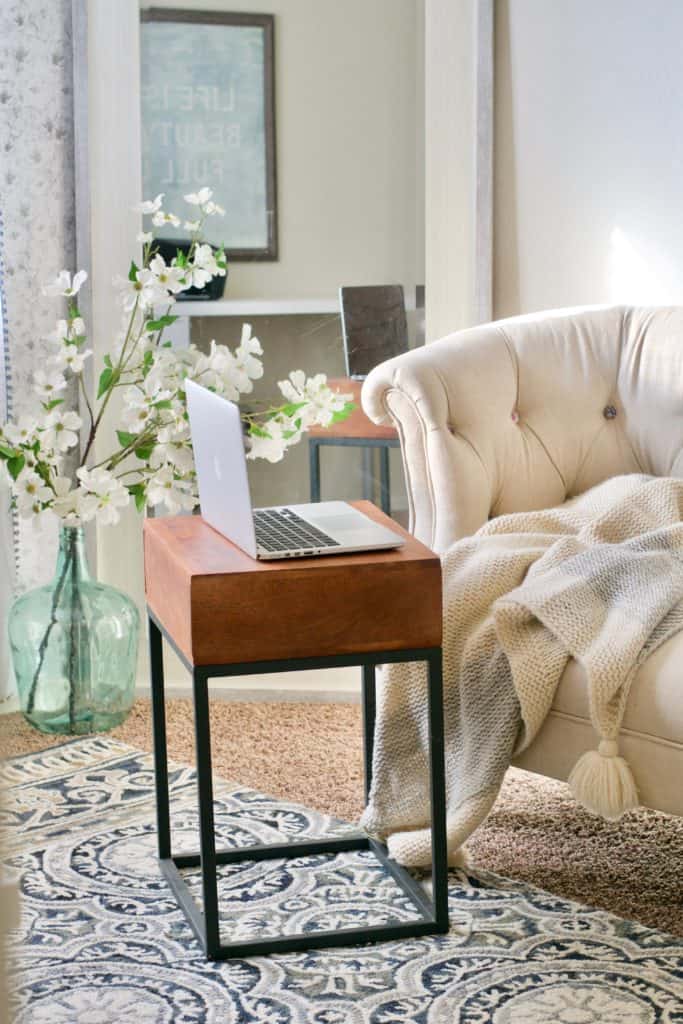 A large corner mirror is perfect for this room because it's a small space, so it makes it feel bigger having that tucked in the corner. The other accessories are from my favorite stores like Homegoods, and Anthropologie. They never fail me.
I definitely believe that having a pretty space to work from makes a huge difference in your work product. Being an interior designer by trade, perhaps I'm biased. Us creatives might fall on the crazy side of the scale, but it's probably more fun over here anyways.
Thanks for stopping by my home office today!