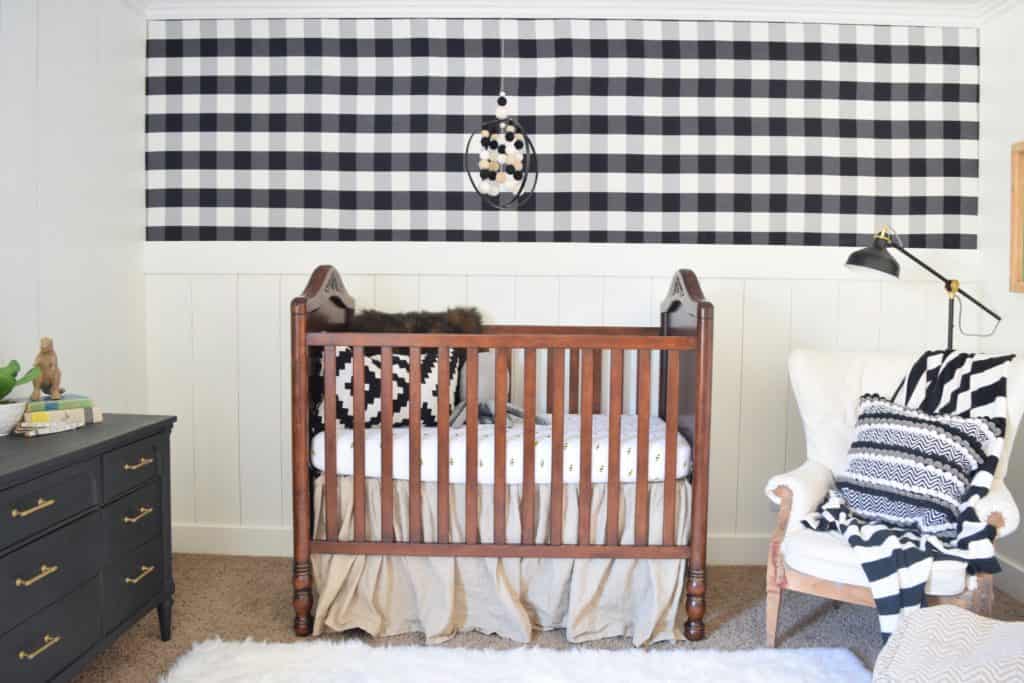 It's finally done, and with only 4 weeks to spare! This nursery has definitely been a labor of love. Have you ever had one of those projects that you thought was going to be a piece of cake and end up saving you money in the end but goes the complete opposite? Yeah that was the nursery. I think it was worth all the headache though:)
Here are a few before pictures of the room right after we bought the house.
It had a chair rail a few feet from the floor but it didn't go all the way around the room because of the castle in the corner. So I wanted to take the chair rail off. Piece of cake right? Um, no haha. The chair rail was nailed AND glued on so taking it off was a disaster. The paint and drywall was peeling off in chunks and it left a terrible mess. We figured the cost of having it repaired would be about the same as planking the whole room so I went with planking much to my husbands dismay. Since we were planking the room I figured why not add new window, closet and door molding and new baseboards! My husband loved that too (insert eye roll). But it was all totally worth it in the end! I love how the vertical planking turned out. We used the same process here as Jenna and I have both used in our homes with the 4x8 sheets of plywood.
I was CONVINCED this baby was a girl so I already had a baby girl nursery designed in my head. Needless to say, it is actually a BOY! It took me a while to change gears and decide on a design I loved for baby boy. The black and white buffalo check was my inspiration and from there everything fell into place.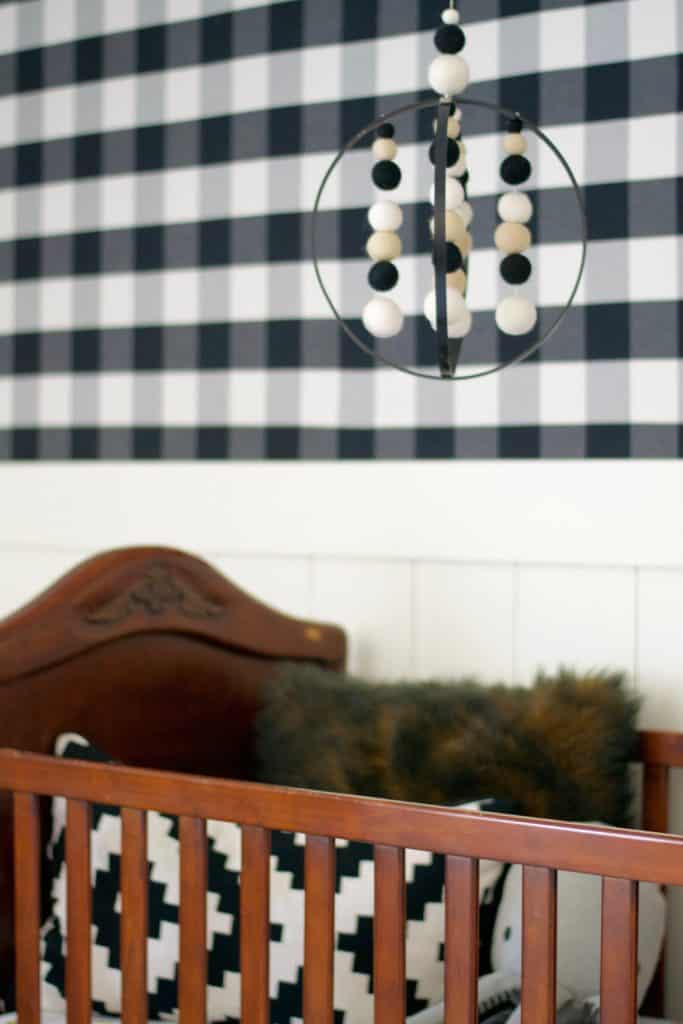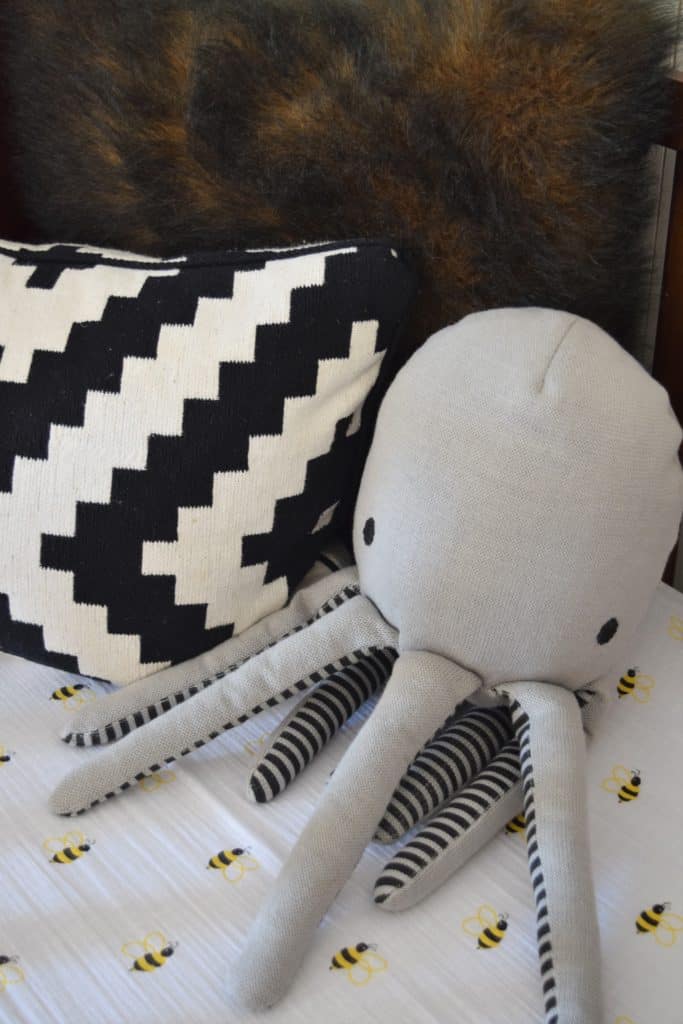 I debated on wallpaper but wanted something that was A. cost effective and B. easy to change out if we ever had another baby and it was a girl. I found some awesome buffalo check fabric at IKEA and decided to try out some fabric wallpaper. It worked great and was really pretty easy to apply! I'll post a tutorial on that process soon.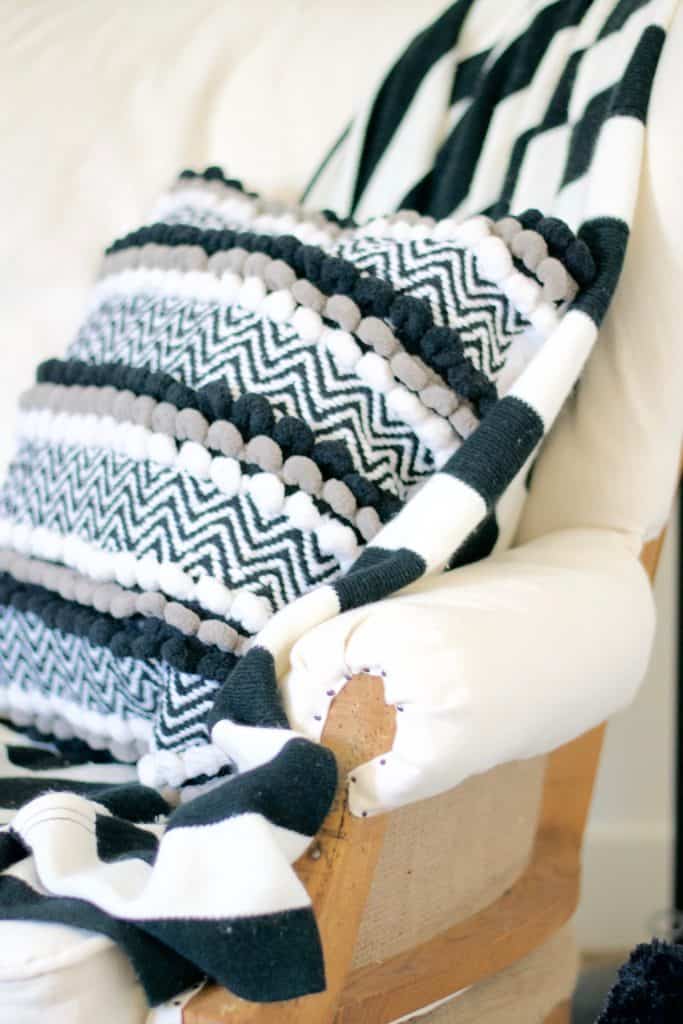 I found this adorable pillow at home goods and was immediately in LOVE! Look at all that texture, what dreams are made of right?!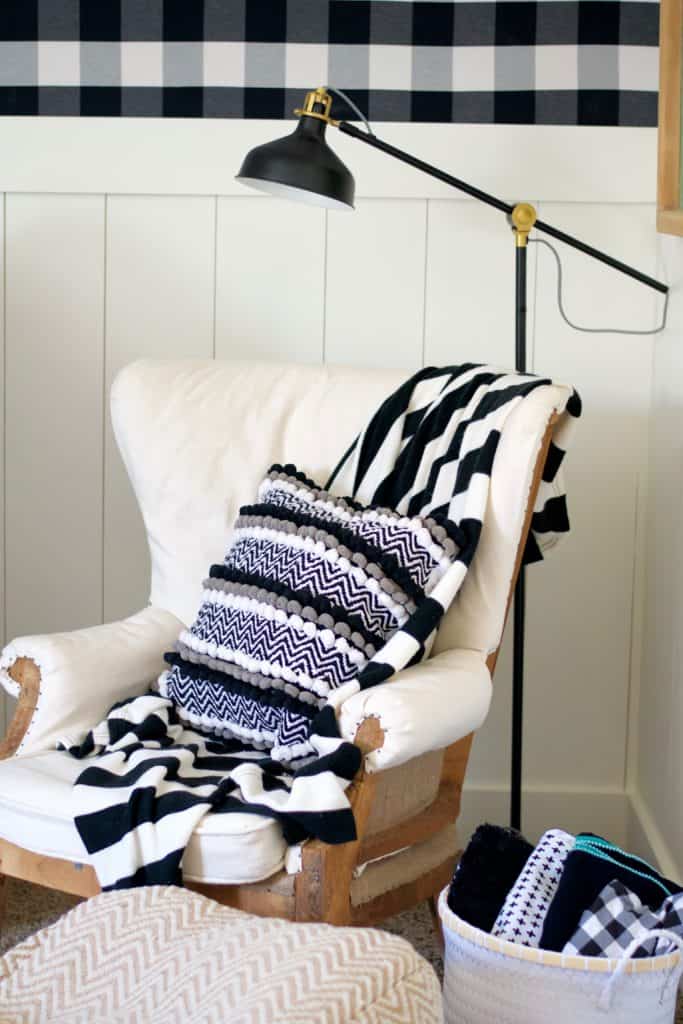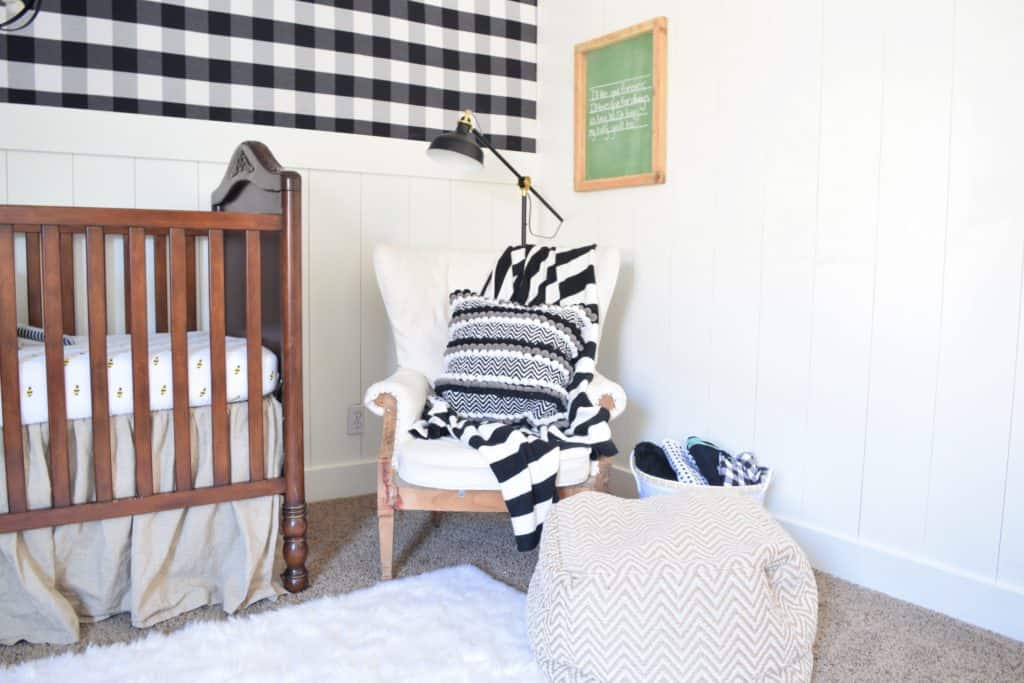 I put a basket of baby essentials next to my chair, including my favorite buffalo check nursing cover courtesy of Milkmaid Goods. I seriously can't wait to use it!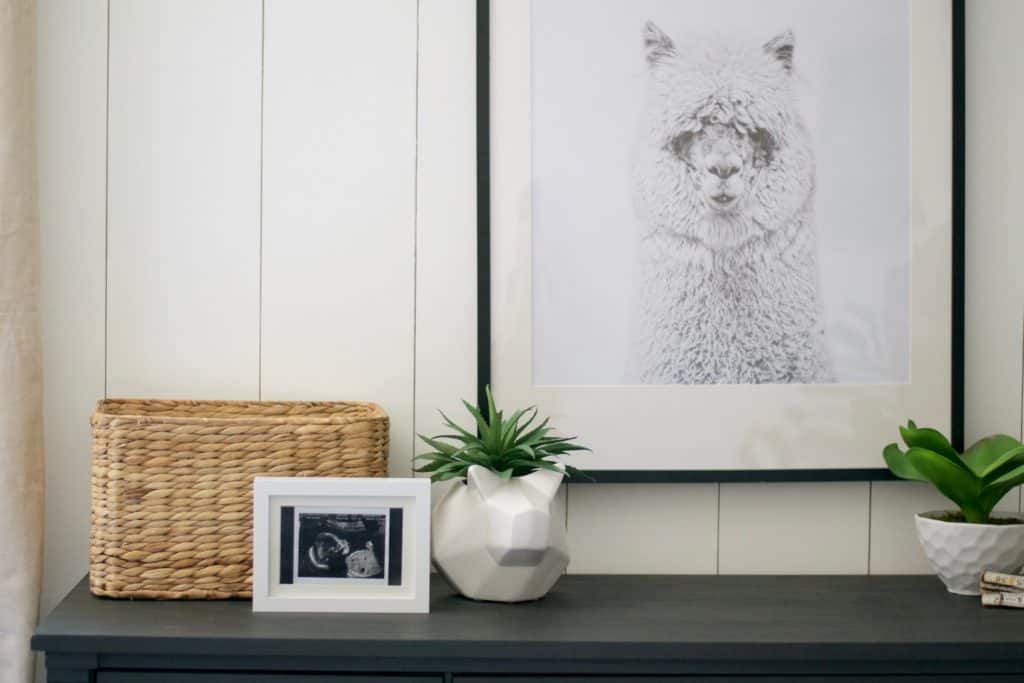 Let's talk about this Llama print. Amazing huh?! My husband thought I was loosing my marbles when I bought this but I just think it's just perfect.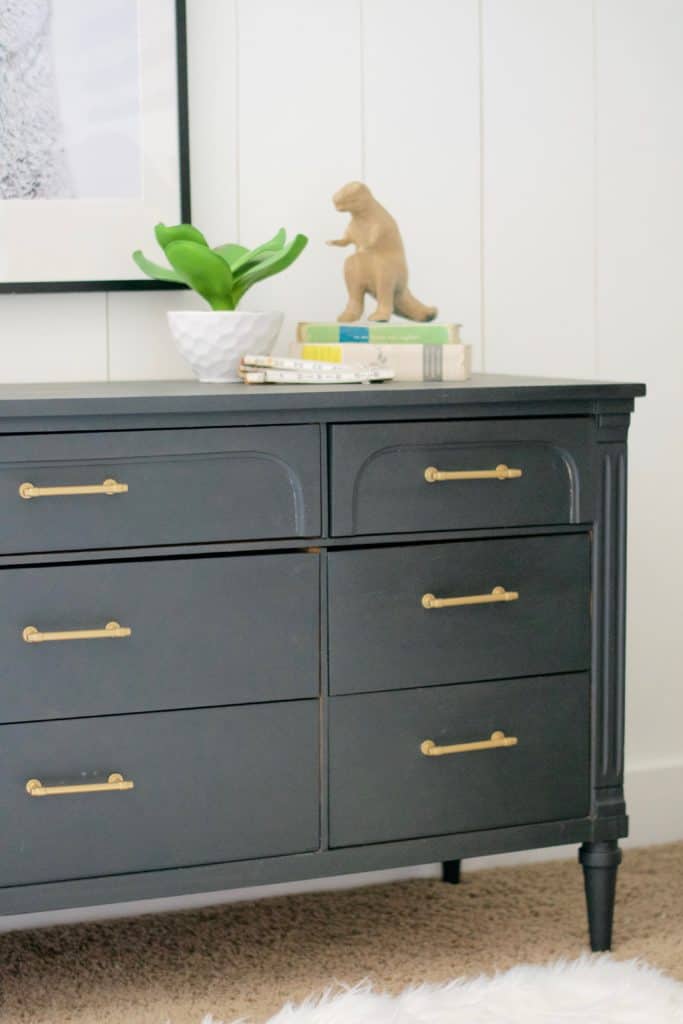 I got this dresser off craiglist and of course forgot to take a before picture. I painted it a soft black and bought some hardware from amazon that I painted gold.
I'm loving the modern, monochromatic look with little pops of vintage and green. Now all we have to do is wait for baby to make his debut (hopefully sooner rather than later)!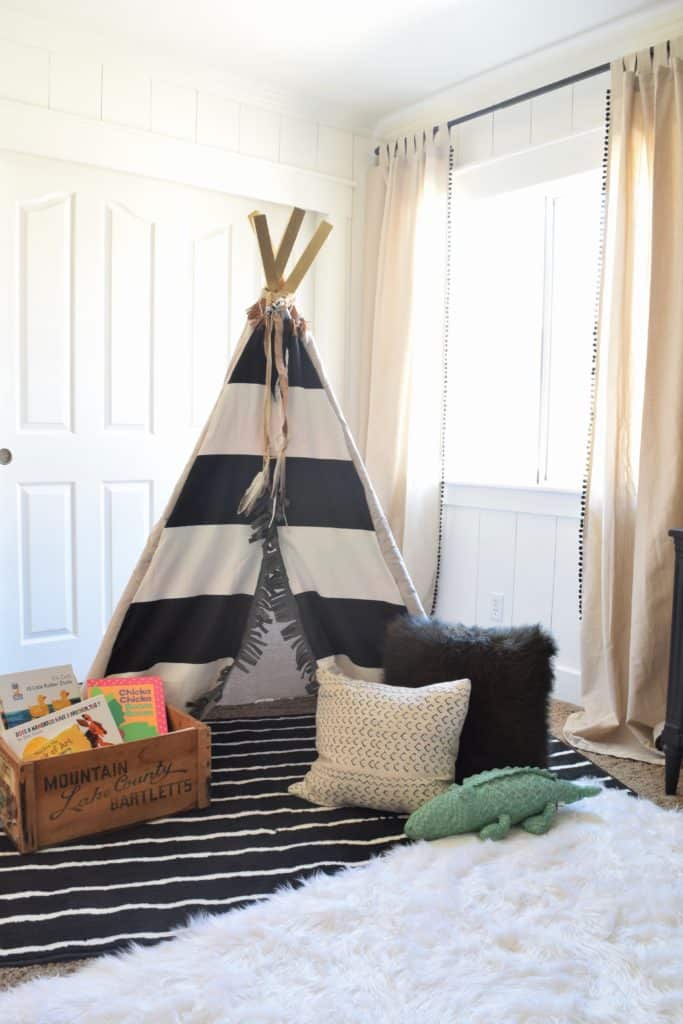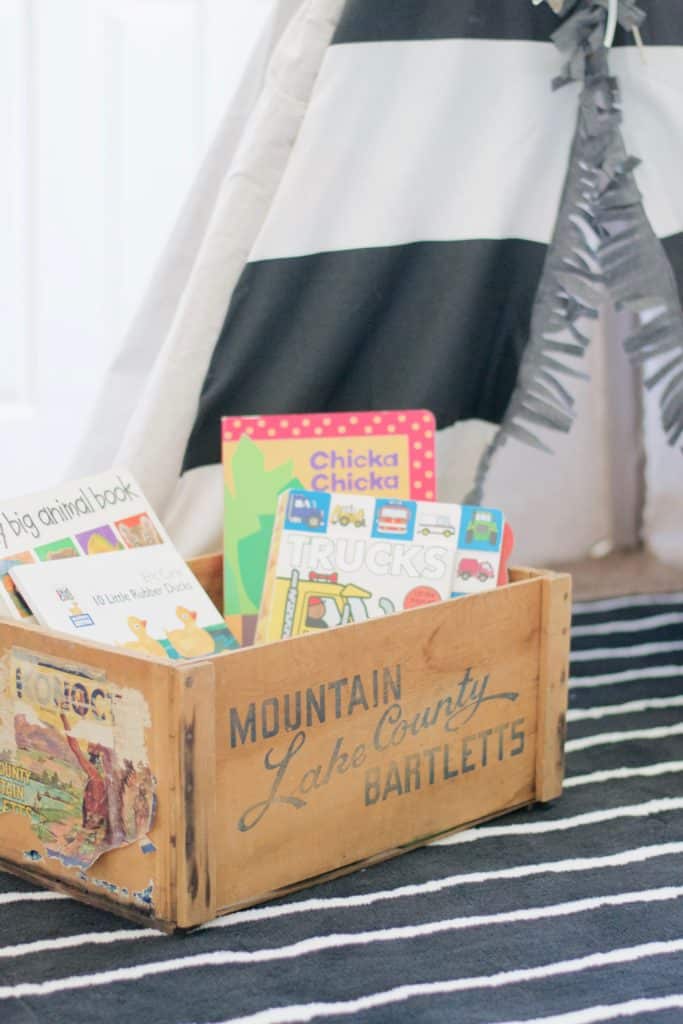 I had so much help from family and friends filling holes, sanding, nailing, and painting and am so grateful for their willingness to help bring the vision I had to life. We seriously have been so blessed with the BEST support system!
Bedskirt: made by my mom
Sheet: Aiden and Anais (HERE)
Mobile: made by me (similar HERE)
Curtains:IKEA (I added black pom poms)
White rug: home goods (SIMILAR)
Black and white rug: IKEA
Black and white throw: IKEA
Pouffe: Target
White basket: Target
Pillow on Chair: Home goods
Black lamp: IKEA
Llama print: ETSY
Faux plants: Target