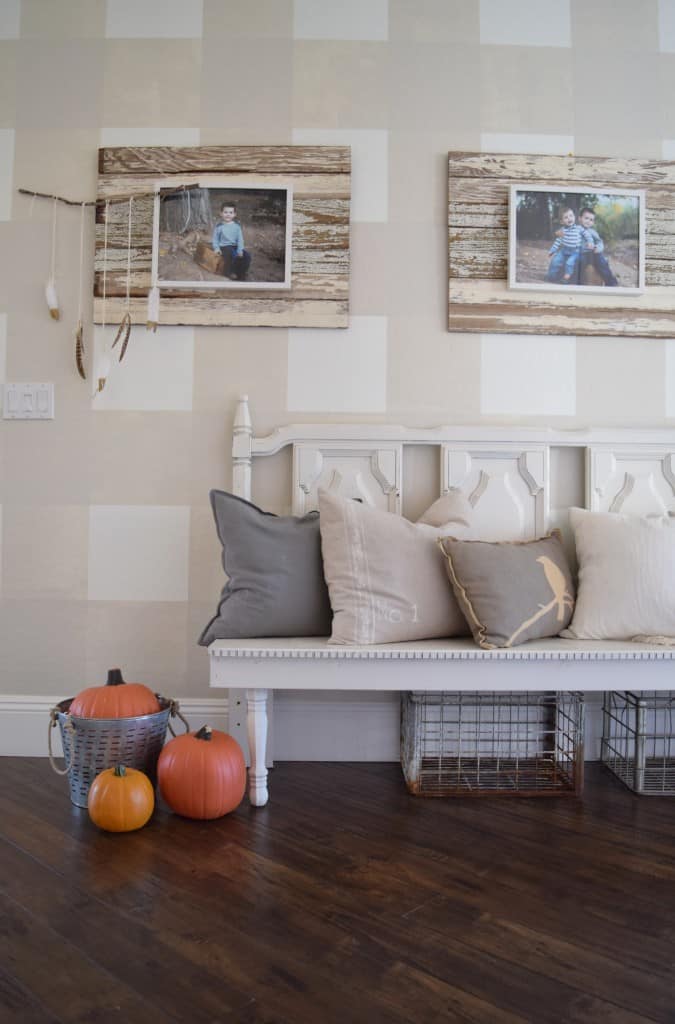 As some of you may have seen on Instagram, I recently painted a buffalo check wall in my hallway. I knew when we very first looked at this home that this wall needed something special. I had a completely different idea of what i wanted to create in this space but due to lack of funds and a husband that was not on board with my original plan (lame) I decided to try a quick fix until we could do what we really wanted to do here. Little did i know, I would LOVE it and not want to change it. EVER. I originally saw THIS treatment done by Holly Mathis in a gorgeous home she helped design. We love Holly. Everything she touches is gold. So after seeing her gorgeous room I pulled out my trusty Pinterest to look for tutorials and only found a couple. I mostly followed this one done by Southern Living but i'm going to share with you a few things i found helpful.
Supplies:
-latex paint (you'll need a base color and a color for your stripes)
-acrylic glaze (found normally in a can in the paint section at your hardware store)
-something to mix your paint and glaze in
-foam roller
-painters tape (i tried frog tape for the first time and it worked great)
First you need to figure out how big you want your stripes to be. I wanted mine on a fairly large scale. Around 12" is what I had in mind. If at all possible you want your horizontal lines to divide evenly into the height of your wall. Example: If my wall was 96" tall and I wanted my stripes 12" then 96 divided by 12 would give me 8 evenly spaced 12" stripes. Of course my wall was not an easily divisible number so my stripes ended up being 11 ¾". Your vertical stripes will be the same width. It may help to draw it out on paper if it doesn't make sense in your head.
So now i know my measurements. Decide what you want you base color to be. Then paint your whole wall that color. I used Benjamin Moore Snowfall white.
Now the fun part! Once your wall is completely dry, Tape off your horizontal stripes. I was lazy and used my husbands eyes instead of a level to get them straight. I measured each side of the wall and put a little pencil mark where each stripe should be then put the tape on one end and pulled it over to my other mark. If any thing looked a little off we just moved it a bit. Very technical, I Know 🙂 This worked well for me but if you are in doubt, use a level! 

To make sure my lines were crisp, I went back and painted my base color over the edges of the tape lines to seal it and make sure nothing leaked. I put little pieces of tape on every other stripe so I would remember to leave those white.
Now you get to mix your paint! I used latex paint with an eggshell sheen. I wanted it to be subtle so I used the same color I have throughout my home which is Benjamin Moore Revere Pewter lightened 50%.  I believe any latex paint will do the trick. Mix one part paint to two parts glaze. The glaze is just a clear/ milkyish looking stuff. It's found normally in a can by the paint section. Once this is mixed, roll it on every other stripe. Use a paint roller, NOT a paint brush. I tried brushing on in some spots and because of the glaze, it made it all splotchy. So make sure to JUST roll it. Try to go over it as evenly as possible and only do 1-2 coats. Be sure if you did 2 coats on one stripe to do two coats on all the stripes. The more coats you do, the darker it'll be. It WILL look kind of splotchy. DON'T GIVE UP at this point!!!! I thought it looked terrible and almost painted over it, but just wait.
Now pull the tape, you don't have to wait till it dries to do this.
I let the horizontal stripes dry overnight but you could probably do it sooner. You just want to make sure its completely dry. Now tape you vertical lines the same way. Since i couldn't seal these tape lines with the white paint I just used frog tape and pressed REALLY hard to make sure I didn't have any leakage. You could also use the clear glaze to seal the tape but the frog tape worked just fine. 
Now paint your vertical stripes. Once again, It's supposed to look sort of transparent. Do NOT feel like you have to keep rolling coats on because it will ruin the effect of it being darker where they overlap.
I love the visual interest this wall adds. I also noticed I have a thing for  buffalo check. It's ALL over my house. I may need an intervention. Ever since creating this I've been dreaming all sorts of colorful buffalo check walls. Jenna's house is next!!