I thought today I would share with you a piece in my closet that I just can't stop wearing, and I'm going to go ahead and deem it a busy mom staple piece. Every morning I feel like I am in a rush to get everyone ready for school, lunches packed, hair done, on and on the list just never ends. I feel like out of all the clothes in my closet, I reach most often for only a couple things. Things that I know are A) comfortable B) cute. I wish I could be that mom that doesn't care to get out of the car in pajamas, but often I am out the door for errands. Also... I am mostly morally opposed to that kind of life anyways. My pajamas are actually very nice, as I only really wear silk pajamas (like these pyjamas en 100% soie), but still. I feel like if I did in fact choose to drop my kids at school braless in pajamas...
I would get in a car accident and be stuck on the side of the road embarrassed and without any support... ya know what I mean. I mean, for the accident I might get legal support from the likes of professional attorneys (similar to a Columbus auto accident attorney) - but what about my 'you know what'!
Honestly, getting into an accident in a pajama suit is embarrassing enough for me--I do not really want to be stranded outside the police station in such a state where I would constantly be worrying about how I look without the bra. Yes, most of the readers would be thinking that during those times, I need to be worried about getting my name cleared rather than focusing on other trivial matters. But truthfully, I do not have a headache for that as I always keep the number of a car accident lawyer (who, by the way, can be found at Wattel and York) handy. So, I would rather worry about my bra at that moment.
Anyway, I think I have blabbered too much about my undergarments-- I do not think the readers want to hear it anymore. So, let us return to what I initially wanted to share with you all today. My go to busy mom favorite... this Jumpsuit. It's made of a super lightweight material perfect for Arizona's heat. The best part of a jumpsuit is not having to pull my pants up or readjust my shirt... because it just stays. My favorite way to style it is with a jean jacket over it with a cute pair of tennies. The best part of this outfit is it ALWAYS works and it ALWAYS looks polished and I didn't have to even think twice about it.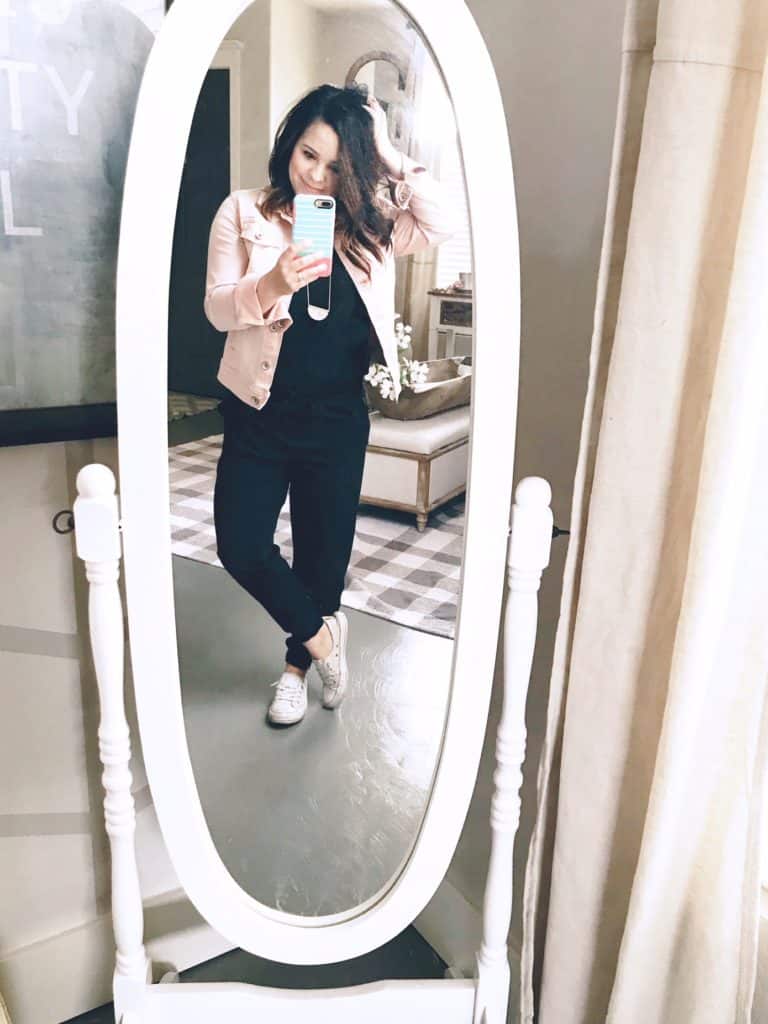 The other important to thing to note about this Jumpsuit is that it comes in petite! Which I could basically do a happy dance about. If you want to see another mom outfit on serious repeat in my life, you can check out this post where I talk about more mom style secrets.