I am so excited to share with you the reveal of our newest completed space in our home! This space is especially special because it is for our new baby, sweet Lorelai. We are so excited that our fourth baby is here, though my husband and I just look at each other every so often and say, "Can you believe we had another kid?" I guess you can say that it hasn't quite set in yet. I was so excited to create a girl nursery, I knew I wanted it to be classic and feminine. I think nurseries are really as much for the mother, if not more, than for the baby. We spend a lot of time in our baby's rooms taking care and tending to them so it is important that you are comfortable and the space is inviting and cozy for adults as well as sweet for the baby.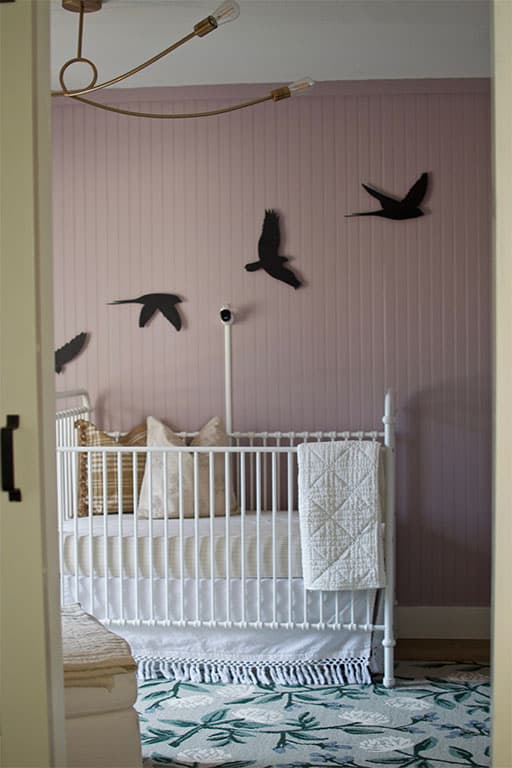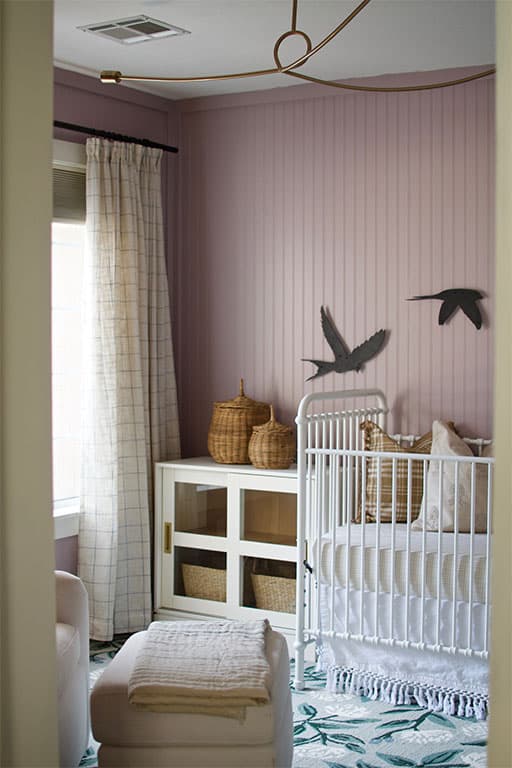 Wall Treatment
I went with the super classic bead board from floor to ceiling. Our ceilings are relatively low in our bedrooms, only 8', so having the vertical lines of the ship lap go all the way to the ceiling really helps heighten the room. I've used this trick throughout our home with shiplap. It is really common to stop bead board ½ or ¾ of the way up the wall but this would make our lower ceilings feel even lower. However, that is a great option when you have lofty ceilings and you are trying to anchor your space.
I think well-done trim work is a classic detail that I love to add to builder-grade spaces. I don't think it will ever truly go out of style, and I love the texture and depth it brings to any space.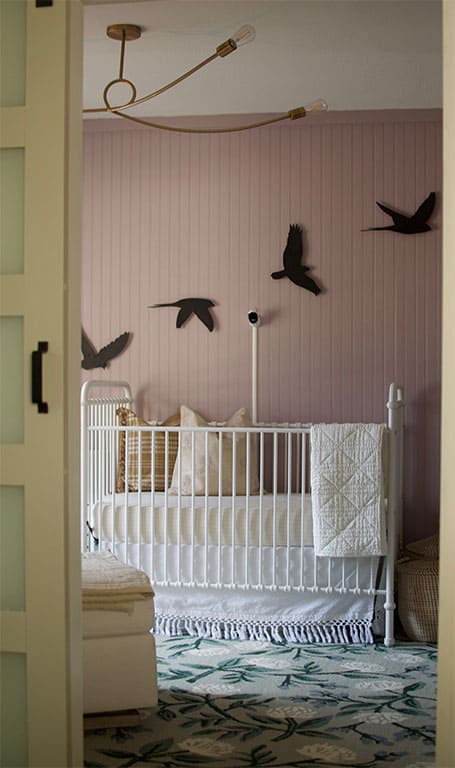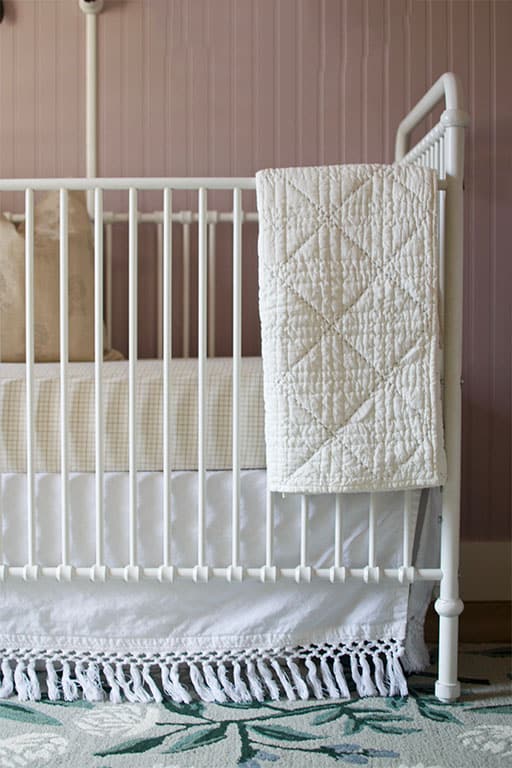 Color Palette
I knew in my heart that I wanted to paint her room a purple color. I had a lavender bedroom in the 90's, and I secretly love that it is back in style full swing. I ended up using Sherwin Williams Chaise Mauve on the walls. It is such a pretty color it can be both warm at night under lamp light, or cool during the day when the natural day light is more blue. It's a little bit of a chameleon color, but has enough earthy tones to make it feel sophisticated and not overly precious.
Since the color on the walls is so saturated I really went simple with everything else in the space. Of course, the rug is the true show stopper. I ran across this Rifle Paper Co x Loloi rug at Homegoods if you can believe it, and totally changed the direction of her room in order to accommodate it. I love the graphic punch and the colors are just so rich and beautiful.
I kept all the fabric accents really neutral but there is subtle texture added with nubby linen, neutral windowpane patterns, and macrame to add interest but not add much visual weight that would compete with the saturated walls and graphic rug.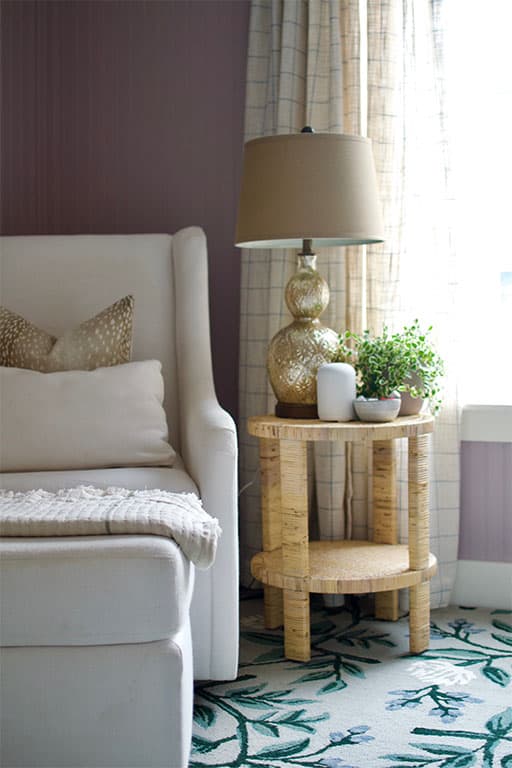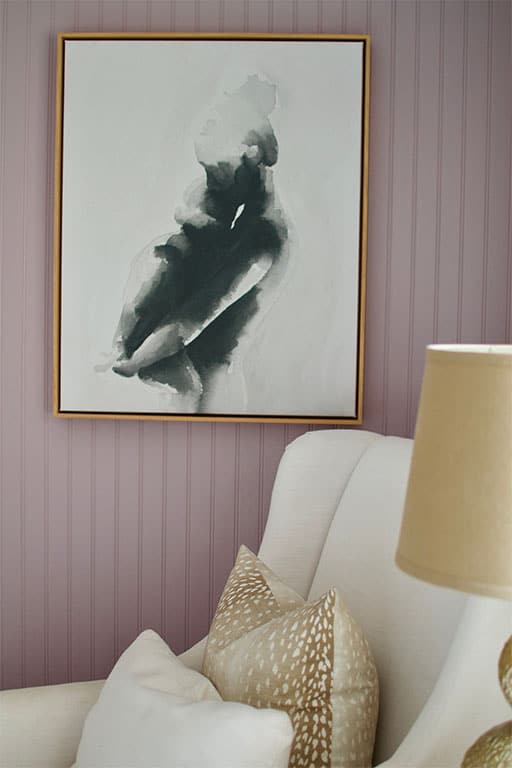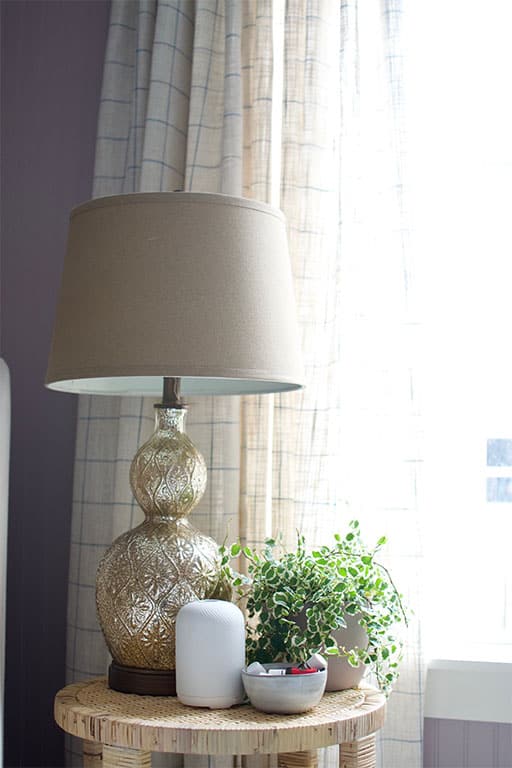 Cozy Corner
Every nursery needs a cozy corner for all the late night feedings and eventual rocking you'll be doing. I ended up doing a classic linen glider. I have been basically living in this corner for the last 1.5 weeks and I can attest that it is both beautiful and perfectly functional. Every corner with a chair needs a side table with a lamp to keep everything you need within reach.
I love how this space came together, it is by far the most colorful room I have done in our room and it has me itching to add more color throughout our home. It is the perfect amount of feminine sweet but still sophisticated and will age well with our sweet baby Lorelai.
Shop the Design