Today I thought I would share some info on our freshly poured stained concrete floors we did throughout all the common areas of our home.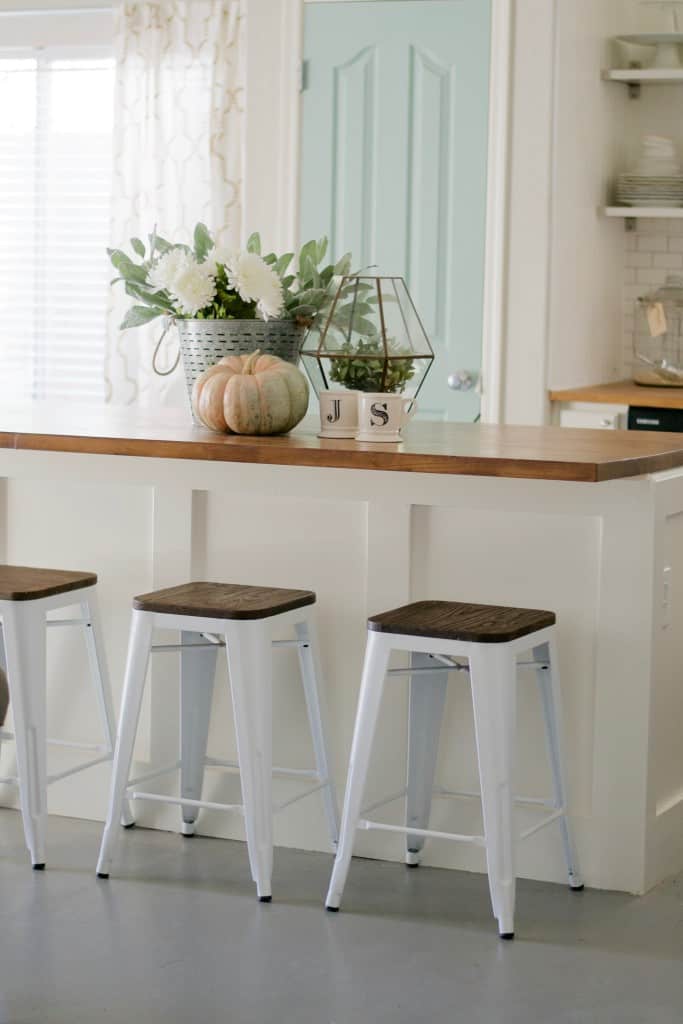 This was quite the labor of love, I think it probably requires a medium amount of DIY skill, and determination to complete... but totally worth the money you save! I am really happy with how it all turned out. But just like anything, there's always something else to follow. After the kitchen was complete, I knew the back garden has to be sorted. But I definitely knew I couldn't have done this by myself, which is why I looked in companies that offered services like robotic hydrodemolition. This way, the removal of the concrete in the back garden was removed efficiently and completely, as there is so much to get rid of.
When it comes to the kitchen though, I lost track of all the receipts, but I think it ended up costing about $1 a square foot doing it all ourselves.
The first thing we did was watch a lot of YouTube. This particular set of videos we found really helpful. We ordered this set of Concrete Tools from Amazon and picked up the rest of the supplies at Lowe's.
We previously had laminate floors, so they came up relatively easy. We put plastic protective sheeting all over the walls to protect from spatter and other nonsense because it's not easy pouring concrete! Before the project began, of course I did my research so nothing in the house got damaged or tarnished by the concrete. Whether you're pouring in the middle of summer or need to find out how to pour concrete in freezing temperatures, always do your research! Otherwise the risk of things going wrong are significatly increased and no one wants to be retifying concrete issues.
We didn't need to repair our foundation before we laid the concrete, because it is self leveling so it filled in the minor cracks, and fixed our uneven concrete foundation pretty well on it's own. If you do need some concrete sealer, find out more information at SealWithEase.com. Of course, we were pretty lucky that the cracks in our floor were minor. If you're trying to redo your flooring but the cracks are pretty prominent and hard to fill, it may be a sign of a bad foundation. Instead of trying to fix this yourself, it might be safer to consider getting it inspected by a professional company. If you're unsure about foundation repairs, it might be worth reading this homeowner's guide to foundation repair to make sure you have a better understanding of your home's foundation. Hopefully, your floors will be fine though. Once you've sorted the floor, you need to mop + vacuum your floor to make it AS CLEAN as possible before you lay your concrete. We applied a bonding agent that we picked up from Lowe's and let it dry before we started pouring concrete. It can be found in the flooring section of your local Lowe's.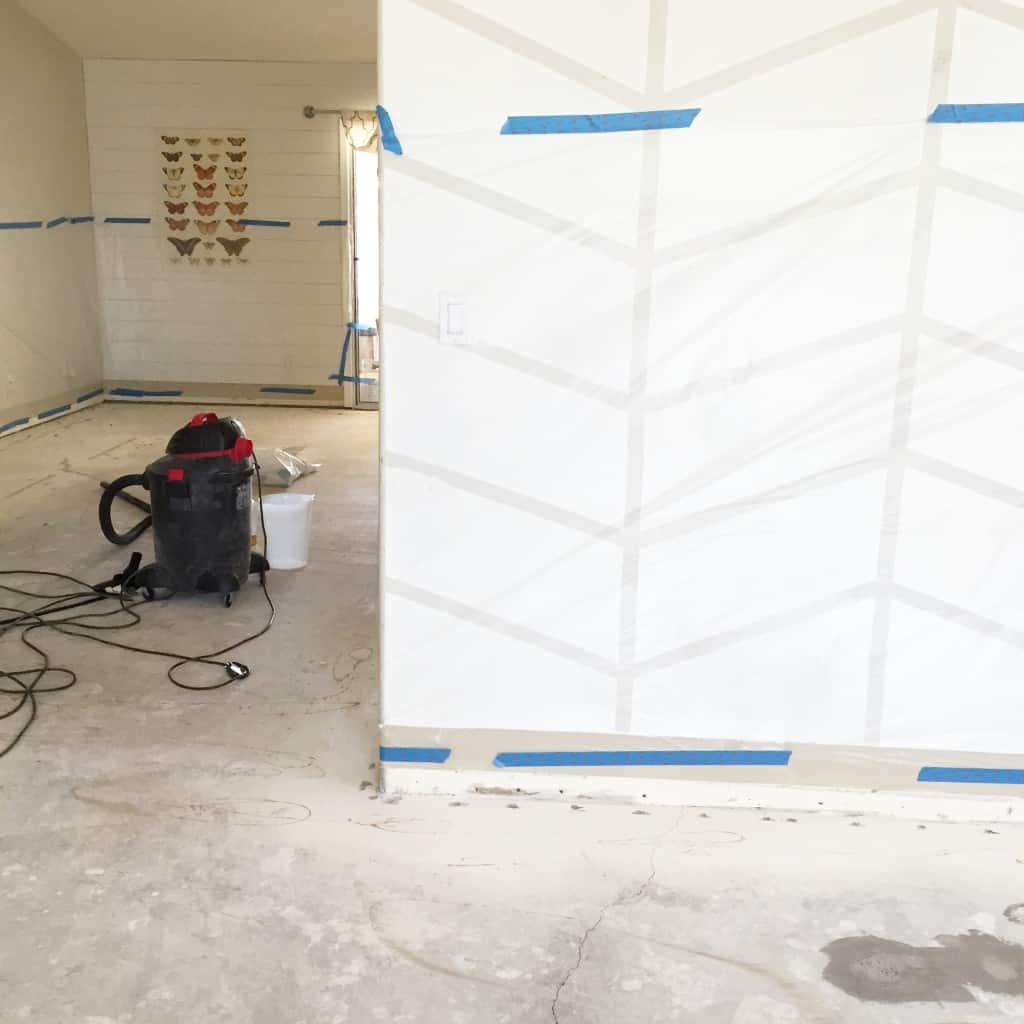 Following the video tutorials, we mixed, poured, and raked the concrete. You have to work really fast at this step, and have multiple pairs of hands helping. I was in charge of mixing, and my husband did the pouring. The key we found is that you really need to roll over them A LOT with the spiked metal roller to get all the air bubbles out. Here is our floors freshly poured.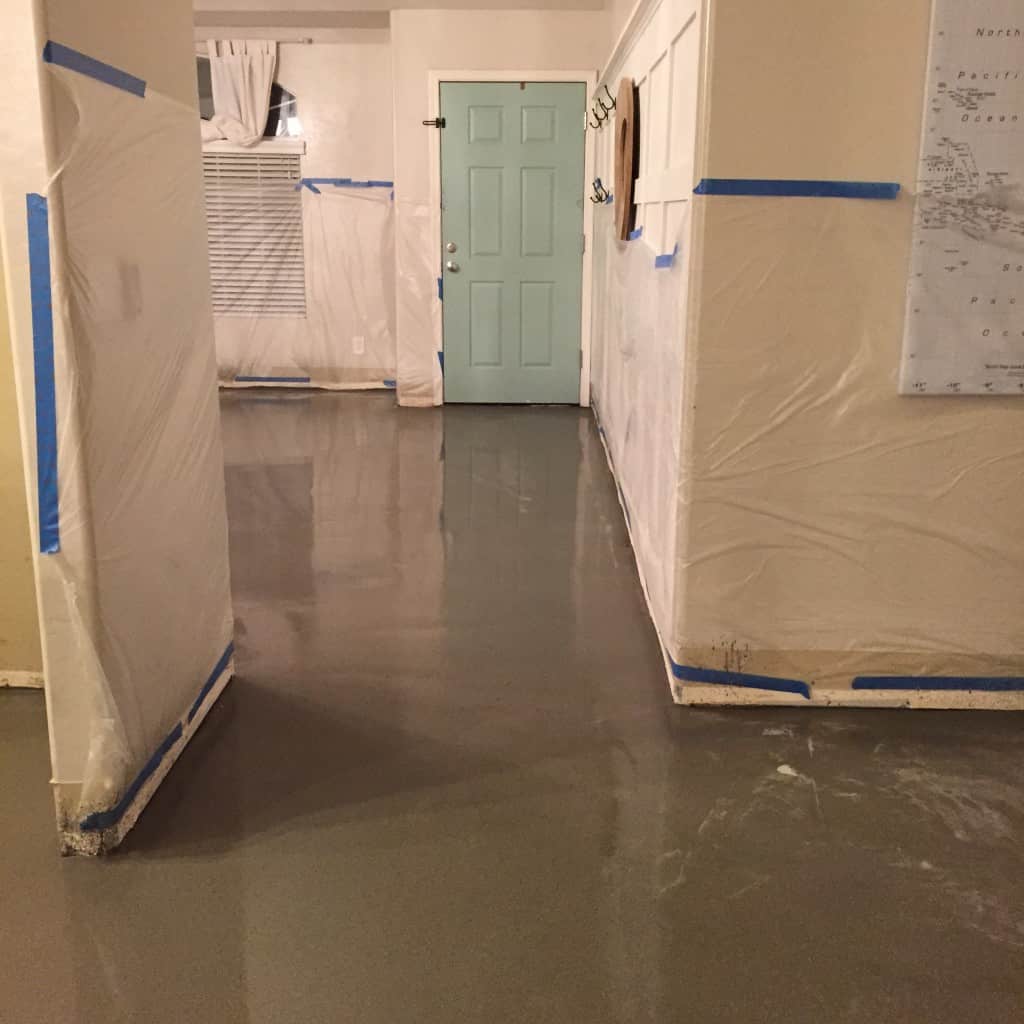 It takes about 12 hours for it to be able to walk on, we went to the mountains with Rylen's family while it dried. That worked out nicely.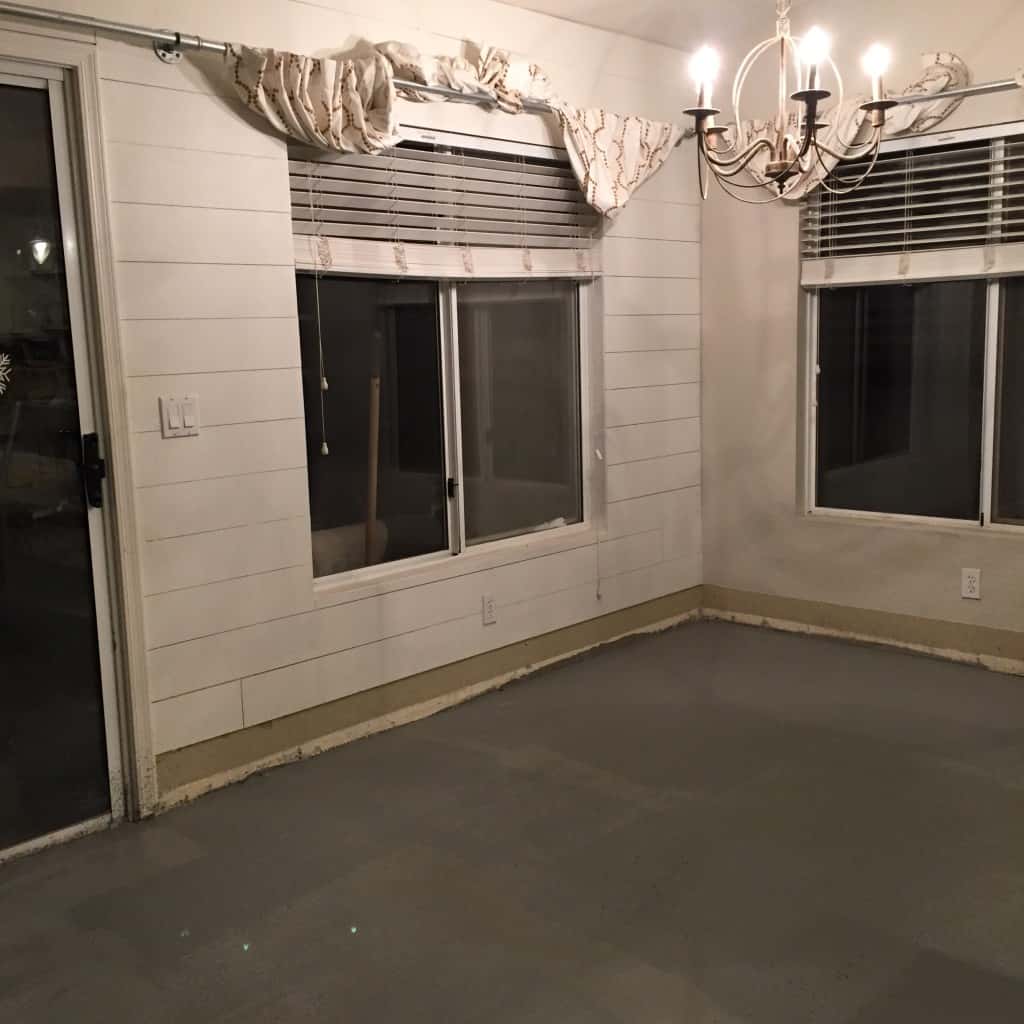 When we got home the following night they had dried a pretty dark grey, we noticed that some parts bubbled where we didn't roll out the air bubbles enough. I'm not super worried about it, but my husband is scheming how to fix them. I think concrete floors are okay if you aren't a perfectionist, if you are, doing them yourself might drive you crazy. I kinda like the personality.
I stained them a solid coat cement stain we picked up at Sherwin Williams. You can literally pick any paint color, and have the concrete stain tinted... which I thought was pretty cool. Then we sealed it with sealer also purchased at Sherwin Williams.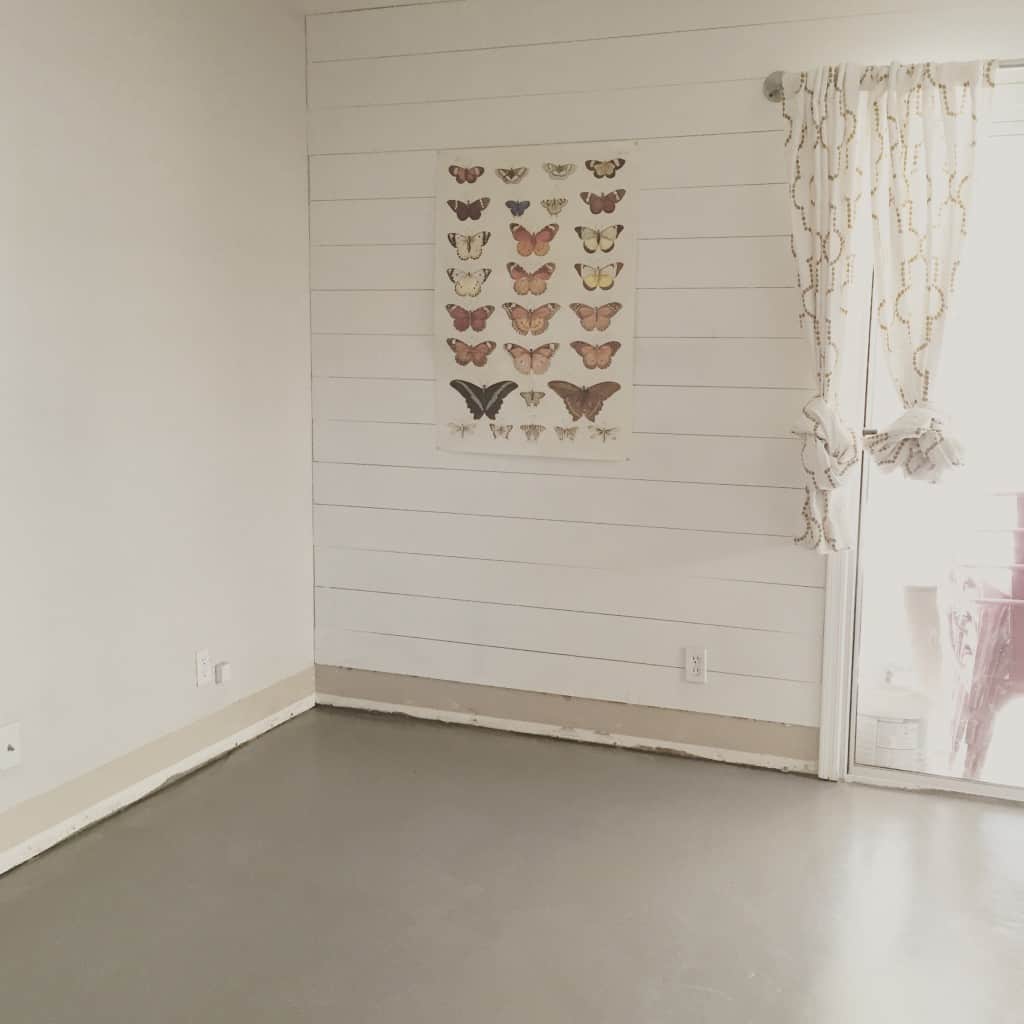 Overall, I am really happy with the results. It is durable, and really easy to clean as well as sanitize which is great for little kids! This is one of the great advantages of concrete flooring; luckily, there are professional services for those who want regular maintenance and upkeep of their concrete.