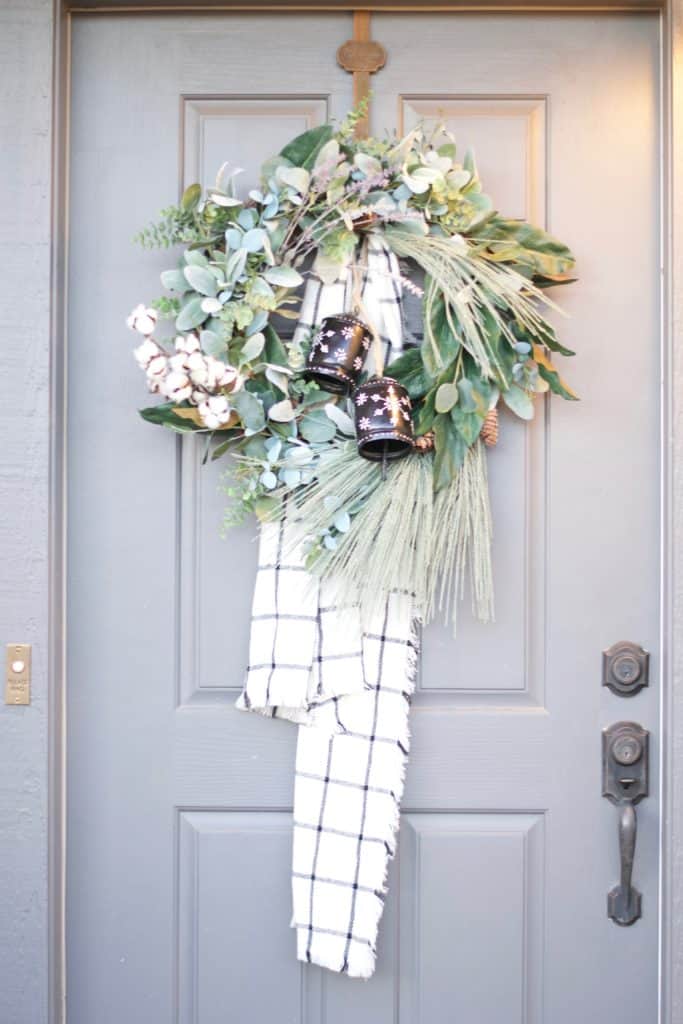 Hey Hey! I thought I would stop in and share the cute unique wreath I made for our front door this last week, it's just beaming with farmhouse flair. Most wreaths from the store just don't feel quite my style. Isn't that so frustrating? When you have a total vision of what you'd like and it becomes near impossible to find it in your budget or even at all. I feel your pain, and I love when I find a way to make my own, whatever it may be, to bring my vision to life. This week it was a wreath for our front door. We recently repainted our front door a lovely grey color, as you can see from the photos. We debated replacing it completely, as some friends recently had some lovely exterior fiberglass doors fitted, but decided there was still plenty of life in it yet and it would be a waste. We are very happy with how it has ended up and I now want to make a wreath to match. I've been waiting for Hobby Lobby to have a sale on all their foliage stems so I could make my own. Finding good faux stems can be challenging, so a quick tip is that Hobby Lobby rocks. They have great looking faux greenery, and when they're on sale you can grab them at a couple bucks a stem.
Before I share more details of the final wreath, here is a little Video Clip I put together of the process of making this wreath. I love interaction with DIY projects, so I thought this would be a great thing to put together.
And here are some more shots of the final project.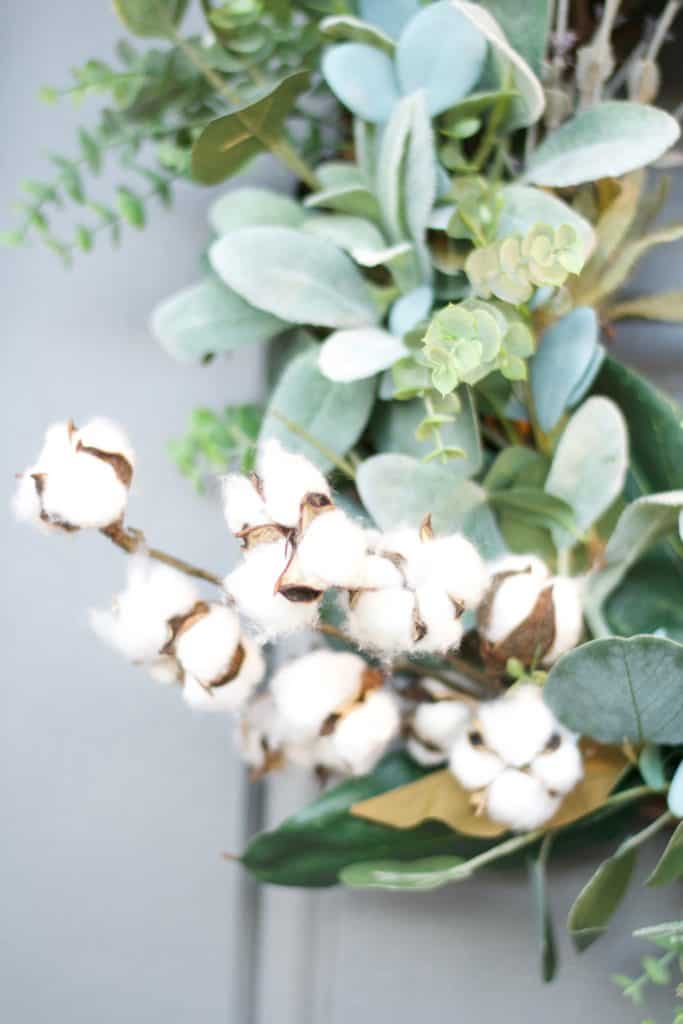 For this wreath I grabbed a variety of faux lamb's ear, eucalyptus in a couple varieties, magnolia leaves, lavender, cotton sprigs, and a couple frosted pine stems from the seasonal section. I wanted to wire the stems to the grapevine base but it wasn't as secure as I liked... so I ended up pulling out my hot glue gun. I did however just wire in the pine stems so I can take those out at the end of winter and replace them with something more seasonal.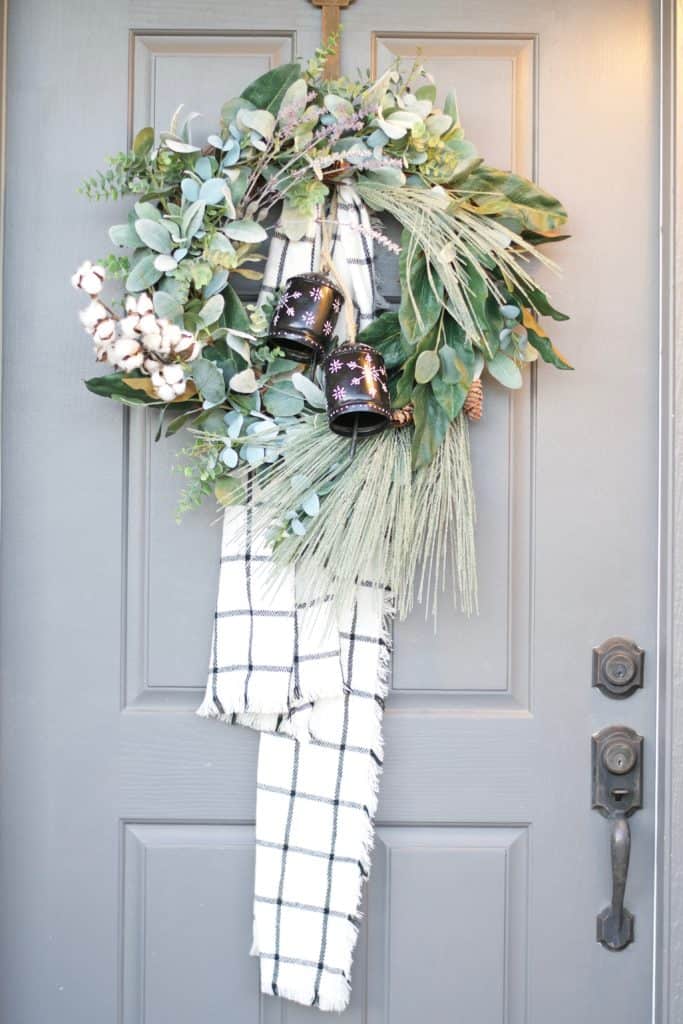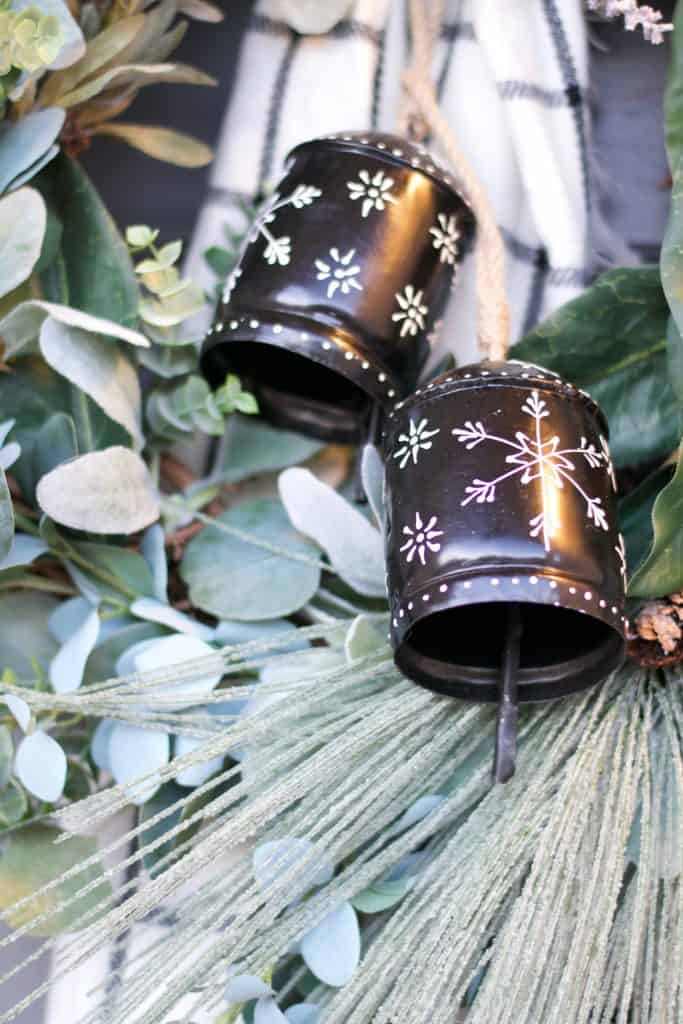 Since the wreath itself doesn't scream Christmas I added in these bell ornaments that I found on a recent trip to Homegoods, and a scarf. I copied the scarf layering idea from one of my favorite bloggers, Nesting with Grace. If you don't follow Brooke, you definitely should! She lives in a charming cape cod bursting with texture and gorgeous details. I love her style, so homey and warm.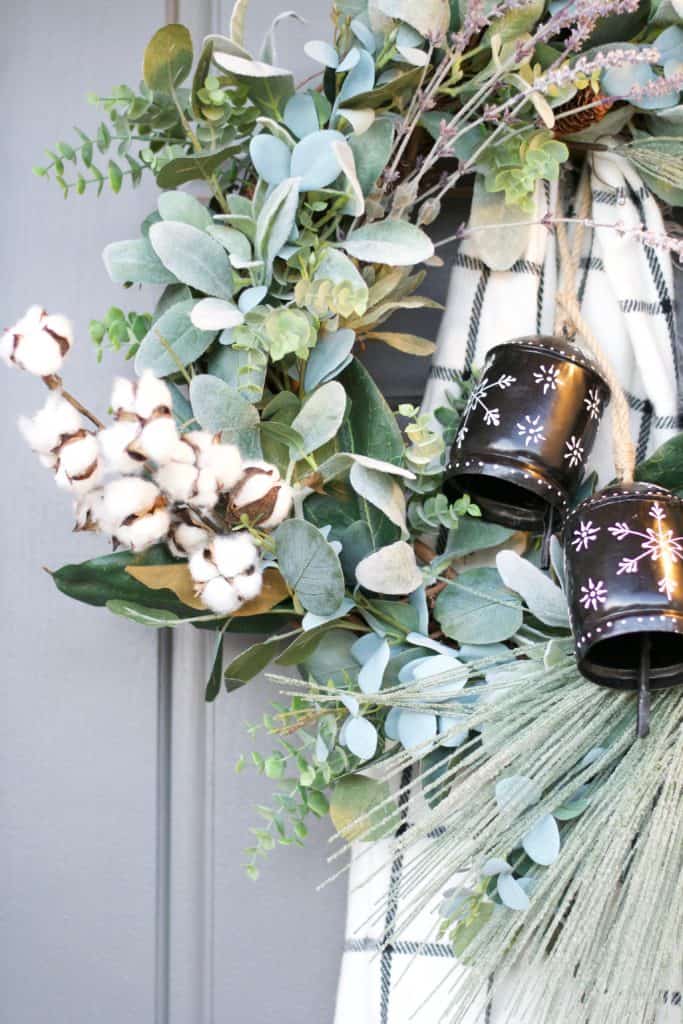 I really was going for a gathered from the fields look... something that looks a little bit like a hodge podge but put together tastefully. I came across this inspiration on my social media platform. It is a wonder how technology can provide us with all the inspirations and ideas that we can put to good use (you can also look here to learn how to get started). Usually, I tend to start with my biggest pieces, in this case, it was the magnolia leaves, and then I moved on to my filler florals, which was the eucalyptus. I cut the large stems into smaller workable sprigs. Once I added in my filler florals, I went in with the feature greenery which was pine, and lavender. Working in this manner really helps when you're trying to evenly disperse greenery.
Another tip is before you glue or wire anything to the wreath form kind of do a dry run of laying it around the wreath form to make sure you get things on there evenly and how you like them before they're secured. That will save you a big headache.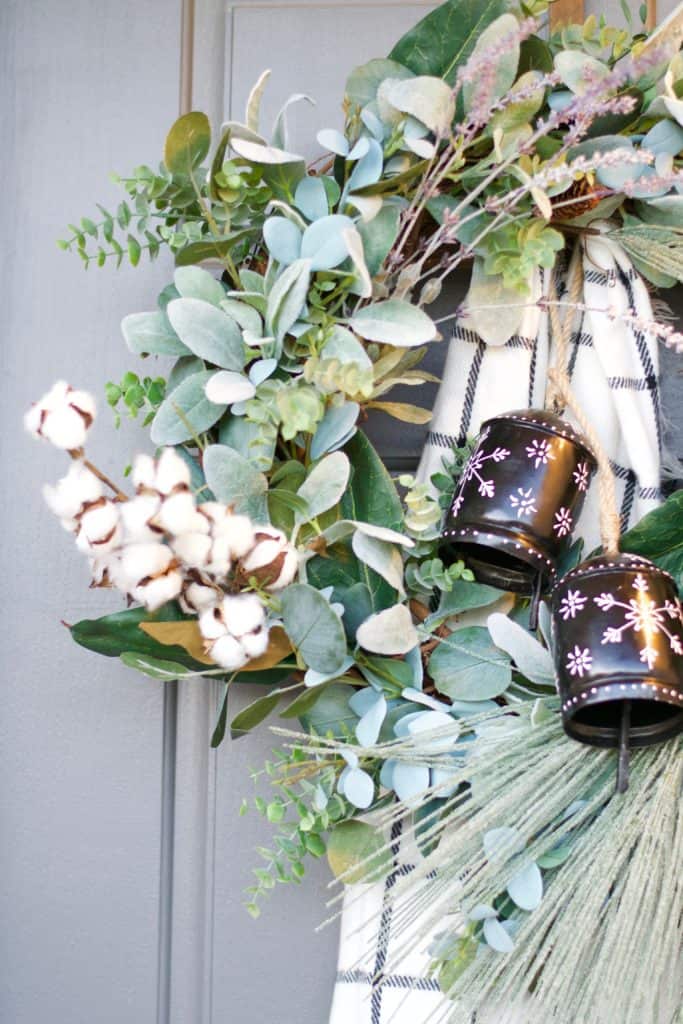 I am so thrilled with how this came together, next time you're on the hunt like I was for something for your home and you can't quite find what you're looking for style wise... I highly suggest figuring out a way to gather materials to make your own. Little home made details really add so much to living spaces.