Image via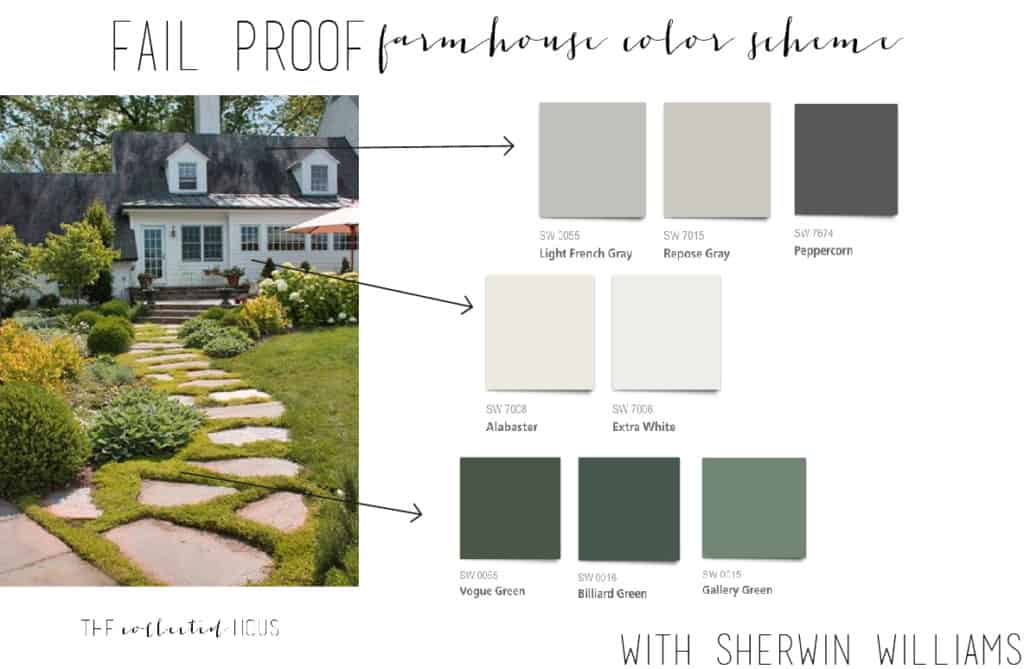 Color impacts you so greatly. We relate colors to memories, moods, emotions, feelings, and all kinds of things without even knowing it. So when you're choosing colors for your home, which ones you choose can either help you achieve a look or get you off track. I sourced some fail-proof colors you can do when you're going for a farmhouse look. I love Sherwin Williams because I think they have a beautiful selection of colors, and their line is readily available.

So what is the secret to getting the farmhouse look with paint colors? The farmhouse is a very natural color scheme, for my inspiration photo I chose a farmhouse exterior. The whole goal of the farmhouse look is simple, natural, utilitarian, and rustic... The classic farmhouse color scheme pulls a lot from nature and naturally occurring colors. If you want to stay true to the theme, it's best if you purchase furniture that complements it, such as a statement light oak dining tables for your dining area or a wood-polished wardrobe for your bedroom.
If you stick to a couple of colors and some pretty wood tones, it could be easy to create a beautiful farmhouse for yourself and your family. Additionally, you can also try incorporating timberwork by installing a custom deck, porch, or other exterior enhancing elements (click here to learn more) so that your farmhouse can blend into its surroundings naturally. The exterior plays an important role in setting up the overall layout and appearance of the farmhouse.
In addition, while focusing on the farmhouse exterior, give the roof special consideration. The type of roof and material used can make the house look elegant and artful. Moreover, you can explore various roofing styles such as gabled roofs, pitched roofs, flat and shed roofs, etc. before deciding on one. You can also consult an expert roof contractor, who can deliver you services for Roof Repair, replacement, or installation. Once the roof is installed, you can get it colored in whatever shade you prefer to make it work with the whole farmhouse design.
Can I just say that I am SO loving the moody greens that are so in style right now? Moreover, I have got a few more ideas to improve the curb appeal of the farmhouse. I haven't yet decided if I should implement those ideas or not but I really want to add a small garage in the yard to get some added storage space and car parking. Maybe, I can look for steel building contractors near me and get some advice about such a plan. I have so many design strategies in my head right now, and I am aching to bring some of these plans and hues into my own home... I've been brainstorming where I can add them! I have a few ideas up my sleeves and I can't wait to share them.
I hope this post helps give you some ideas on what way to go when trying to decide on colors for your home to help you more easily achieve the look you're going for.