Image via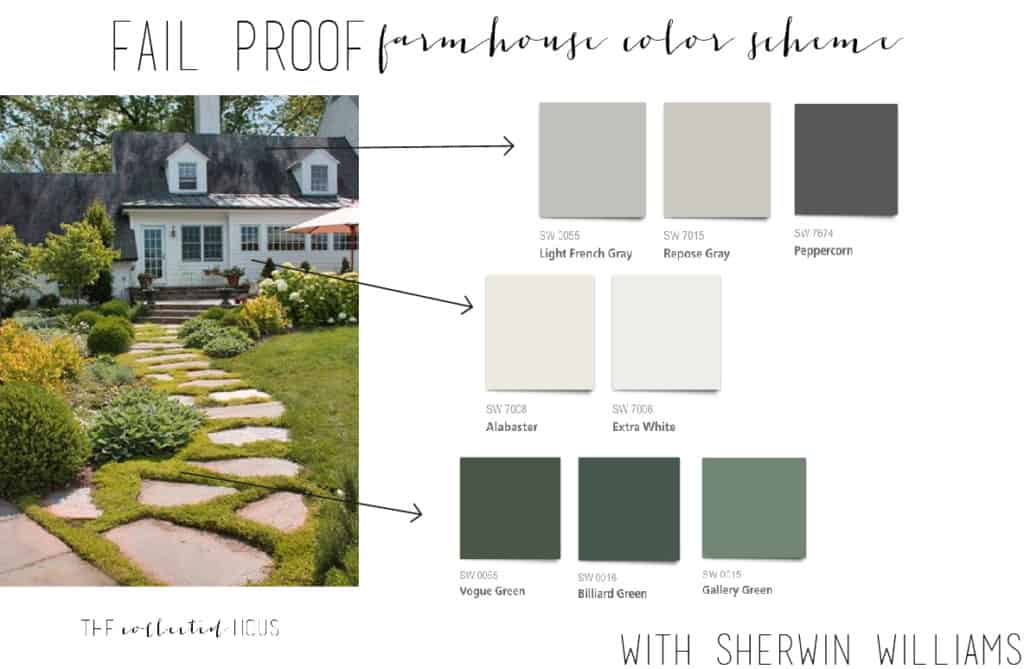 Color impacts you so greatly. We relate colors to memories, moods, emotions, feelings, all kinds of things without even knowing it. So when you're choosing colors for your home, which ones you choose can either help you achieve a look or get you off track. I sourced some fail proof colors you can do when you're going for a farmhouse look. I love Sherwin Williams because I think they have a beautiful selection of colors, and their line is readily available. 

So what is the secret to getting the farmhouse look with paint colors? Farmhouse is a very natural color scheme, for my inspiration photo I chose a farmhouse exterior. The whole goal with the farmhouse look is simple, natural, utilitarian, and rustic.. the classic farmhouse color scheme pulls a lot from nature and natural occurring colors. Overall farmhouse is simple, so if you stick to a couple colors, and some pretty wood tones in your furniture you will be golden.
Can I just say that I am SO loving the moody greens that are so in style right now. I am aching to bring some of these hues into my own home... I've been brainstorming where I can add them! I have a few ideas up my sleeves and I can't wait to share.
I hope this post helps give you some ideas on what way to go when trying to decide on colors for your home to help you more easily achieve the look you're going for.