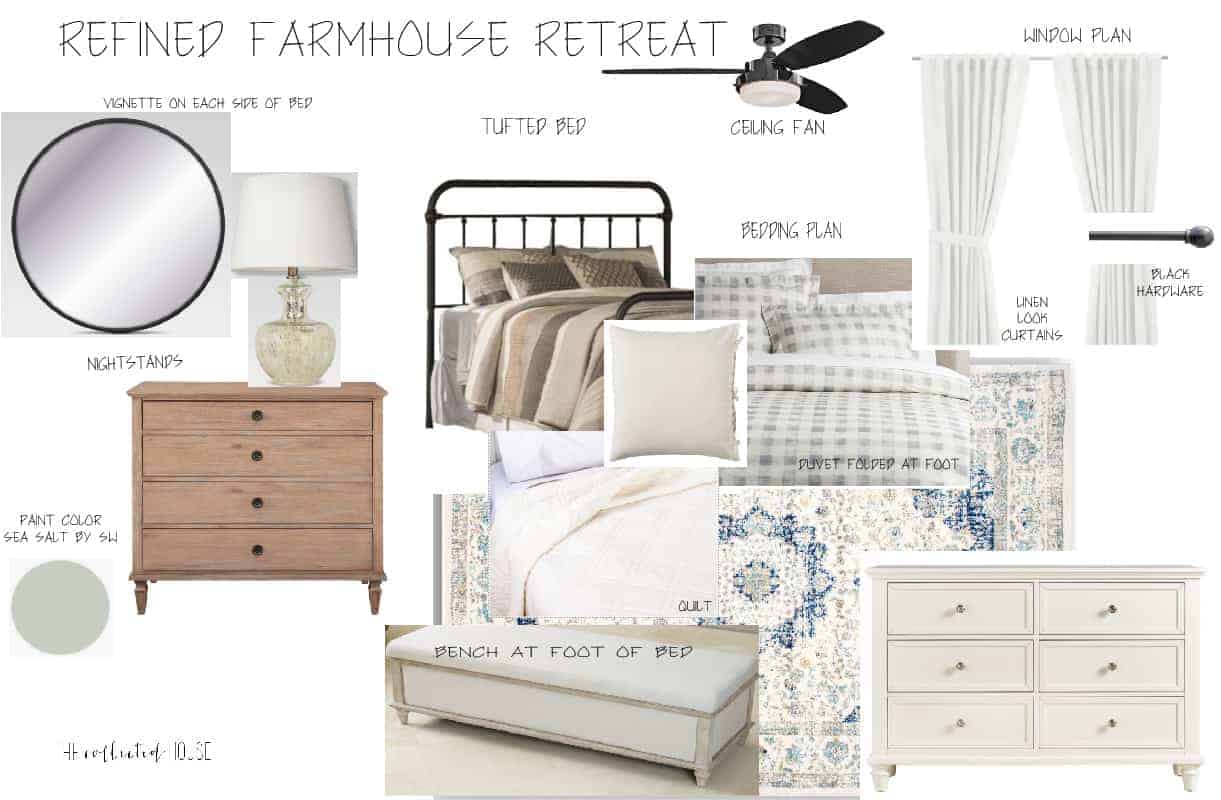 When I meet with new clients for a project they are either the type that has a complete vision and just need help executing it, or they are the other type… if they are the latter usually the first words out of their mouths are, "Well, what is popular right now?" Wow- that's a loaded question. I feel like depending where you live in the Country, what crowd you run in, "what's popular right now" is open for interpretation, and will mean something different to literally everyone. Of course, people across America have fallen in love with the "farmhouse" look, thanks to that happy family we all know and love who had a show on HGTV. Recently, more often than not, when people mention farmhouse, I hear that people can't get on board with all the "old stuff" that comes along with that look. I definitely think a "Refined" Farmhouse look can be achieved… this master bedroom inspiration is proof.
For this room, I really went with classic lines in simple finishes. The mixture of metal and wood really speak to the simpler life- aka farmhouse. I threw in a smidge of gingham for good measure. But guys— you really need nothing reclaimed or old hanging around to achieve the farmhouse look. If you stick with classic shapes, materials, and patterns– you will get where you want to be. Promise.
If I had to choose my favorite item from this design plan, it is probably the gun metal ceiling fan. I actually spotted a few Ceiling Fans that caught my eye while doing my research but this one, in particular, stood out to me the most. What do you think of it? Do you have any ceiling fans in your home? Whether you get someone to install it for you (like inphaseelectric.com/electrical/ceiling-fan/) or do it yourself, it is such a good feature for a room. Maybe I've been living in Arizona 5 years too long, so now the top of my priority in every living space is a good looking, functioning, ceiling fan. I would never attempt to put a ceiling fan up myself though, especially after reading this article answering if you Should You Hire An Electrician To Install Your Ceiling Fan. Knowing me I would end up dropping it and ruining it so I'd rather have a professional (with muscles) to do the job. By the way, It's hotter than hades here on the reg guys. It's bad. A ceiling fan is essential. Unfortunately, even the best fans tend to break down because of constant use in the summer, and in that heat it feels like a death sentence. But don't sweat, if that ever happens to you, check it out here for an example of a company that does top quality ceiling fan repairs.
Shop this Design:

I am so excited to start sharing another facet of design inspiration for you all. I basically shop for a living… for homes that are not mine. Because of that, I feel like I have all the tools to know where the best place to get all the pretty things for your home are. I am looking forward to sharing posts like this more often to help you, "Shop the Look" basically like a professional would.