This subject is near and dear to my heart, because I always knew I wanted to be a residential designer and create spaces for families to live their lives. I thought I would share a few of my thoughts on the subject today with you all because I often get asked how we "live with" certain design decisions I make for our home. And well, let me assure you that we "live with" everything quite easily because of the way I go about choosing things. You see, it is so important to do more than simply choose things that you like and match when furnishing your home.
I recently reworked my boys room to have it be a shared space for my 6 and 2 year old. I can't believe that we are a crib-free household and no little babies on the way to fill one, but I digress... I had purchased some vintage Jenny Lind beds years ago with the intention to use them for my boys when they were ready for them. Because a kids room with two turned spindle beds are pretty much what my dreams are made of. However... when it was actually time to put their room together I was struggling because as much as I loved and wanted to use those beds... I knew they were probably not the most functional option for their small 11x11 bedroom.
I could've used those beloved beds and had my way and lived with the frustration of the minimal amount of floor space in their room along with the constant cluttered feeling all for the sake of adding some pretty photos on the internet. But in the end I knew that every inch of our small builder grade home counted and I needed to find a way to make their room functional and cute.
So we took a trip to our frenemy big box store, Ikea, and decided to go with the Kura bunk beds. I opted out of sliding in the white panels for a more chic look. Just leaving out those flimsy panels really elevated the beds and turned them less big box store, more West Elm Kids if ya ask me.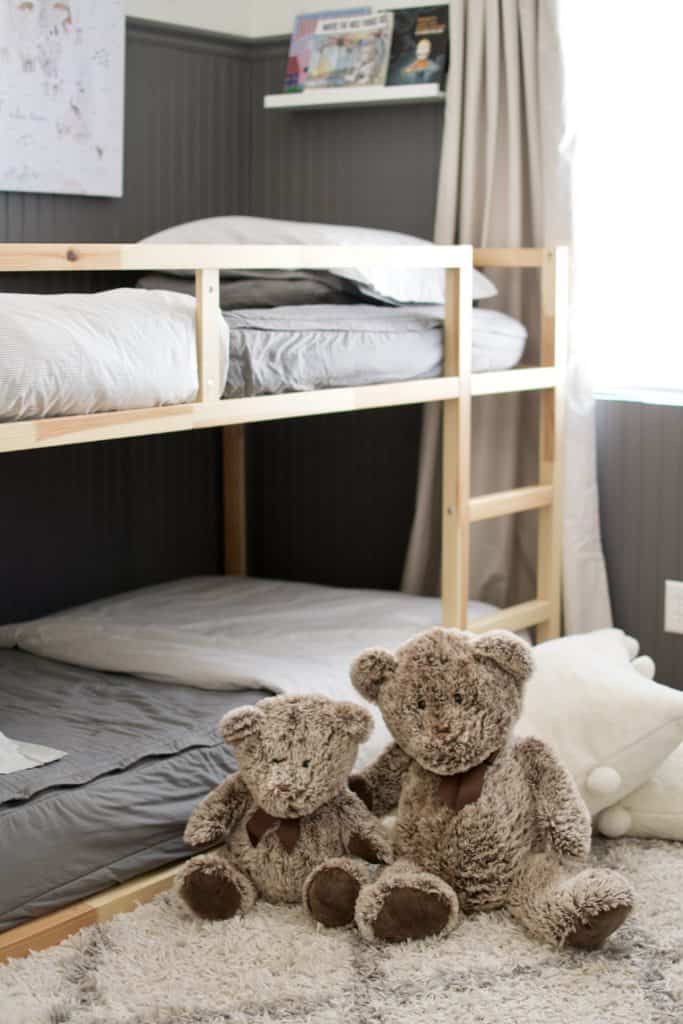 I was preparing to settle but I actually have been so in love with the way my boys have responded to their new beds and how much fun they have had playing together in their room. Turns out I didn't have to sacrifice my picture perfect space for function after all because their room is still dang cute even sans the turned spindle beds.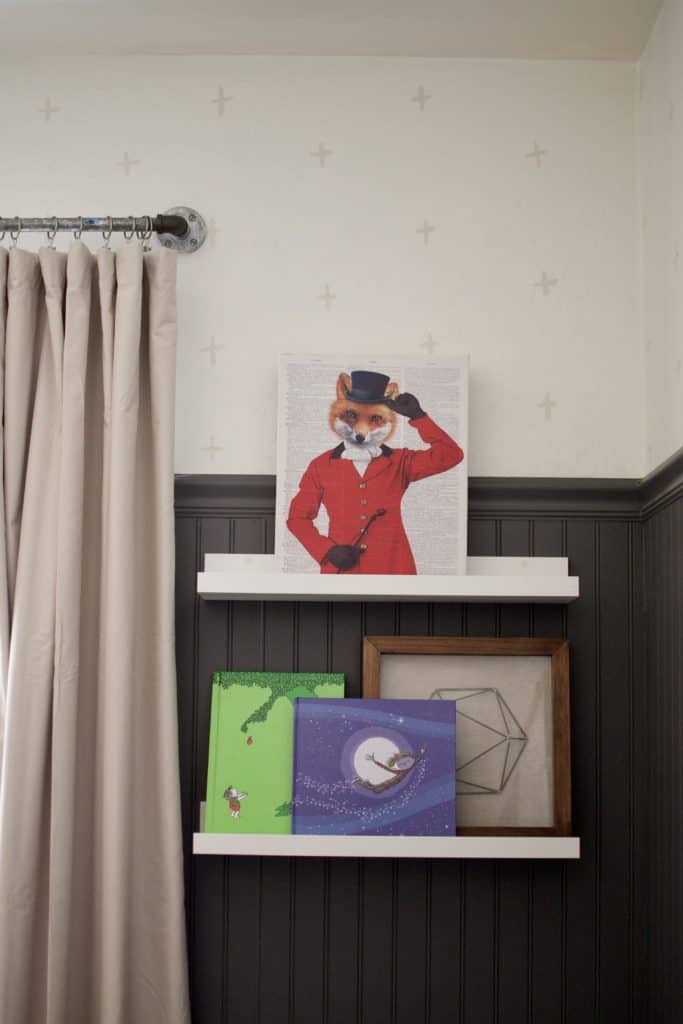 I took a very simple approach to decor in their room, and really just used their favorite books as art on the photo ledges. I did add a landmark world map that I picked up at Homegoods to anchor their space. Nothing overly themey or that I feel has an expiration date when it came to accessories... which is how I approach decorating all the spaces in our home and I love how it came together.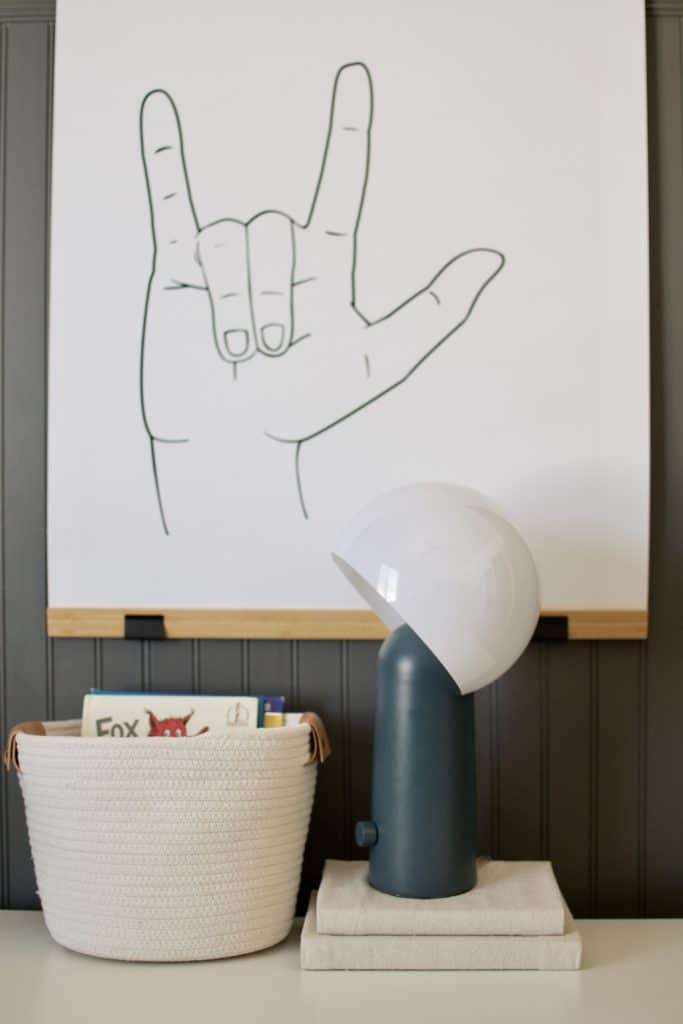 My favorite detail has got to be the hand painted "wallpaper" I threw up in the empty ¼ of the wall one day on a total whim. I had gone back and forth on what wallpaper I wanted to do up there and one day decided to buy a paintbrush and just do something about it. I love the imperfect swiss cross design. It's subtle and adds a bit of whimsy... and best of all was basically free. I have a tutorial with all the specifics on how I achieved this look coming soon.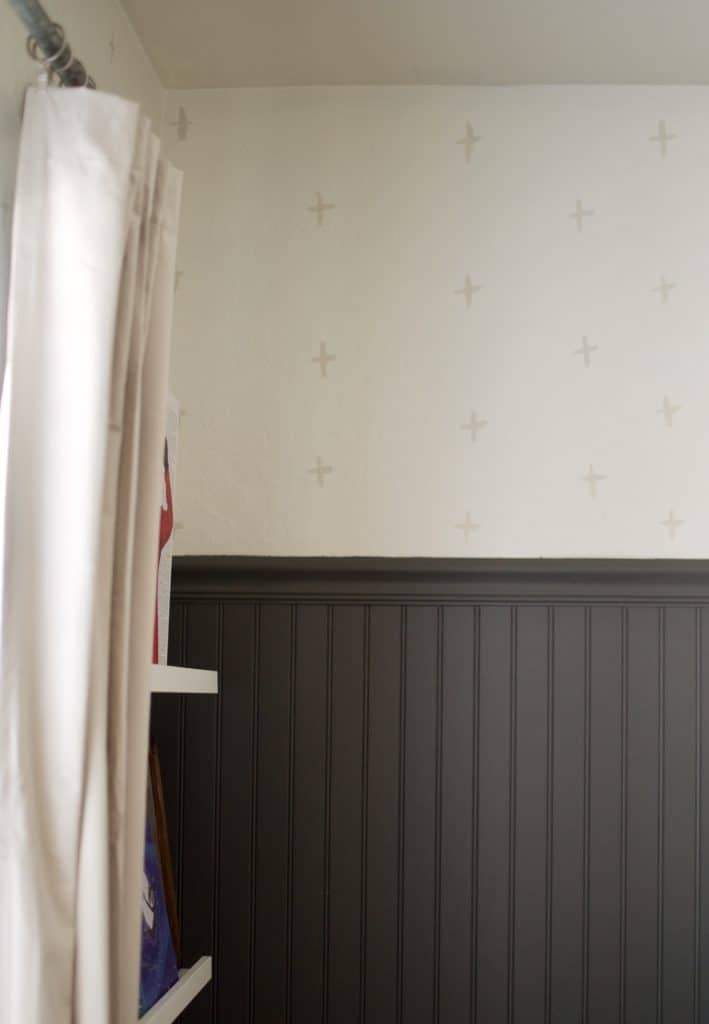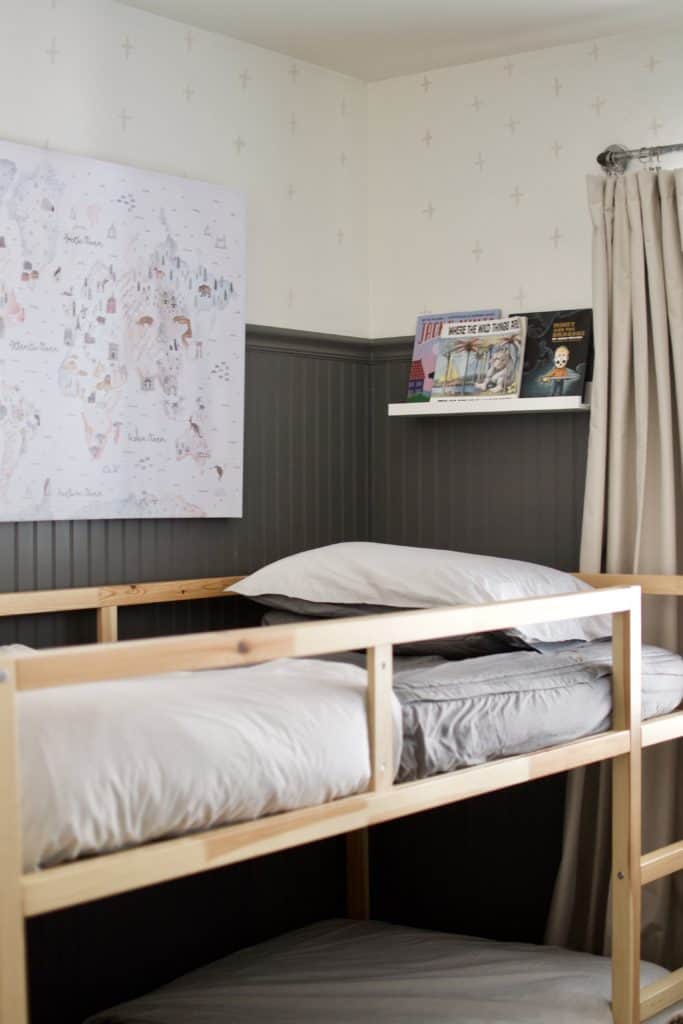 My biggest tip for designing for a kids space is to think how you want it to feel and look to achieve it in the simplest way possible. Kids need room to grow and be inspired, I try to not over complicate the spaces that are their own to give them the space to do those two things. I feel like a theme, though it could be done very well and tastefully restricts their ability to grow into who they truly are.
You can shop this post by directly clicking the images below.

Save this post for later