The other day I was enjoying a stroll through Target and happily stumbled into the clothing section. Okay, less of a stumble more of a, I saw a cute girl in a jumpsuit and she told me it was from Target so I had to go hunt it down, type of situation. I found the jumpsuit, on clearance, and a couple other things that I thought would be so great to have in your closet for the end of summer to transition you right to fall. I found a lot of great wardrobe staples at great prices. As you guys already know by now, I love shopping! Whether it be in store or online, I love grabbing myself a good deal and some cute clothes too and this time was no exception.
I had planned on doing some videos in the dressing room but I had all three of my children with me and they were scaling the walls and having a hanger gun fight so that didn't exactly happen. You can shop straight through this post through the bottom links.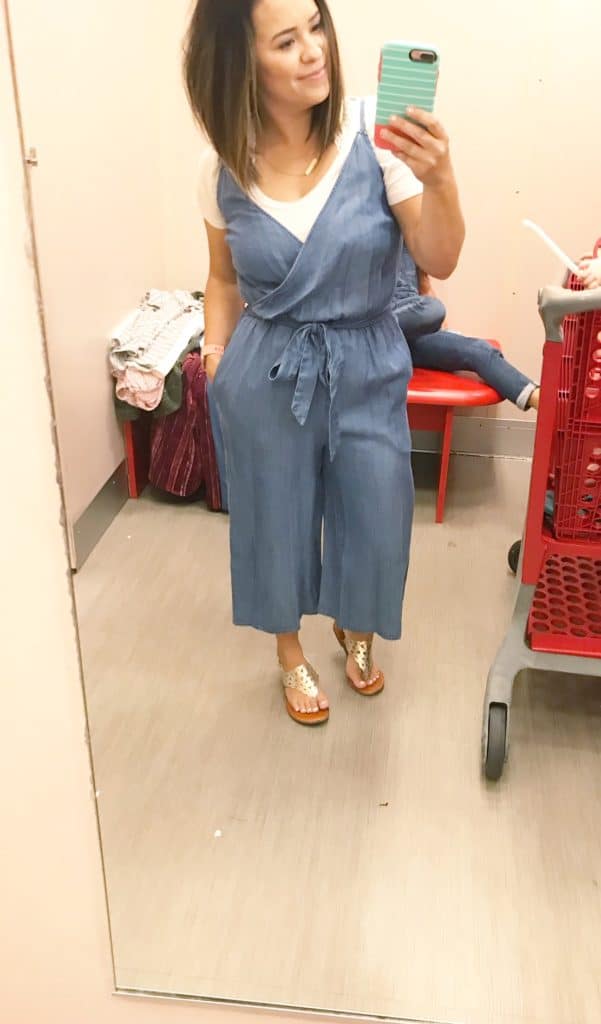 This jumpsuit is the reason why I went in the first place. I love the fit, and the light chambray material. I feel a little self conscious about the wide legs-- I've been so trained that dark skinny jeans elongate (tiny) legs that I have a hard time veering. I did grab this though and can't wait to wear it, it is so comfy! You can dress it up or down, with any top in your closet, making it a total wardrobe staple.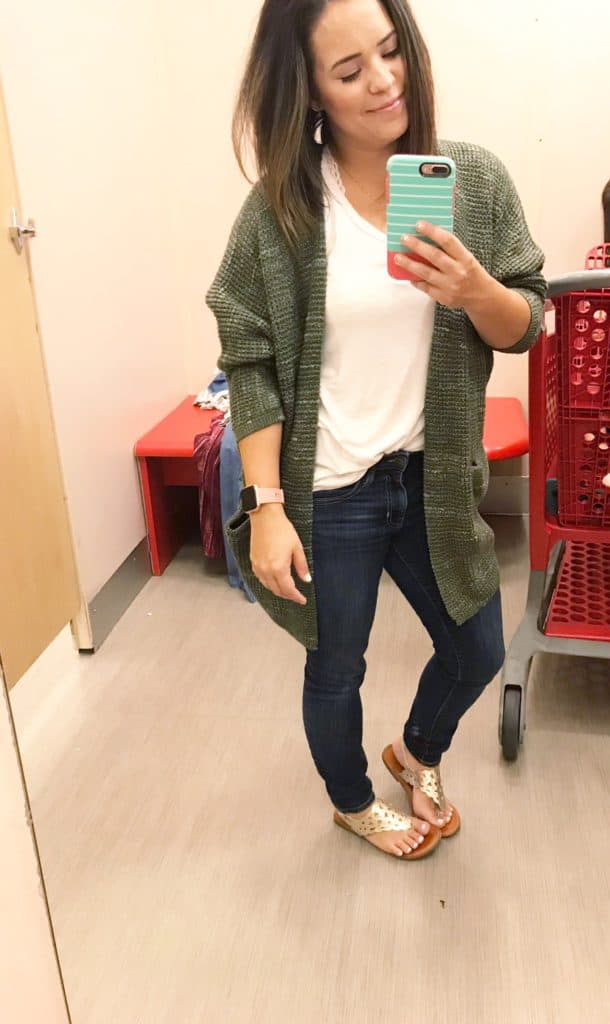 One of my very favorite neutrals is military green, I grabbed this cardigan because it reminded me of a lot of the ones from the Nordstrom Sale but ¼ of the cost. I was already wearing one of my very favorite white tee's, which happens to also be from Target. I love how well these drape, they remind me of the Luxe tee's from Old Navy but always affordable, you don't need to wait for a sale to grab one.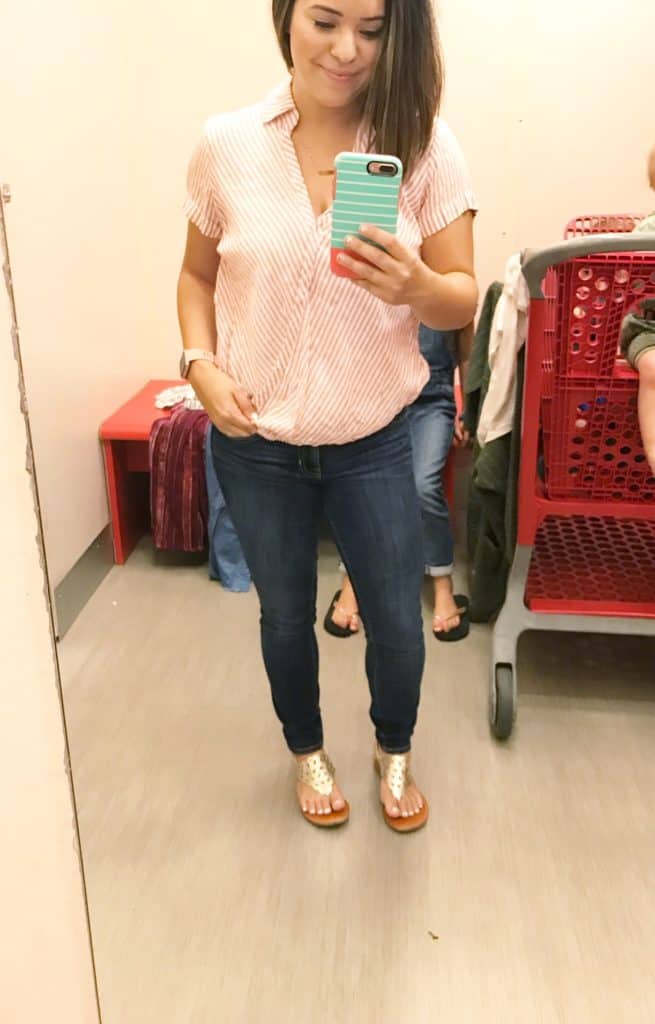 I grabbed this top because I love stripes, and blush is one of my favorite colors that happens to still be on trend. I loved the wrap front, so flattering. It is cute on its own, but also will be so so cute layered. I couldn't find this exact top online, it is from the Universal Thread line. I linked a couple others I loved.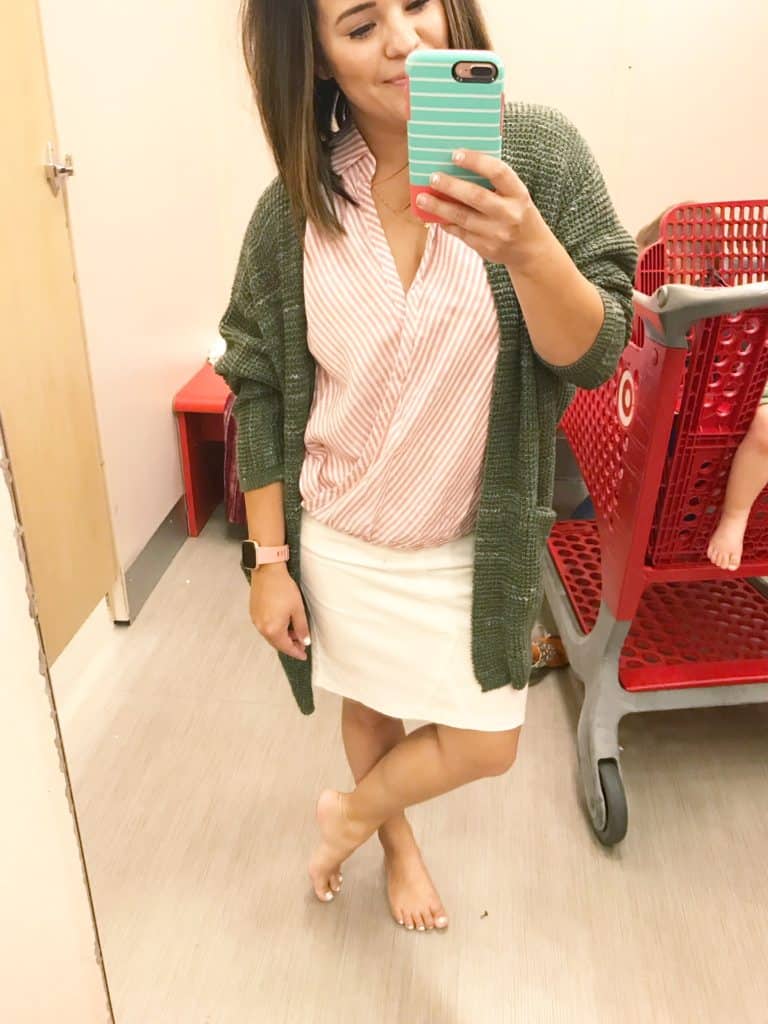 This denim skirt fit so good, and I can think of about 100 different ways I could wear it. I have had my eye on it for a while but never tried it on... I wish I would've grabbed it months ago when I first saw it. I grabbed my regular size but if you are tall, or are between sizes I would size up for sure it is slimming but I think runs a smidge small. I love white denim, so cute for summer and I mean how cute is it layered with this cardigan for early fall.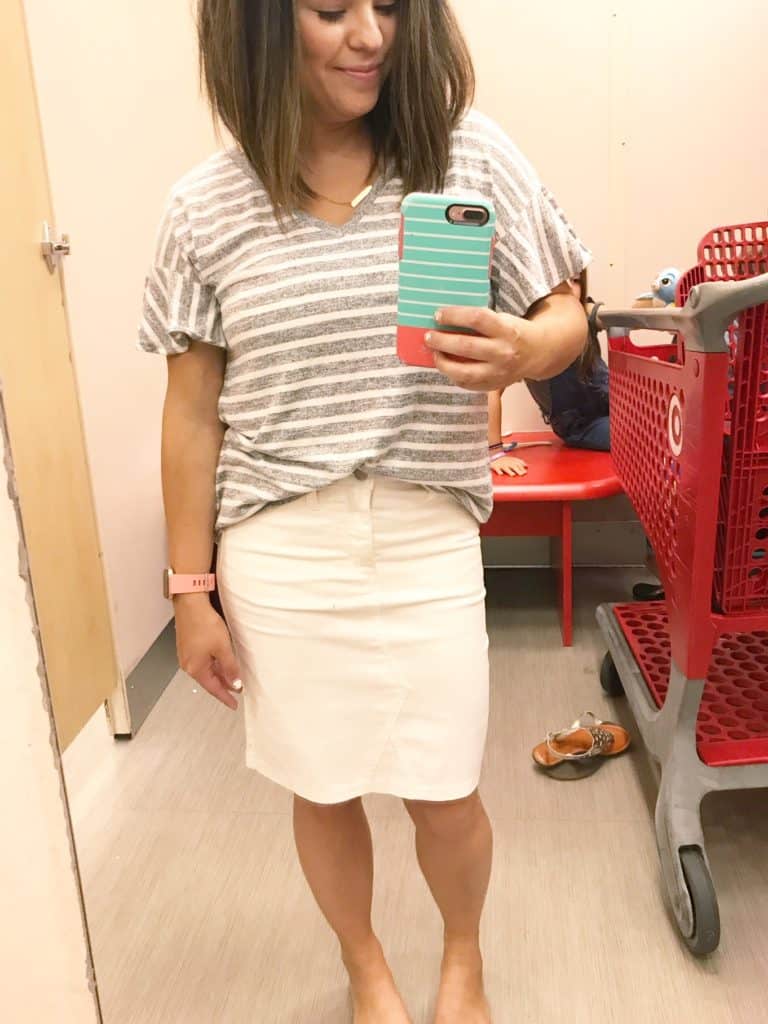 Another cute wardrobe staple top. It must be a brand new item because it's not online either. It is from the A New Day line at Target. It was a lightweight knit with the cutest ruffle sleeves. I love how it draped, another piece you can wear know and into fall. I linked one similar that I saw in store that was so cute! I think you could get the same look with it, or stop into your store and see if you can hunt this one down.
I started playing with these things a little bit to show you how versatile they are. I love when budget friendly items are so versatile and can be worn so many ways. Buying these items, or ones like it, that are great alone but together too gives you so much more bang for your buck. You can mix them up and get so much use out of them, that is what I love to look for when I am shopping.
Shop this post