Welcome to our VERY FIRST blog post! EEK! We are just two girls who like a good house project, and perhaps could be called transformation addicts. We are so excited to have you all join us as we adventure along turning our houses into homes. We have been wanting to put this blog together for a WHILE & are so excited to finally join forces and collaborate together!
We are kicking this blog off right with a great post about Rylen's kitchen renovation. It is an amazing transformation that is for sure! You won't believe how this space looked when Rylen first bought her home, it was dark, not her style, and felt really closed off from the rest of the great room. Plus, there seemed to be a lot of issues, like the kitchen faucet for example. It constantly dripped, leaving limescale on the facuet and horrible marks in the basin. It even made a really annoying noise. We first considered some plumbing repair options to fix it but then we just decided to change the whole kitchen, faucet included. Now, it looks so much better and there are no frustrating marks on the sink!
Here are the before pictures: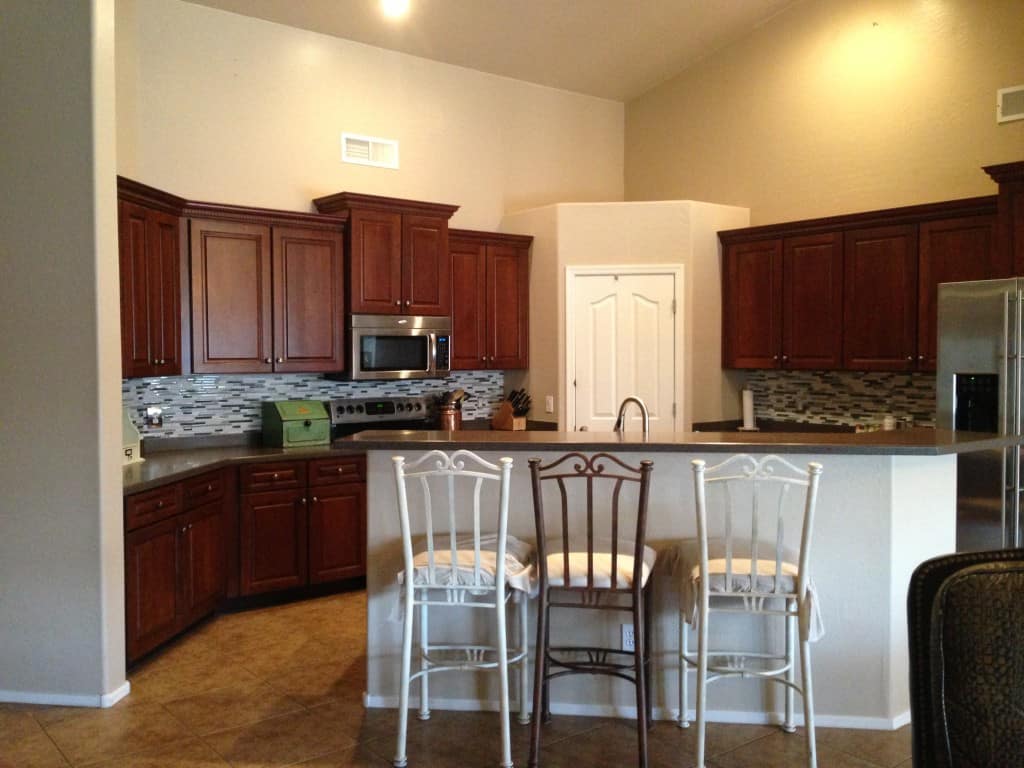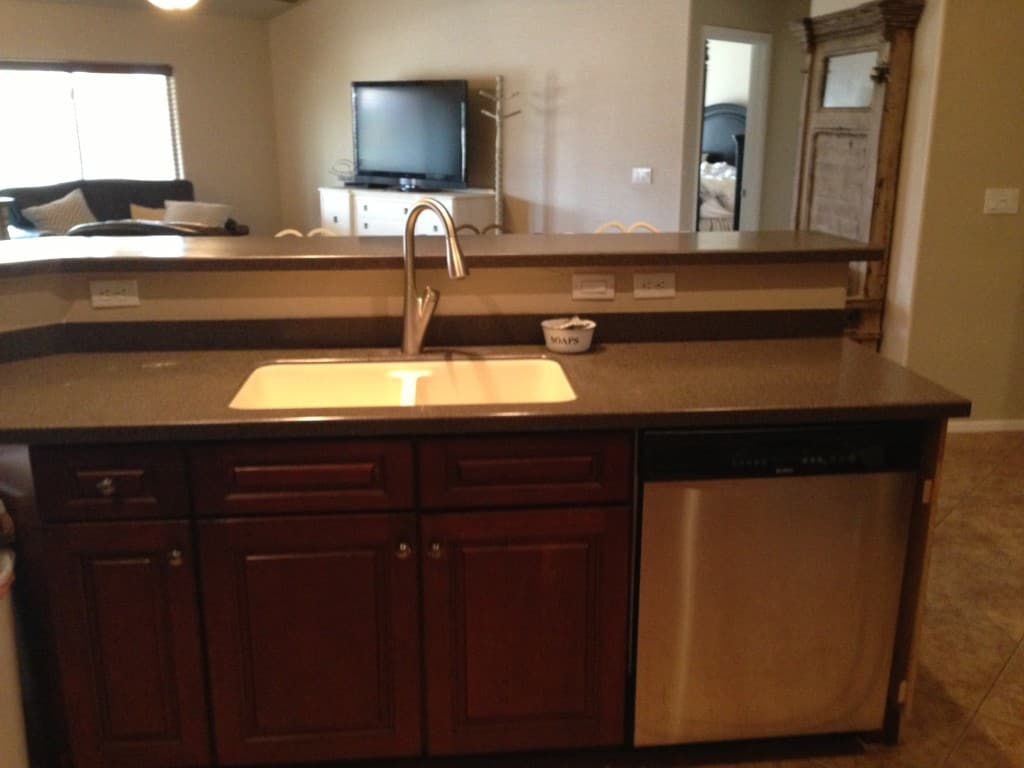 And the after: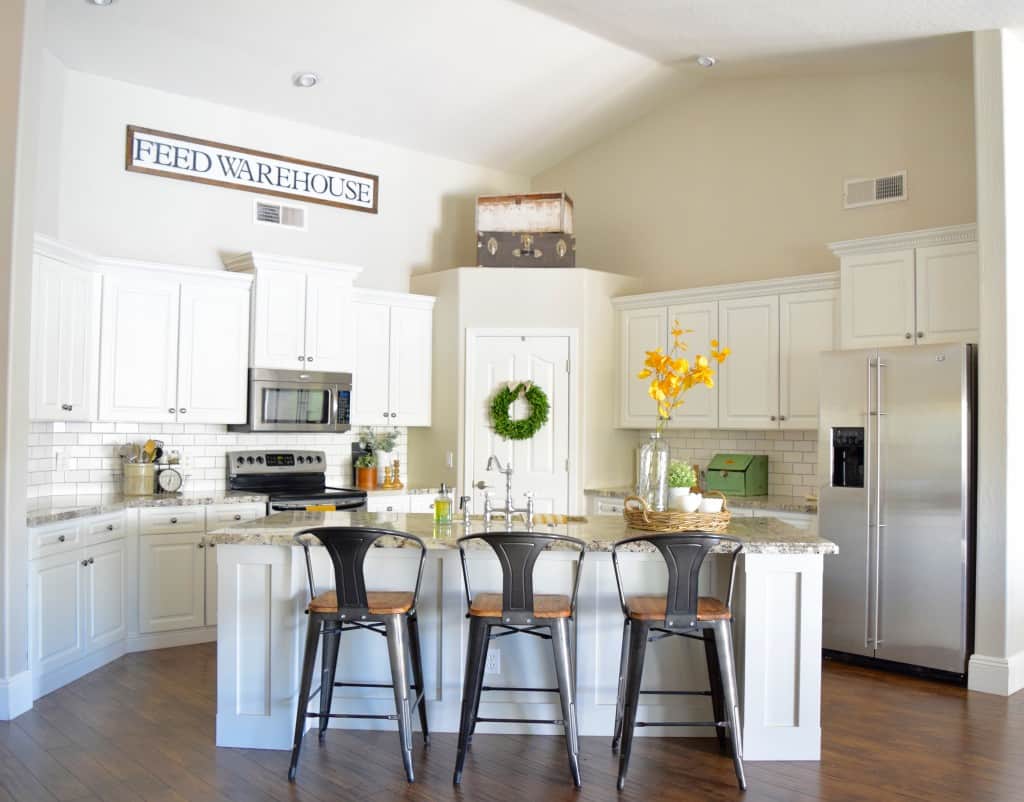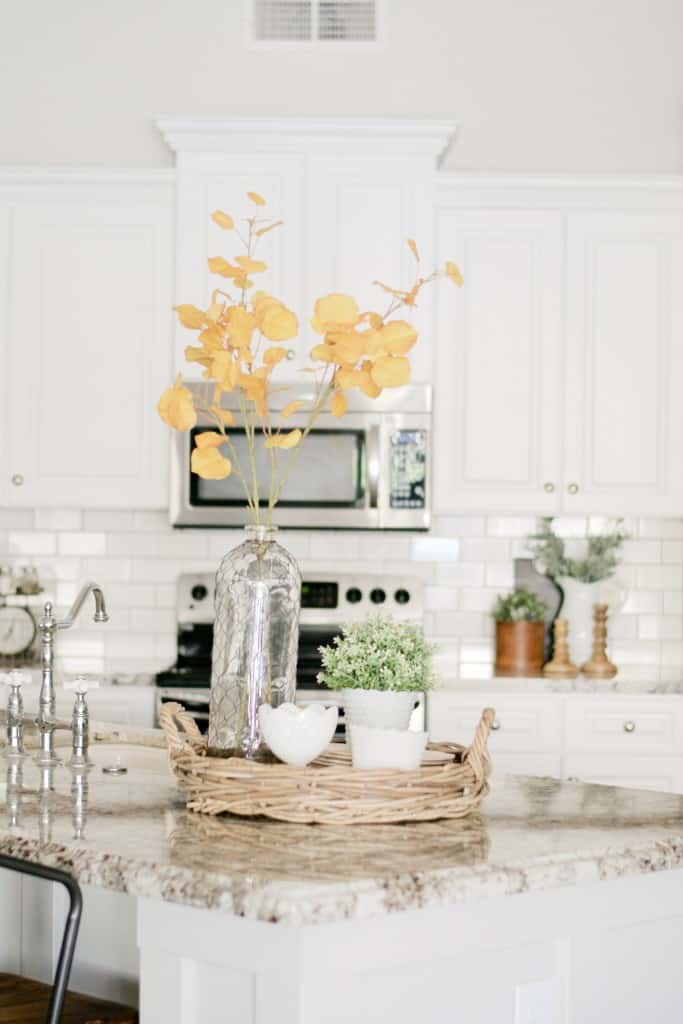 The biggest change in this whole space, other than the light airy feeling, is the island. It was pie shaped and split leveled. We had it framed out to be a large rectangle, and then made to look more like a piece of furniture by adding board & batten detail around. Oh & took out the bar height level. AMAZING. Now it is the kind of island you WANT to gather around in your kitchen.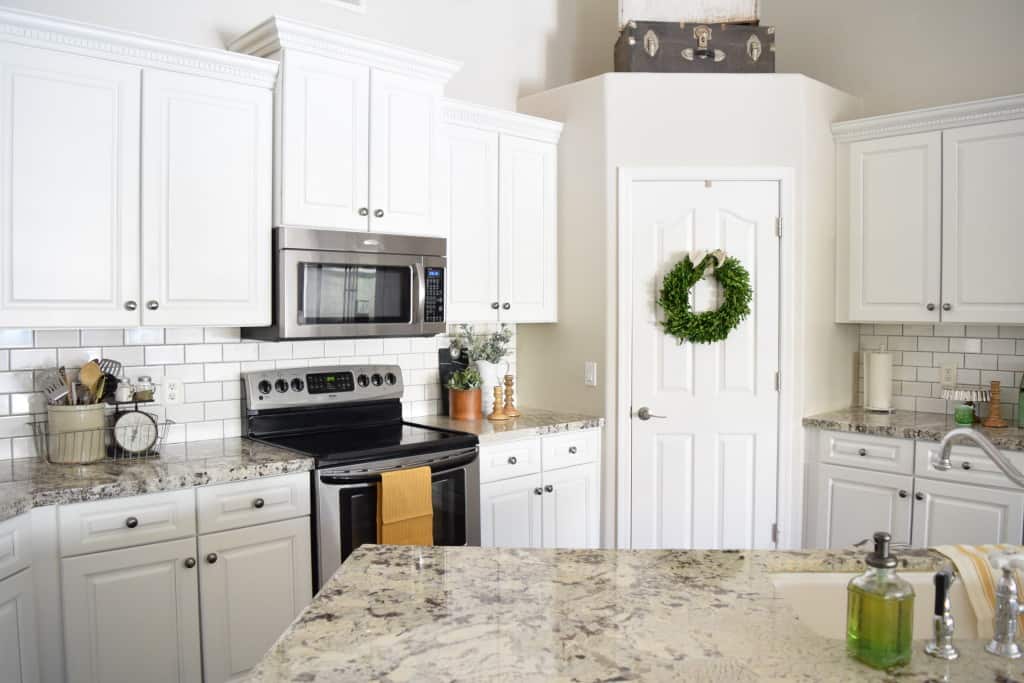 The granite detail on the island is called an ogee edge & the back surrounding countertops you might notice are straighter & chunkier it's called an eased edge. I love the added interest the island edging adds to the space. After researching where to find gooseneck lights for sale online, we also installed some gorgeous new lighting to brighten up the room.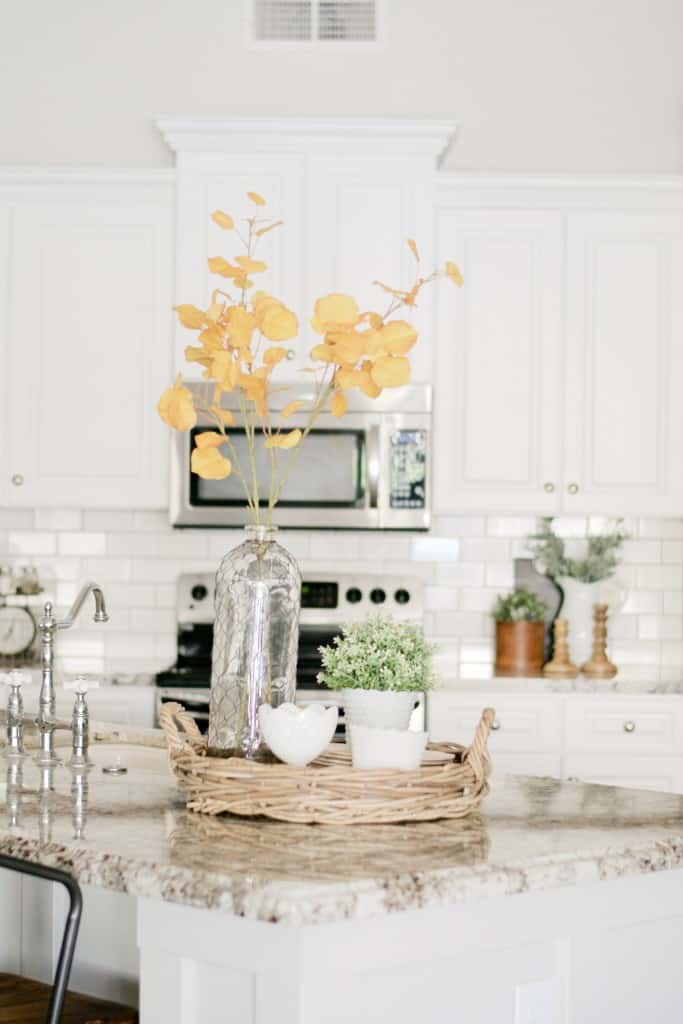 The barstools were ordered from Four Chairs Furniture. I searched forever to find counter height, tabouret style barstools that wouldn't break the budget. I was thrilled when I found these, they are great quality, and I think are a total steal! They make the space.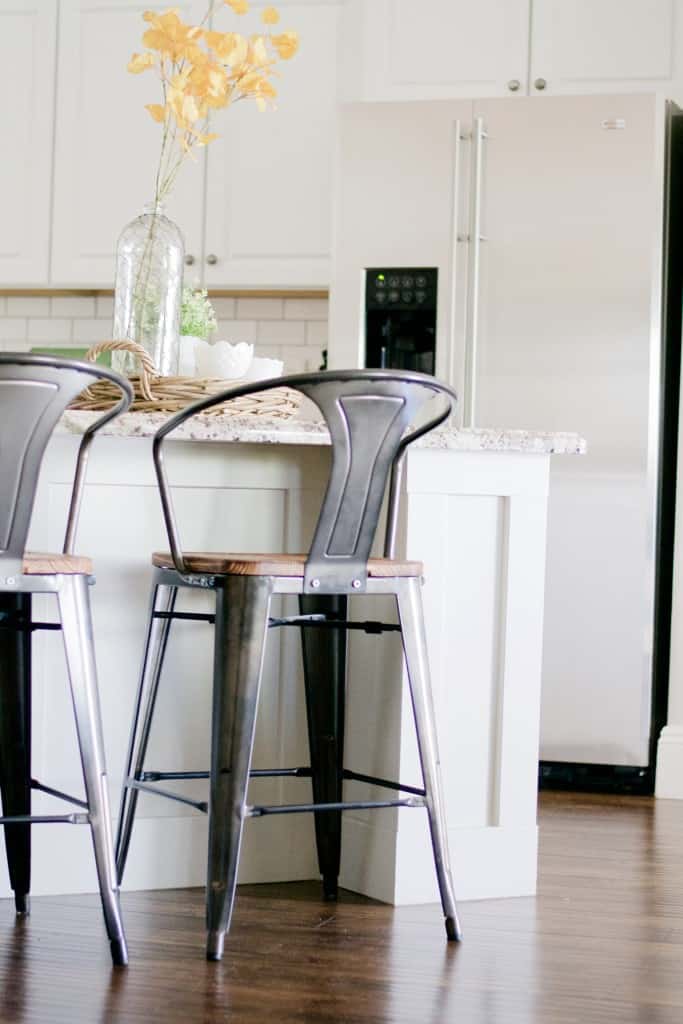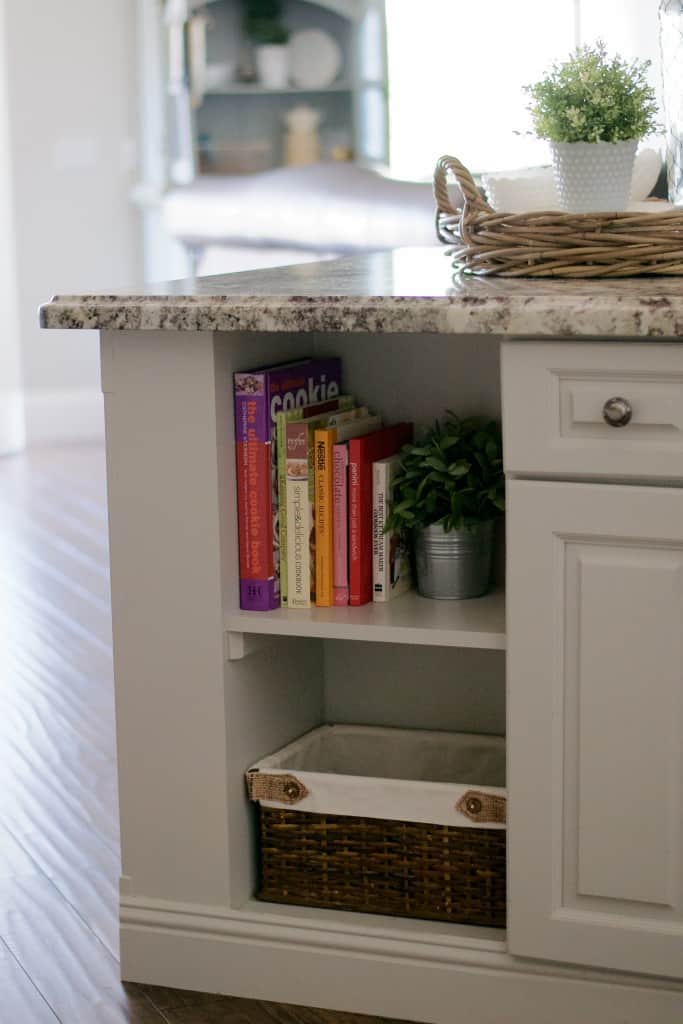 This little bookshelf nook by the sink is really handy for cookbook storage. Love the little detail it adds.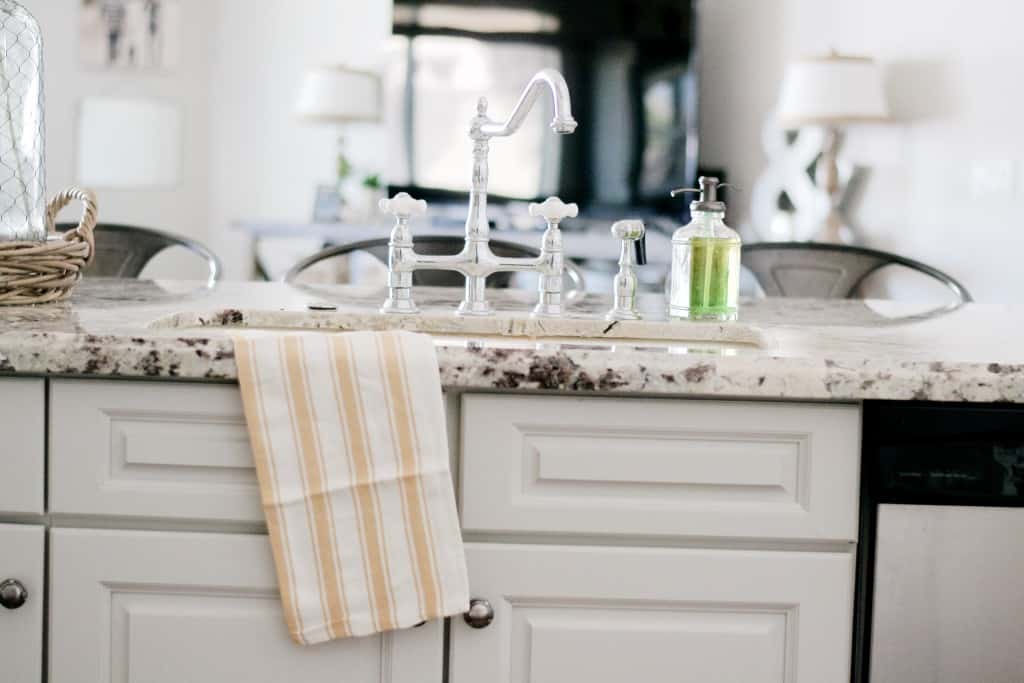 The sink was replaced with a cast iron single basin Koehler sink, and the gooseneck faucet really adds the farmhouse feel that I wanted. When you consider a kitchen faucet, remember there are plenty of amazing designs so you are sure to find one that suits your kitchen perfectly. I have been a fan of farmhouse style furniture and fittings for a long time. One of my friends recently showed me a guide to the 66 Best Modern Farmhouse Sites (click to see the source she sent me) which really helped inspire some ideas of my own. Her new kitchen is amazing, it suits her style so well. If you have a kitchen space that you're not happy with, you could always look at renovating it to ensure it's exactly how you want it. Renovations can completely change the room, ensuring that your new kitchen is workable for you. There's nothing worse than having a kitchen that's too small or that you can't cook in, so it's important to get it changed as soon as possible if that's the case. If any of you want to change your kitchens, you could look into companies like Structures Made Easy to see if they can renovate your kitchen into a brand new space that fits in well with your home. Rylen hated her kitchen before, and now she loves it. If you feel similar, you should really look into kitchen renovation.
What do you think? Amazing right?! It went from a dark corner to inviting and one of my favorite features in our house.
Details: Cabinets: Snowfall by Benjamin Moore, Island: Revere Pewter by Benjamin Moore, Granite: Alaskan Classic
Sources:
Barstools: Four Chairs Furniture Faucet: Wayfair Sink: Faucet Direct