I have another great before and after for you today of our home. I recently found the expired MLS listing of our home from 5 years ago and have loved comparing how it was back then to how it is today. Our house is so light and bright and airy now, which is my favorite thing I feel like every room need to be. Here is the before photos of our front living room, there was nothing terrible about our home when we bought it... which is lucky I know, but I feel like we have really made it our own. I thought I would share with you today my recipe for light and airy spaces.
This is what this space looked light when I first got my hands on it.


Ingredient #1: Light Colored Walls
This may seem like an obvious part to airy spaces, but I'm talking lighter than you think. A couple years ago everyone revolted against builder beige which I fully endorsed. However, a lot of people swapped out the beige with a medium grey, which still lacks the light and bright factor. I tend to tell design clients that if they are choosing a color for the common areas of their home, they need to go one or two shades lighter than the swatch on the paint deck up from the color that they like. I feel like you will never regret going lighter, but you'll regret going too dark. Furthermore, to really enhance your home's brightness, you might want to look into installing smart technology lighting that can be controlled remotely. One of our friends has just had their home upgraded using a Crestron system. If smart technology interests you, then these guys are obviously Crestron specialists, so check them out to see how it all works.
A smart lighting system is not the be-all and end-all for your home. Sometimes all you may need is simple and sophisticated floor lamps for the living room to do the trick in helping you to have a lighter room. It's all about doing what is best for you and your home.
Ingredient #2: Simple Classic lines
This is another factor that I believe is key. So key. When you're choosing furniture for your home, choose simple pieces such as amish handcrafted furniture. Simple is always better when it comes to interior design. That doesn't mean you need to go modern, but it means to keep the lines classic and your space will feel instantly simpler with less visual clutter. Visual clutter is a very real thing friends, I feel like it's a term a lot of Designers use but the general public may think is half made up... it just means that some things are easier on your eyes and some things are well... cluttery to your eyes. I make sure I keep all my furniture pieces simple and classic to avoid visual clutter, which in turn really helps lend a hand to the light airiness. Furthermore, if you've got old or damaged windows, these could also be stopping your room being as bright as it could be. If your budget can stretch a little further, you might want to purchase some replacement windows.
New windows can seem expensive at the time, but in the long run, they may save you money. Whether you get the best Toronto windows and doors, or go to another warehouse, they are worth the investment. Especially if your old ones were letting out heat or even allowing cold air in. If you don't replace your windows, then you may find that you have a higher energy bill at the end of every month. This is why it makes a lot more sense to just replace your windows with things like these fiberglass windows, as this will help you save money on your energy bills. You won't be wasting heat and you won't be letting cold air into your house, so it's a win-win for everyone. If you decide to get some new windows installed, why not check out campbell security window film whilst you're at it? We all want our homes to be as safe as possible and getting window film put on your new windows may be a good idea to improve home security.
Ingredient #3: Simplify textiles
I am such a textile lover... I love patterns and I want all the pretty ones in my house. The way that you combine your textiles in your home is key if you're looking for the light & bright look. I love a patterned rug, but if I go with a busier rug... like the navy vintage inspired rug in my front sitting room I pair it with pillows that allow your eye to rest and don't bring visual clutter (I know there I go again with wishy-washy designery words) to your space. Of course that doesn't mean boring, I love to layer the patterns and textures of pillows... nubby, buttons, fringe, etc... but I keep them all relatively in the same color family and make sure they all speak to one another. A busy floral with 4 + colors would be a lot in a room with a busy rug... but a simple modernized floral would feel just right.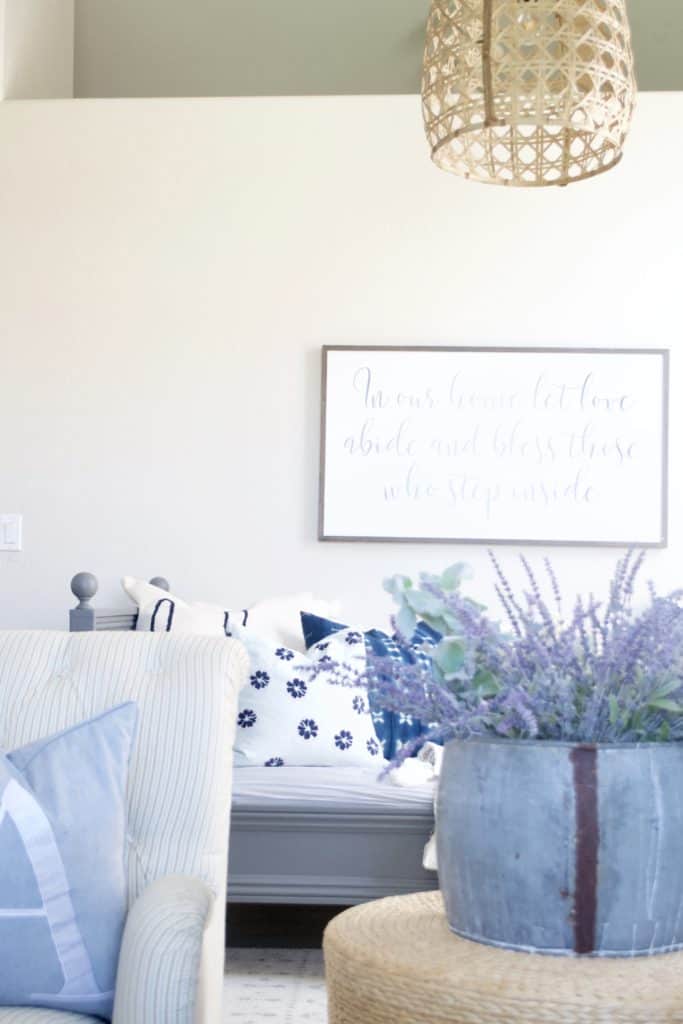 That's it. Seriously, those three little rules and you will have the recipe to the perfect lighter and brighter living space than what you have now. I feel like a lot of times when people want a room to fill airy, they don't fill it up with enough furniture or things to make it feel finished. Rest assured, just like I have done in our front living room, you can too... you can have a whole boat and a half of furniture and still have room to breathe if you follow my three simple rules.