I have taken a whole new approach to decorating for Christmas this year. I didn't pull out most of the decor that I had used in the past. I went with a neutral, natural, simple, and cozy approach when decking our halls this year. I didn't get rid of the bins of collected holiday decor... maybe I will use it more in the future.
As I was getting our home ready for the season I felt a little less than because I wasn't creating elaborate displays and arrangements. But you know what, you need to decorate your home for YOU. This year with how much we have going on every single day, the launch of two new businesses, a crew of small kids running around, and our home HVAC system broke down, but thankfully got replaced just in time for the Christmas season (by a company like those over at https://www.thecomfortdoctors.com/heating-and-cooling-services-scranton-pa/) ... this is what feels right for us. It's okay to do what makes you happy, and you know what, each day I feel like I feel like I fall even more in love with how festive my house feels without really much up. It's great!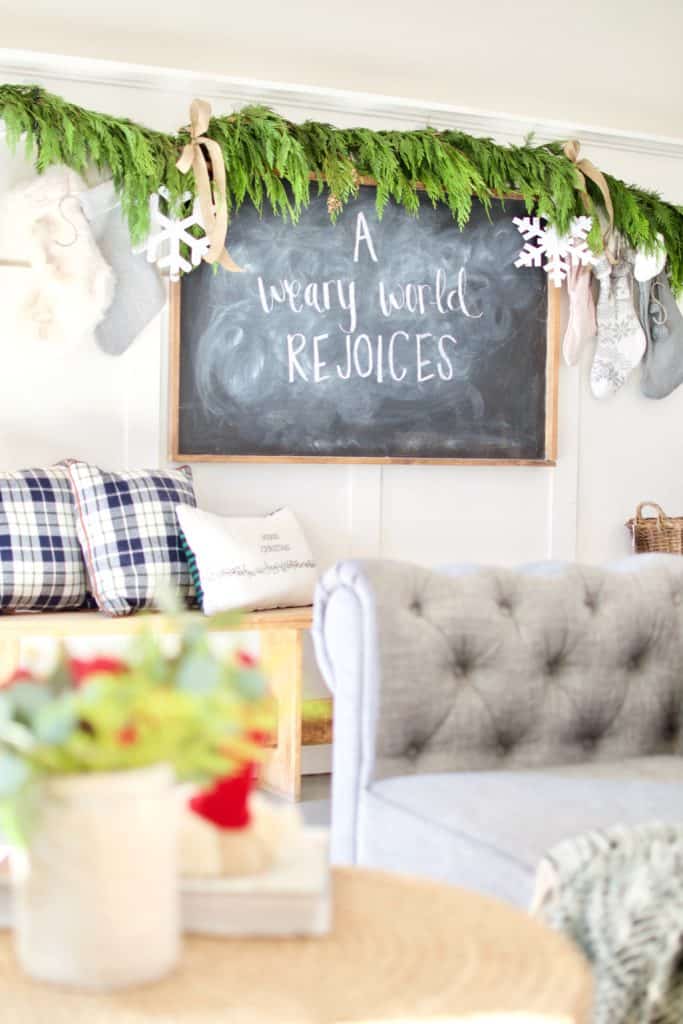 In our entry I made some changes, I got this old wood bench for super inexpensive off of Marketplace and love the simple rustic lines. I just adorned the entry with a chalkboard + some fresh cedar garland. I decided to hang our stockings on this wall too because when you lack a mantle... why not?
The fresh greens throughout our home are all from Trader Joe's. They have such a good assortment and you really can not beat the prices. You can get 6 foot garlands for like $8, and wreaths for $10 seriously!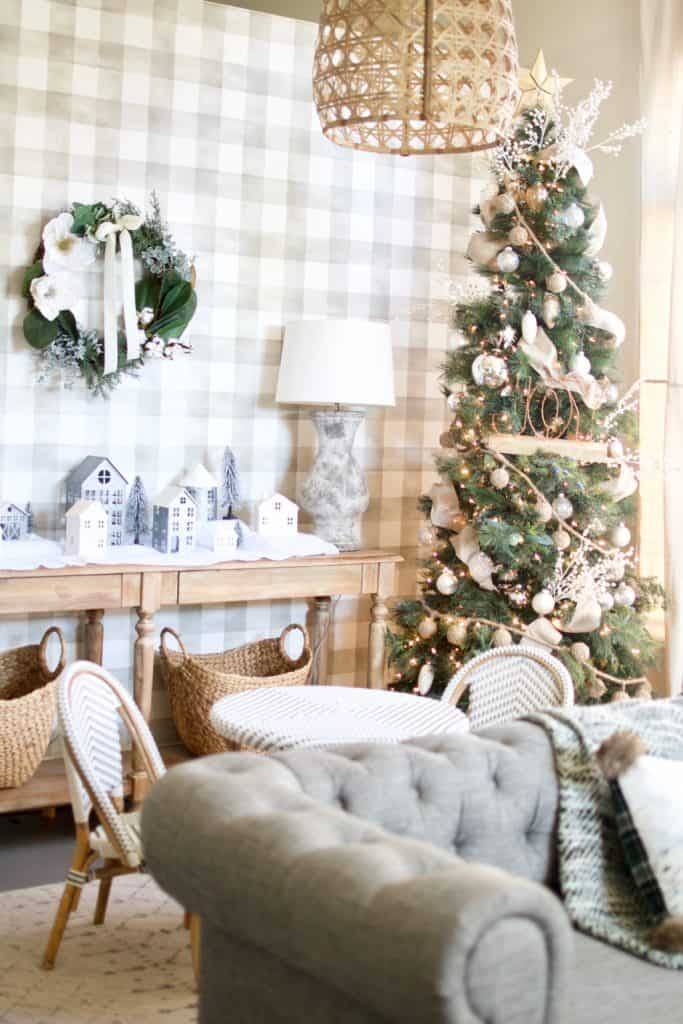 I love this view that greets you when you walk into our home. I had tried to put our Christmas tree in our front window but always imagined a pretty tree in front of this wallpaper since I put it up earlier this year, you can see more details about it here. There's lots of options available too when it comes to wallpaper, and we talked to our friends a lot before deciding on the one we went for. One of our friends was really handy for ideas and mentioned that they'd used quality peel and stick wallpaper after we'd made our choice. It sounds really convenient. Back on track though, I haven't pulled out the my glass bulb collection for years because I've had toddler little boys around... but this year I decided to go for it because well, you only live once. I am so happy that I went for it this year. The neutral texture and reflective glass bulbs on our tree this year makes me so happy.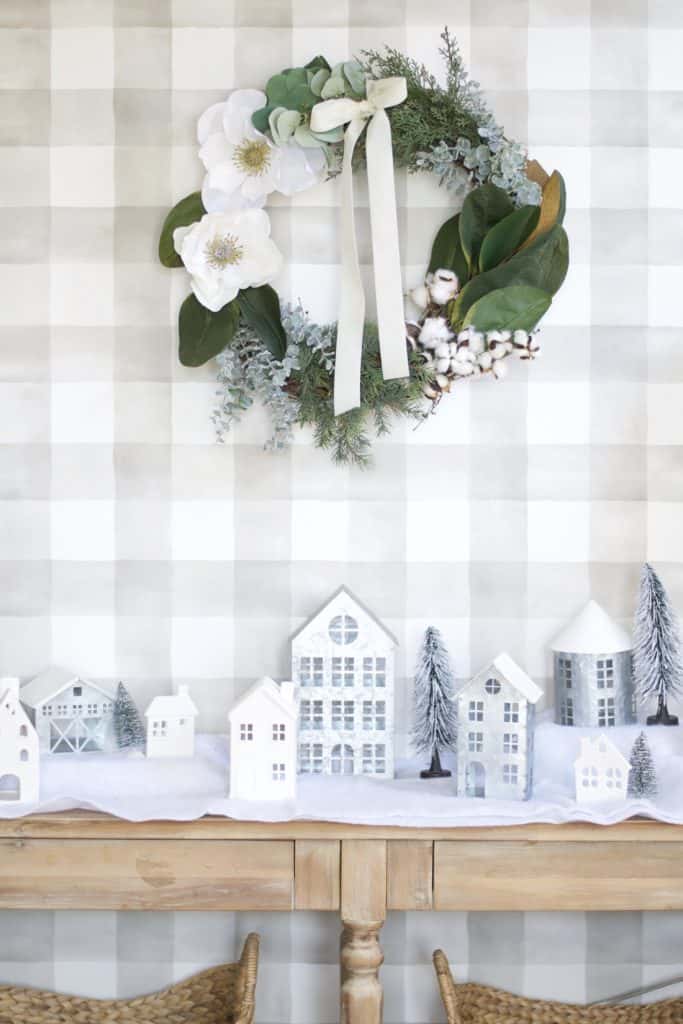 I've always wanted to have a village in our home but never knew where to even start collecting houses and buildings. This year Target pretty much did it all for me. I found most of these houses from the Dollar Spot, a couple are from The Collected House Shop too. The frosted trees were really inexpensive from Walmart. All in all this area is SO unfancy, but the collection makes me happy which I tell myself is all that matters. You can often find my kids playing with their little characters inside the houses and villages... which makes me so happy too.
The wreath was created by me, I adore the collected foraged feel of the arrangement. I love this modern trend in wreath making, so fun and fresh! I love the velvet ribbon bow on it too. I love little details!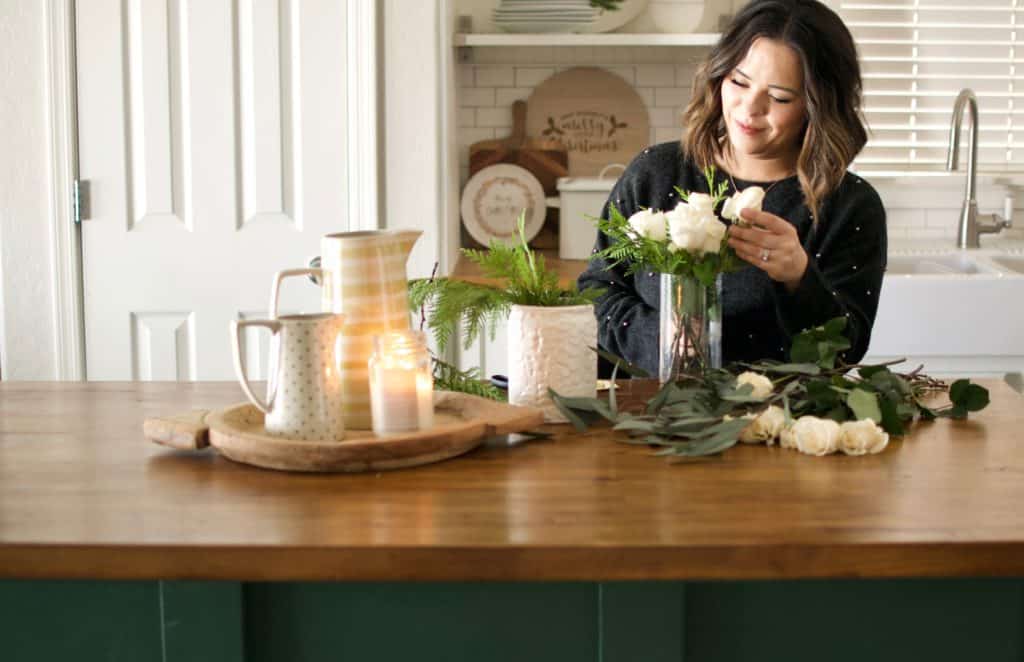 I've relied less on actual seasonal decorations bought in Holiday aisles and more on textures, twinkle lights, and candles to bring in the warmth. Candles are perfect for creating a cozy atmosphere, especially when they release a lovely scent too. There are so many different candles out there currently, so it's important to find ones that you like. One of my friends recently showed me some soy wax vegan candles and they were lovely. Perhaps those candles might be something for more homeowners to look into, however, there are so many different scents for candles these days, so be sure to find one that you love. This should help give your home a lovely and cozy feeling. Like I've said before I'm obsessed with this combination this year. Nothing feels fussy, it's all festive but easy to live with... because in our tiny home MAN we REALLY do live here. We live messy and full lives in every inch of it.
You can shop the polka dot vase here, the stripe vase here, white floral canister here, and we have an adorable bread board available too. Other than that in our kitchen added just a couple wintery touches to the open shelving with some pretty mercury glass lights and called it done.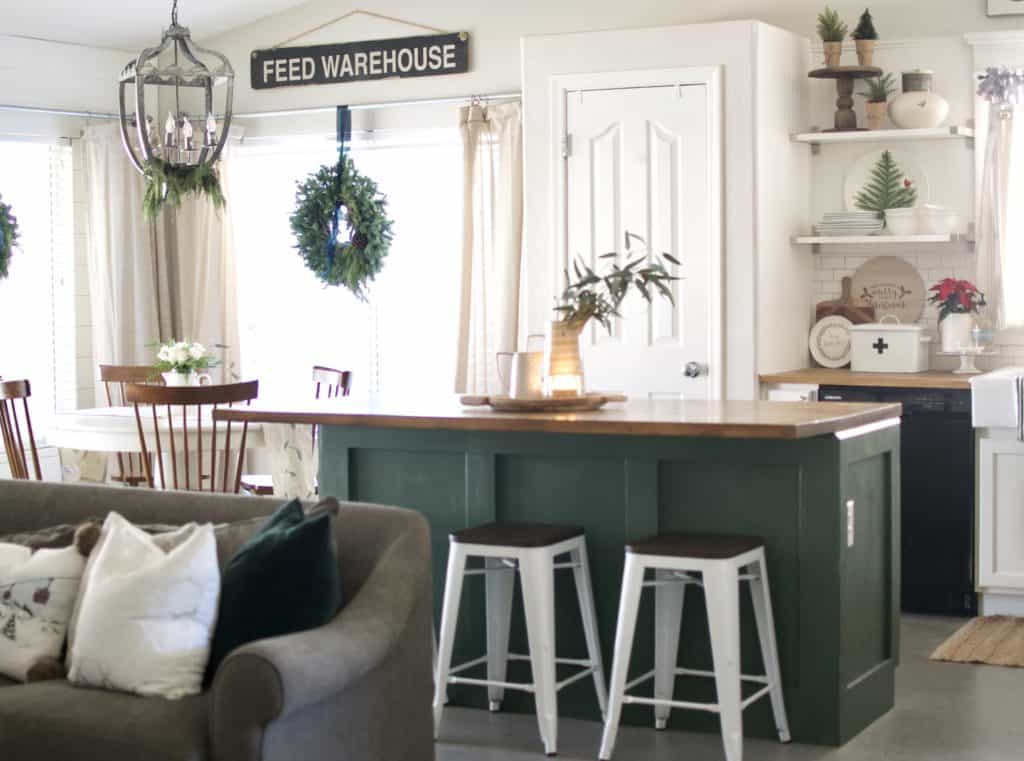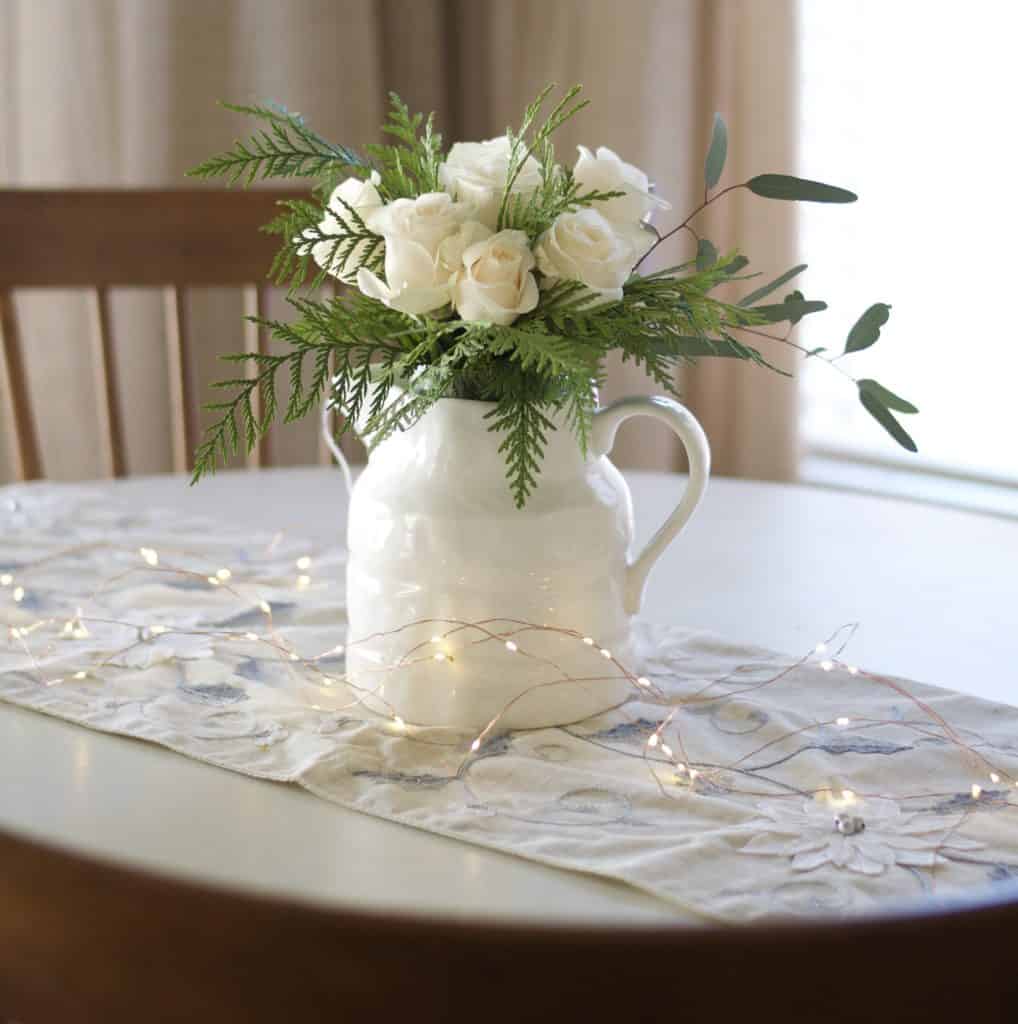 This white pitcher is one of my favorite pieces from our Home Collection, you can shop it here.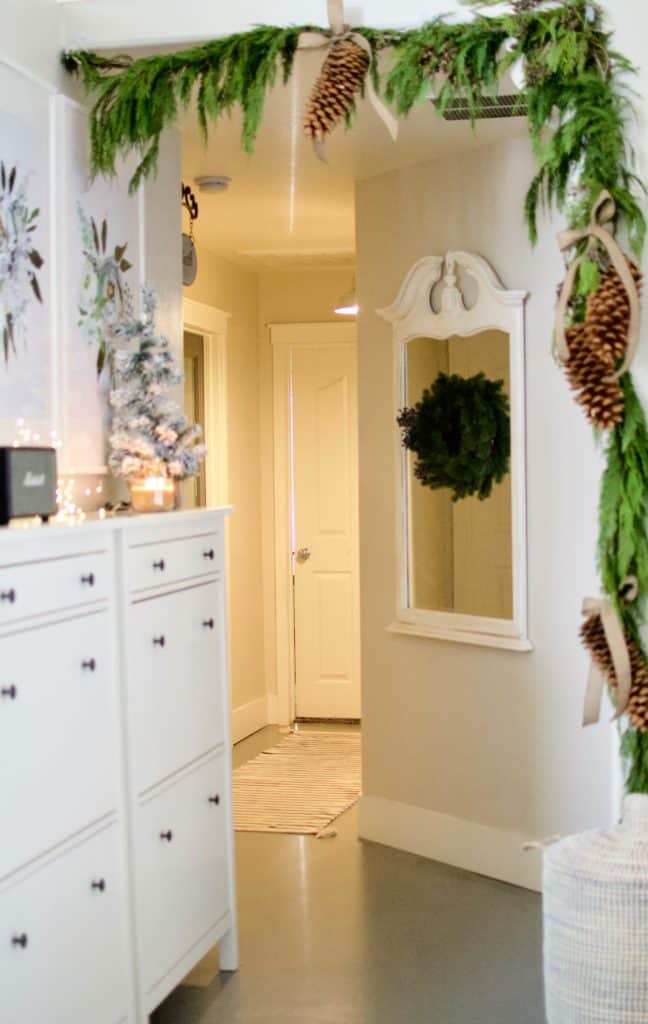 I don't often share this view of our home because it's usually just a boring hallway. The hallway into the bedroom wing is never this festive, but I've always wanted to drape garland in this spot so I finally did and have zero regrets. I picked up the large sugar pinecones from TJ's too and added them into the garland. I used to go to Lake Tahoe all the time when I was young and would look for these pinecones. I remember my grandma always having a big basket of them on the hearth of her fireplace during Christmas time, so they definitely make me smile and full of nostalgia.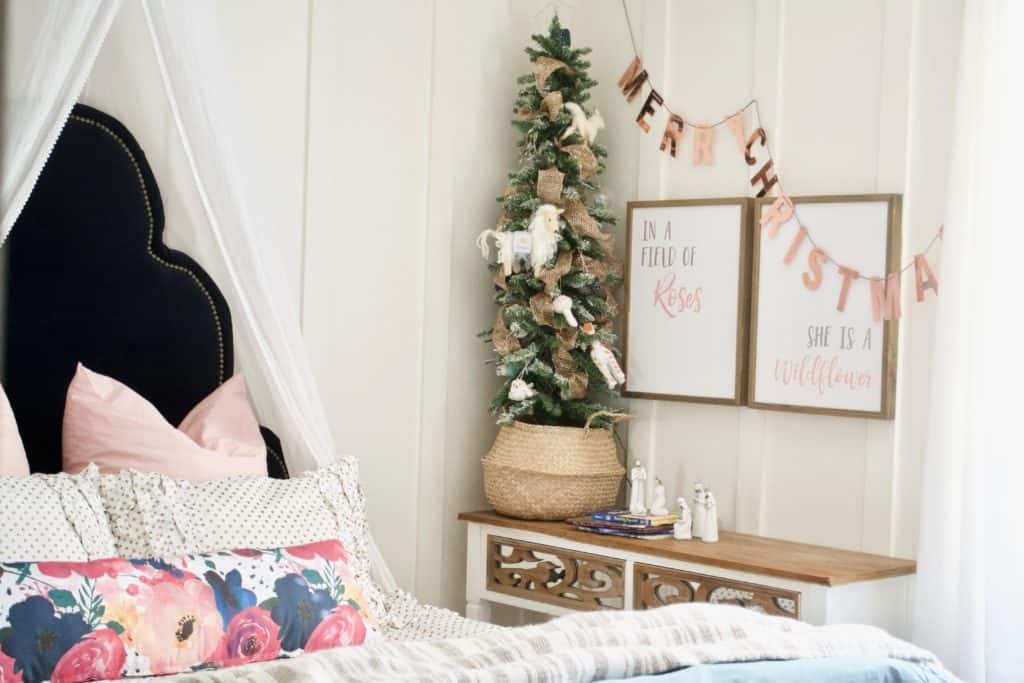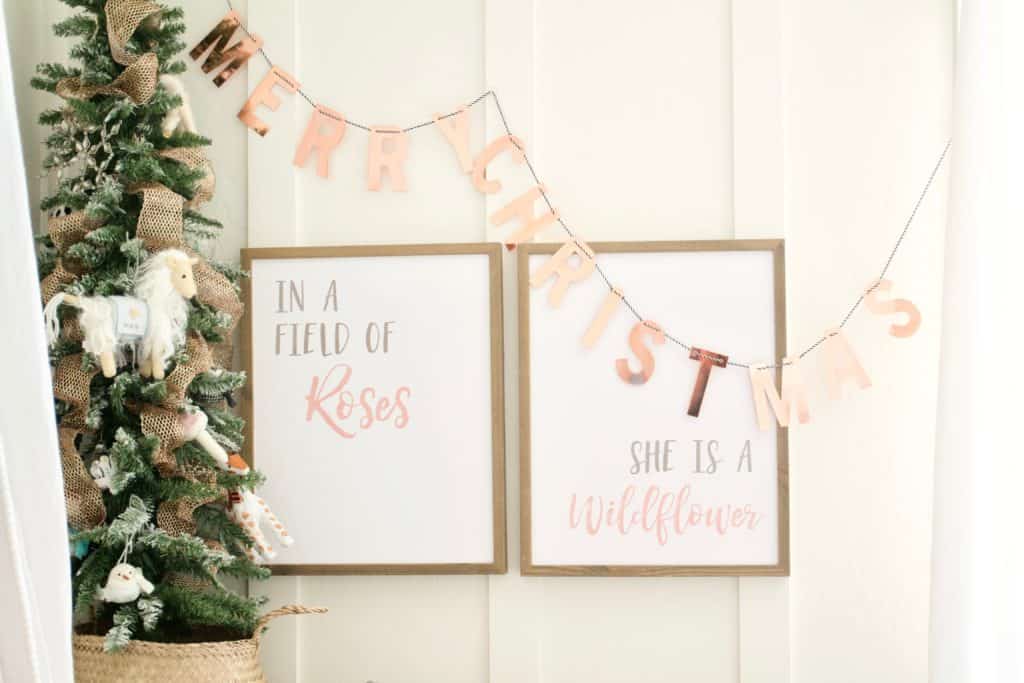 I didn't get Christmas done in all of the bedrooms this year but I did get some pretty things up in our daughter's room. I had this rose gold banner that I bought years ago from Target. I have seen different versions of it in more recent years, it's one of my favorites. Then her slender little tree is from Hobby Lobby this year the ornaments are just little guys from my kids' ornament collection. All the little creatures.
That's it, thank you for joining me on a walk through our Holiday home this year. I am loving all the fresh greenery and twinkle lights this year. I feel like in this season of life our family functions best without a lot of extra fluff around. I hope I showed you that you don't need to spend all your monies in the holiday section of the store to have a beautiful festive space.
Shop my home by clicking the images below.