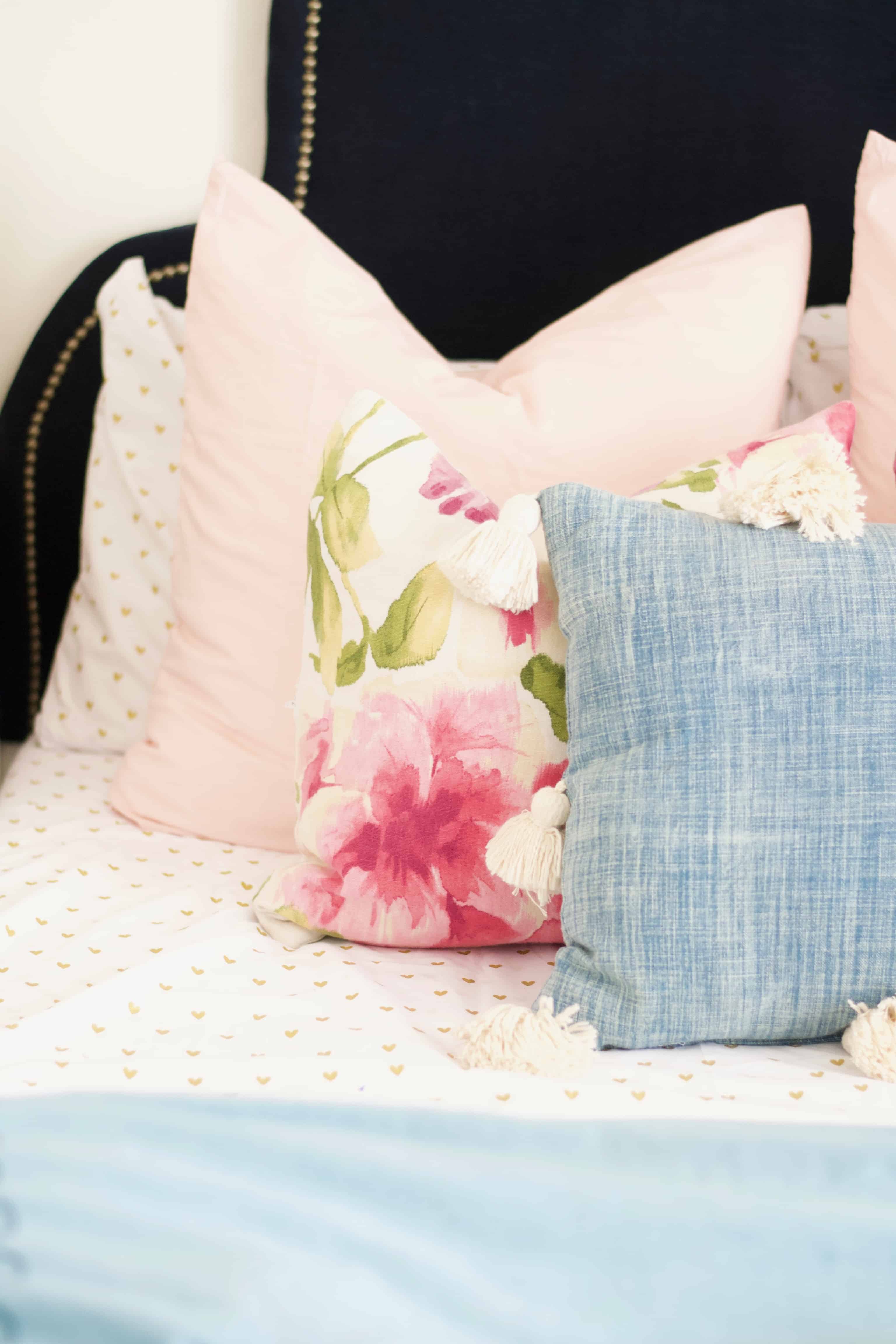 Wow! This week has been one for the books, so many details to pull together in such a short amount of time! I wanted to share with you today some of the details of the room I have been working so hard to redesign. I really wanted this space to feel special so I have worked on filling it with a lot of special details for my little girl.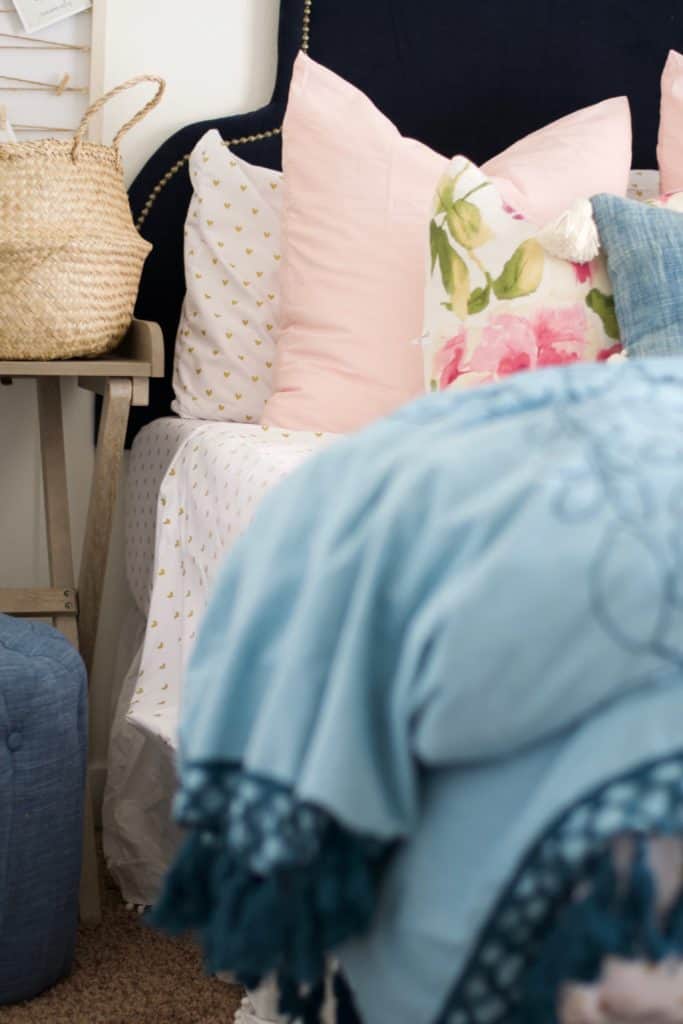 What I really wanted to share with you today somethings we ordered that we have seriously been loving… note that you can also order them and have them delivered straight to your door… and they're large items so door delivery is extra great! I don't know about you but I love when I can have huge items I need to buy delivered to my door because I don't have to put seats down in my car and un-install car seats. Mom problems I know.
Okay so first things first– I just have to say that I am quite impressed with the quality of the mattress we chose for her room. We took a leap and ordered it off Amazon… which I know is scary to do. But I will say that we have a pricier foam queen mattress in our Master bedroom and I love it, but I definitely went for a budget friendlier option in Grace's room. I'm guessing we'll upgrade her mattress in the near future if she begins to lack in sleep, the likes of these Simba Mattresses or similar products could be a suitable option for Grace's room in a few years time. I still wanted something comfortable for guests, because her room will house grandparents and other visitors when they come… but definitely kept budget in mind. After doing a fair amount of research I went with Zinus Memory Foam 12 Inch Green Tea Mattress, Queen
and I can barely tell the difference between hers and mine.
Another thing we used that I loved, was the bed base that eliminated the need for a base + box spring. We did some research into platform beds online and decided that this was the best option for us! Maybe I am new to the club but I never knew these existed? Basically, it saves you money because you don't have to buy a base + a box spring… this guy is all in one. For information on different bed bases for the best relaxation, make sure to research into different bed foundations and the benefits. Saving money and some better sleep… Amaz-ing. This is the one we purchasedZinus 14 Inch SmartBase Mattress Foundation / Platform Bed Frame / Box Spring Replacement / Quiet Noise-Free / Maximum Under-bed Storage
One more thing I thought I would mention– the headboard we made was a DIY project, but if you aren't up to the DIY and are loving the navy headboard I found this one for a great price Better Homes and Gardens Grayson Linen Headboard with Nailheads (Full/Queen, Navy)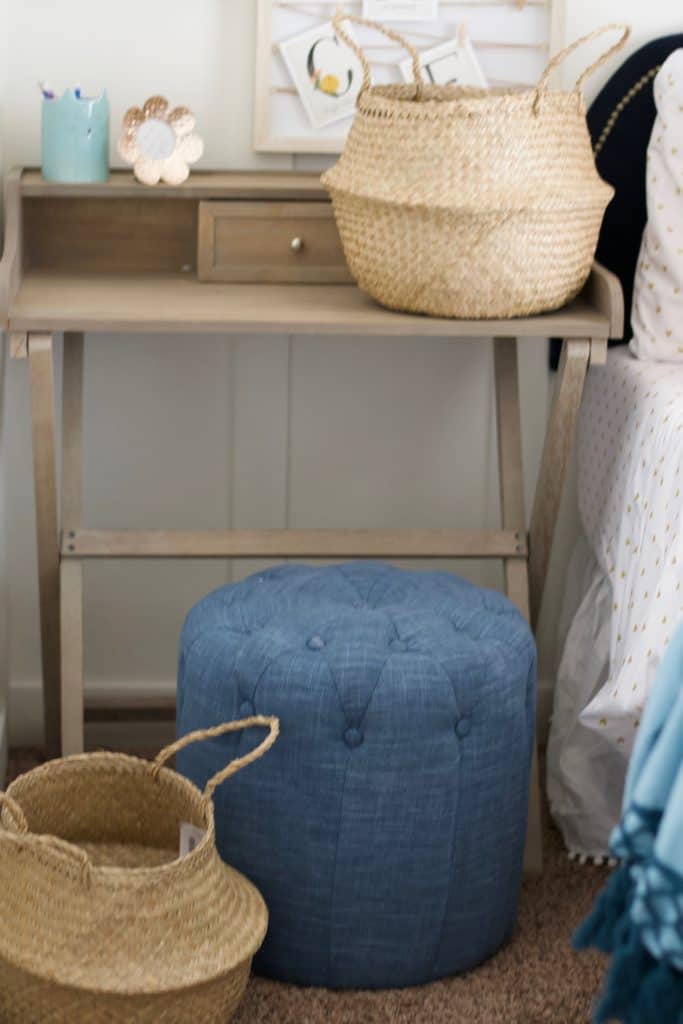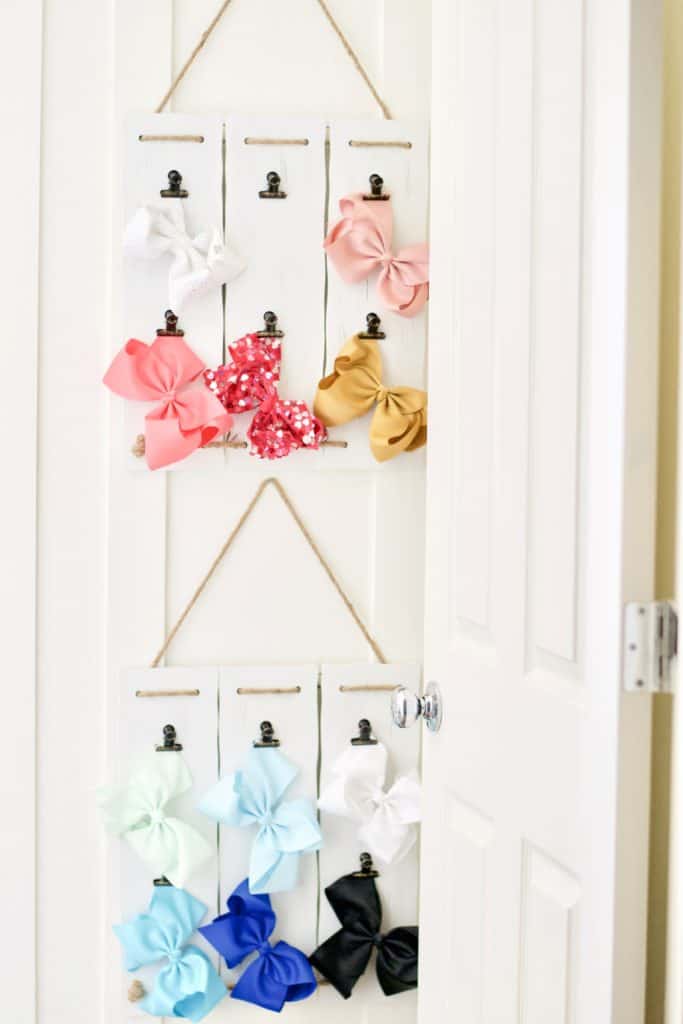 I love the idea of these wooden picture hangers I picked up at Homegoods to hold her oversize hair bows, I also think that this set
would be so good too.
The biggest hiccup of the entire project…the rug I ordered that totally pulled this space together with all the perfect colors… is backordered… so unfortunately… it's not going to make it here for the final reveal but I am adding a couple special details and I can't wait to show you. I will definitely show you pictures with that rug once it arrives. I just so love
One Room Challenge Week 5