One of my very favorite design features for kitchens has got to be open shelving. I think adding them to a regular old kitchen really wakes up a regular old kitchen and takes it to the next level. That being said, I get questions about the open shelves I have in my kitchen ALL the time. What do you put on them? How do you style them? Do you miss having cupboards? All the questions all the time, so today I thought I would share some of my tips and tricks for open kitchen shelf styling.
A couple of years ago, we undertook a small renovation of the kitchen with the help of a company similar to Easy Reno (visit this website). Two cupboards were removed from our small kitchen, and open shelves were installed instead. I love how much the open shelves really opened up our space and made it feel lighter and brighter. With our kitchen being in a small corner, this was a big perk for us. However, I needed to make sure that we still had enough space to store all of our kitchen necessities and keep it functional. One of my friends suggested that I should probably take a look at different kitchen renovation Toronto projects before deciding on the final one. I may give it a shot next time, instead of blindly taking in whatever the contractors might suggest.
I definitely do NOT miss the enclosed cupboards, like not even once in the five years since we made the change. Nevertheless, there are people who still prefer cabinets or enclosed cabinets since they offer several benefits, including protection from dust and pests. On that note, if you are residing in Melbourne and your situation is related to the one described above, you may want to check out cabinet maker melbourne to determine your options from the ones available.
Edit your necessities: This is a big one, because you may have multiple styles of plates and cups lurking inside of your cupboard doors. Consider donating all the stragglers and opt for a singular style to keep. I really like these inexpensive options that are high on style, easy on your budget, and really functional. Also, evaluate how many bowls, plates, and cups your family really needs and utilizes. We have limited space, so I am always evaluating and editing what we have.

Keep common items accessible: I love to have our every day bowls and cups out on the shelves, since they all coordinate and look great because I followed Tip #1. It really is so great and easy for me to grab them off the shelf while I'm serving meals or grabbing a cup of tea, whatever it may be what we need are right at our fingertips.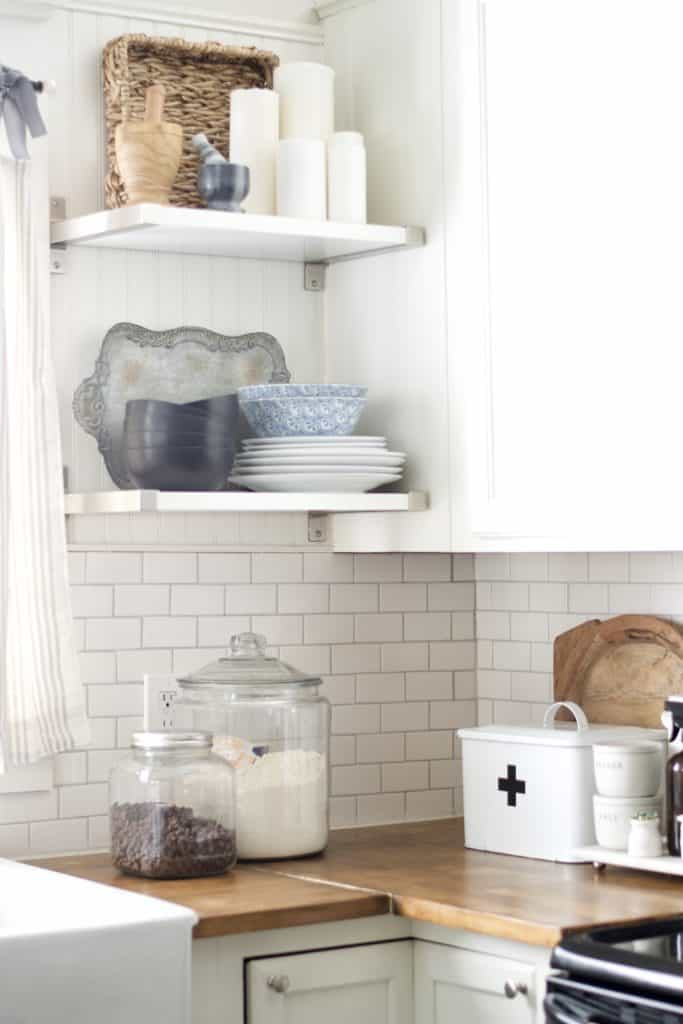 Keep items cohesive: I have curated my kitchen collection of items to be white, black, with touches of blue and wood accents. I repeat this color scheme on my shelves and throughout my kitchen to make sure that all the small items and necessities are cohesive. Operating within a cohesive color scheme keeps the smaller items from feeling like knick knacks and cluttery. When I work within a color scheme or plan it takes your kitchen from kitschy to curated really quickly.
Shop my favorite curated kitchen pieces below.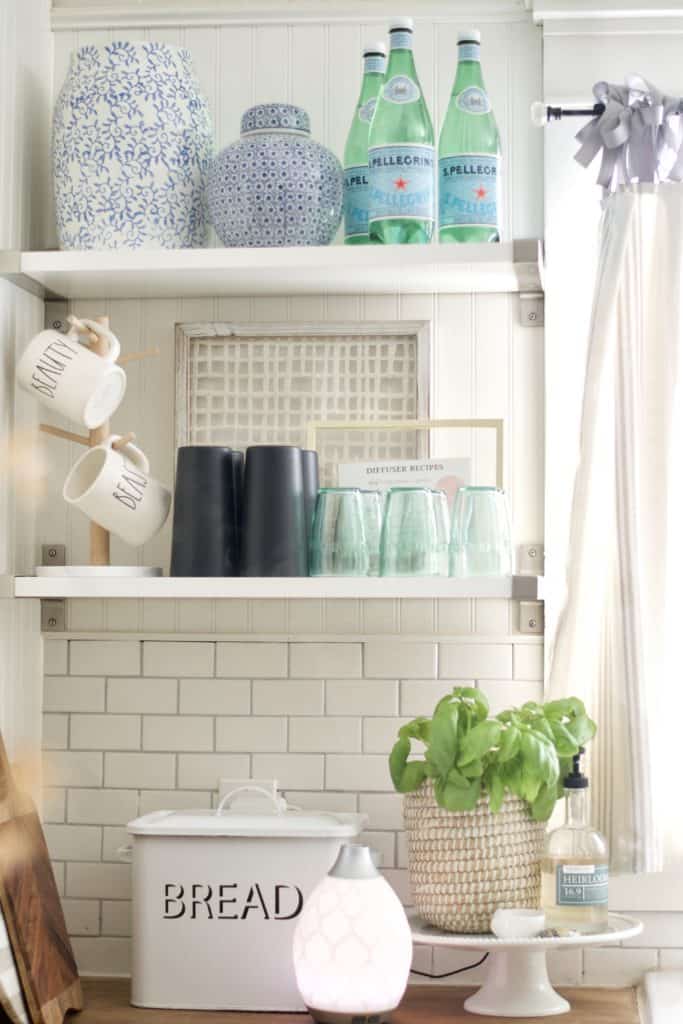 I've rounded up a couple more kitchen styling favorites below.

Thoughtful design can be easy to live with as well as pleasing to your eyes. I promise that if you follow these couple tips I've given you when styling your kitchen shelves they will feel effortless but also well done. So are you ready to jump on the open kitchen shelf trend or not?