I literally dream of having the ability to have a beautiful home office right off the Entry way with comfy chairs, a beautiful light fixture, built ins, and desk. However, we are without even an extra bedroom in our current home which left me to find a home office solution for small houses. We don't have a spare bedroom but we do have a front "formal" living room, as was the craze in the early 00's for houses to have. While part of me does like having a space to greet guests without being our main living space, it just isn't used near as much as I wish we did with having so much square footage alotted to it. It has been mentioned to me that I could look into home addition services, this is where they add on a room to your house so you can have that extra space you seriously need! Someone I know used an addition remodeling chicago company for theirs and they have never been happier. However, our home is not really equipped to handle that, so we went with the best choice for our situation.
This shiplap wall is quite literally the main wall in our home, it is seen from the front door as well as the back one as well. I love the clean and simple shiplap that we installed a few years ago, I lived with it white for quite some time. However, I decided that everything in my house was white and I wanted to do a fun color. I went with Sherwin Williams Coastal Plain. It is quite literally the perfect green. It adds color without feeling too much, or being hard to live with.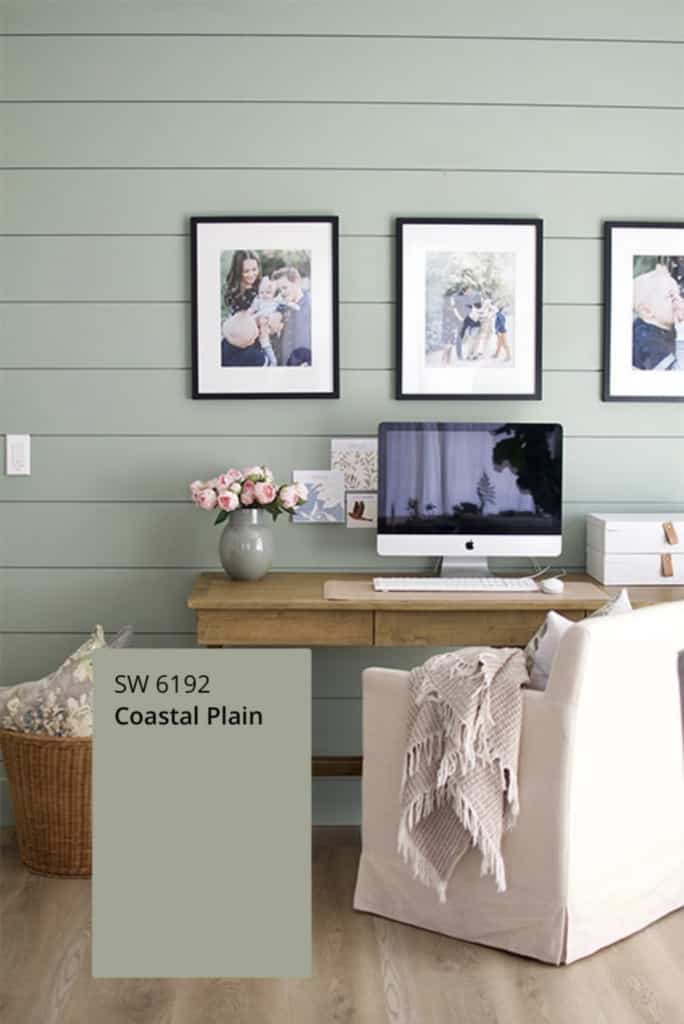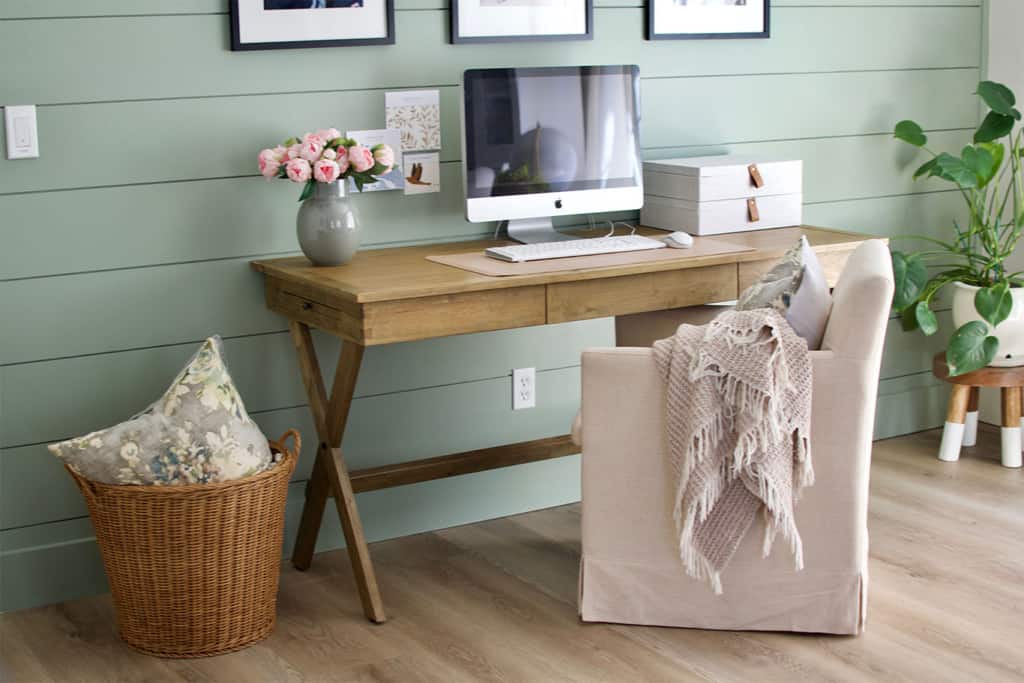 I found a really great campaign style desk. It was important to me that the desk feel substantial but not heavy. The campaign style is very classic, I think that it is a great price for the size and classic nature of this piece. As for the desk chair, I went a little unconventional, and went with an upholstered dining chair that is on casters. It is comfy to sit in, rolls, and is really pretty to look at. In my book that's basically all the boxes you need when it comes to an office chair as most on the market are not pleasant to look at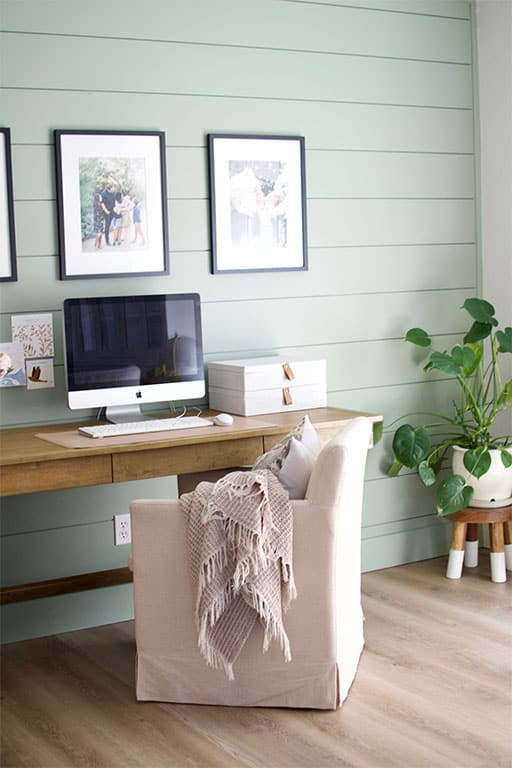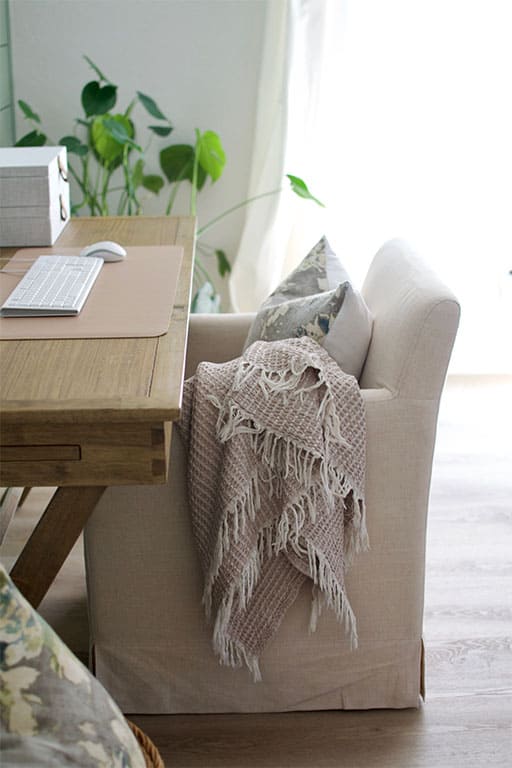 Shop the Post

Since this spot is in our "Formal" Living Room, I did add a small family photo gallery wall above it. I love to have a family gallery wall in a space where you are conversing with guests because it spurs conversation and I think sets a tone for your home. I always think what better to decorate a home with than the faces and personalities of those who live inside.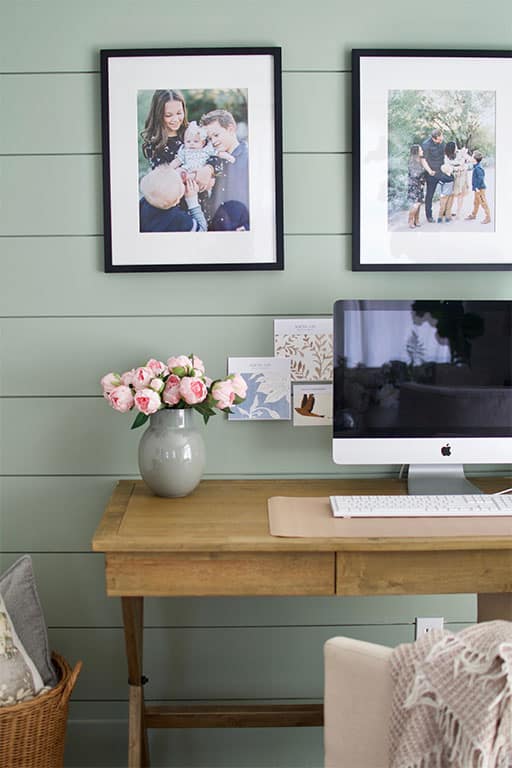 I kept the other details very simple so there would be room to work on the desk, and I tried so hard to keep it open and airy feeling even though it is utilitarian and there out of necessity. However, no space is complete without a touch of greenery. I picked up these real looking peonies at Homegoods, but I found some really similar you can purchase online.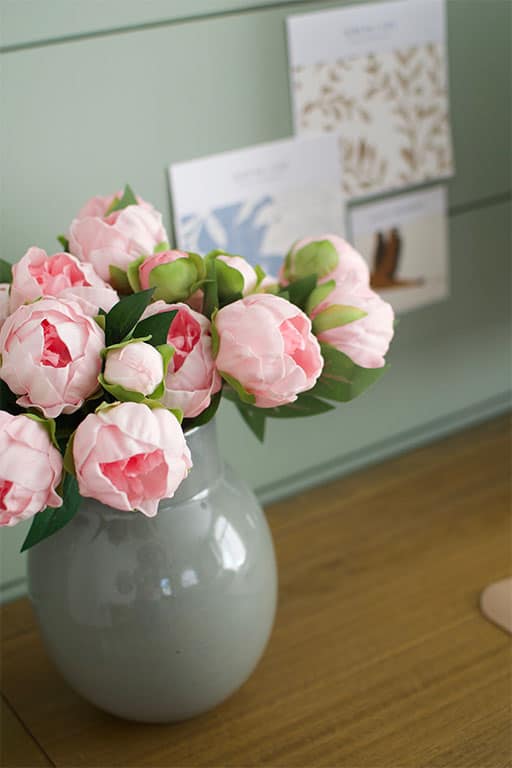 That's about it, a little bit of my thought process and details of the spot I will now log into work when I'm at home and blog at-- who am I kidding, I am currently writing this in my bed but maybe someday I'll get my work done during normal hours.
Shop my Home Office Finds.