I was looking through photos the other day of our home when we purchased it, almost 5 years years ago, and I have to admit that I had forgotten how things looked around here when we bought it. We've changed nearly all the things and still want to change a couple more...
Updating your house through renovation projects can improve its value quite considerably, so if you are considering selling your home, you might want to do some research first into any changes you can make to increase the price of your property. If you're unsure of any renovations, you could even ask your contractors to create a 3D design of the remodel so you know exactly what it's going to look like before committing to the changes. Some friends of ours have recently sold their house after a lengthy renovation project and have just purchased one of these fabulous Square One Condos. Condos are a great solution if you are looking for a home with less maintenance and we would definitely consider living in one in the future.
But today I thought I would share our kitchen renovation more in detail. There are a lot of trends you can follow out there in the world of cabinetry and tile, but I feel like a kitchen is where sticking to classic elements will pay off for you in the end. That is why many people choose to have renovations professionally done. Hammerschmidt Los Altos Hills home remodeling services include kitchen remodels, bathrooms and full home rennovations, and they are one option out there. I know people who can not afford a whole new kitchen and have instead opted to get their cabinets re-painted, creating a whole new feel to their kitchen. If this is something you would like to consider you may want to Click Here for inspiration and ideas as to what changes you may want to make to your kitchen. Keep on reading to follow my kitchen story and discover how we changed our space.
This is what our kitchen looked like when we first bought our home. It had dingy cabinets, laminate countertops, dingy backsplash... you name it, there was nothing fresh and clean about it. I did like the reclaimed wood on the island but it certainly wasn't as crisp feeling as I like kitchens to be.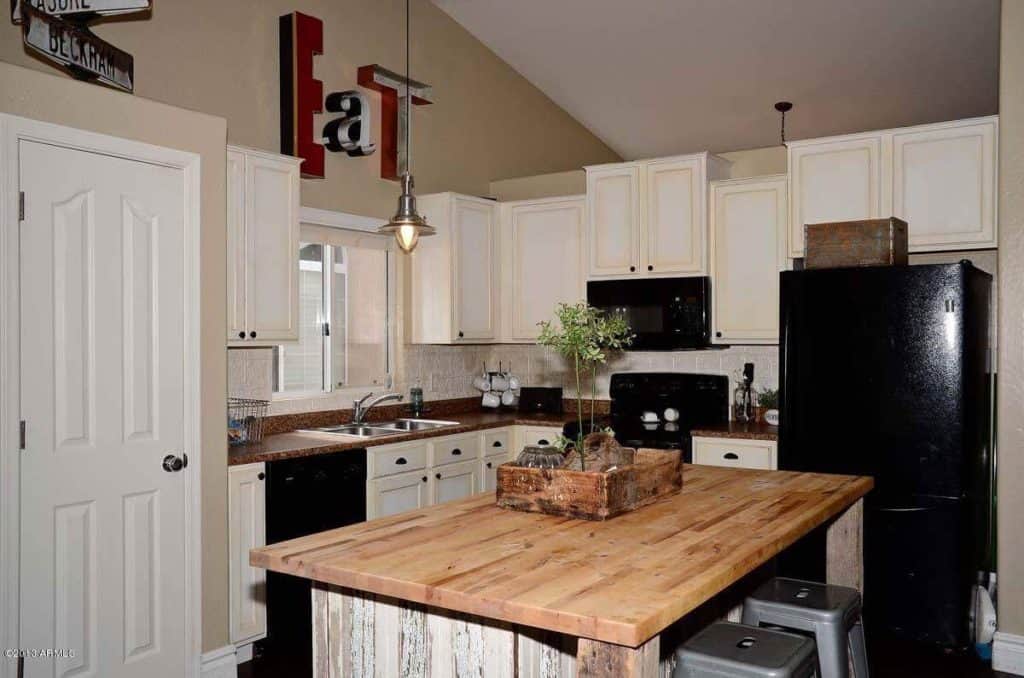 We did this all on an extreme budget, less than $1,000 spent.
Major changes we made:
Fresh Paint
New Cabinet Hardware
New tile backsplash
Open shelves around sink
Ikea farmhouse sink
Butcher block countertops
Framed out island
Those couple game changers are all we did in this space. This is what it looks like now.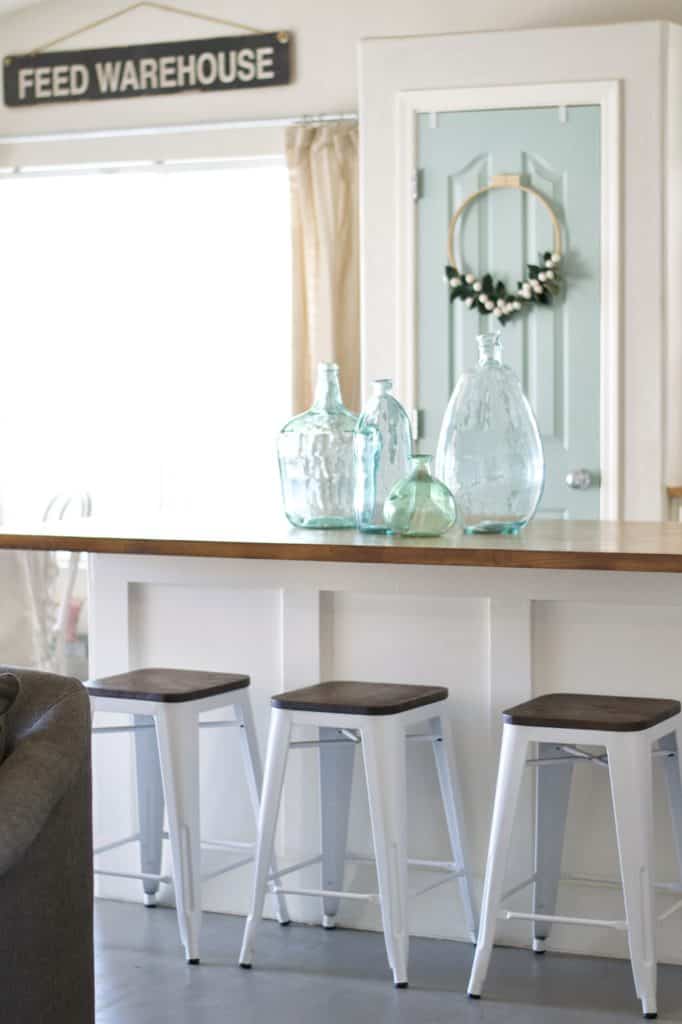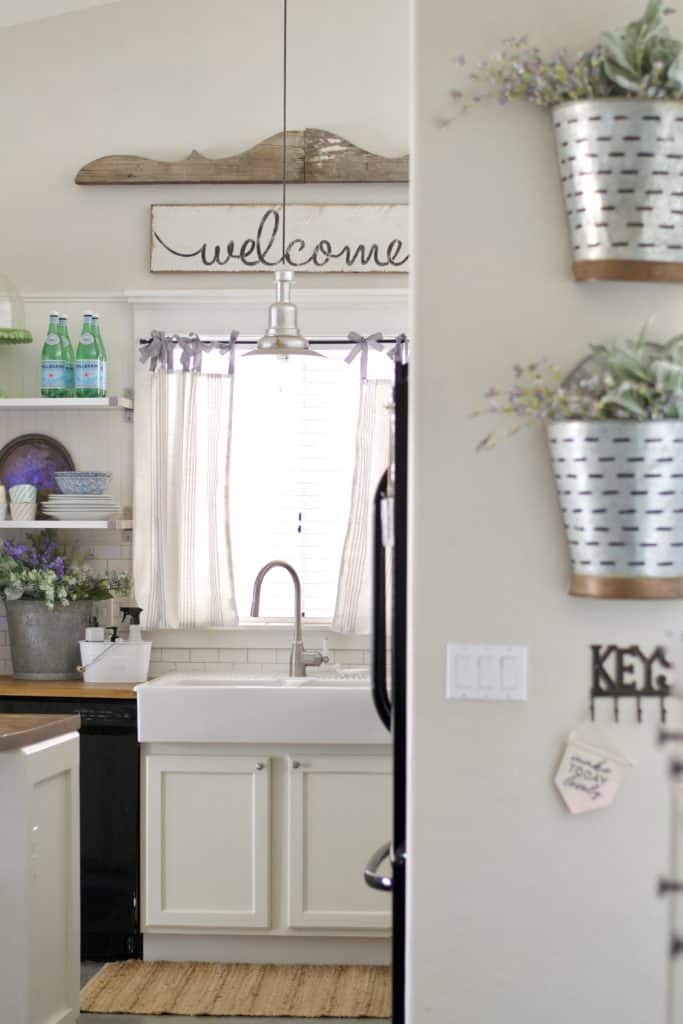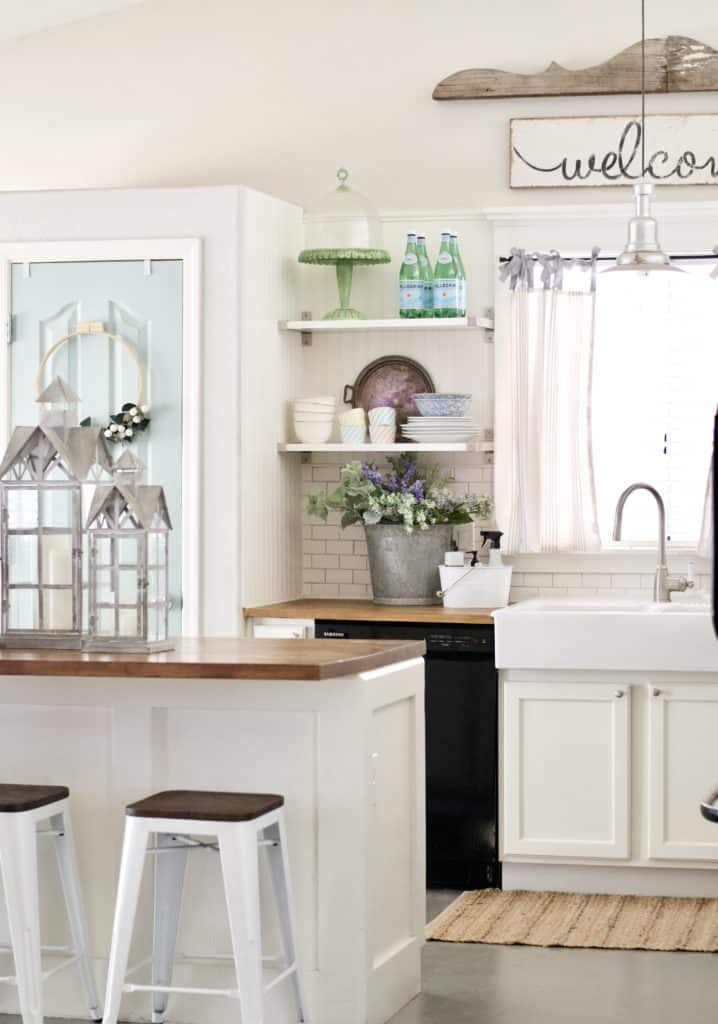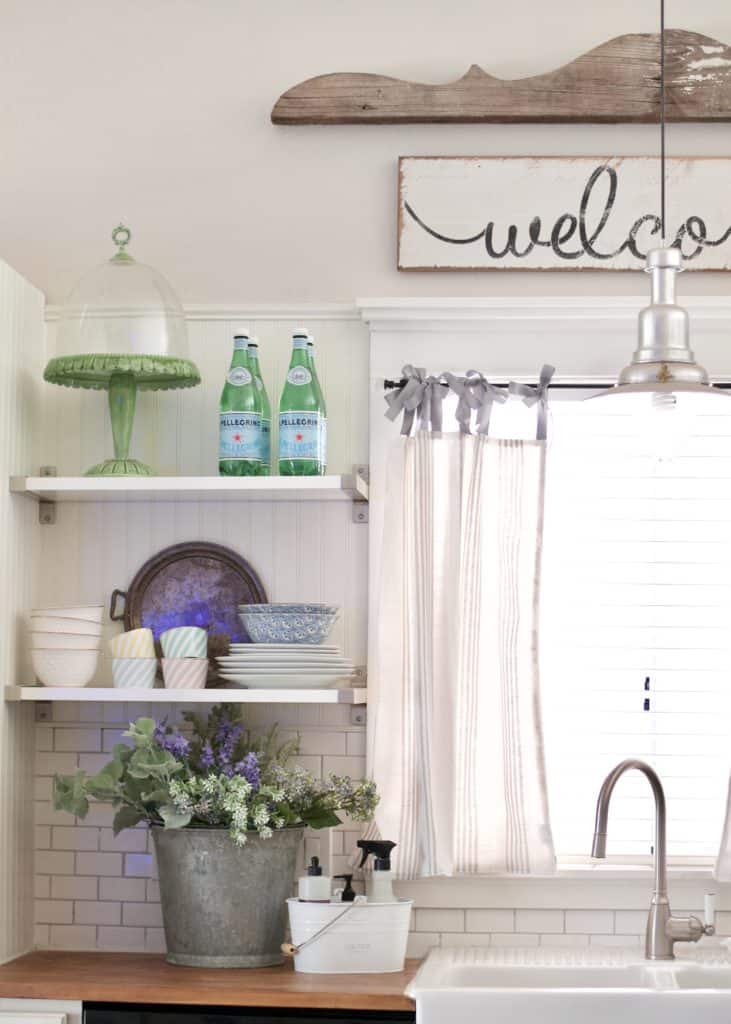 What do you think? Not too bad for such little money spent. We taught ourselves all the tiling techniques (via Youtube) before tackling this project. It was so worth it in the end I think. We heard from a friend that if you want residential and commercial tiling done professionally, PERC Tiling is a good place to go with to get the job done right
I really think that keeping all the major finishes in this space classic and simple was a smart choice. I love to change things up with my accessories, and I do it often. Having a simple but beautiful backdrop to bring things in or take them out as I please is definitely the way to go for me in my home. The other upside to choosing such classic finishes, like butcher block as well as white subway tile, I feel like this space always feels fresh and never dated or old. Definitely things to think of whether you're making a $500 change or $25,000 change.