I feel like for just about every holiday other than Christmas I'm all about keeping it really really, like really simple and easy. I will even honestly tell you that other than my kids easter baskets, this bunny is just about my only "Spring/Easter" decoration. I feel like it's easy to make your home feel like spring without a ton of season specific decor, usually this time of year I'm freshening up with new pillows and things like that and that always brings the fresh Spring feeling.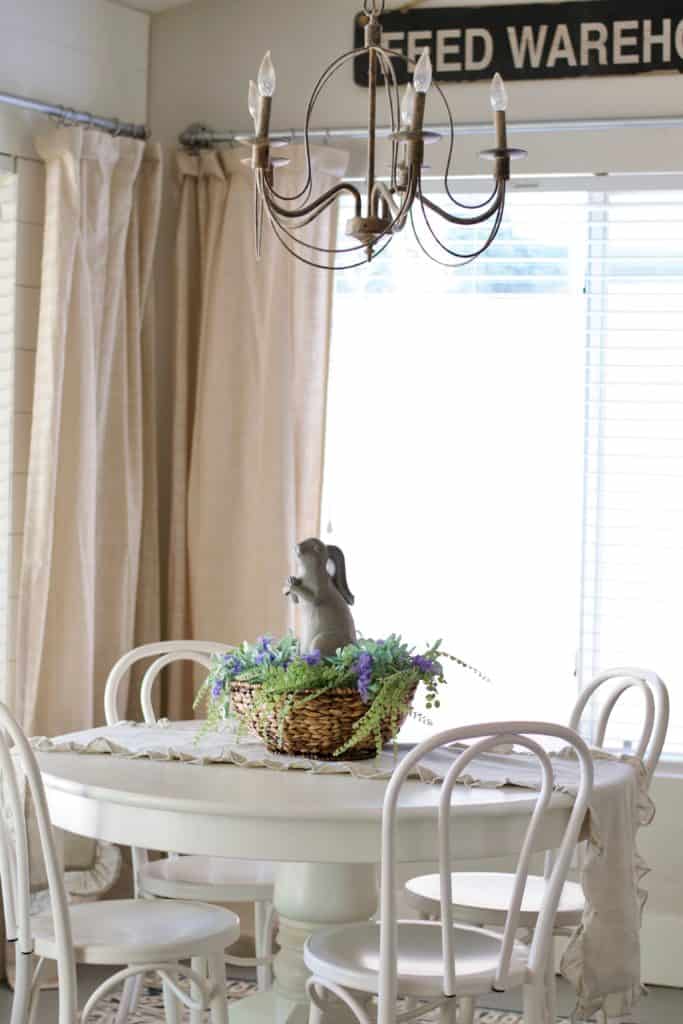 We do eat an easter breakfast and dinner together as a family, so even with a simple approach to the Easter holiday decor, I thought it would be nice to have a cute centerpiece for our dining table. I saw Layla from The Lettered Cottage (she is just the cutest most creative lovely person) share this idea for a centerpiece on one of her Instagram Stories, and I was like yep... love that. So I pulled together my own version of it.
The grey bunny & wicker bowl are from Hobby Lobby. The lavender faux florals is actually a garland wrapped in a couple circles from Michael's, and the greenery is also from Michael's. The bunny is propped up inside with an upside down bowl. I would show you our place settings, but who am I kidding? We'll be dining on paper plates, because I loathe dishes. I feel like showing perfectly set places would make me a fraud.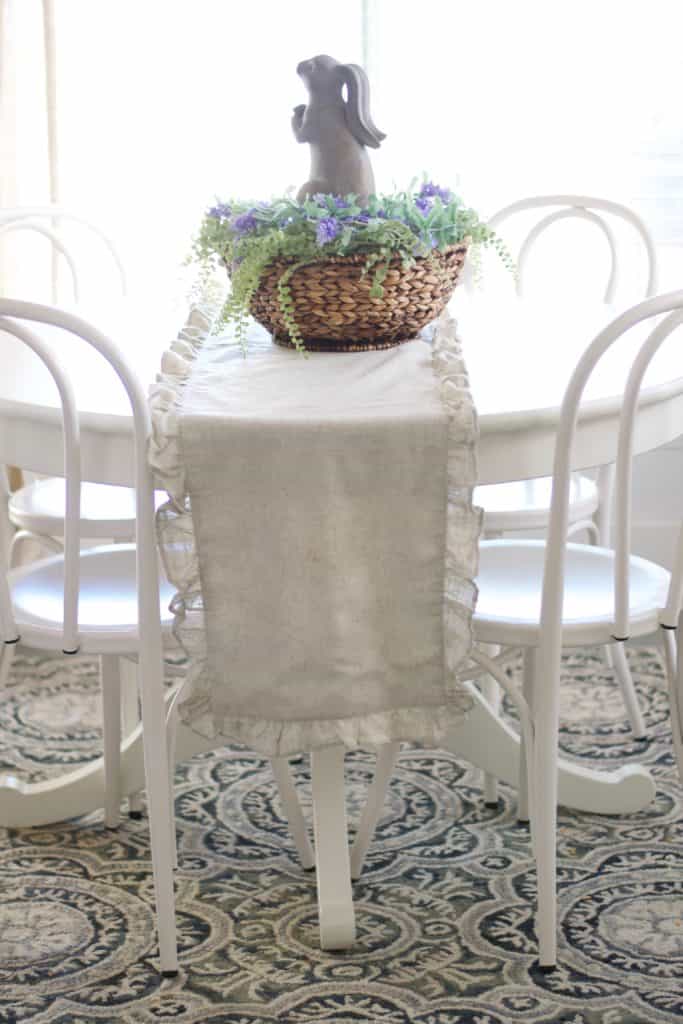 The linen table runner is a Homegoods find also. I got mine a while ago but I see them there often but you can also get them online with companies like iQ Linens if you didn't want to venture out to the shops. I love the linen fabric and the pretty ruffles. It just adds a pretty layer of interest without being too much, this runner lives on my table 85% of the year because it's just so good.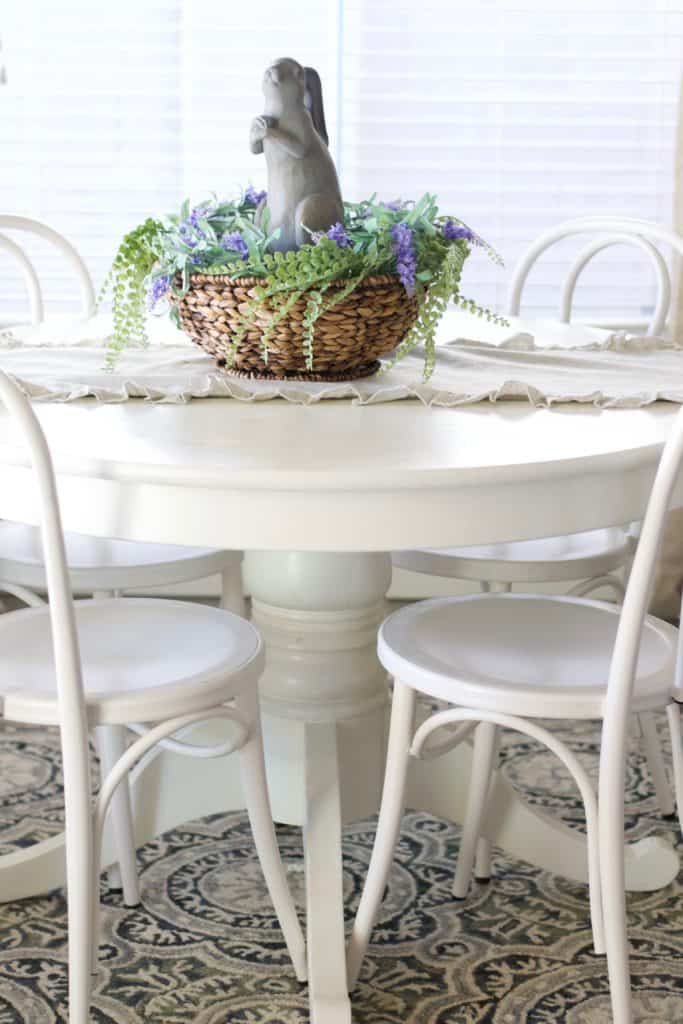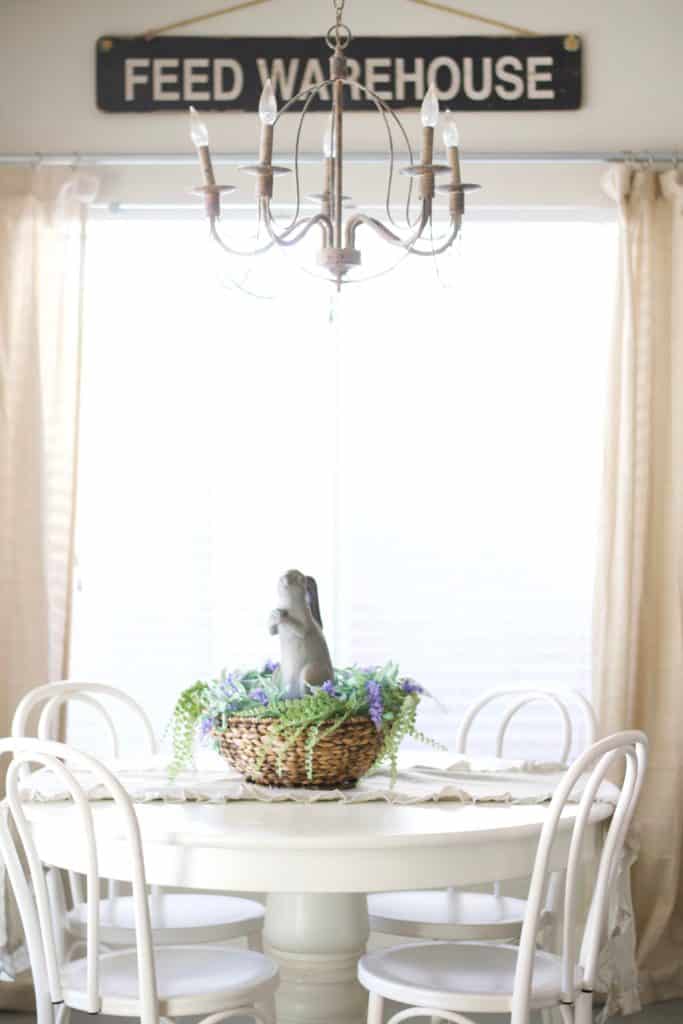 Super simple but I love it. Since a lot of our Easter holiday will be spent around this table, spending some money on making it feel festive. What do you think? Do you go big for all the holidays or do you like to keep it simple?