I have been thinking about sharing this post for a long time, like maybe 6 months or so... ever since I decided that the adorable bench I had in our entry way just wasn't functioning for me. I loved the bench, but in the past I had always had an entry way table. I really missed a couple components that having a table in your entry allows you... and perhaps it's the perfect recipe for an inviting AND functional entry way.
However, before you set up anything else, you should make sure that your entry door is in good condition because that is the first thing that people would notice before entering your house. You should probably make sure that it is well-polished and that it does not creak when opening or closing. Unfortunately, the daily use of your front door can have an impact on longevity and cause movement to become restricted over time. The door may become stuck, the hinges may become loose, and the glass panes may become loose as well. If you believe your front door has any such issues, you may look for a ProVia entry door installer near you to get it replaced.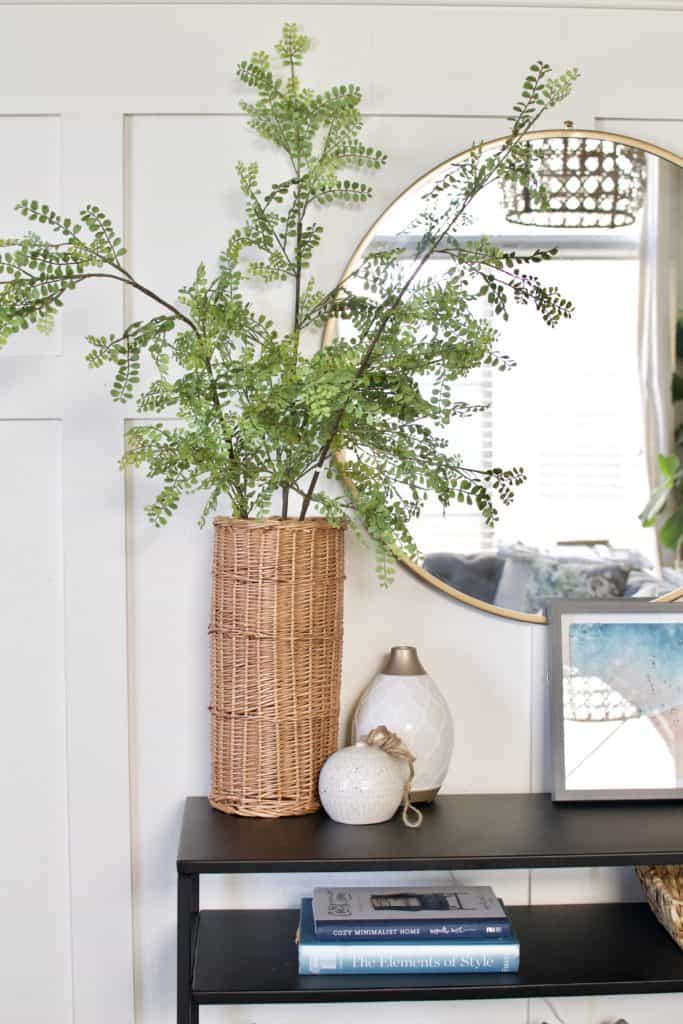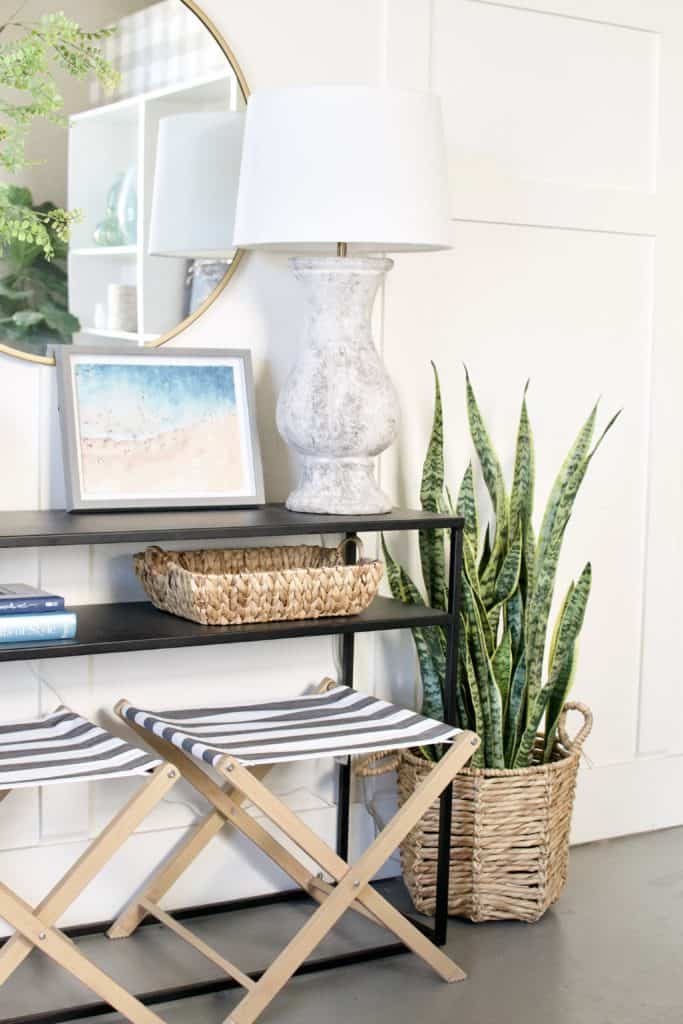 Components of an amazing entry way
A lamp. I really love having a lamp on your entry table for function, but why not make what lamp you choose a statement maker too?! My biggest lamp tip is make sure its the right proportion. Dinky lamps can cheapen your space, I always enjoy oversized lamps best. It is so welcoming and cozy to have a lamp on on your table IMO. The concrete lamp in my entry way was a find years ago from a designer store, but there are so many great options out there.
Large Scale Art. It is important that you add something on your wall to anchor your entry way. My personal favorite is a mirror because it's reflective and nice to give yourself a once over before you answer the door or run out on an errand... ya know just to make sure you don't have anything in your teeth or on your face. The reflective qualities help spaces feel larger which is usually helpful in entries. If having a mirror isn't your thing make sure whatever art you place there that it is large enough scale, because small wall art can also cheapen your home real quick if you aren't careful. If you're looking for something a little different, you could buy metal wall art online india to make a bold and beautiful statement in your entryway. However, if you are an art lover and admire artistic pieces a lot, you might like to go with canvas decors or paintings for your walls. There are numerous options in this too, for instance, floral prints, geometric prints, or an inspirational piece. You can choose anything that syncs well with the overall ambiance of your home, or something that resonates with your ideas. If you choose to do so, you might want to have a look at canvas wall art prints uk (if you are based in the UK), or similar websites at the place you are based out of.
Somewhere to sit. This is especially helpful if you are a shoe free home, or you have little's you need to plop down to put shoes on before you walk out the door. If you can't tuck a stool under your table next to it also looks great.
Somewhere to toss your stuff. The combination of some wall hooks + a small catch all basket work well for us in our home. This just helps with the stuff issue and helps keep our surfaces clearer which makes me a happier human.
Some smell good. I have this thing when I really like to open my front door and be invited in with a yummy smell. I feel like this is like next level way to great guests and make your home an inviting place. I personally love to use my diffuser with some essential oils because it keeps our home clear of air pollution, but a soy candle would be lovely as well.
Something alive. Okay this last one is like bonus points... but to me it's important to have something living or at least something that feels alive to help your spaces not feel so flat. If you aren't confident with keeping plants alive, I love some realistic faux branches.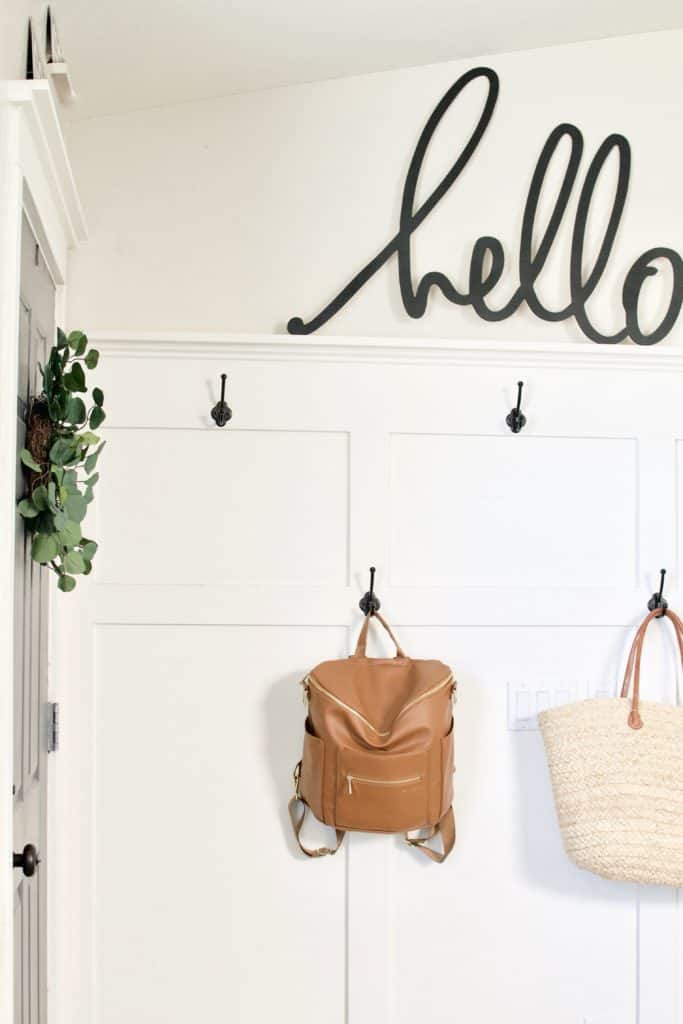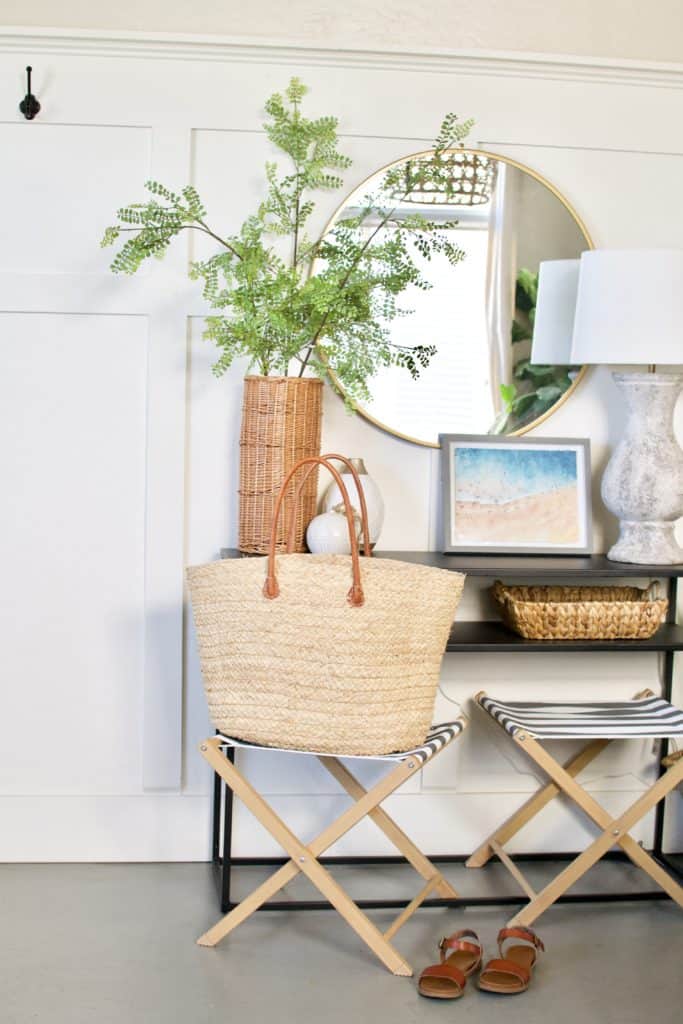 You can shop this post by clicking directly on the images below.
By shopping through my links, you support my blog. Thank you!

There ya have it, my recipe for a great entry way. I feel like this formula of accessories could be used in a lot of areas of your home as well.
Save this post for later