My favorite season every year is always the NEXT season, ya know what I mean? I love spring, but always look forward to summer. I love summer, but always look forward to fall. Are you the same way? I think I love the change of seasons so much, because it's like a BIG breath of fresh air. While I try not to buy much, I often find myself freshening up spaces around my home and my wardrobe in honor of the breath of fresh air... ya know... totally necessary.
Inevitably in summer we spend a LOT of time outside, which also inevitably means hayfever, nosebleeds and sunburn. To help cope with these summer issues, I've found that a good nasal spray (like these on https://serp.co/best/nasal-moisturizing-spray/) helps to calm my nose down, but I find sunburn is harder to deal with. It seems that no matter how much sunscreen I apply, a couple of us always end up a little sun-kissed, this year, I made my own After Sun spray, and I am obsessed.
Even when we don't have sunburns, I find that after a long day in the UV, my skin feels tight and so dry... so I like to apply this to give our skin a nice big drink of soothing hydration. Additionally, we also don't skip on a good face moisturiser that I prefer to reapply multiple times a day. Mosturiser can be one of the natural ways to hydrate your skin if using an organic and vegan product that could also provide other skin benefits such as acne reduction, improved collagen production, and skin cell regeneration. Plus my DIY After Sun spray is also completely natural and has a lot of skin benefits, including lasting effects and reduced itchiness and flaking of skin.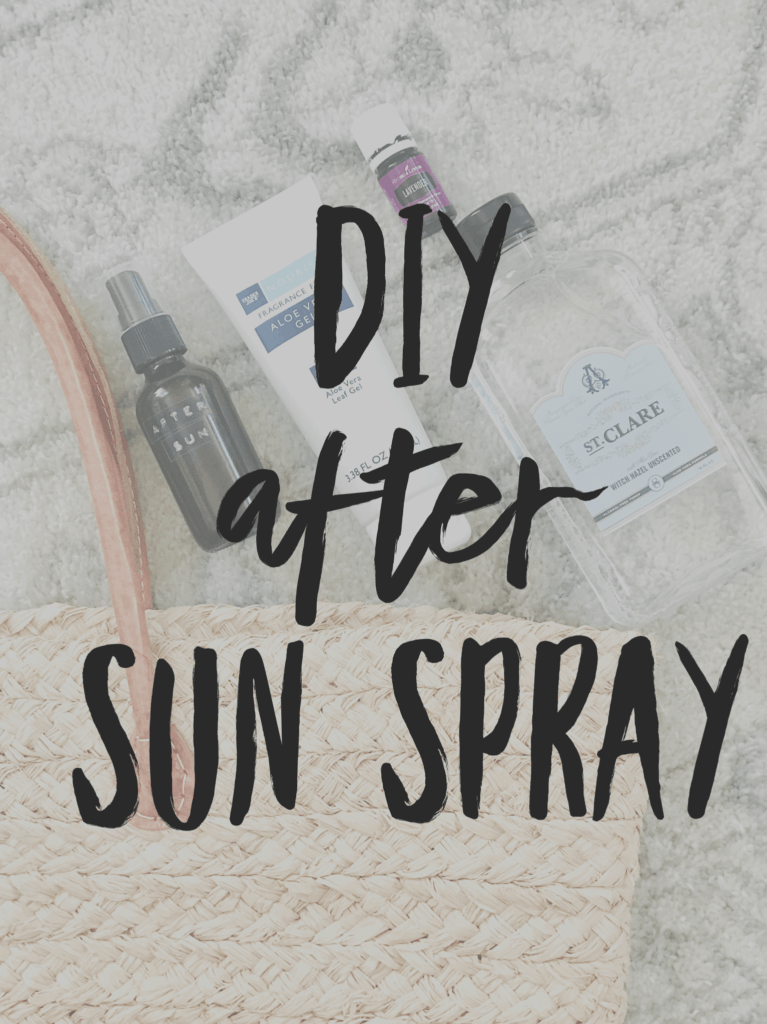 Cooling After Sun Spray- 2ML spray bottle
What you need:
Witch Hazel
Distilled Water
Directions:
In 2ml Spray bottle add 20 drops Lavender, and 20 drops Peppermint.
Add 2 tablespoon of Pure Aloe Gel
Add a splash of witch hazel to help combine.
Fill to the top with distilled water, shake well before each use.
I love that this recipe only takes two oils. Peppermint adds a nice cooling sensation when sprayed on the skin. Lavender soothes skin irritations. These two oils paired with pure aloe are so soothing on the skin, we are in love. Also, distilled water is not that hard to find. You can easily make some at home. But be wary of the kind of tap water you get at home because it might not be distillable. You could check out some Water Guides to figure out what kind of water you get at your home, and then see if it can be purified.
Distilled water could be made by taking the water you get at home and boiling it to vapor. This removes all the impurities and minerals from it. Once this water is vaporized, you then condense it again into water and voila, you get distilled water. Alternatively, you could also head online to purchase some Golyath distilled water deionized water, which you can store and use for future DIY projects.
I also rounded up either things I've purchased and loved this season, have been moderately obsessed with, or my all time season staples. Happy Summering!
You can click directly on the images to shop.