I have shared many looks of our entryways over the years. I think creating a welcoming entryway is perhaps the key to greeting guests and setting your home apart from all the others. I especially feel this way living in a cookie-cutter house in a cookie-cutter neighborhood. Let's be honest, my entry looks just like the neighbor next door, down the street, across the street, and even 5 streets over... because, "Hi! We all live in the same basic house :)!" So many of us live in I'm sure a similar scenario.
Let's face it, there's not much special about the bones of our houses these days in suburbia. Many houses tend to look similar on the outside, however, it is on the inside where the aesthetics vary, with a fair amount of distinction in the interior design london, and similar places around the world. Each home has the potential to create its own unique look, and can change depending on the tastes that the residents have.
When you look at it from a third-person perspective, the individuality of your home can be displayed from the entry itself. Yes, your entryway is the perfect place to make a unique first impression if you really put your mind to it. Installing sandstone compared to porcelain paving in your porch can make a nice change from all that porcelain paving you typically see outside front doors, for example.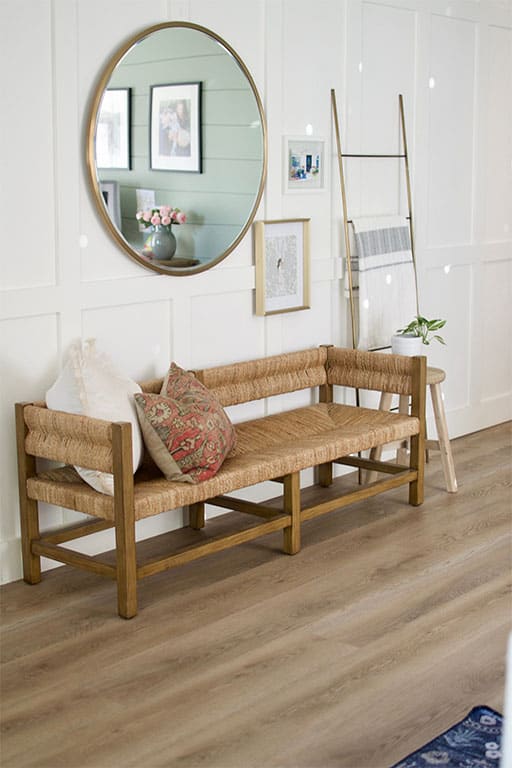 The entry to a home starts from the curb, and there are plenty of projects you could take on to build the entrance that makes it look cozy, even on the outside. The exterior of most homes generally has an adequate of room and potential to create an inviting appeal. If you do have a patio or a deck, it might be the ideal place to spend chilly mornings or warm evenings. So, you could rework it to introduce an outdoor lounge. And if you don't have one, you could plan out one with a Deck builder in Northfield, IL, if that's where you're at. It's really that easy when you come to think of it, which is why I want to share a refreshed version of how to create a welcoming entryway with you all today.
Tip #1- Add a Wall Treatment
Especially in suburbia, your home and your neighbor's house are probably all remarkably alike and more than likely unremarkable in general. I recommend infusing your space with personality and for me my go-to is always a wall treatment. I designed a unique wainscot detail that my husband created for me on our main entry wall and I love it. If woodworking is outside your wheelhouse, try adding wallpaper for personality.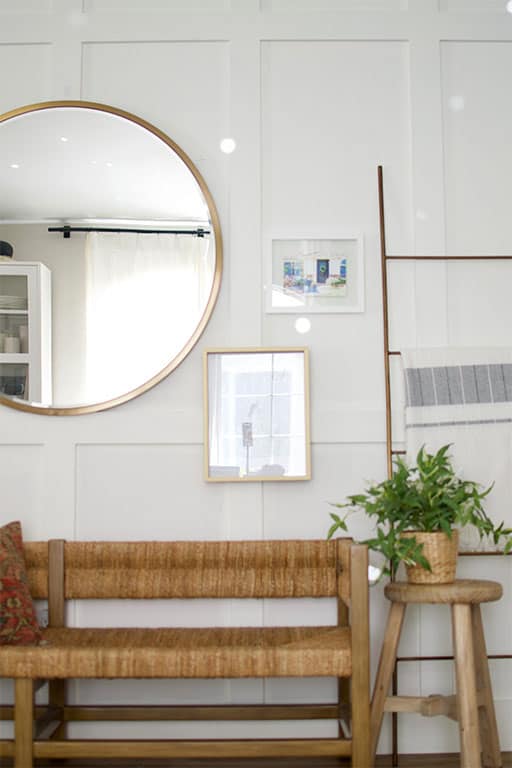 Tip #2 Have a place to sit
Even in the past when I had tables in the entry, I always include a little place people can sit and put on or take off shoes. Currently, I have a long bench in our entry which you know is obviously, a place to sit... I just think it is so inviting to walk into someone's home and instantly feel like you can sit down and take off your shoes if you need to. When my kids were smaller they would often sit so I could put on their shoes, now that they're older they sit and put on their own shoes. Right now I am loving this bench because it gives me the perfect opportunity to put out some cute throw pillows, and since throw pillows are basically an Interior Designer's stuffed animals... I am all about that.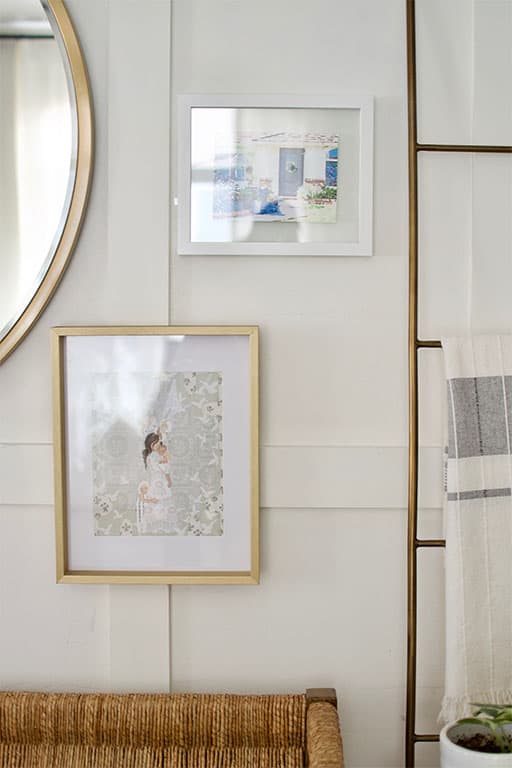 Tip #3- Display Personal Art
In your entryway make sure you add a personal touch-- this is perhaps my favorite tip and the most important aspect of creating a welcoming entryway. It's great to have a house that feels like a magazine sure, but what really can set your home apart from just a pretty space are the personal touches you add. In our entry, I added a snapshot of our last house, the first house we owned as a family that I turned into a watercolor with the Waterlogue app along with one of my favorite religious pieces of art. These two little art pieces tell a little bit of the story of who lives inside these walls. I love when people's houses just look like them, that's the absolute best kind of home I think. It is so important to weave pieces of who we are into the spaces we inhabit.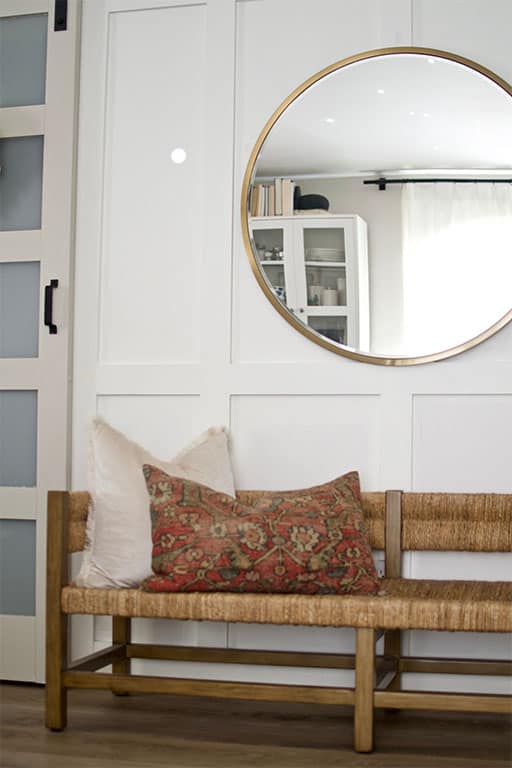 Tip #4- Keep it Simple
I often see pieces of furniture cluttered with just too much. Instead of needing a ton of accessories, I like to focus on investing in furniture pieces that are my style. This woven bench is absolutely beautiful, it has simple lines and the woven seat adds warmth and texture. It is beautifully simple in my opinion. It doesn't need much to feel special because it can stand on its own. The older I get the more I look for key pieces to convey my style and worry less about all the knick-knacks.
Shop this Post