Hey Hey! I thought I would pop in and share my dining nook before it becomes decked with boughs of holly. I previously had a pretty full size farmhouse table with 6 tall ladder backs that made my farmhouse loving heart happy, but it never felt quite right. I love farmhouse style, but I tend to lean to a simple and clean aesthetic. I feel like I'm constantly melding styles together, but I think that is just life when creating a home.
We live in a small 1600 sq foot home and I feel like I'm always learning how our small spaces work best. So I sold the large farmhouse table and refurbished this one and love this area so much more!
When I wanted to makeover this space I really wanted to buy a beautiful new table, a pretty doily style jute rug, chairs from the Magnolia Home collection... I could almost here the repeated cash register and $$$ signs adding up. Instead of buying all new things I decided to look at what I already had and try  my best to pull it together that way. And I did. I had this neglected Pottery Barn garage sale table find in my garage for almost a year... and decided it was time to breathe new life into it. I love the pretty scroll feet and pedestal base. When I got it the finish had seen better days, but no matter!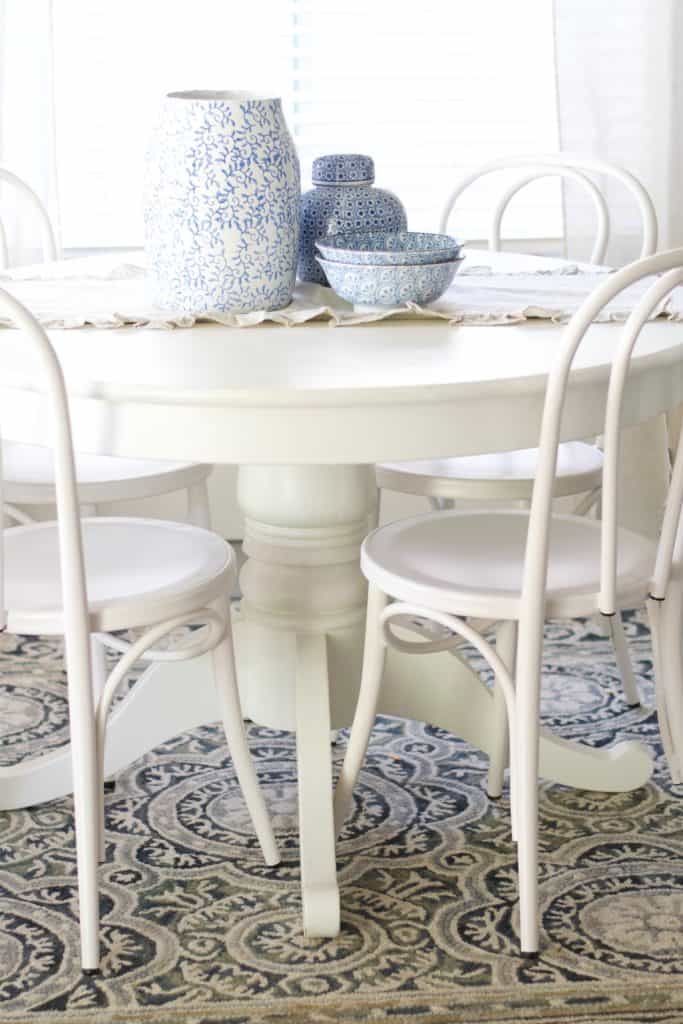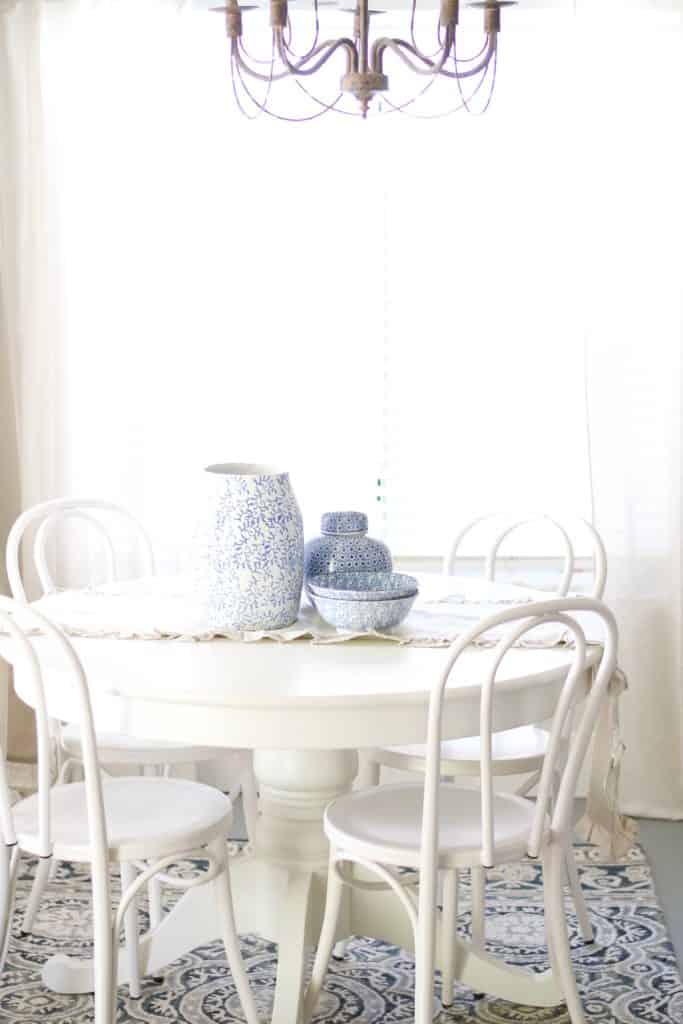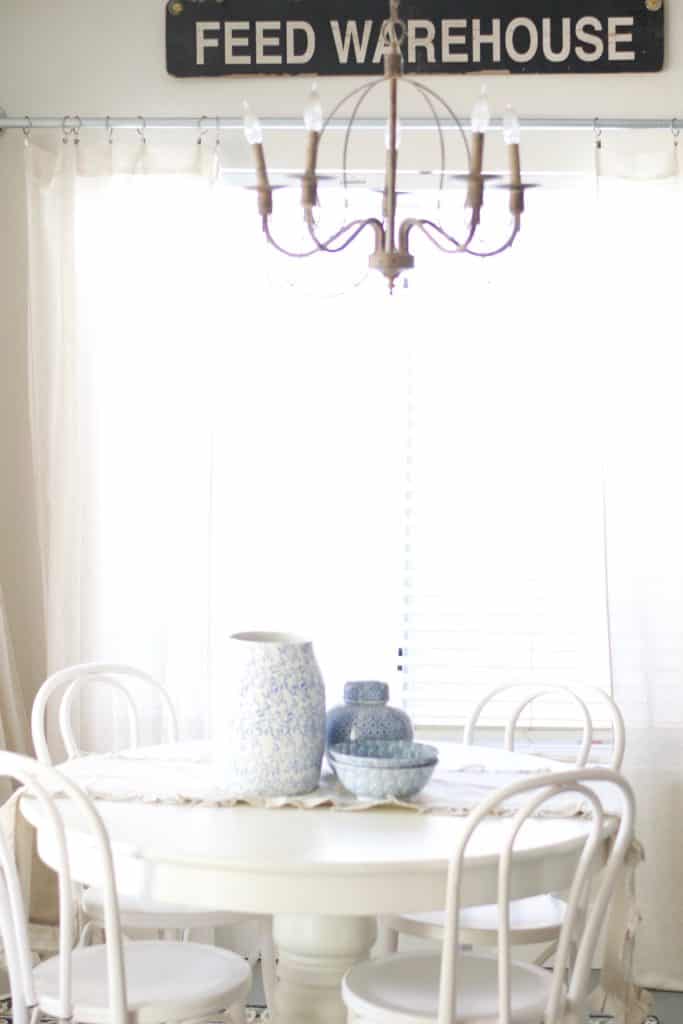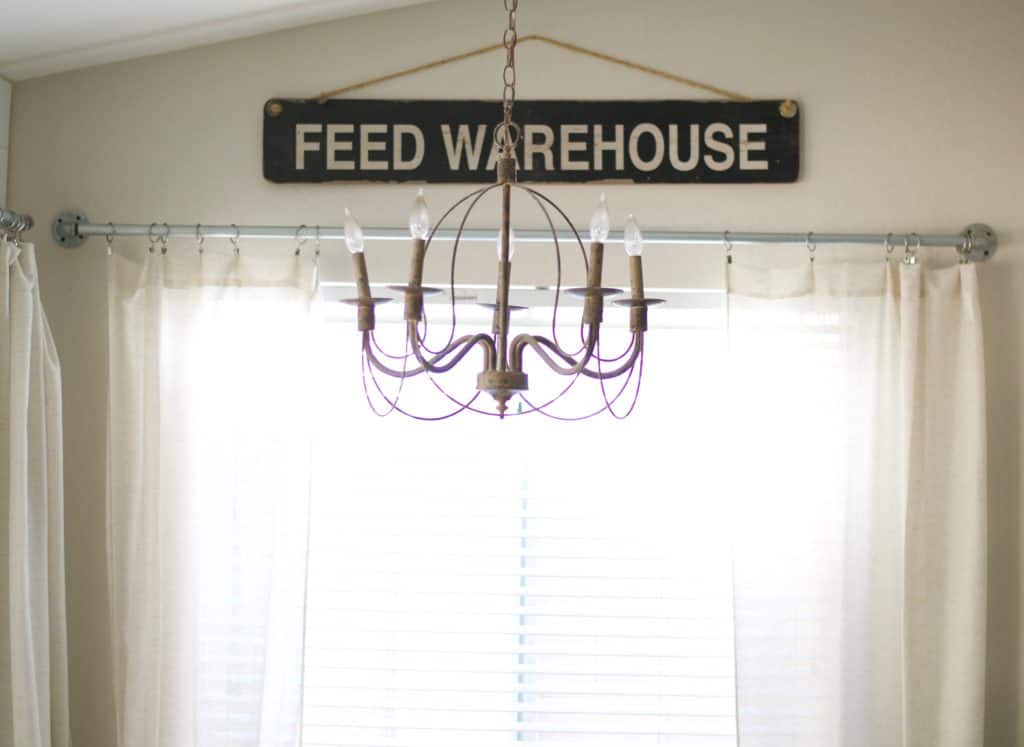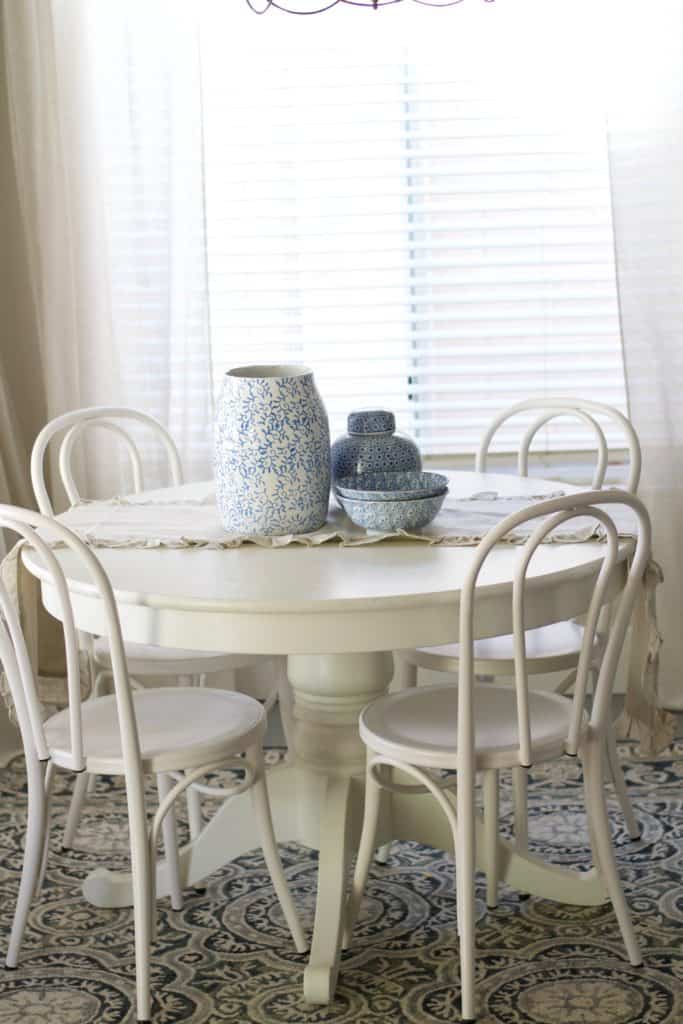 I love the bentwood-esque chairs that are actually metal. I grabbed them from Target, you can get them here, they also come in matte black! I've mentioned this rug numerous times before on our blog but it this rug is also a Target find, this one is hooked wool and very nice quality. Rylen has a bigger version of it in her family room.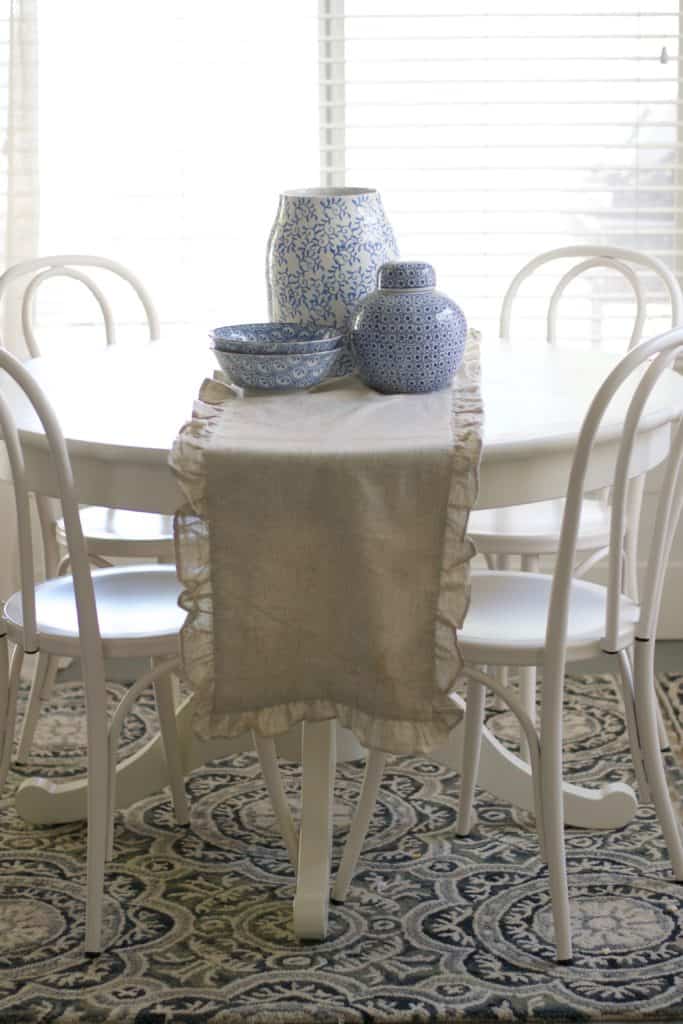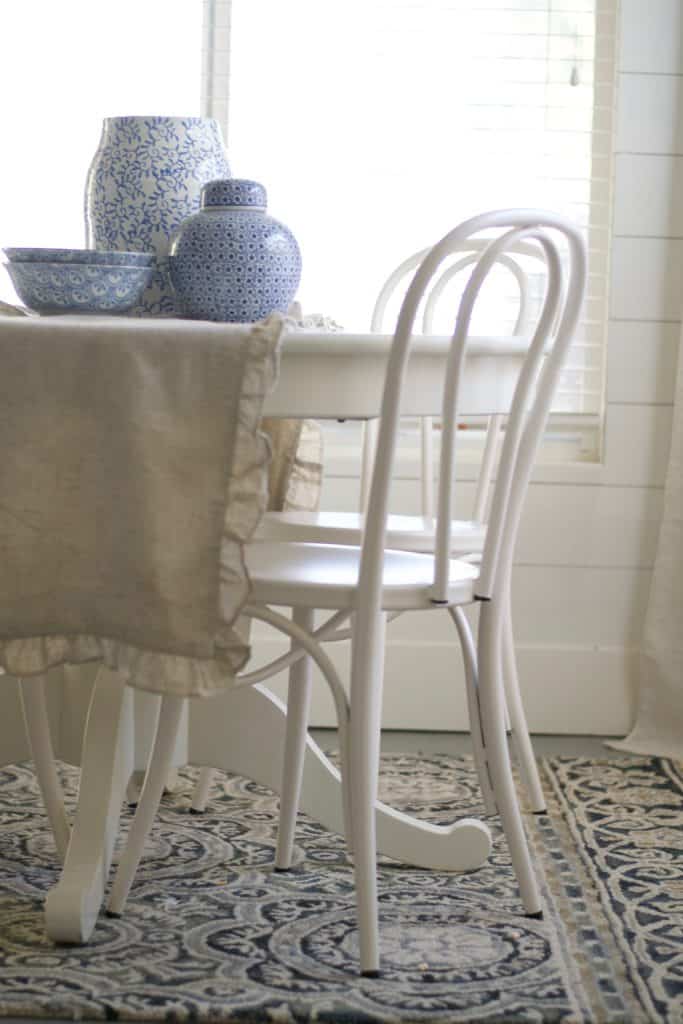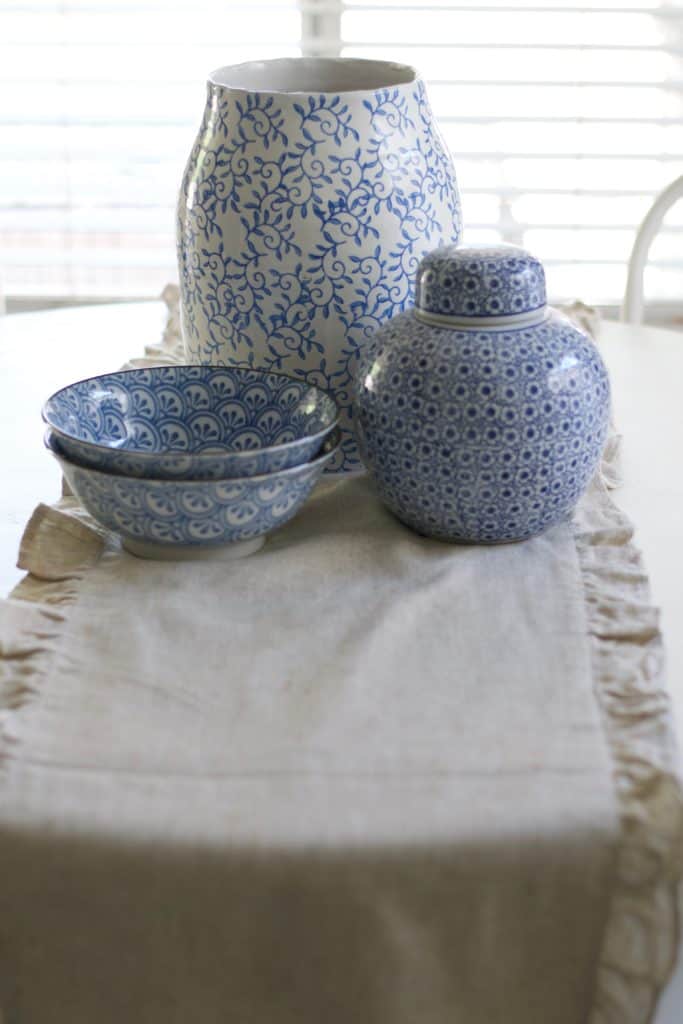 I like to put accessorize my dining tables with useful things rather than a fancy centerpiece. Just about every single time I walk into Homegoods a piece of blue pottery begs to come home with me. These couple pieces are the beginnings of my collection. The hand painted details on them just make my designer textile loving heart skip a beat. Plus those bowls are enormous and great for a big bowl of delicious soup. Or cereal. Whichever.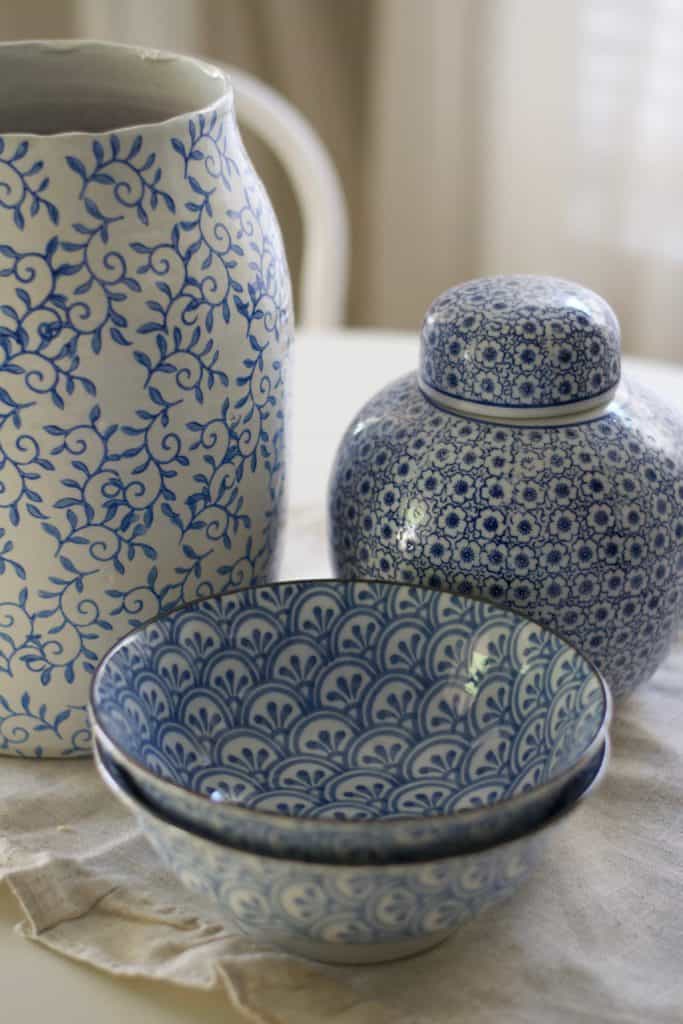 The only new items I purchased for this area were the chairs. I already had the rug, accessories, and table. The poor table had been neglected and in my garage for over a year... yikes. I'm glad I kept it around. It is such a good feeling to makeover a space and make it beautiful without digging into your wallet to do it.