We recently bought a big time fixer upper, and have been working our way through perhaps the biggest projects of our lives. The amount of roofing, tiling, landscaping, and Gold Coast Plumbing Experts we've talked to during this project is insane! That's why I am so excited to share with you today our Bathroom Reveal for our Hall Bath. We gutted this bathroom down to the nothing's and have put it back together slowly but surely. Everything just had to go, it had certainly seen better days. We have never done a total gut project before, but I was so excited to try it. In your own bathroom makeover projects, you may not even want to stop at simple aesthetic changes - you may see it fit to get technical with some plumbing alterations to create the ideal bathroom. Contacting a plumber for help will mean that the job can be completed professionally rather than attempting a potentially ill-fated DIY attempt. Plumbers such as these could be the sorts of people you're in need of - makeitdrainplumbing.com/encino-plumbing-services/. Be sure to communicate exactly what you want with regards to your plumbing so they can get started bringing your plans to life.
This is what it looked like before.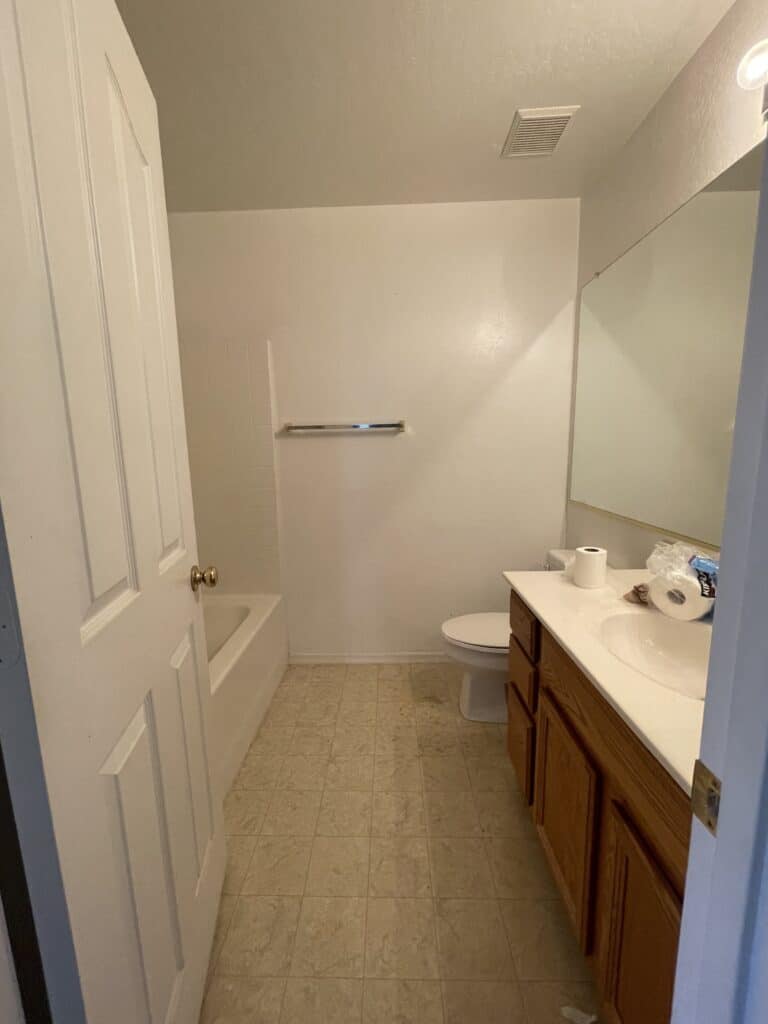 Back story, our new (to us) house we bought had been neglected, and honestly felt like it had never truly been loved... so that's been our mission as we turn this place into a home. That is why I was constantly looking for a professional like DSS Plumber Harrow who could assist me during the complete bathroom renovation. I didn't want to leave anything that I would later regret. Besides, I despise any kind of water leakage in the bathroom, which is why I wanted everything to be perfect. Well! This small hall bath serves as a secondary bathroom for our children, as well as for visitors. I wanted it to have a lot of styles to compensate for its obvious flaws, such as the lack of natural light and limited workspace.
When designing a space, I typically try to come up with a jumping off point as a main anchor for the space and anchor for my design. For this bathroom, the jumping off point was the AMAZING Bedrosians Allora Stella Tile.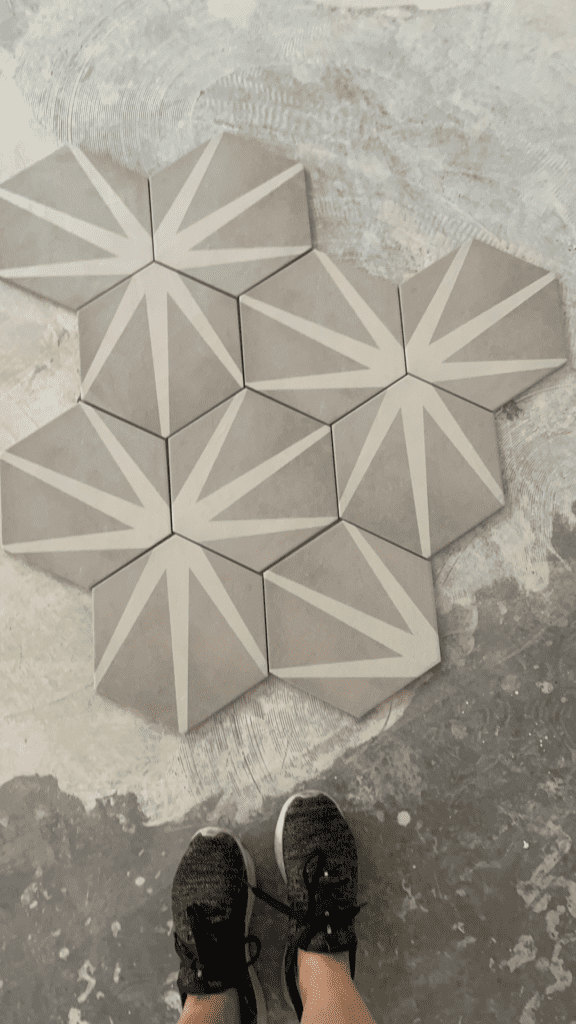 In order to save time, effort, and money we replaced the two piece tub and surround with a new more modern option that even had a built in nook to hold bottles and soap. I was quite surprised that the tub was metal when it came, for the price I was expecting acrylic or something of that nature.

I could not add more cabinetry in this space due to square footage restraints. The pre fabricated vanity was a beautiful wood tone, which I really wanted in order to add more warmth to the space. It also came with the countertop, as well as sink which was super convenient. The other upside was that it has all kinds of cute compartments and really maximizes the small cabinets.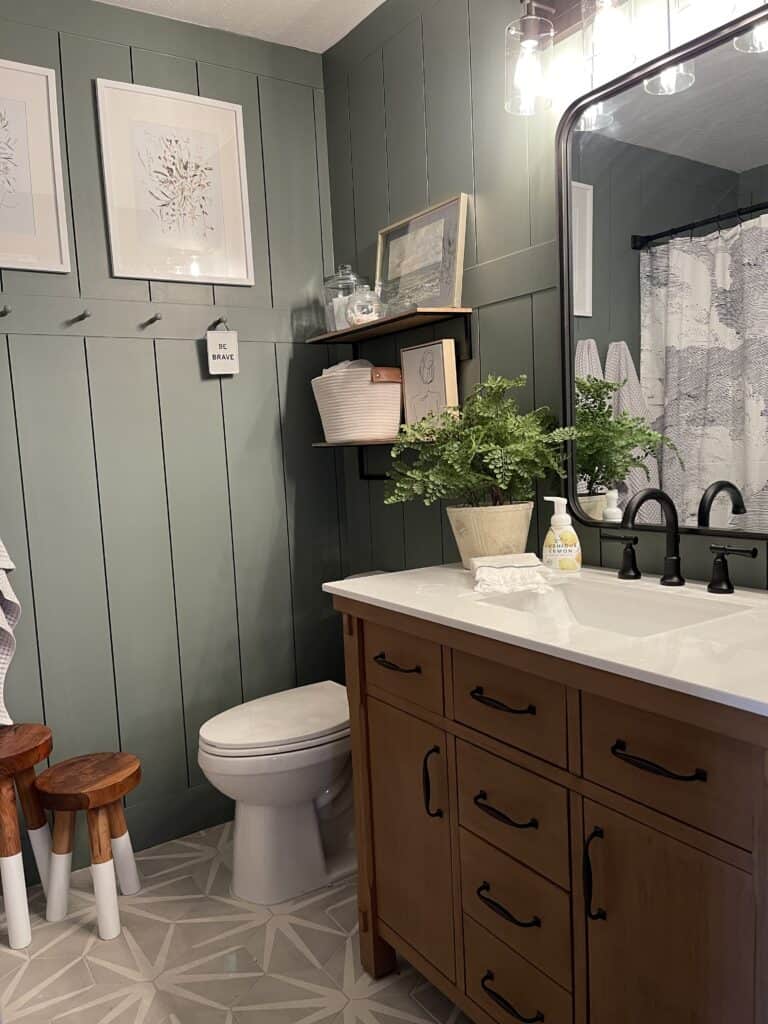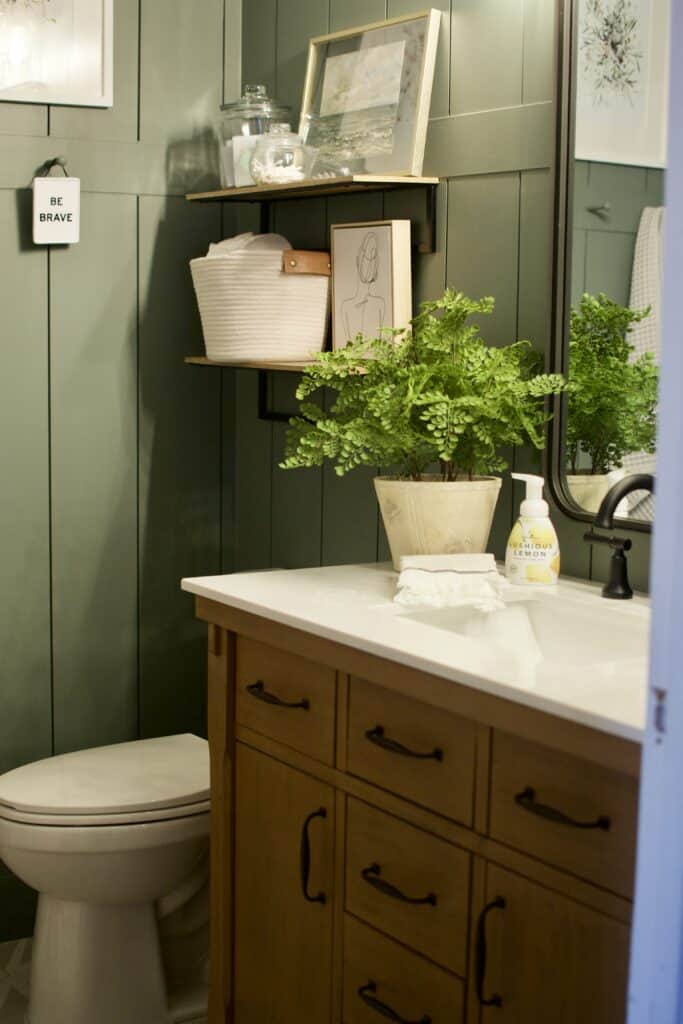 I would literally trim out every single wall in some form of board and batten or wainscot if I could. I had dreamt up this beautiful shiplap detail that we wrapped the entire room in and painted in Retreat by Sherwin Williams. Since there is no natural light in here, I knew that it would never achieve light and airy so I decided to just embrace the moodiness. This green in particular has a lot of grey in it which makes it feel sophisticated.

To hold the towels, I didn't want anything to really stand out much because it is a small space and already had a lot going on. I decided to go with really simple pegs and painted them the same color as the trim work. I think this is such a classic look, I love it. It was also really affordable, hooks can be SO expensive too.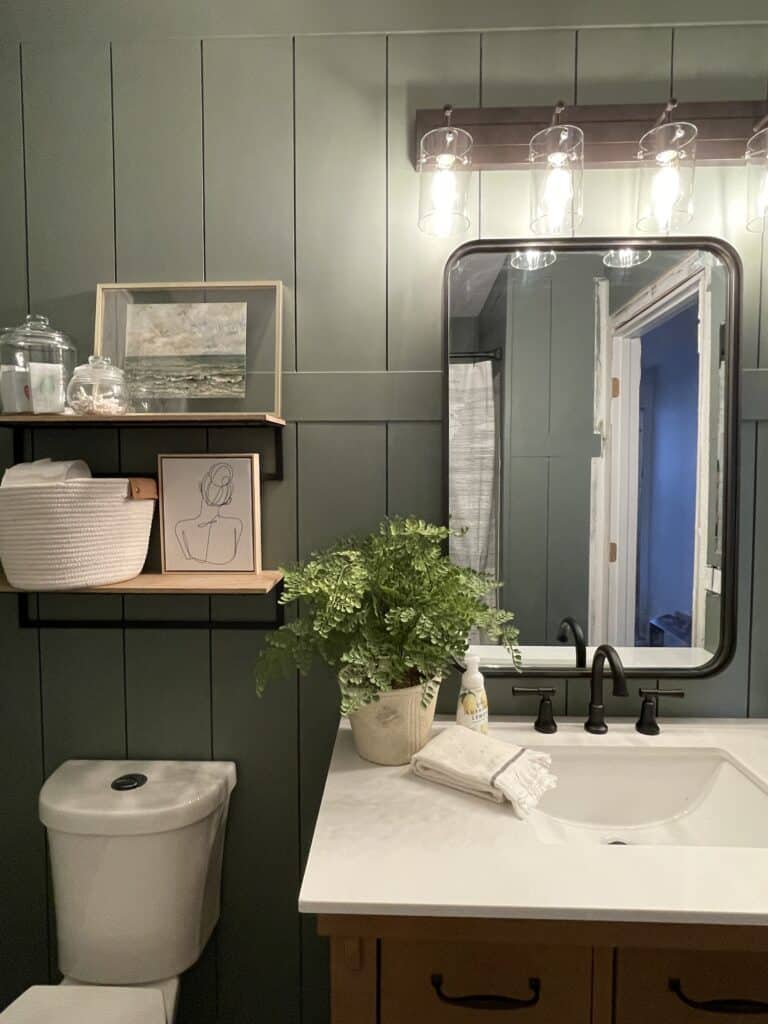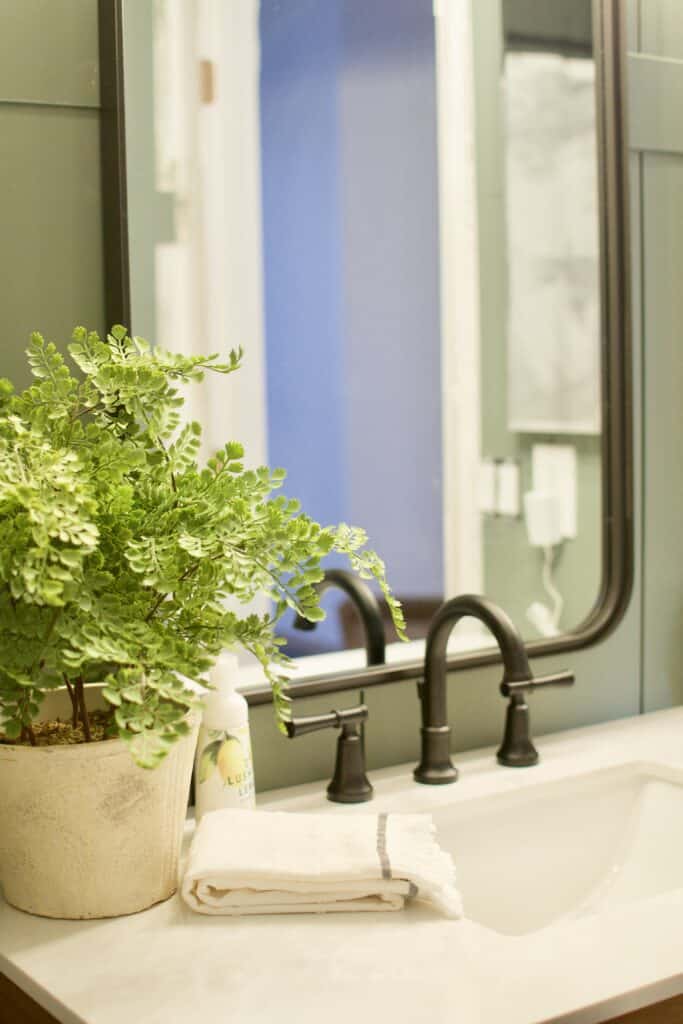 We prioritized this room because we really wanted to have a highly functioning bathroom while we worked on our house projects. Right now all 5 of us are sharing this bathroom which is interesting, but at least it's done. Also, this might currently be the only complete space we have in the house, and we might still have an entirely other bathroom to finish gutting and renovating but it feels really good to have one complete space.