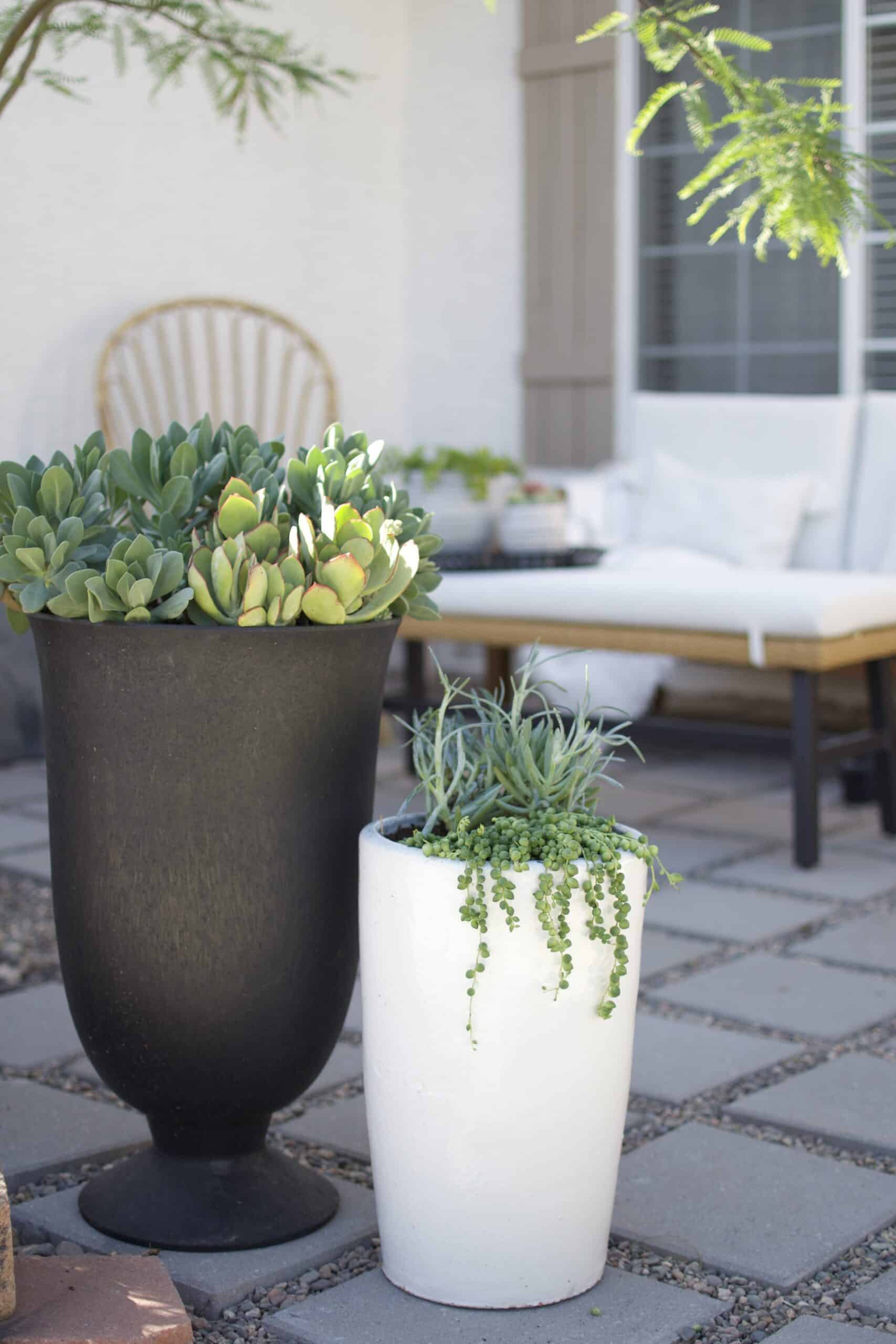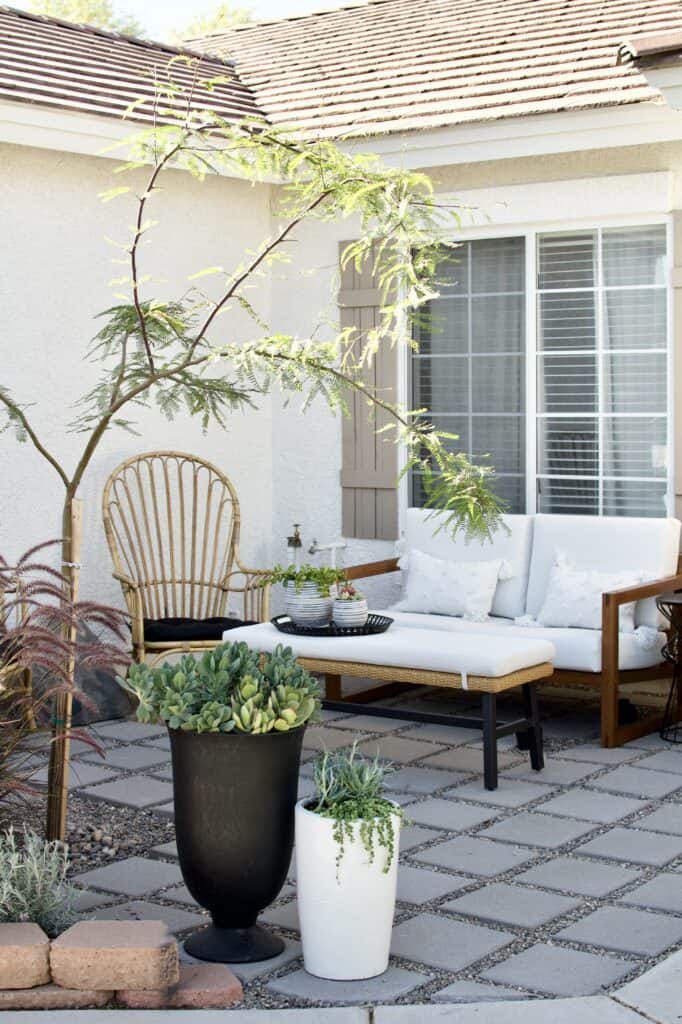 Welcome to Part Two of my DIY Patio series. The idea of making a patio seems hard, but I promise you it's actually relatively simple to DIY yourself. I recently revealed our DIY Front porch we created out of pavers and pea gravel, you can see how our simple DIY porch tuaparned out here. Today I'm going to share how to DIY a Concrete Paver + Pea Gravel Patio
When I was researching how to do concrete patio installation, I had a hard time finding ideas that were polished-looking along with being affordable. My budget was tight! I considered contacting the professionals, but I wanted to save some money! Then I stumbled across this idea and I immediately went after it. After finishing our patio, I feel like this is the easiest DIY paver patio idea you can create yourself with ease.
Honestly, I am so happy with how my DIY patio turned out. Of course, if you would like to emulate a similar style outside your home, there is no shame in reaching out to a team of paving and driveway experts to take care of the job for you. After all, not everyone has enough time to design and install a patio like this one and landscaping is not easy! Some things are definitely best left to the experts, so if you are not as DIY savvy as me, do feel free to contact a paving company for some advice about transforming your space.
Materials Used
The materials for this project other than the wheelbarrow, and shovels I used are really simple.
Tools Needed
Wheelbarrow
Shovel
Gloves
Metal Rake
Metal Stakes
Landscape String
Scrap piece of 2 x 4
Level
Angle Grinder
Concrete Blade
What to consider when you are making a patio
You need to consider drainage when you're working on any area near the exterior walls of your house. You do NOT want water to pool near the foundation when it rains. You may want to ask,"why not check here and get a professional to check the foundation" if that occurs. Ideally you'd like to avoid it though, so, what do you do about it? You need to grade the area at a slight slope so water can drain. In this area by our front door I took the slope of the concrete walkway that professionals laid when our home was built and mimicked it for my patio that is adjacent to it.
How to grade the ground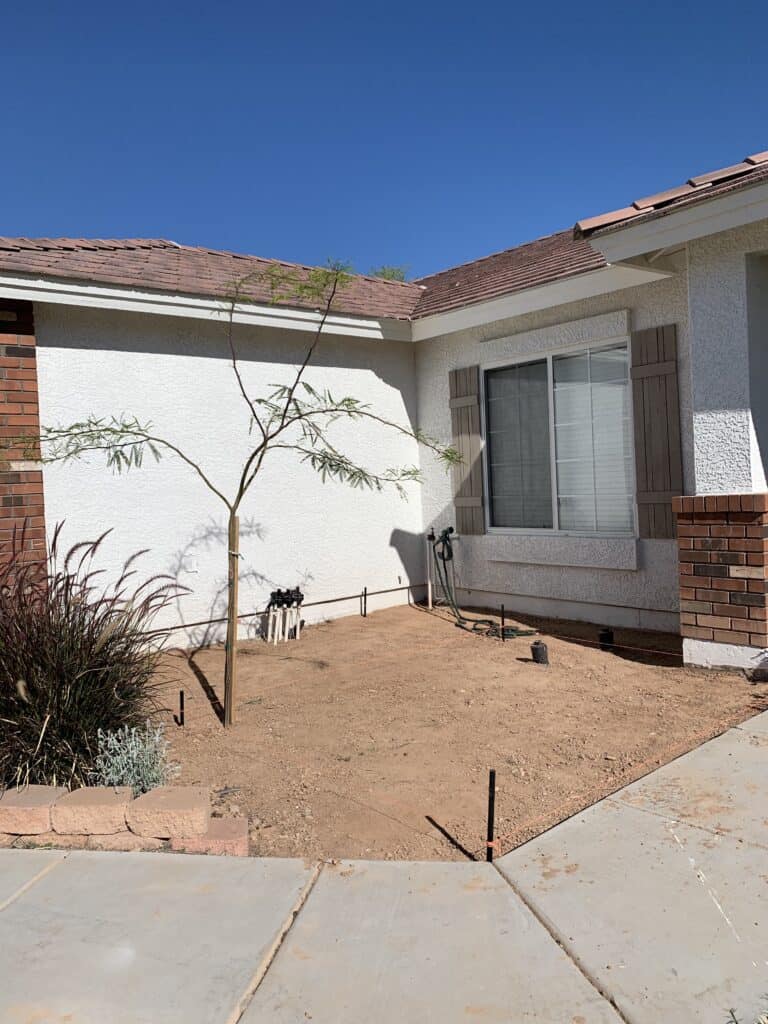 The ground in this area was really hard, I used a metal rake to break up the top layer of dirt. Once I did that, I used metal stakes I bought from the Hardware store + twine to set the slant I wanted. I made sure the slant was right by using a level lightly set on top of the string
I used a scrap piece of 2×4 about 4 feet long as a giant level to push the dirt and spread it out. Once I got the dirt to where I thought it was gradually sloped, I double checked it with my 3 foot long level to make sure the slope was consistent in the area. THEN I got the dirt damp and used a big dirt tamper to compact the dirt.
You want to keep this layer of your patio as hard as possible, so you don't want to break up the dirt too much. The layer you are going to lay next is your sand which isn't as hard or able to be compacted so the first layer of your ground is really the most important to get right.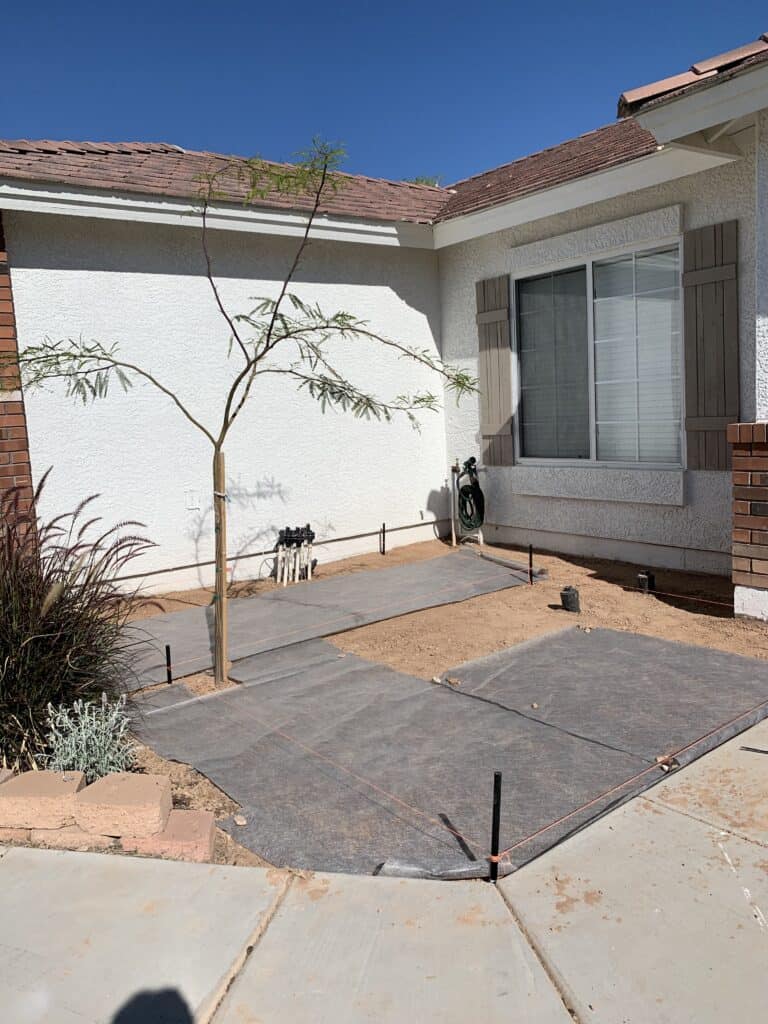 After I prepped the dirt I decided to do a layer of landscape fabric to fight against weeds. We originally took out gravel that was in this area of our yard because weeding it was IMPOSSIBLE. Weeds aren't supposed to be able to grow in sand… but I wanted to double make sure.
Second step to your DIY paver patio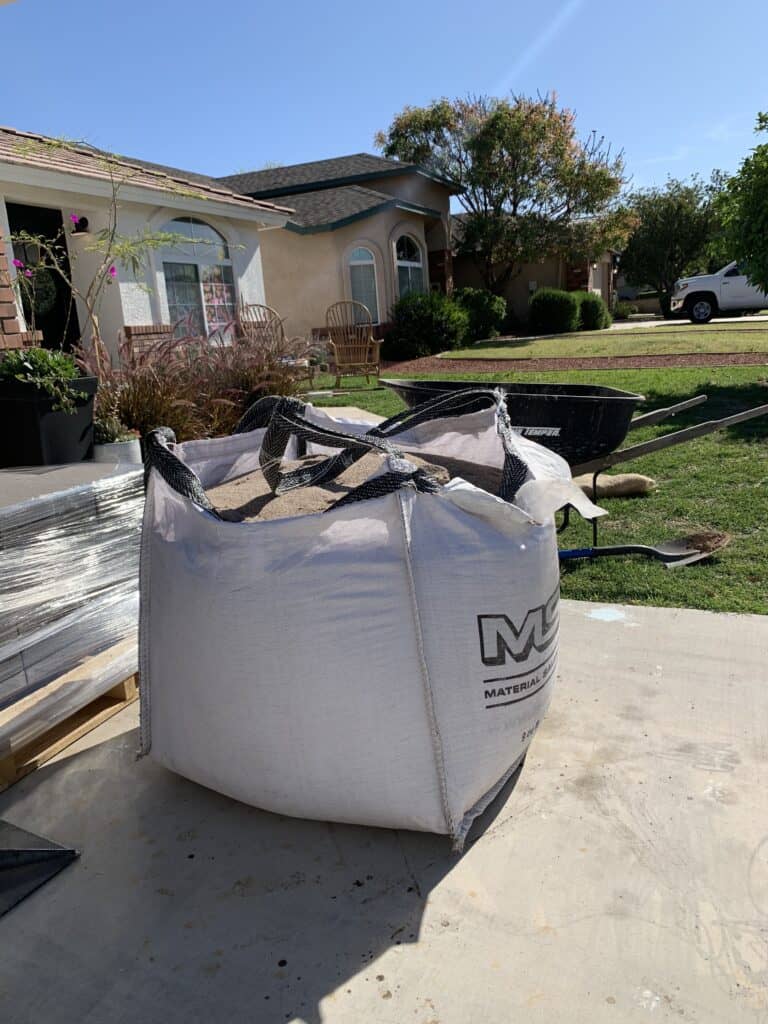 The next layer in this equation is your sand. You can buy sand substrate that is specifically for pavers, but it was really expensive and I was trying to do this on a budget. I ended up ordering 1 of these giant bags of sand and had it delivered. 1 bag was enough for my 12×12 patio area.
After you get your sand into your area use that handy 2 x 4 and spread it out evenly throughout the area. Once again use your level to make sure your slope is still in tact.
Laying Your Pavers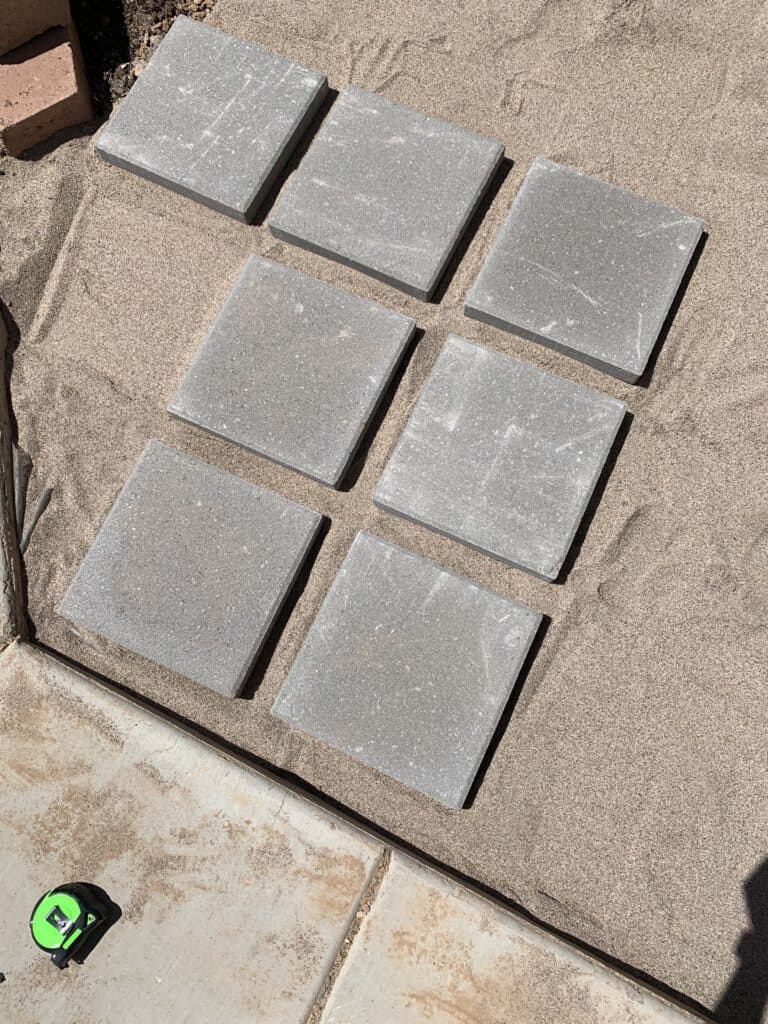 I went back and forth on which side to start when laying my pavers. I decided to start closest to the walkway and work my way back, in retrospect I may choose on starting from the back corner front. My pavers kept going crooked because I was walking on them, but I think if I started on the back forward my sand would have gotten all misshaped too. I'll let you weigh the pros and cons yourself. I just kind of eye balled the spaces between pavers. It's not perfect but also, this patio is pretty generous when complete.
How to cut pavers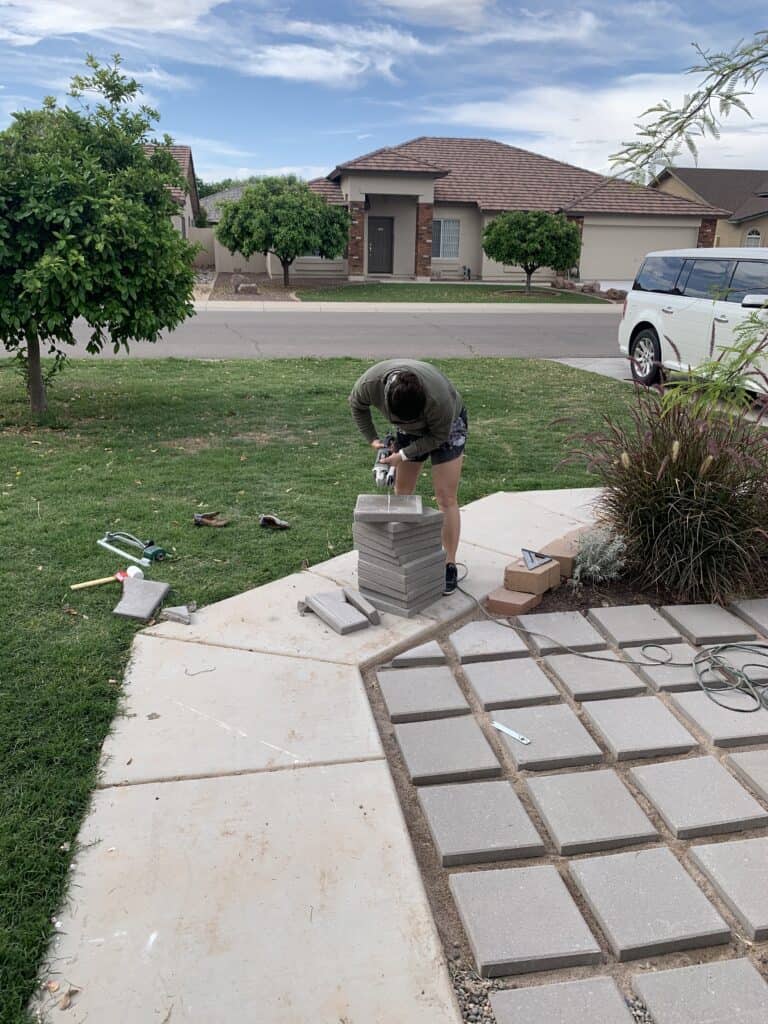 Inevitably, you will need to cut some pavers around your edges. We used an angle grinder with a special blade that can cut through concrete. It was surprisingly easy to do.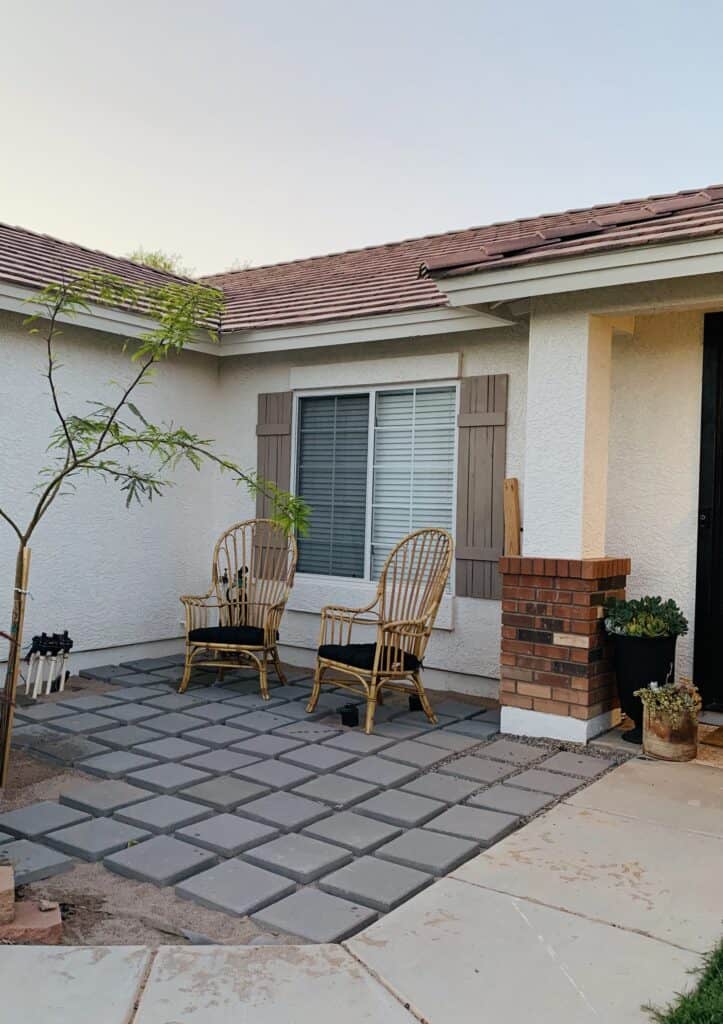 Final Step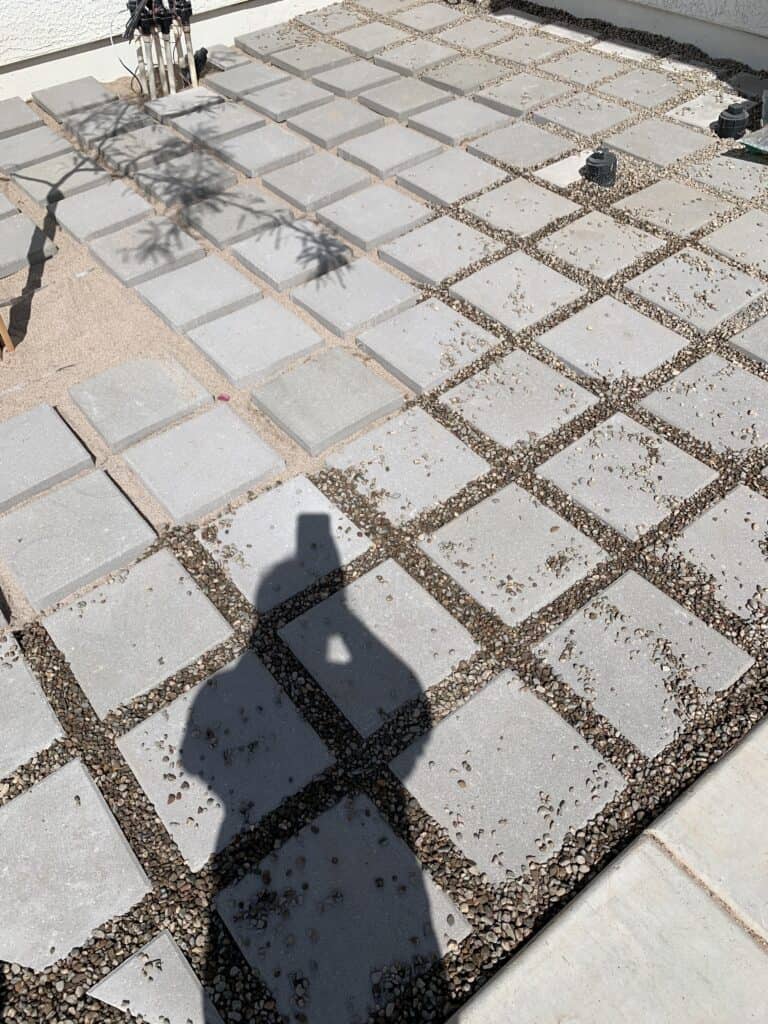 Now you get to see the whole space come together, I used pea gravel between my pavers. It took about 12 bags for this area. once you empty the bags, make sure you rinse them off with a hose because they are really dirty fresh out of the bag. I packed them in pretty tight between my pavers to help keep them in place. After a couple weeks of pretty solid use by my children, my pavers have stayed in place very well. So it worked!
How much product did it take?
All in all, I spent under $400 for this patio. I used about 100 pavers and 12 bags of pea pebbles for this 12 x 12 area.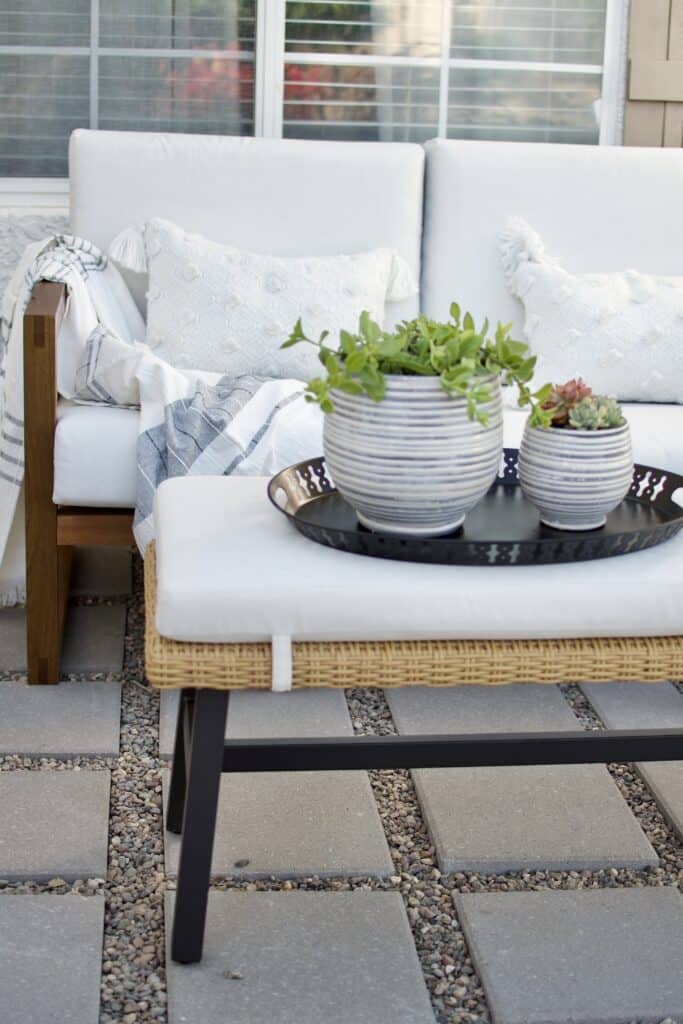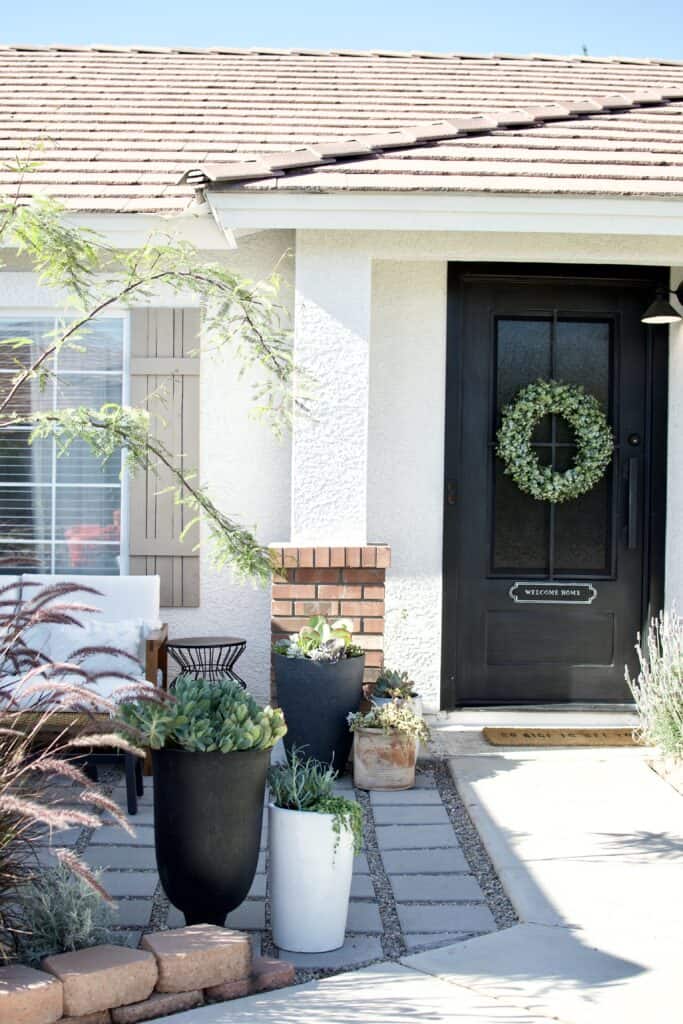 Now you can add some cute furniture to your new patio space + enjoy! I've also realised that at night time it's going to get pretty dark and we're not going to be able to see much, so next on the list will be to install some outdoor lighting using a company like kalahari-electrical.com/alpharetta/, but obviously one more local to us. Anything else we think of along the way, we'll obviously have to add that to our to-do list in order to perfect our new patio space. This is by far our family's new favorite hang out, it's our little way of adding a front porch when our house doesn't physically have a front porch.