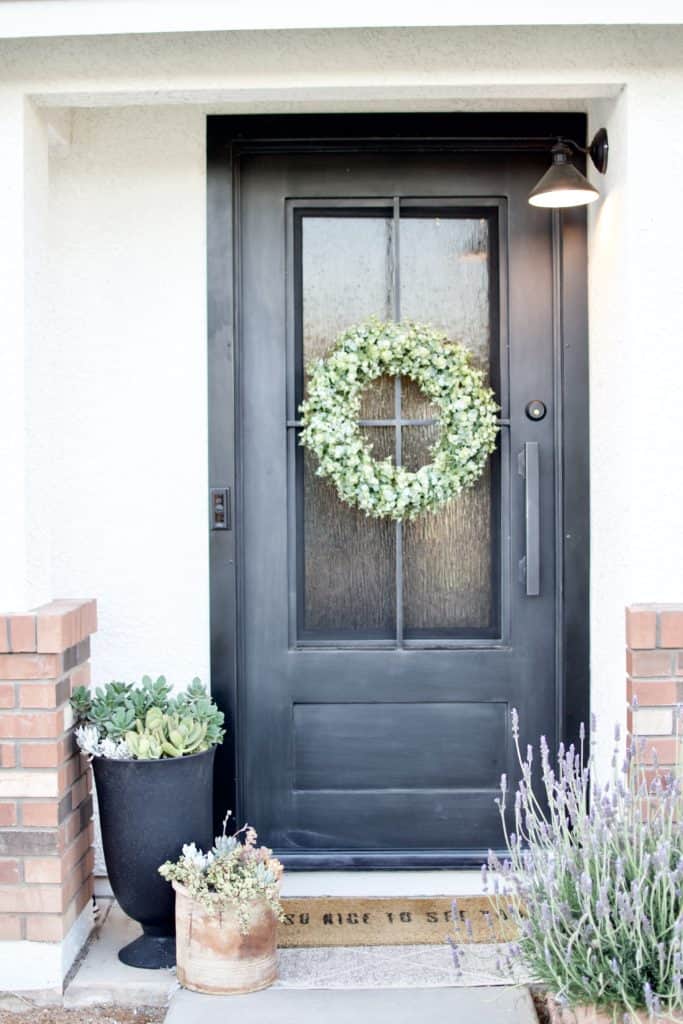 Oh hey there! Today I am joining in with a couple friends to share our home this spring. Thanks for stopping by my tour today! So glad to have you here! Once you're done visiting my home, make sure you stop by my friend Serena's Spring Home Tour. Though, it maybe isn't as perfect as you'd imagine due to what is currently going on in the world-- so welcome to my Spring Quarantine Style Home Tour. I didn't buy much of anything, had no fresh flower, and mostly just fluffed up our typical day to day home. My style is typically a cozy minimal vibe, which is no different this season. I used to feel like more is more-- but needing a little extra space to just live the last couple of weeks has really made me even more aware of the importance of curating your home carefully so it can serve you and your family best allowing room to live and grow.
I have been really into succulents this year, and I love the pots of them by my front door. The colors are so vibrant, they like neglect, and a couple of them are in bloom right now which has been speaking to my soul on a whole new level. I feel like these little succulents are teaching me that beauty doesn't always need to be some high maintenance thing, there can be great growth and beauty when you simply live without needing or asking for much, just fulfilling your creator's purpose is enough and actually more simple than we believe. I feel like this is a life lesson my plants are teaching me this year.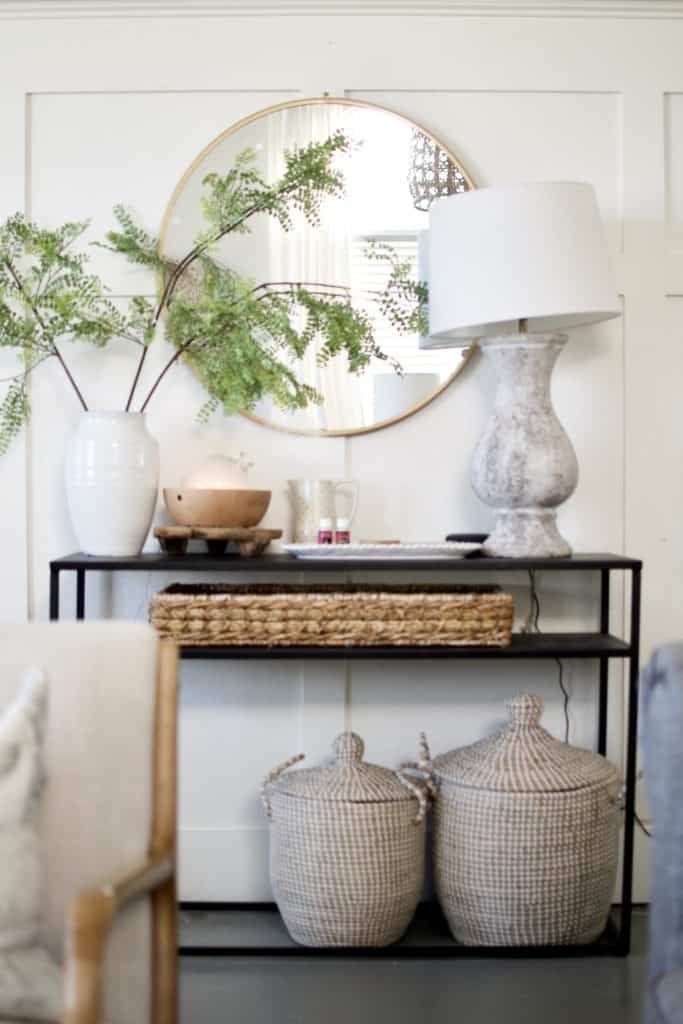 With school now being cancelled for the remainder of the school year, we've had to pull our office desk out into our Living Room so it is easier to work with our kids on their distance learning assignments. As much as I miss my beautiful perfect front Living Room, which has always been my favorite space in our home-- what good is a pretty space if it doesn't serve you? Your home should serve you in any and every way you need it to.
Being at home a whole lot more the last couple weeks has really reiterated to me the magic of home and the blessing it can be to your family.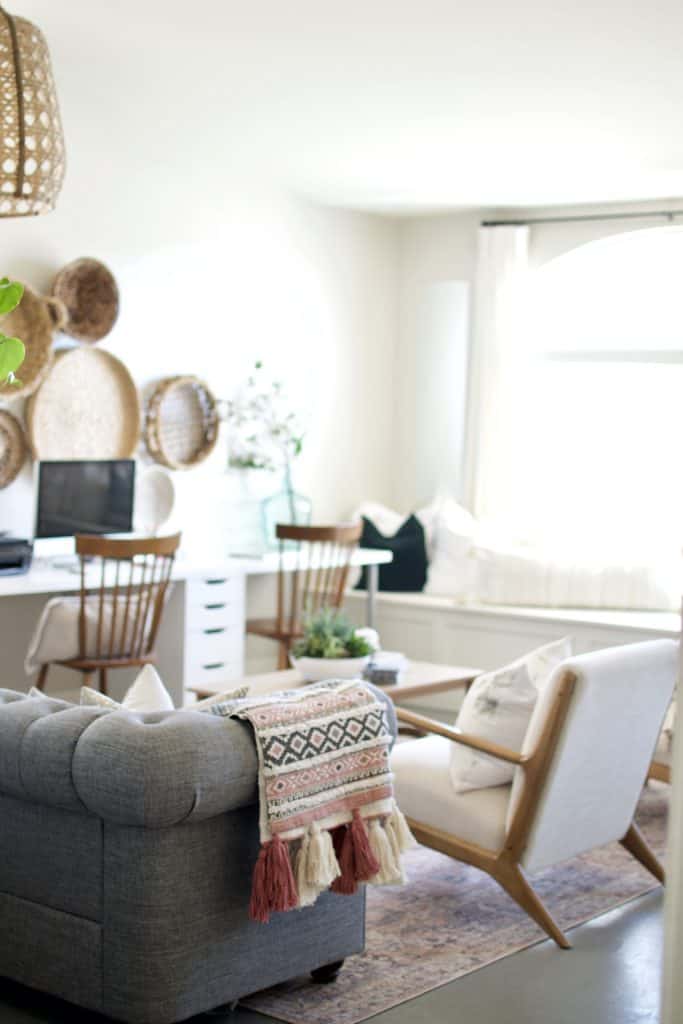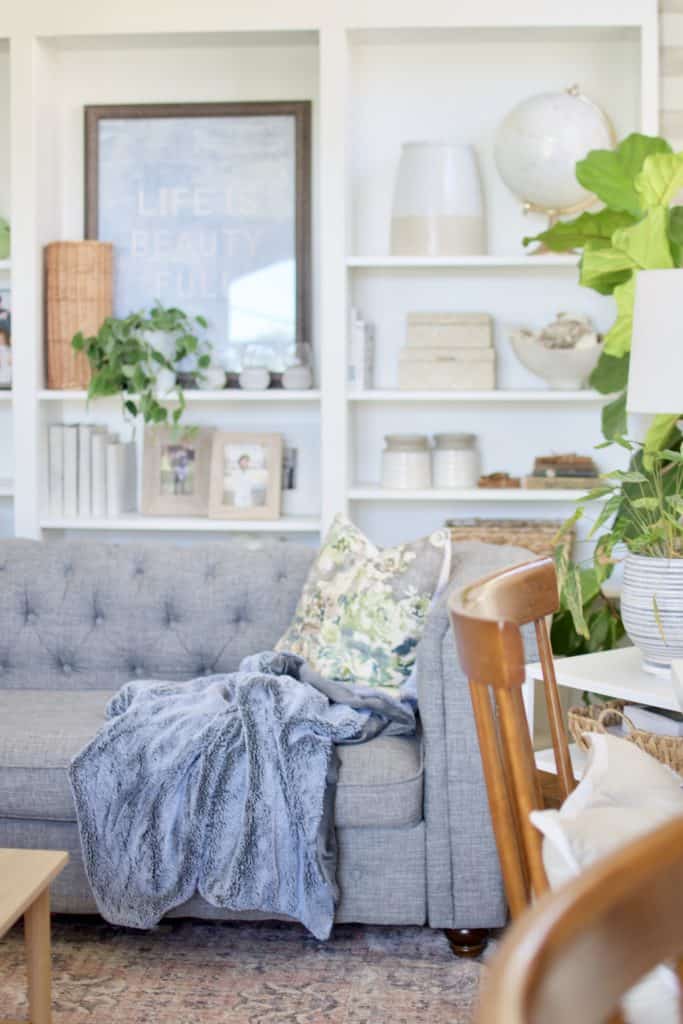 This room is a little bit more crowded than I prefer at the moment, but it still manages to be cozy and inviting nonetheless. The amount of living we've been doing within our home's walls the last couple weeks has been both exhausting and exhilarating. While we are all adjusting to being home, not seeing friends, having a less demanding schedule-- I feel so thankful and blessed for this life pause we've been given.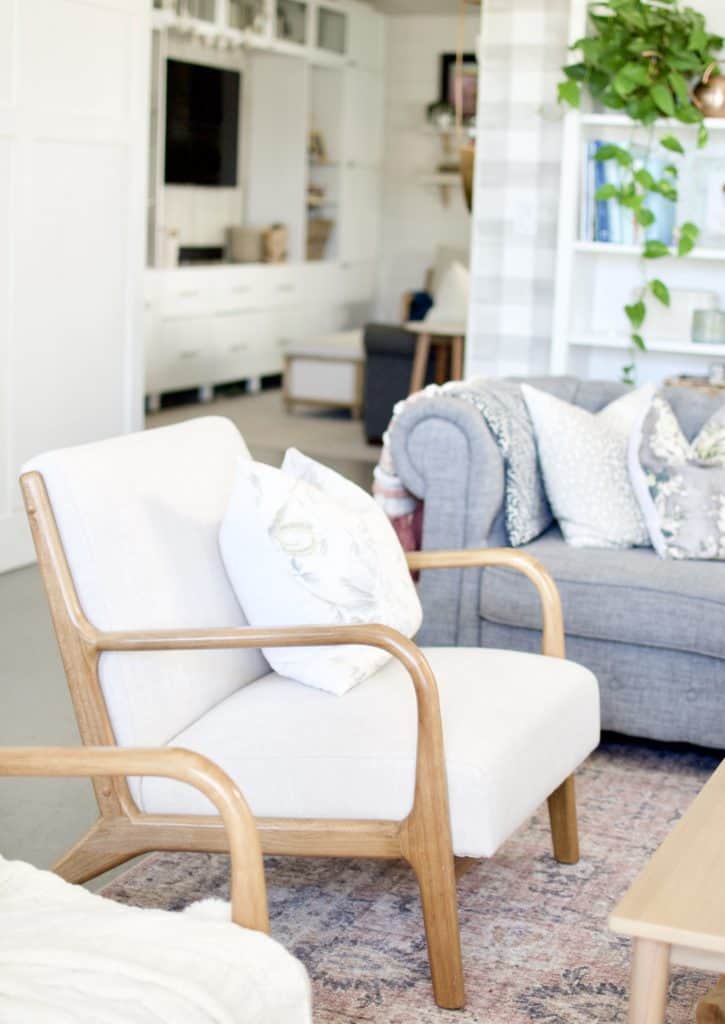 This is perhaps a view I don't share often, the view of our front living area back to our family room. Our home is just under 1700 square feet, so I am always working with balancing the perfect amount of decorated to make it feel finished and inviting without getting in the way of us actually being able to live inside our home. It's a tender balance that really makes me mindful of all the pieces I choose to bring into our home.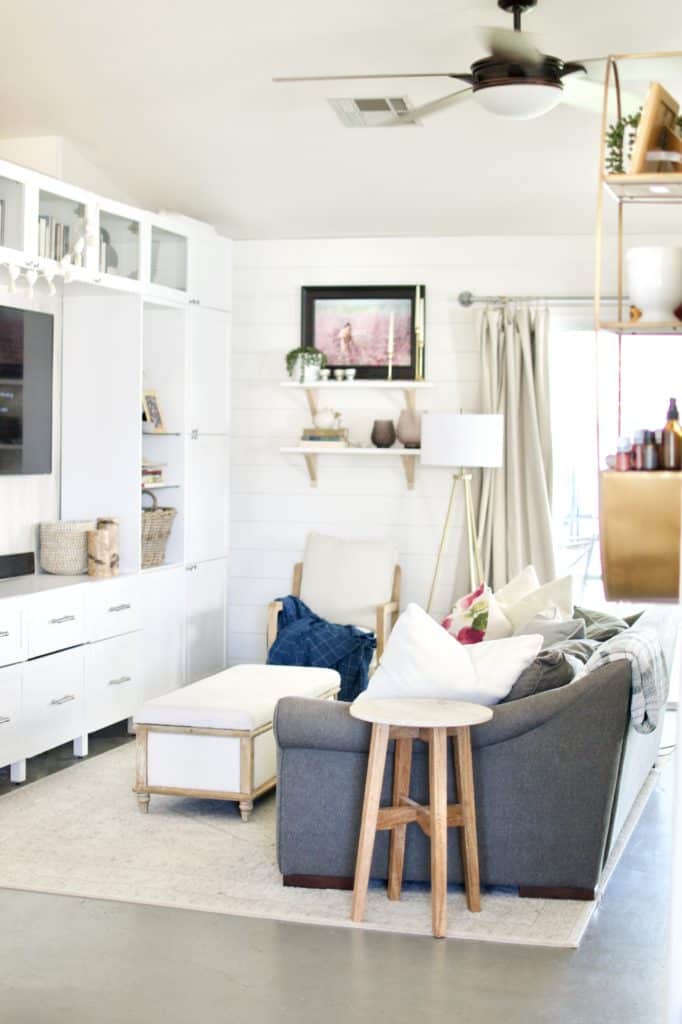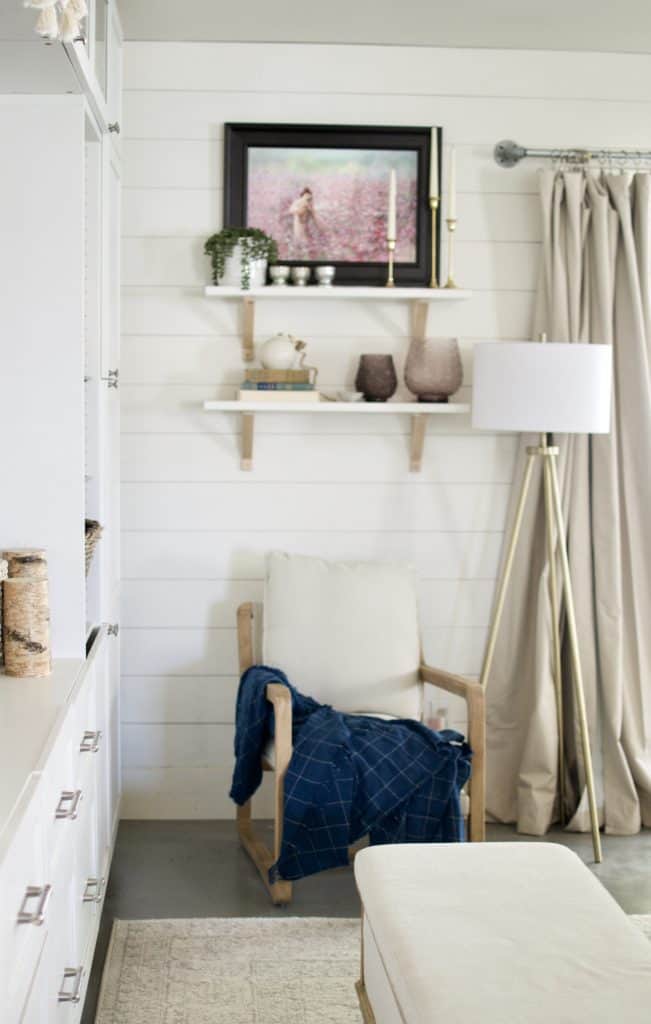 We do a lot lot of our living in this long skinny little Family Room. There's not much space besides for our long comfy sofa + an ottoman coffee table for convenience and maybe a smidge of comfort. This area being neutral really keeps the area feeling airy even though it isn't huge. I do still love these easy DIY shelves I installed, they have been so fun to decorate for each season... I loved how I had it last spring so much I just recreated the same look.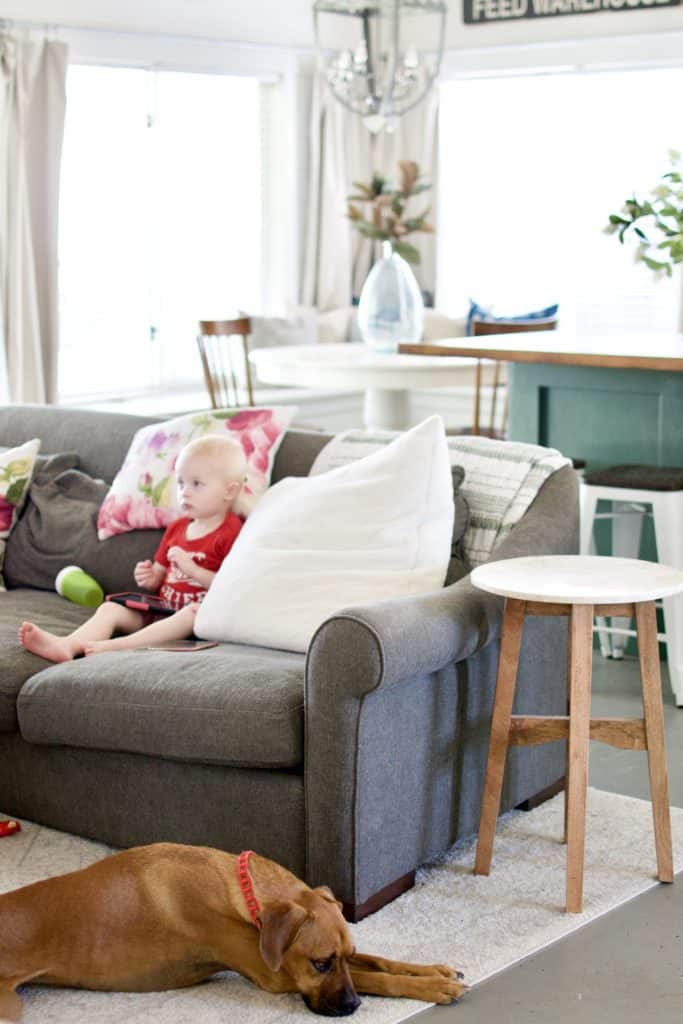 Anddd there's our pup with some kind of makeshift building block collar-- thanks to a couple little gremlins. I can't tell if he loves the kids home so much or if they are exhausting him.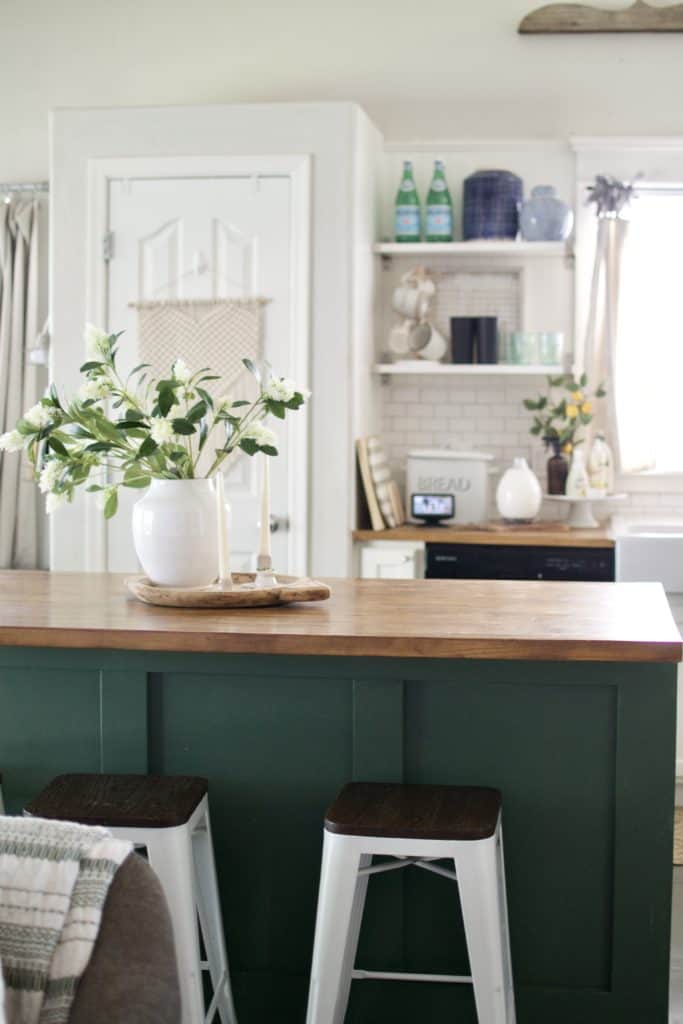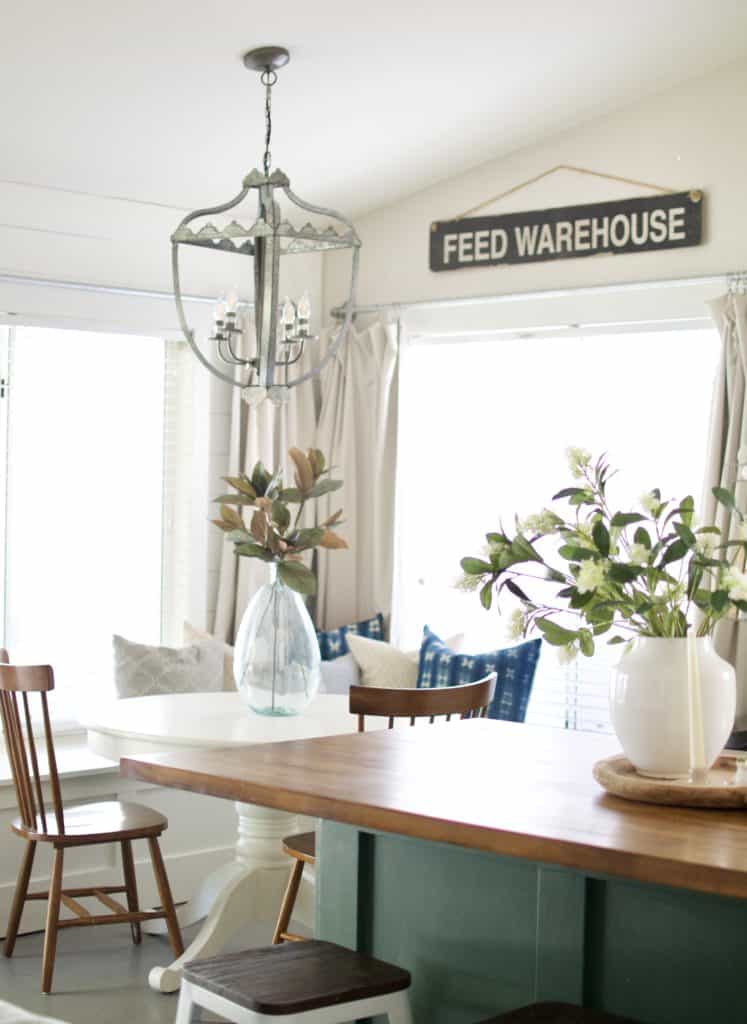 Our kitchen has been extra busy during the last couple weeks- I'm actually not sure I have ever cooked so many consecutive meals during the entire decade I've been married. I love to eat out a couple times a week-- this clean quiet moment is brought to you between meal times and all thanks to some backyard sprinkler shenanigans. We are still so in love with our DIY Built In Dining Nook bench we completed a couple months ago... just makes this area extra extra cozy.
I still am enjoying the moody green kitchen island we have in there. Sometimes I get a crazy hair to like... paint it black but so far the green has stood the test of time.
And the last space on our tour is our Master bedroom. Boy, I am so grateful that I made over this space last summer. I love our cozy white master bedroom, it truly has become a haven for my frazzled tired mom brain to go and retreat to during these crazy last couple weeks. Before the makeover I really would not have wanted to spend any extra time in here.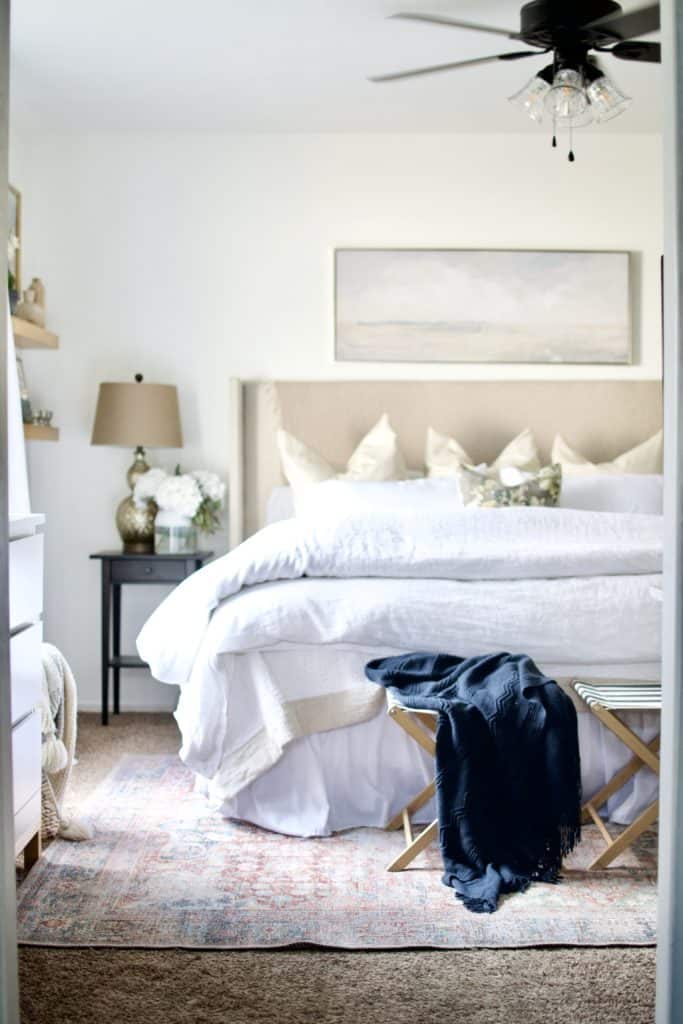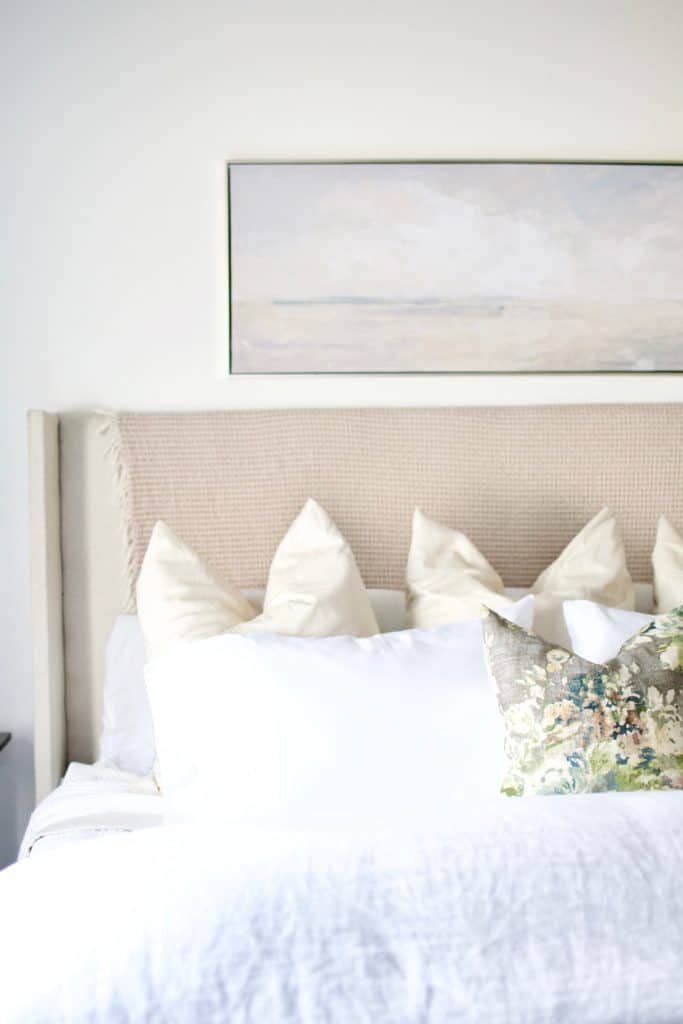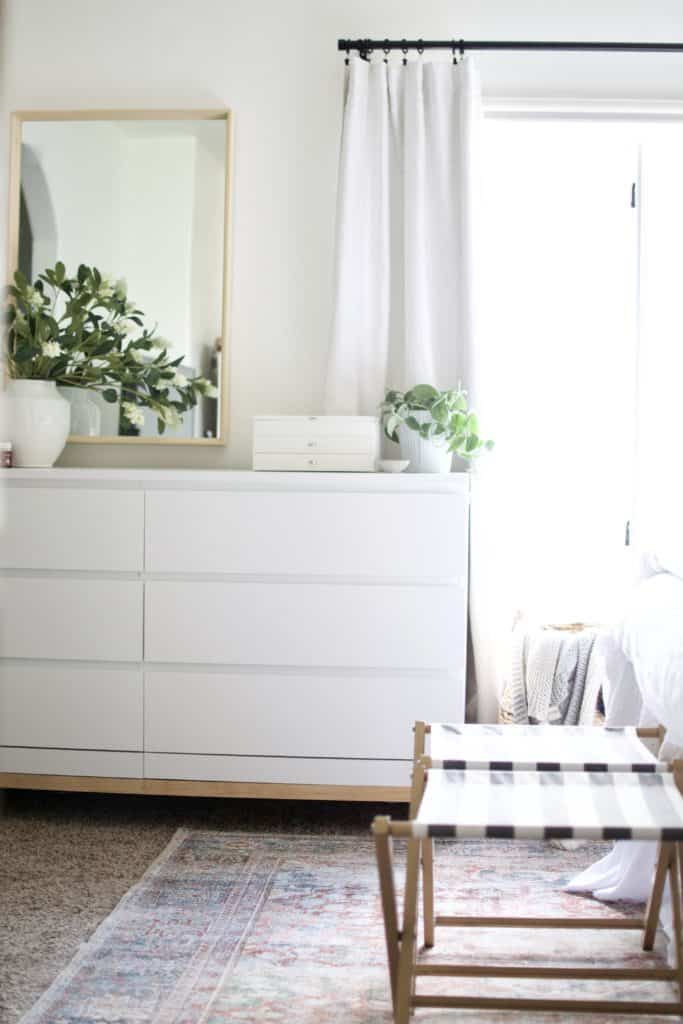 I feel like I've been on an emotional rollercoaster throughout the last couple weeks. Day in and day out I go from the highest highs to without warning, the lowest lows. My mood I swear changes one moment to the next, and I know you all can relate. When we all got together for this Spring Tour, we didn't know that we would have to turn to staying home to stay safe during this world wide pandemic. I was honestly, overall not very inspired to share our home, because it has honestly felt like a burden to be home depending on my current mood (I told you it's ever changing). I'm not naturally a home body, I like to be busy and out getting things done. Being forced to take a step back, though challenging for my psyche from time to time overall has been a blessing to my soul. I haven't been worried about schedules and bed times, assignments or lists. And while I'm still working on house projects, the stress of those has greatly diminished... probably because overall we're just juggling less.
Posting these photos has made me feel so blessed and even more grateful for this home I have to surrender to during these uneasy times for our world. If you've realized that your home isn't as peaceful as you'd hope, I highly suggest you work on quieting your house, and figure out what you need to do in order to create a haven for you and your family. Home is truly the greatest blessing you can give to your family.
Make sure you stop by my sweet friend, Serena's blog, Survival of a Suburban Mom.
The other inspiring homes from talented ladies joining me on this Quarantine Style Spring Home Tour are: