Today I am sharing a Neutral and Classic Boys Room Makeover I just completed in our home. Our boys room was really neglected while we tackled the larger room renovations in our house, like the primary bathroom we just finished up. Our two boys had been more than patient, it was finally their turn to have their room done before I move onto the nursery. They are 8 and 5 and I feel like though they are fans of super heroes now, I think they are right on the verge of their interests changing. I wanted the space to be able to grow with them over the next couple years. I wanted their room to feel classic, and simple but still very little boyish.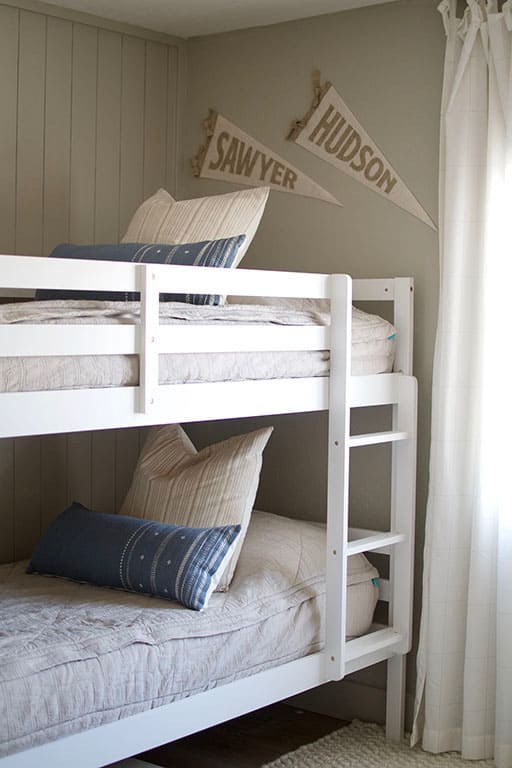 We live in a typical track home with small bedroom spaces. Although I would've loved to have two cute separate twin beds, they simply did not have the space for them. I opted for some really simple bunk beds with clean lines for their space. I love the simplicity and they were really affordable which was an added benefit.
Why choose a neutral color palette?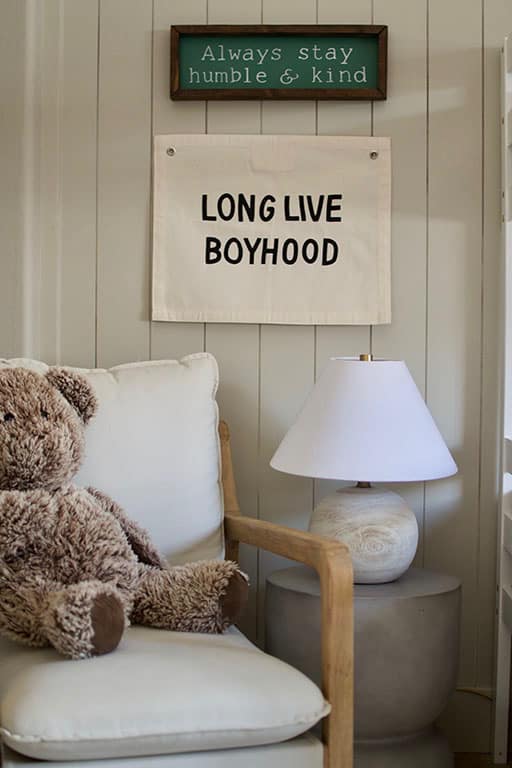 In small spaces it helps your spaces feel larger if you minimize the amount of contrast in your finishes and furniture, for this purpose I kept to a really neutral color palette which contributed to a tone on tone look. The monochromatic nature to me helps it feel masculine while being fresh and airy. If you have too many high contrast items in a small space it can feel like visual pollution. High contrasting pieces carry more visual weight which in small spaces can lead to a cluttery feel.
I chose to do a vertical shiplap on the main wall in the space which helps bring your sight line up and makes our standard 8-foot ceilings feel a little taller. I also chose to paint the shiplap and even the baseboards all in the same color, Revere Pewter by Benjamin Moore, so that your eye doesn't stop at the baseboards and the room feels more cohesive. In a larger space you may want to differentiate your spaces more so they feel cozy, so you would want to create accent walls and trim details to create separation. I wanted pretty much the exact opposite of that for this room since it is in a smaller size.
Next, I might consider using these neutral design ideas for their bathroom. They may not have too much space in the bathroom to incorporate a lot of design elements, but a wall made with proper shower wall materials that can give them a sense of relaxation, whenever they enter the bathroom is a must-have I feel. In fact, it is only in the bathroom that you get complete privacy, and that privacy should certainly be relaxing.
In addition, it is essential that the design is functional. Adding certain fixtures such as a rainfall shower or a shower tray can be an advantage. In case you know how to make the washroom more stylish as well as functional, you can refer to guides and articles by Harry Rufus or similar home improvement blog pages. That said, the color of the bathroom can be equally important. Certain colors, in that sense, may have a more relaxing effect than other colors. While bright colors such as blues, greens, yellows, and more may make the space look more eye-catching, the usage of mild shades like beige, off-white, ivory, and light brown on walls could induce a more calming effect. These shades could look great with marble bathroom tiles placed in the shower area and around the sink.
Other than that, I am also considering getting some basic plumbing repair done, likely by hiring a
plumbing company in Brisbane
(or one in my neighborhood). As well, I might go on adding features such as a border-lit mirror, cute brush stand, soap dispenser, shower curtains, etc. A few changes here and there can improve the aesthetics of their bathroom completely.
Creating a Graphic Interest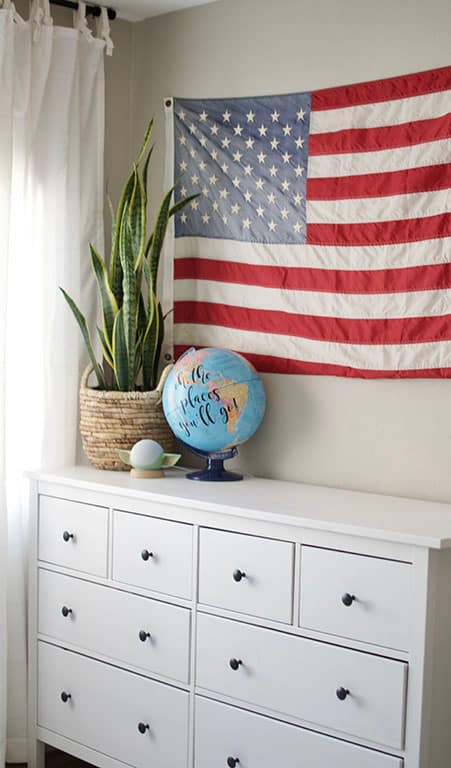 For this space, though I was sticking to a neutral palette I think it is always important to create a moment of graphic interest. I found a Vintage American Flag to put above their dresser. I love the muted colors and it adds such a classic charm to their room, I absolutely love it.
Neutral But Not Boring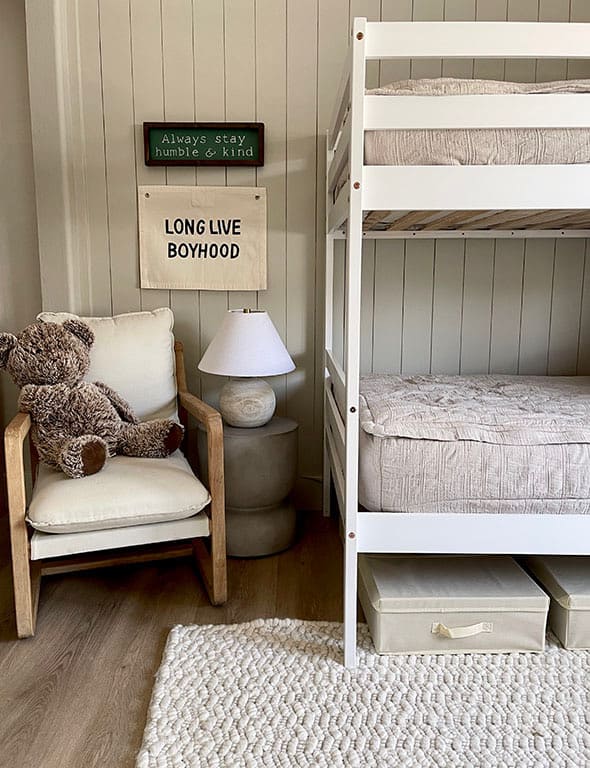 I get asked frequently how to do neutral spaces that are cozy and inviting. My answer is always the same, layer textures. In their room I have layered shiplap, a chunky knit rug, nubby cotton, and linen textures to create visual interest without bringing in a lot of color.
Making Spaces Livable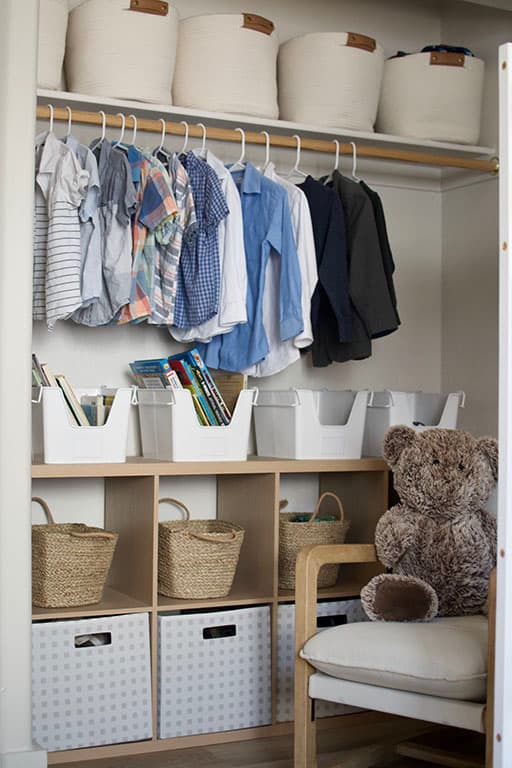 The key to good design is to make your spaces highly functional as well as beautiful, when it comes to kids rooms, storage is key. Isn't it so frustrating when your kids rooms turn into a disaster so quickly after you pick them up? We have all been there, and if that's something that happens in your home all the time, chances are you need to revisit your organization plan. I heavily revamped their space with a ton of organization, their room was such a pit before. Now everything has a home to easily take out to play with and they know exactly where to put it back when they're done with it.
Affordable Closet Organization

Shop the Design