I have quite literally been waiting to write this post for you all for over a year. It's the next large project of the Huge Fixer Upper we bought last Spring and it's our primary bathroom reveal. This project has been long in the making, we were faced with delivery delays for product and busy life schedules. You name it and it got in the way of completing this space. I wanted to make this space beautiful with classic finishes and an airy aesthetic like the rest of our home, I think we were able to achieve just that.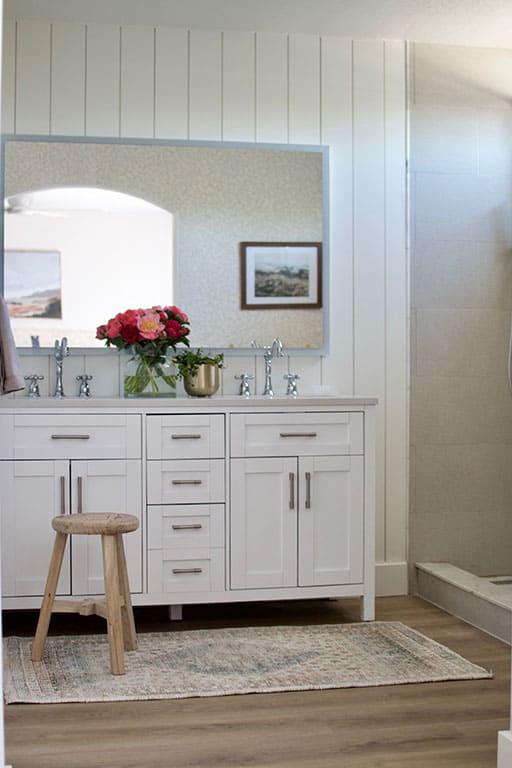 Before I share too much of the after, let's start with where we began. This bathroom needed perhaps the most work out of any of the spaces in this house. There was carpet on the floors, as well as many doors and a garden tub. This area was previously dark, dingy, and cave-like. So overall, I wanted change the whole look of my bathroom. Also, I was thinking in the back of my mind that if I ever plan to sell my house to move to a bigger house, this mini renovation could increase the value of my property. My friend had this type of bathroom renovation and remodeling done, and when she contacted a realtor Winston Salem to list her home for sale, it got sold so quickly. So, yes, I wanted to change the look of my bathroom from an investment standpoint as well.
Before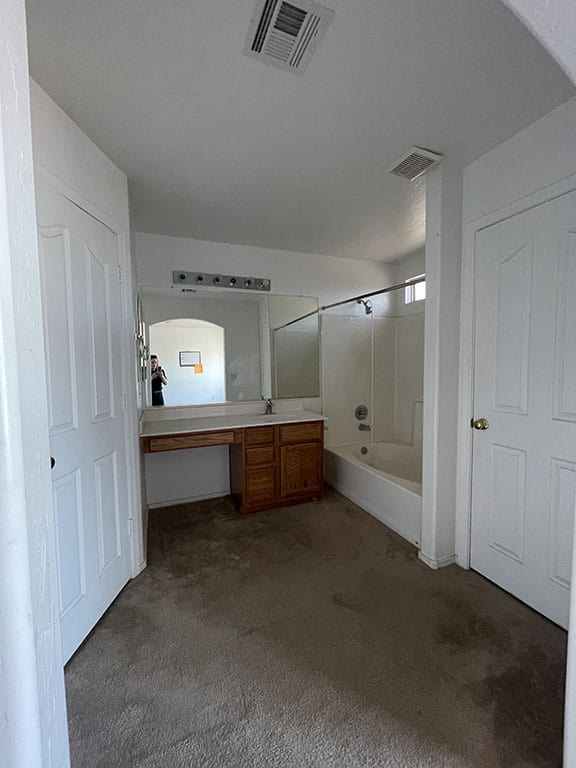 We gutted it down to the studs, and removed the awkwardly deep linen closet that closed off the space. There is a secondary linen closet in the bathroom still so we were able to maintain storage with making it feel a lot more open. We opted to take out the garden tub and add a frameless glass enclosed shower.
We kept the same layout that was there before for the most part. We still needed a bit of professional help (in the form of someone similar to a plumber in Durham); some of the re-piping and connections are not to be messed with, ever. Plus, it's always better to bring in an expert instead of fiddling with the plumbing and risking leaks or water everywhere! Anyway, we ordered a premade vanity that came with a quartz top and sinks, this really helped make this renovation a lot more simple. I did add these beautiful Signature Hardware sink faucets which are for sure a show stopper. I love a high neck vanity faucet because the presence is just too good.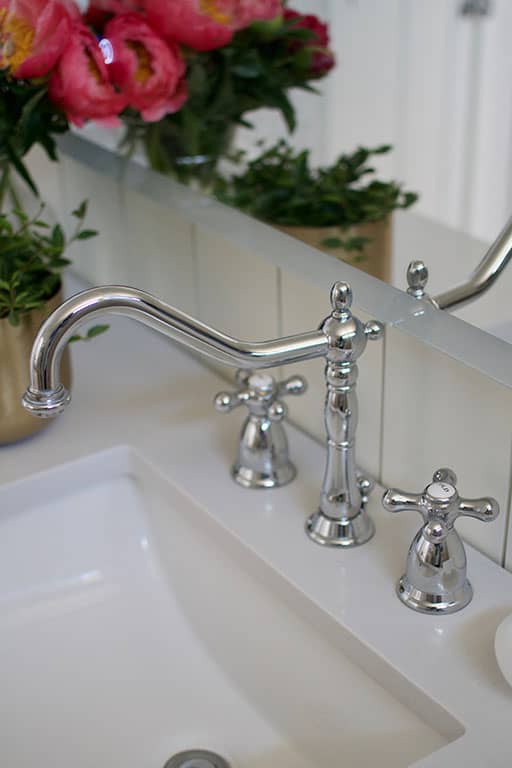 For the Shower Tile I went with a linen texture tile in a classic brick lay pattern. I dreamt of doing all the most expensive beautiful tiles in the world in this space, but am quite happy I went with this route. It was budget-friendly and so polished looking. I did add a beautiful marble herringbone tile for the floor and we did premade sills in marble from Floor & Decor for the niches, window sills, and thresholds. I feel like it elevated the budget wall tile. The wall tile & floor mosaic were both from Lowe's. The exposed pipe shower trim is also from Signature Hardware.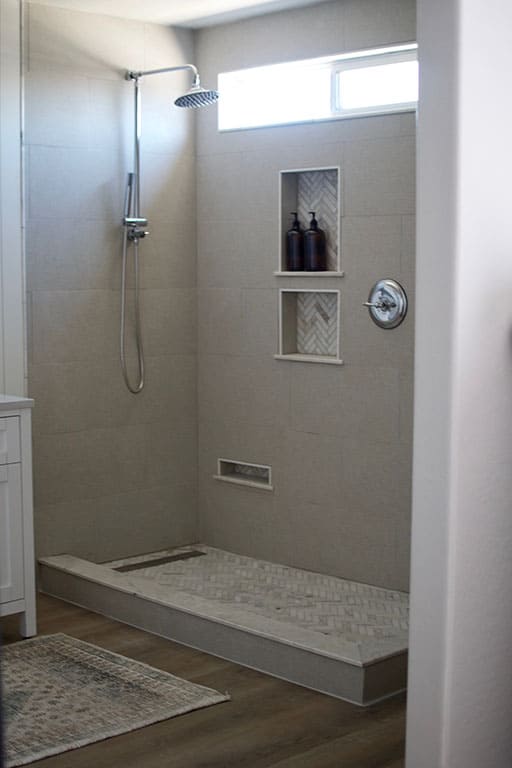 We kept the original plumbing layout that existed before but did re-route the valve to be just inside the shower door. Once it gets installed by a plumber (from companies like City Plumbing and Rooter in Sherman Oaks), you can turn on your water and let it get warm before you get all the way in. I'm excited to try that out! Hopefully, the glass comes soon. The other favorite finish we added was the LED light-up mirror. I have been obsessed with this idea since noticing that nearly every single hotel has them these days. It does truly add a luxury feel to this otherwise very simple primary bath.
Bathrooms are very utilitarian spaces, they need to be ultra-functional and can often feel cold and uninteresting. I knew that I was going to be doing simple tile, a simple vanity, and a rather simple layout. Without anything overtly being the feature of the space, I went for the layering of patterns and textures to make this space feel inviting and interesting. The marble, wood look floors, vertical shiplap, and subtle but pretty wallpaper all make this space feel so inviting without being too much or overdone. I think it's the same for, say a swimming pool renovation. If you are remodeling your pool as part of a home improvement project, the size and style of the pool become a crucial part of your plan. Style doesn't always have to be grand, but a utilitarian minimalistic look can work well for houses.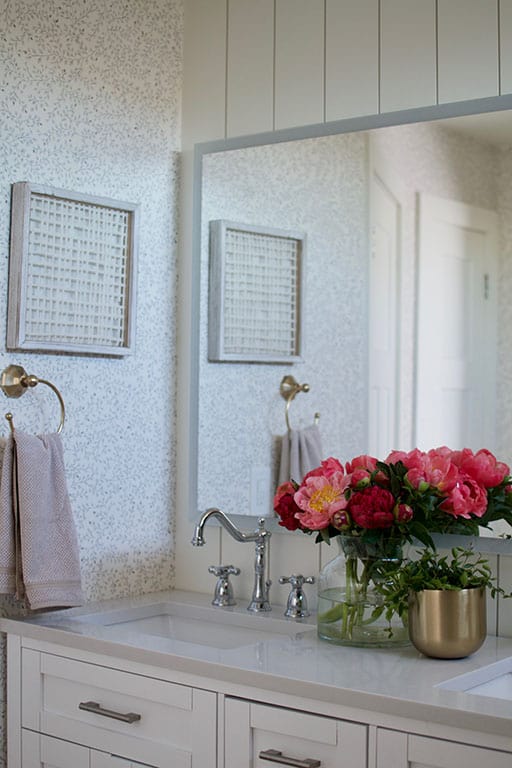 Just for fun, here is the same angle from before.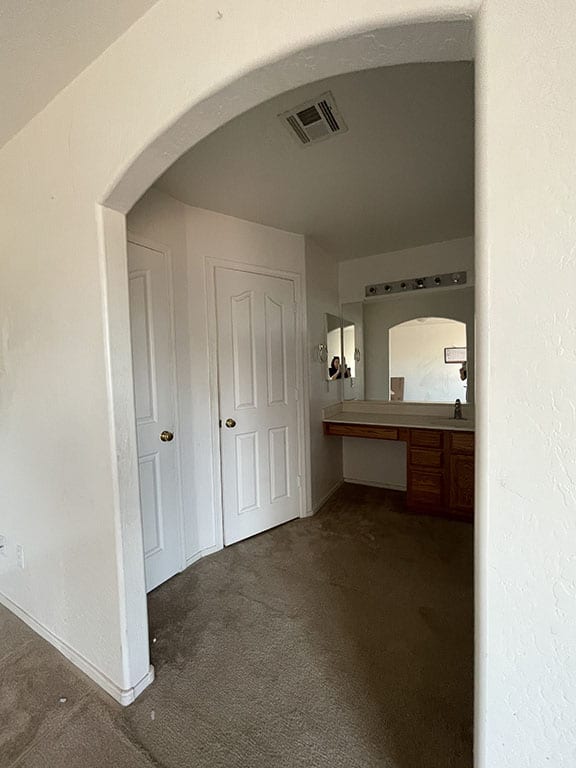 And After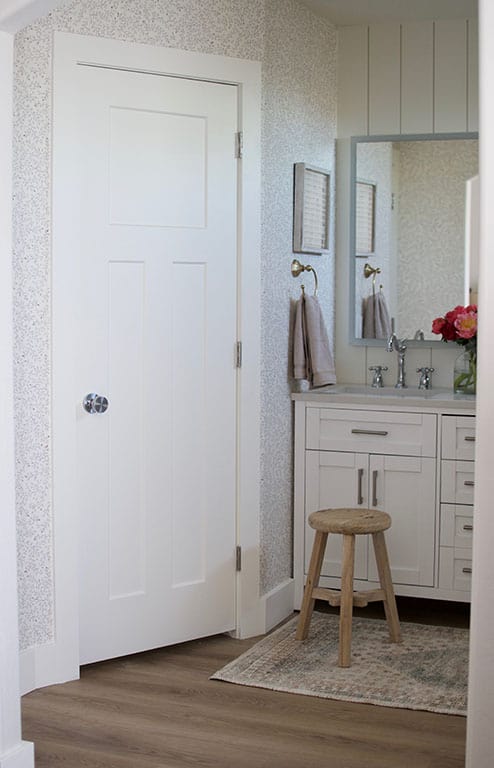 I like to keep accessories in utilitarian spaces very simple and just keep it basic with what you need in the space to function. Of course, I chose very pretty versions of those simple things because that's what designers do, right? But I really like my finishes to speak for themselves and to keep our spaces simple and uncluttered so there's ample space for living in them.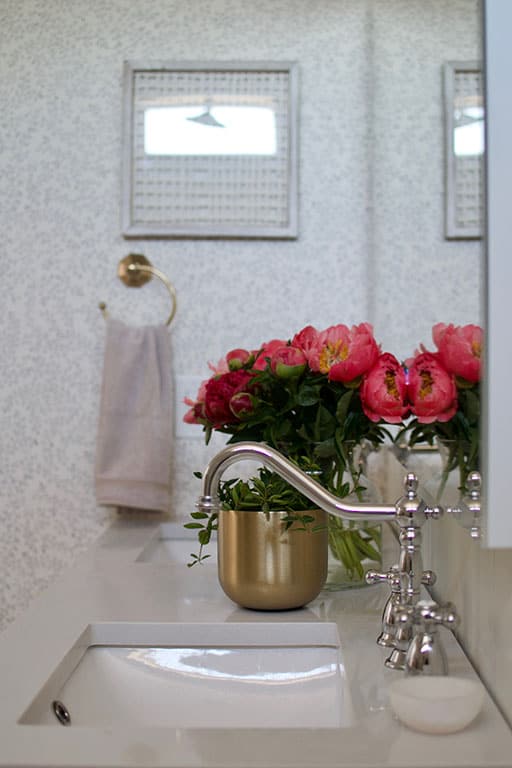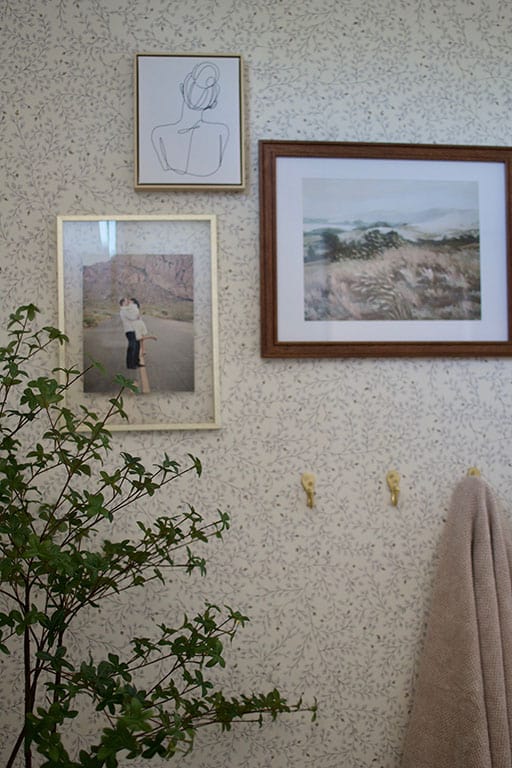 What do you think about this makeover? Can you believe the change? Sometimes I feel like I need to rub my eyes because it can't possibly be the same space as it was in the before's. A little imagination and lots of hard work goes a LONG way into transforming spaces. It's exactly my vision come to life and even so much more.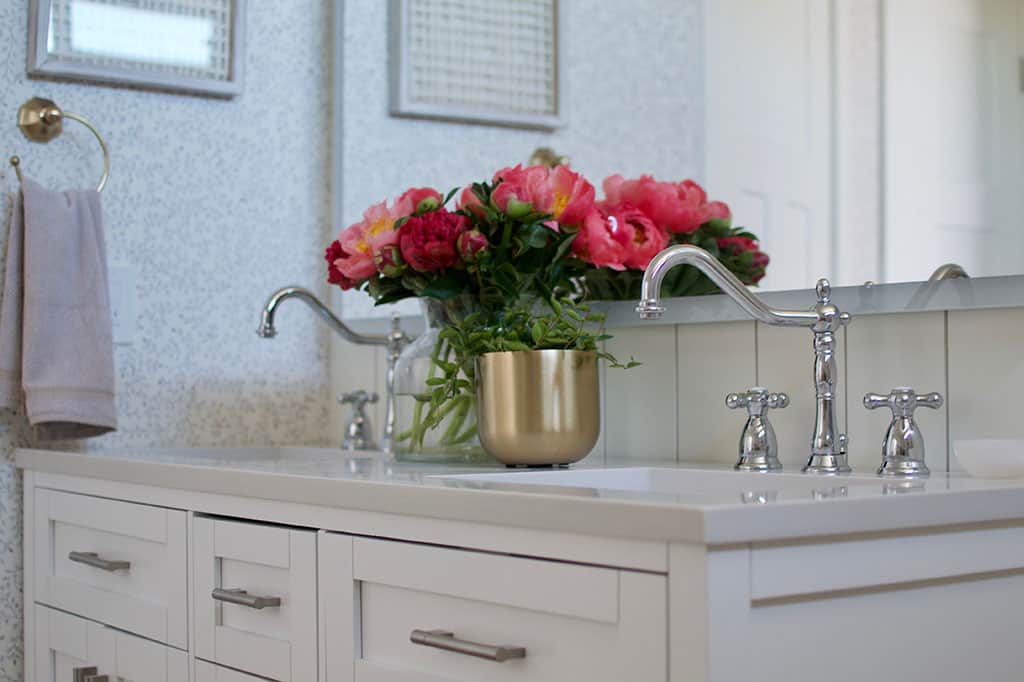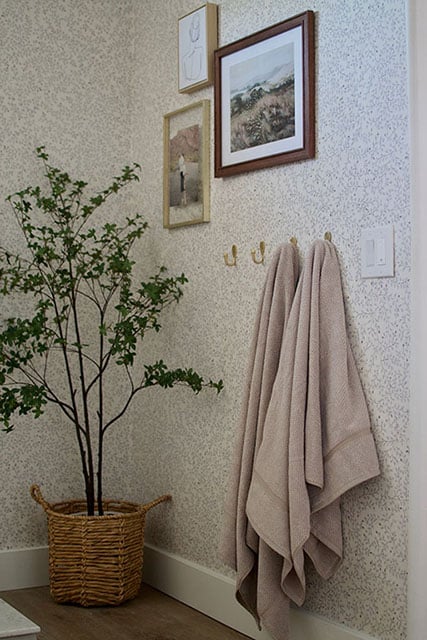 Shop this Space