Today I'm sharing how 3 steps for simple + classic Christmas decor. Holiday decor, especially Christmas, can become too much real quick if you aren't careful. I wanted to share with you my fail proof recipe for making a space festive + natural feeling for the Holiday season.
Step One: Garland
This is my forever go to! I prefer living garland, I haven't been able to find a faux garland that really makes my heart happy. My go to is Trader Joe's for inexpensive real cedar garland! It only costs $8 for 8 feet and I love it. You can also go to a local tree lot for fresh garland, they often have it available by the foot but you will pay a lot more. You can see where I tried some faux holiday garland, but I missed the bright fresh green of the real stuff.
Step Two: Winter stems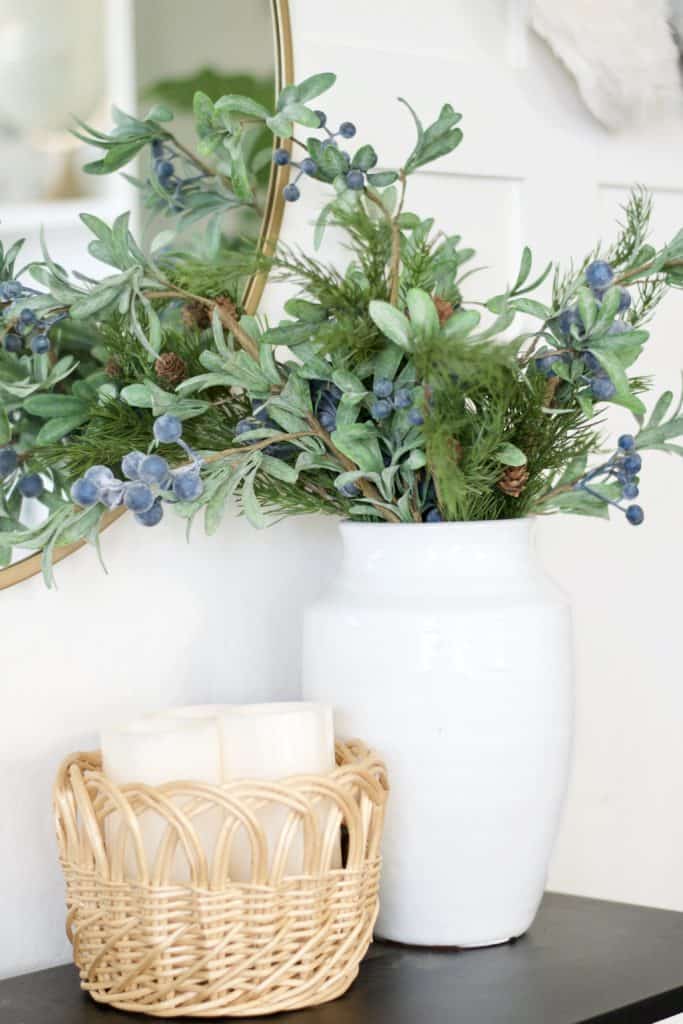 I have these a couple of these gorgeous white jars that are pretty much permanent fixtures around my house, I love to seasonally change out what stems are in them. It is the easiest way to update a space for seasons as they change. You can see how I styled them previously, with some simple fall florals. I have them filled now with some berry branches + faux evergreen. Swapping out your stems you have out is definitely one of the easiest ways to create simple + classic holiday spaces.
Step Three: Whimsical touch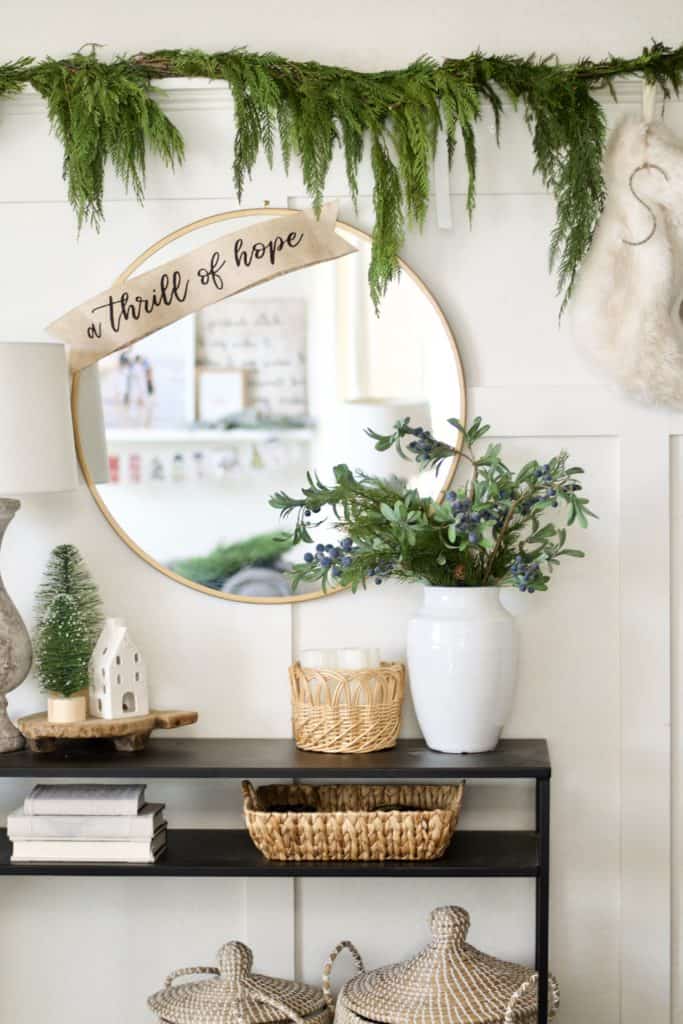 I always like to add a couple of things to keep my spaces light-hearted during the holidays. Whimsy could mean a lot of things, including reindeer decorations or other animal decors from places such as Untamed Creatures and other similar ones. So there is a lot of room to improvise here. Let your imagination run wild. For my part, I added the little white house, which I have been loving, and the little Holiday banner on the mirror. I feel like they help keep the space playful. They work well with my simple + classic Christmas decor but also add a little bit of fun and whimsy to the mix. Another idea I had was to put up Polaroid Style Photo Prints of cute pictures of me and my family around the house for an extra touch of personalization. However, I didn't get to do that this year but there is always a next time. So, stay tuned to see how this idea turns out next Christmas!
We also have our stockings in our entry way because we lack a mantle, a couple years ago I thought they looked cute there and they've just kinda stuck through the years, they also go along with that whimsical idea. These simple decor ideas work really well if you have rustic furniture to create that cosy, holiday feel.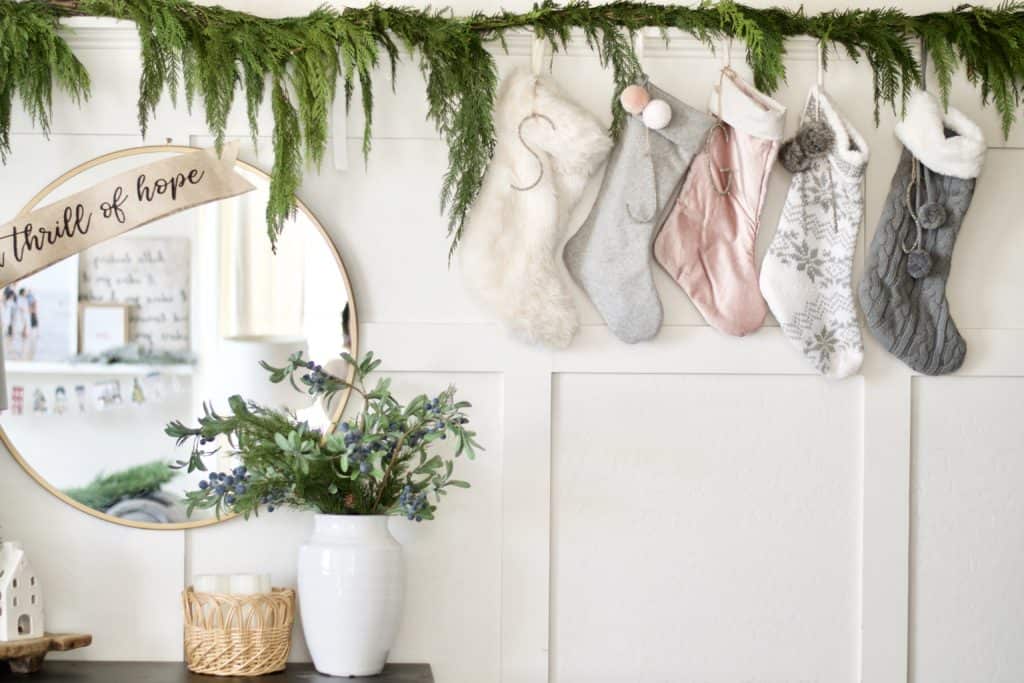 I love this simplified version of our Christmas entry way. It feels so festive but is rather simple. I reanalyzed and used all these 3 steps to create simple + classic Christmas decor approach in our entry way and it turned out so good! I feel like these steps are great for decorating your entire Holiday home, when in doubt for sure use these 3 things. All that there is to do now is pop some Christmas scented, handmade wax melts in the scent burner to get into full festive swing.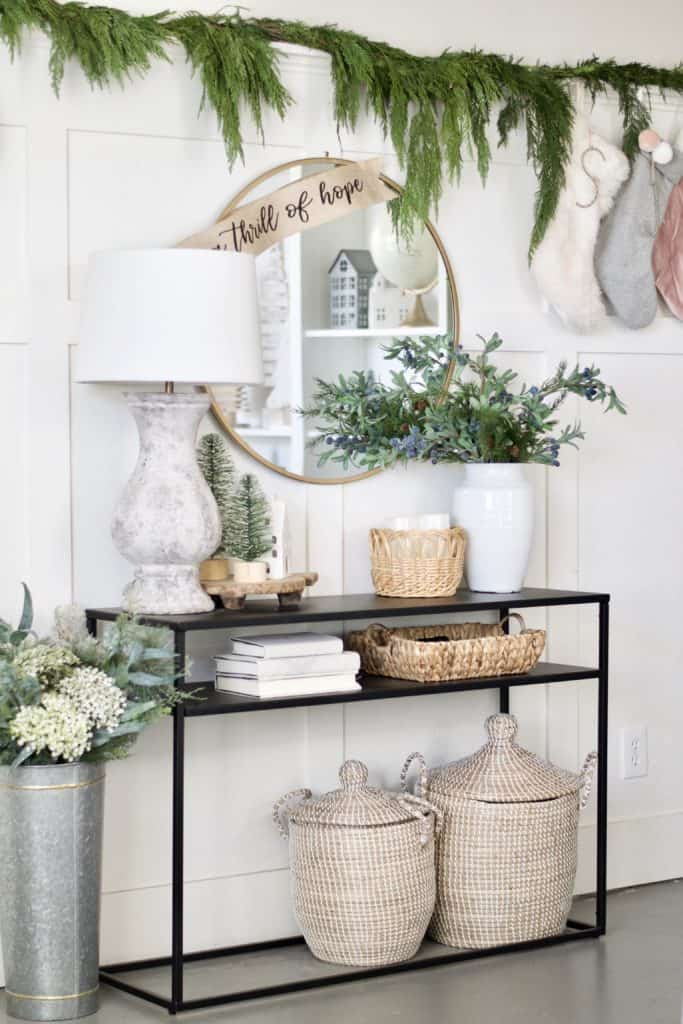 You can shop this post directly by clicking the links below.