Hey guys! I'm finally back with my next Disneyland tips post. I know a LOT of you guys enjoyed my last post, so here I am today with Part 2! In Part 1 I focused on prepping for the trip ( you can read that post here ), this time I'm sharing tips for getting the most out of the Themepark while you're there. As I mentioned, we recently took a trip with all of our kids varying in ages from 8 years old on down to 2 years old... we managed our trip SO well and I want to share the tips we learned with you!
Spring for multiple days. I highly, highly, highly suggest getting multiple day passes, like at least 3 days. You can save money by doing 1 park per day if you're going with small children I think this is a really good option because you run around FAR less. Less running around helps save your feet and your attitude IMO. There is plenty to do to fill entire days in each park. I recommend multiple day tickets because I think the most frustrating part of Disneyland can be the crowds. We have found that 3 day passes allow us to not feel rushed while we're there, standing in a long line for a bigger ride really doesn't bother us at all. With multiple day passes you can take your time and really enjoy the environment and entertainment, which you pay A LOT for. One day we went back to the hotel mid day for a rest while the park is at it's peak of busy-ness and missed out on NOTHING.
Rider Exchange passes. Guys, you have to do this. If you and your spouse are going with your children this is THE ONLY way to do it. One adult takes the kids on a ride, and before you enter the line you can ask the attendant at the front for rider exchange passes, they will scan up to 4 tickets to get 4 people up to the front of the line after the first group is done. SO THEN you swap adult and the kids get to go AGAIN. Doing it this way our kids got SO many rides on bigger rides like Cars, and Guardians of the Galaxy, The Incredi-coaster, Space Mountain, etc. THEY LOVED it.
Download the App. I know, everyone wants you to download Apps these days. BUT, theres a couple features of this App that really makes it entirely worth it, I feel like a lot of people don't know about it yet either.

You can view a live feed of the park including wait times and closures for rides. This feature alone makes it worth the download during your visit.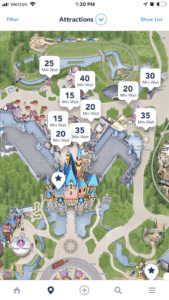 You can view a list of shows and parades right on your phone, which is great if you want to catch a show, but also it's great if you know when parts of the park will be shut down during parades and other various shows. You can look at this list a couple days in advance also so you can plan the nights when late shows like World of Color or Fantasmic are playing. On days when we knew we would be at the park really late, we like to go back to our hotel and rest mid day. The list is also available ( online here. )
Okay, I saved my last favorite feature of this app for last. I discovered this trick on our last day, you can order food from certain restaurants, straight from the app. This saves you the time of standing in long lines, which I am all about. I literally ordered a Mickey Mouse Macaron from the Jolly Holiday, which is notorious for long lines, and walked right up and picked it up. You receive updates on your order via your phone so you know when it's ready. It's literally the best. I feel like any situation in which you avoid the crowds at Disneyland deserves to be trumpeted as an amazing tip.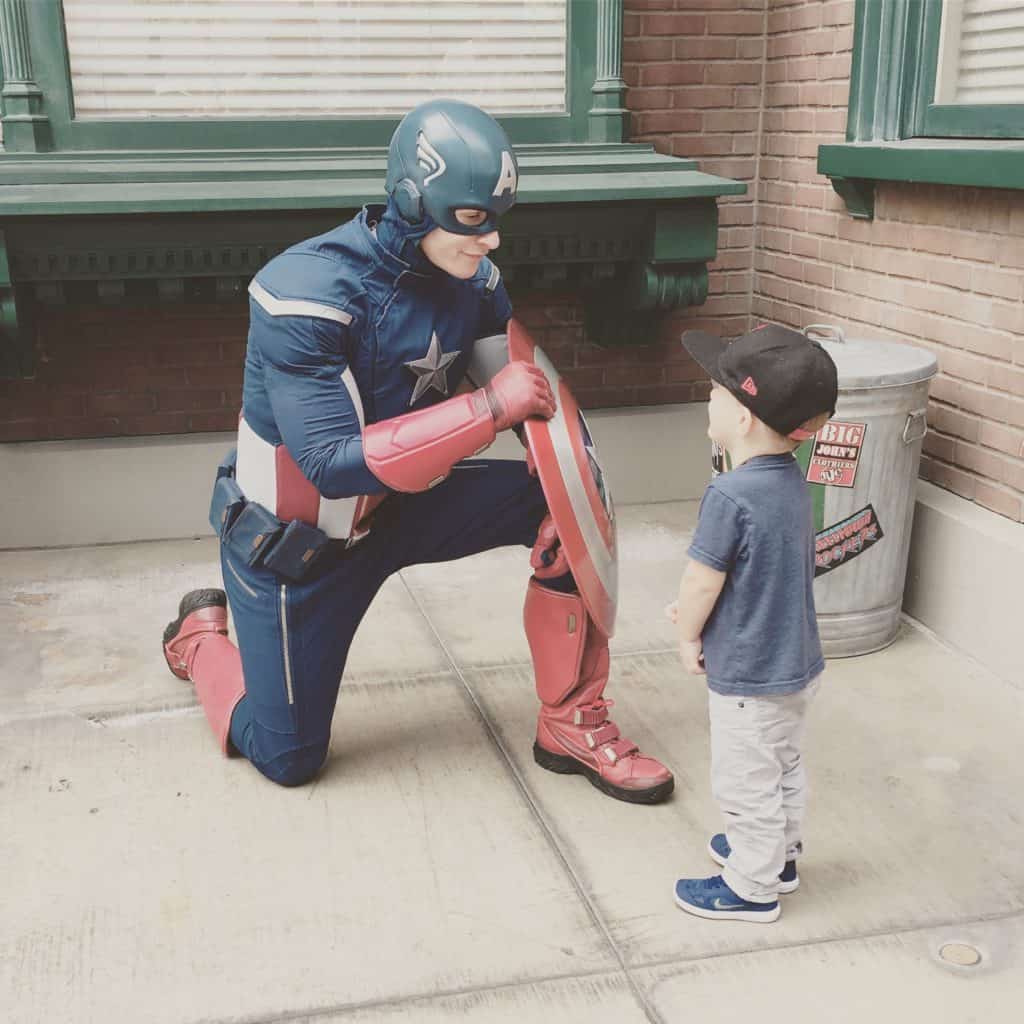 4. Take the time to meet characters. I know this maybe the worst tip on my list, but what you may not know if you haven't waited in line for characters before is that... Disney goes above and beyond with their Character Interaction experiences. If you have small kids, this is utterly magic for them. My little boy still remembers when he was 3 and Spiderman taught him how to shoot webs. He raves about Darth Vader asking him to join the dark side. My little girl talks about princesses teaching her how to spin and wave. It's magic for your little ones, and a moment that is easy to pass up because it seems mundane and not worth the time. This probably goes back to my first tip I shared. But literally, it's always worth it... and you ARE paying for the magic.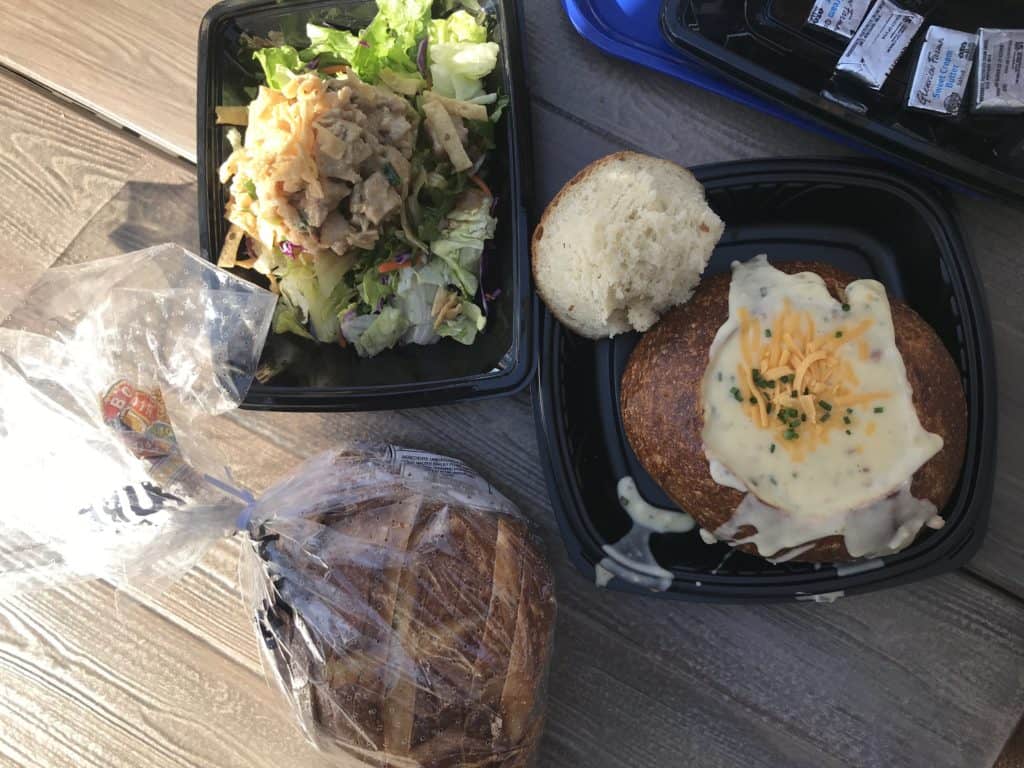 5. Don't skip eating at Pacific Wharf. Do you know that Disney workers are full of advice about how to best order food? Workers serve at specific restaurants for long periods of time, so if you have questions about ordering they are GREAT resources. The Wharf, in California Adventure, soup and salads have been a long time favorite of mine, both of which come in a delicious sourdough bowl. Last time I was there I was sharing a meal with my sister in law and we didn't need TWO large sourdough bowls, SO the worker suggested that we order the Salad to go... it came in a container and they gave us a sourdough loaf cut in slices instead of using it as the bowl. First of all, the bread is fresh made daily and is straight delicious but also I feel like the value on that one meal was insane. You pay premium prices for meals in the Park, so getting the most out of your money is great! We ate our meal, then snacked on the bread throughout the day.... so yummy! I recommend this restaurant because the food is delicious, filling, and the bread trick makes it just too good to pass up!